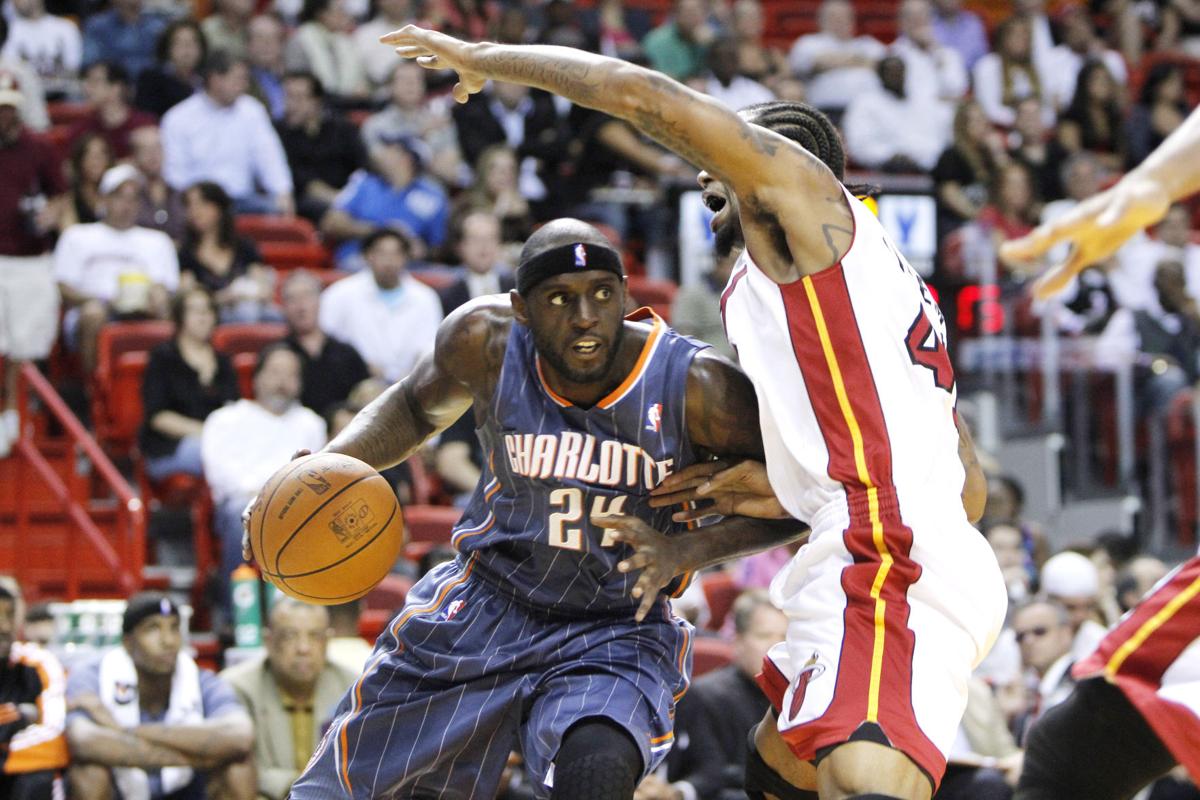 BELLEVILLE, Ill. • It hurt, watching this.
Yet I wish more were here to see it.
If only attendance could have been mandatory for every talented kid who will ever make a dime playing sports. What a lesson this could be for those gifted enough to enter a profession where the money comes so fast it seems like it will never stop, then disappears more rapidly than it arrived.
The assignment would be simple. Show up at Belle-Clair Fairgrounds on Wednesday night. Then put yourself in Darius Miles' size-18 shoes.
Watch complete strangers try on your hats. See them bid on your high-powered guns while others wonder aloud why a basketball player would need such firepower. Hear them question the authenticity of the autographed jerseys and sneakers given to you by your friends. Listen to them laugh at your expense.
"I could ski in most of these shoes."
"Why would someone need so many movies?"
"That's from Darius Miles? Give it here. He owes me money."
And to think some here hoped Miles would make an appearance.
Miles, 35, is hard to track down these days. Attempts to contact him turn into dead ends. If he was to make a public appearance, this would not be the place, not with his personal belongings spread across an expo center in flea-market fashion.
"If you see a yellow tag with the number one on it, those came from the Darius Miles bankruptcy case," auctioneer Virgil Straeter told the crowd at 5:30 p.m.
Most of the attention centered on Miles' sports memorabilia, specifically the autographed LeBron James jersey that went for $1,500. But that yellow No. 1 was plastered everywhere, from the four-wheeler that looked brand new, to a dining room set still wrapped in plastic, to a stunning supply of karaoke equipment, to the table stacked with 10,000-plus DVDs and video games, to the Ruger AR-556, one of four firearms that arrived in a gun safe without a combination.
"I grew up watching him," Quentin Baker, 27, said. "He was one of my big heroes. I saw him play at East St. Louis. When he got drafted, I became a huge Clippers fan. I had a Clippers bedspread."
Sixteen years later, he could have bid on Miles' bed.
The Clippers made Miles the third overall draft pick in 2000. A team had never selected a high school player so early. The wiry, high-flying small forward out of East St. Louis went from McDonald's All-American to national celebrity. He had a $9 million contract before his 19th birthday. More money was on the way.
Paired with fellow youngsters in Lamar Odom, Quentin Richardson and Corey Maggette, the Clippers produced head-turning highlights and 16 more wins in 2000-01 than the previous season's team. Michael Jordan endorsed him. Movie directors cast him.
"They were dunking the ball all over the place," Kelvin Stovall, 31, said of those Clippers. "Alley-oops, all that stuff. That's what caught my eye. He was one of my top-10 favorite players. He was young, around my age. He was doing movies and stuff like that, blowing my mind."
Miles' fans followed him from Los Angeles, to Cleveland, to Portland, where he averaged career-highs in points (14) and minutes (32.2) during the 2005-06 season. But a devastating knee injury 40 games into that season forever altered his career.
An attempted return with the Memphis Grizzlies in 2008 lasted just one season, and included 10 missed games for a violation of the league's substance-abuse policy. Miles was arrested in 2009 for marijuana possession. He was arrested again in St. Louis in 2011, when he attempted to bring a loaded gun through airport security.
The young man had some problems, obviously. Money should not have been one of them. When Miles pretty much disappeared from the headlines, most presumed he was living off the $62 million he made during his playing career.
That stunning amount of money failed to outlast the memories of Miles in his prime.
The Belleville News-Democrat reported in September that Miles had filed for bankruptcy, the byproduct of unpaid child support, tax debt, a failed real estate deal and flat-out overspending. The profit from Wednesday's auction will go to his creditors.
Stovall, who is stationed at Scott Air Force Base, was shocked to find out Miles lives in the Belleville area. He came to check out an autographed Michael Vick jersey. He left with a pang of guilt.
"People walking around, picking at his stuff, I kind of feel something about it," he said. "It's a little disheartening. It kind of rubs me the wrong way."
Others weren't so sympathetic.
"I wanted to come out to be part of history," said Andy Smith, who walked out with a signed pair of Mavericks star Dirk Nowitzki's shoes.
"A guy made $65-plus million and went belly up. How do you do that?"
You buy your own barber chair. You own a small army of vacuums. Somewhere along the way, you decide you need a paper towel holder made out of marble.
An estimated 60 percent of former NBA players are broke within five years of retirement, Sports Illustrated reported in 2009. That same report noted that 78 percent of NFL players are bankrupt or under financial stress by the time they have been retired for two years. Leagues attempt to educate rookies about managing wealth. Teenagers don't always listen.
When Miles' barber chair sold for $2, I wondered what he paid for it. It was late, and the crowd had thinned after the jerseys and shoes were gone. Some of the items weren't receiving any bids.