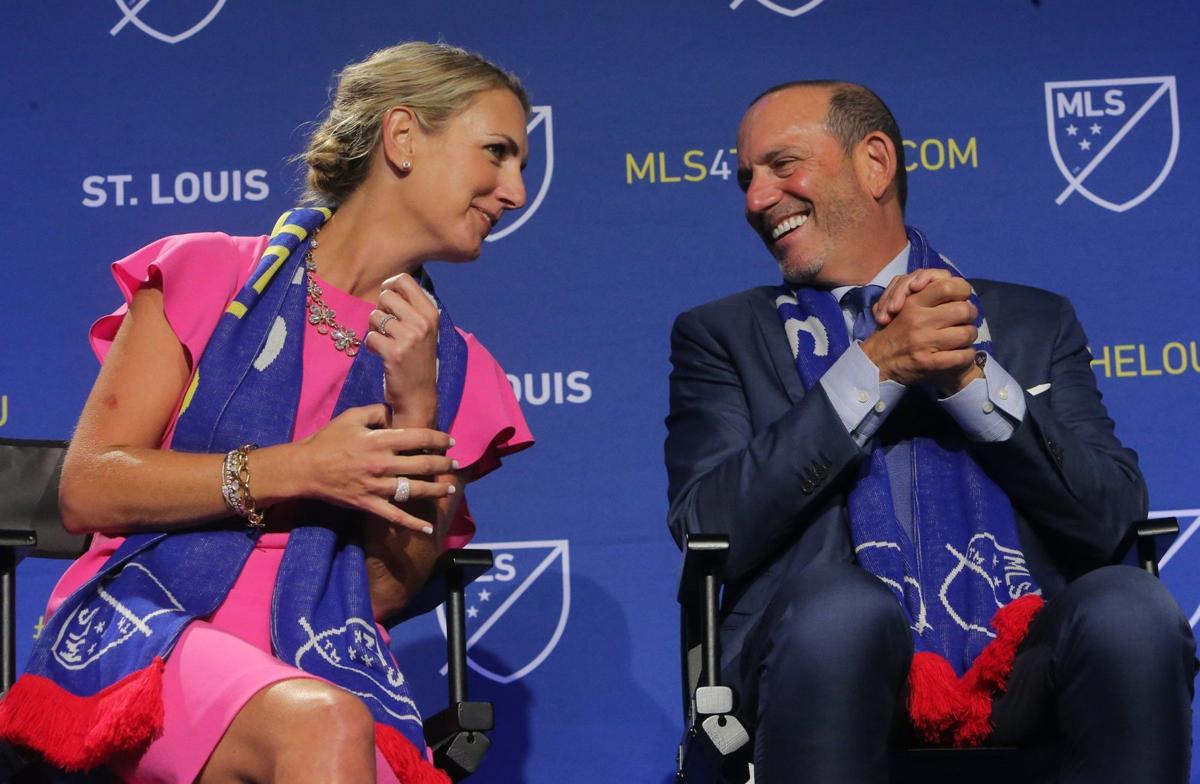 One surprise plus of social distancing is that it might have helped the MLS4TheLou ownership group keep its big secrets — its MLS expansion team's name, colors and crest — under wraps during the months the coronavirus pandemic delayed the big debut.
"When you can't really go out, and you have seven hours of Zoom calls with the team, it kind of makes it easy to not let it leak," MLS4TheLou CEO Carolyn Kindle Betz joked Monday. "We knew how exciting this would be once we had that launch date. The excitement was the motivating factor to not say anything."
We don't yet know the team name, colors and crest. But, finally, we know the day they will be revealed. Three days after MLS announced one-year delays of three expansion teams' inaugural seasons, news that pushed St. Louis' first season back to 2023, the MLS4TheLou ownership group picked up disappointed fans with an announcement of an announcement.
Team name, colors and crest will be revealed in a virtual announcement scheduled for August 13, a Thursday. Fans can apply through the team website (mls4thelou.com) to join a crowd of more than 700 virtual attendees. Those who upload photos might see their likeness on a cardboard cutout at the event, or receive team gear giveaways.
"We've been working hard behind the scenes," Betz said. "I'm definitely not a work-from-home person, but I will do whatever I need to do to make sure people stay safe."
The Post-Dispatch caught up with the MLS4TheLou CEO to discuss the postponement of the inaugural season, the pending team name announcement and more.
QUESTION: Let's start with a hard-hitting question. Fans want to know if your "full steam ahead" comment in a recent statement about the inaugural season being postponed was a hint that the team name will honor the St. Louis Steamers. Was it a clue?
CKB: "Oh, gosh. Let me think about that. I think it was more of, we are pushing ahead with everything. The stadium design is coming along. We have a safe stadium site. We have not had a (coronavirus-related) incident. There are certain things that are getting done faster than projected.
"The good news is that, as of right now, we are on schedule to have the stadium completed in 2022. We are really excited about that. We are already looking at how to reprogram the stadium district area for 2022. Just because the first kickoff got delayed a year, it doesn't mean the activity and the excitement around the stadium and the district stops."
Q.: What have you been able to move forward with despite the pandemic?
CKB: "The intent, as of January 1, was to announce the team name and the crest and colors in the first quarter of the year. While there were certainly shutdowns and some delays in getting through that, we never stopped working on it. We were always very diligent, still having weekly marketing meetings about how are we going to launch this.
"At the time, it was supposed to be a big gathering at an iconic spot. Now, a virtual announcement. Dennis (chief revenue officer Dennis Moore) has really been working on relationships with sponsors. We did sort of put a hold on hiring, because we were not sure what that was going to look like."
Q.: The league announced the decision to postpone the starting season of three of its four expansion teams, but what was the conversation like from the St. Louis side of things during that decision-making process?
CKB: "Collectively, we all came together and said, we really have to think about this. The entire sports world is trying to adjust. How do you have events? How do you have fans? What is safest for players? How do you take care of your employees at the stadiums?
"We understand. Not that we expected it when we got into this. Never. But it also gives us another year to really hone in and make sure we do things better than expected, because we have time. We can make the decisions that will make this an epic inaugural season. I'm not sure if we had to be under the gun that would have turned out as well as it could."
Q.: Did you say you have not had any COVID-related setbacks at the construction site?
CKB: "Yes. The general contractors and the construction team we have partnered with have taken this very, very seriously. They have procedures every morning that each employee that enters the site has to adhere to."
Q.: Your group has been waiting to release the team name for some time now. How does it feel to finally have a date on the calendar circled?
CKB: "It almost brings tears to your eyes, because we have had to sit on this now for months. Being able to say, 'we have a date,' it's a huge milestone for the entire team. Now we are going to start to see this work, this secret we have been keeping. It's going somewhere. Coming on the heels of the MLS is Back Tournament, I think the timing is good, too. There's a focus right now on soccer around the world. It's an opportunity we have to capitalize on."
Q.: Practically every business and business leader has been affected financially by the pandemic. That includes members of the team's ownership group. Should fans be concerned about the financial security of the group?
CKB: "You have an ownership group that has smart, fiscally responsible members in it that have done the ebb and flows and ups and downs of businesses for decades. I can honestly say that has never once been a topic of conversation."
Q.: Have there been any additions made to the team's front office?
CKB: "Dennis Moore (chief revenue officer) started with us back in January. Jason Thein (chief administration officer) started back in January as well. We have had a lot of interest in the positions we have posted. We are looking forward to putting our executive team together. The thing I've been most impressed with is, a lot of local interest certainly, but also a lot of international. A lot of diversity. A lot of walks of life. We are excited about the interest we have gotten in our positions that have been posted."