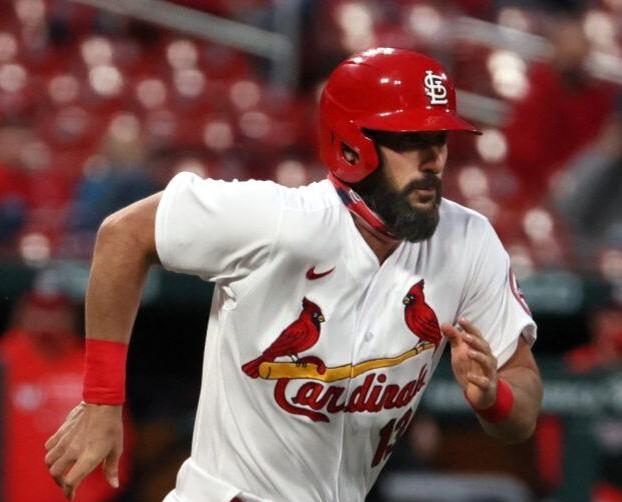 Whether it will be remembered as the foreshadowing of a premature end between Matt Carpenter and the Cardinals, a Hail Mary attempt thrown by an executive fed up with the lack of a shift-caused shift, or simply a candid acknowledgement of the obvious will be determined soon enough.
Right now, one thing is clear.
While president of baseball operations John Mozeliak does not sound as if he is eager to hand struggling veteran infielder Matt Carpenter something like $20.5 million of the team's money to walk away from a frustrating season that has continued his recent trend of them, his Friday comments about Carpenter, lengthy and candid, suggested the window of opportunity that was shut by a concerning spring training only to be reopened by injuries and a lack of offensive production elsewhere is nearing closing time once more.
"With the outfield coming back, you could see limited at-bats (for Carpenter) moving forward," Mozeliak said. "I don't think that's a line that we have to cross today. Over the next seven to 14 days, it is going to have a way of playing itself out. You are trying to give someone an opportunity to get going. But as players become healthy and get back active on this roster, those at-bats are going to be more difficult to find if production isn't there."
If Mozeliak had not crossed a line, he sounded at its edge and leaning over it.
He described the searching Carpenter as "wedded" to one version of his swing and connected dots between the hitter's usual approach against the shift — continuing to hit into it while trying to hit over it — as the definition of insanity. He absolved Cardinals hitting coaches from the conversation when asked if they should be helping Carpenter make changes. And then, after suggesting multiple times that Carpenter diversify his game, Mozeliak found himself hinting there is no guarantee attempted changes would work.
Through a series of questions and answers Mozeliak painted the picture baseball is seeing more and more these days, one of a left-handed pull hitter with power who has been disarmed and deflated by extreme defensive shifts they either cannot or will not shake.
"Look, you can only build a line of reasoning for so long," Mozeliak said. "At some point in this game you are truly measured on what you do. There is that old saying. If it ain't broke, don't fix it. But if something isn't working, maybe you need to try to make some adjustments. I do appreciate the fact he is making hard contact. I do appreciate the fact he's trying to remain positive in this. But, to some level, you've got to see production out of that. And so, hopefully his fortunes change, because it would help our lineup, and help our team. But, you know, at some point it's going to be hard to be doing the same thing over and over again."
Mozeliak was saying similar things but with a much more optimistic tone when the Cardinals departed spring training.
Carpenter, a three-time All-Star and National League MVP vote-receiver as recently as 2018, had accepted the assignment of a left-handed bat off the bench but was hopeful he would get a chance to prove he still can be more.
That opportunity arrived almost instantly, fueled in part by the Cardinals' faith in the lifelong Cardinal and a regrettable 2019 contract extension that faith produced, but the most meaningful evidence the first 19 games provided the initial decision to minimize Carpenter's role was correct.
With outfielder Tyler O'Neill activated Friday after a groin pull and one day away from returning to the starting lineup to buy him a little more time after he fouled a ball off his foot in his final simulated game, and center fielder Harrison Bader eyeing a mid-May comeback, the Cardinals are now going to have a harder time justifying sending Tommy Edman from second base into the outfield to make room for Carpenter at second.
Justifying it was getting hard even before O'Neill returned.
Carpenter entered Friday's game with the eighth-most at-bats on the team (37) and had spent the bulk of them (19) hitting in the No. 5 spot, ahead of every-day options. Appealing analytical signs cited often by manager Mike Shildt, such as an average exit velocity of 95.4 mph that ranked in the top 4 percent of the league and a barrel percentage that ranked in the top 1 percent, continued to be betrayed by the actual on-field results that determine the standings the Cardinals are sagging in.
Carpenter was three-for-37 with four walks and 16 strikeouts entering Friday's game, and lugging an uncharacteristically high strikeout percentage (36.4 percent) along with a walk rate (9.4 percent) that would both represent career-worsts if they held.
He has been swinging at a greater percentage of pitches outside of the strike zone than ever before, and missing a greater percentage of pitches than ever before. He was averaging .081 with a .205 on-base percentage and a .162 slugging percentage before he walked, grounded out into the shift and struck out on a 96 mph fastball from Reds reliever Heath Hembree in the fifth inning.
After that Shildt inserted O'Neill into the game and moved Edman to second.
A few boos could be heard from the socially distanced fans at Busch after Carpenter's strikeout, one that came just nine days after the home crowd gave him a curtain call for the home run he hit against Nationals starter Stephen Strasburg. The fading Nationals starter hit the injured list soon after. Carpenter went one-for-21 with 11 strikeouts and a walk after that feel-good homer landed.
"How do you get somebody going — or get back on track?" Mozeliak said. "Clearly, if you are not playing, it's really difficult to do. There are only so many things you can do in the batting cage, only so many things you can do to try to replicate before a game. But you have to start seeing something happen on the field. I would imagine as we get healthier, it's going to be harder to find at-bats unless production changes."