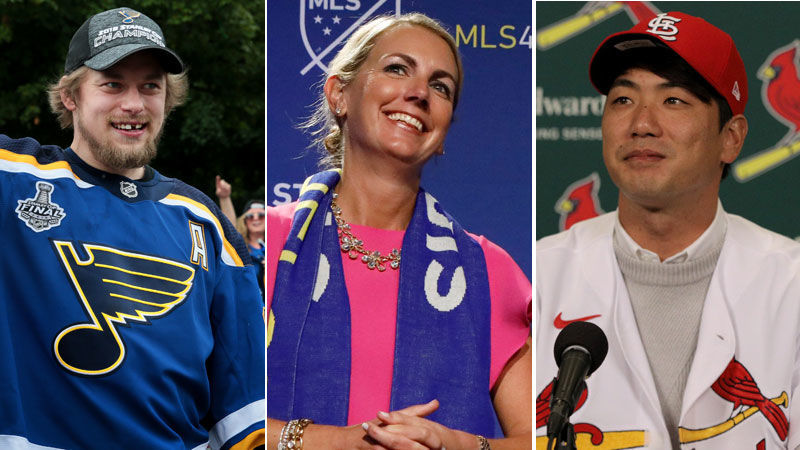 No, I don't know what you should buy for your mother-in-law as you run around town in a panic.
Yes, you should have wrapped up your shopping sooner than Christmas Eve.
But have no fear, because once again, I am here with my twice-checked list of the must-get gifts for the St. Louis sports figures in your life.
As always, just Venmo me the money — though cash is preferred — and I'll take care of the wrapping and delivery.
Cardinals manager Mike Shildt: A swear jar
Blues coach Craig Berube: An extra-large swear jar
MLS4TheLou ownership group leader Carolyn Kindle Betz: Boxing gloves
Missouri Governor Mike Parson: An MLS4TheLou scarf
Incoming Hall of Famer Ted Simmons: A retired No. 23 on the walls of Busch Stadium
Blues star forward Vladimir Tarasenko: A green light for the postseason
Blues forward Ryan O'Reilly: A goal in a home game
Blues captain and defenseman Alex Pietrangelo: A contract extension
Blues forward David Perron: The first All-Star appearance of his career. (Pietrangelo, O'Reilly and goalie Jordan Binnington, if not more Blues players, also are deserving of invites.)
Blues general manager Doug Armstrong: A five-pound bag of Swedish Fish candy to eat while contemplating trade-deadline moves
Boston Bruins forward Brad Marchand: A fresh box of tissues
Cardinals front office: A bounce-back season from Matt Carpenter
Cardinals third baseman Matt Carpenter: 10 pounds
Cardinals shortstop Paul DeJong: A few off days
Cardinals closer Jordan Hicks: A strong return
Cardinals pitcher Kwang Hyun Kim, who prefers to go by "KK": More K's.
Cardinals first baseman Paul Goldschmidt: A season like 2018
Cardinals starter Adam Wainwright: A season like 2019
Cardinals second baseman Kolten Wong: Another shot at leadoff
Cardinals center fielder Harrison Bader: An average above .250
Cardinals catcher Yadier Molina: Healthy hands
Cardinals catching prospect Andrew Knizner: Patience, and lots of it
Cardinals ace Jack Flaherty: Cy Young Award votes
Cardinals reliever John Brebbia: Beard wax, a new umbrella and a tea sampler
Cardinals outfield prospect Dylan Carlson: A locker in St. Louis
Free agent outfielder Marcell Ozuna: A Reds uniform
Affluent Cardinals fans: A safe and fun trip to London
Post-Dispatch Cardinals writer and life-saver Derrick Goold: A superhero cape
Regional cable legend and budding political superstar Jim "The Cat" Hayes: A successful presidential campaign
St. Louis University guard Jordan Goodwin: More national attention for how well he is playing
St. Louis University basketball coach Travis Ford: A free-throw coach
Missouri men's basketball coach Cuonzo Martin: An upset of Kansas
Missouri forward Jeremiah Tilmon: A truce with the officials
Missouri guard Xavier Pinson: More minutes and fewer turnovers
Missouri women's basketball coach Robin Pingeton: Another Sophie Cunningham
Missouri football coach Eliah Drinkwitz: A better relationship with his athletics director than the previous Tigers coach
Missouri athletics director Jim Sterk: A quiet year
Parker Search Firm: Better lists 
University of Missouri curators: A thank-you card
Arkansas defensive coordinator Barry Odom: A subscription to the Arkansas Rivals website, HawgBeat.com.
Illinois football coach Lovie Smith: A Redbox Bowl win
Broncos quarterback Drew Lock: More throws that make Denver head coach Vic Fangio look silly
New England Patriots: Continued exposure of their cheating ways
Rams owner Stan Kroenke: More stadium cost overruns in Los Angeles and additional legal fees from the league's ongoing battle with St. Louis about the Rams' relocation rip-job.
St. Louis Rams personal seat license holders: A shopping spree
St. Louis BattleHawks: A 2-0 record by the time the XFL team plays its first home game at The Dome on Sunday, Feb. 23.
Houston Astros: A new trash can
Cardinals hitting coach Jeff Albert: A verdict from MLB's investigation into the Astros' sign stealing that does not include the former Houston employee's name
St. Louis chapter of the Baseball Writers Association of America: A rocking 2019 dinner. Interested? Tickets are on sale.
Anyone who wants to delay shopping just a few more minutes: An invitation to today's STLToday chat, which starts at 11 a.m., right here.
Happy Holidays, everybody.