A falsehood about the 2023 season continues to be repeated.
With baseball's pandemic restrictions thankfully in the rearview mirror and a work stoppage solved due to a new collective bargaining agreement in the bag, there has been lots of talk about this year featuring a normal spring training.
On top of the annual adjustments every club will be making to new coaches and new players, two significant curveballs are coming after pitchers and catchers report.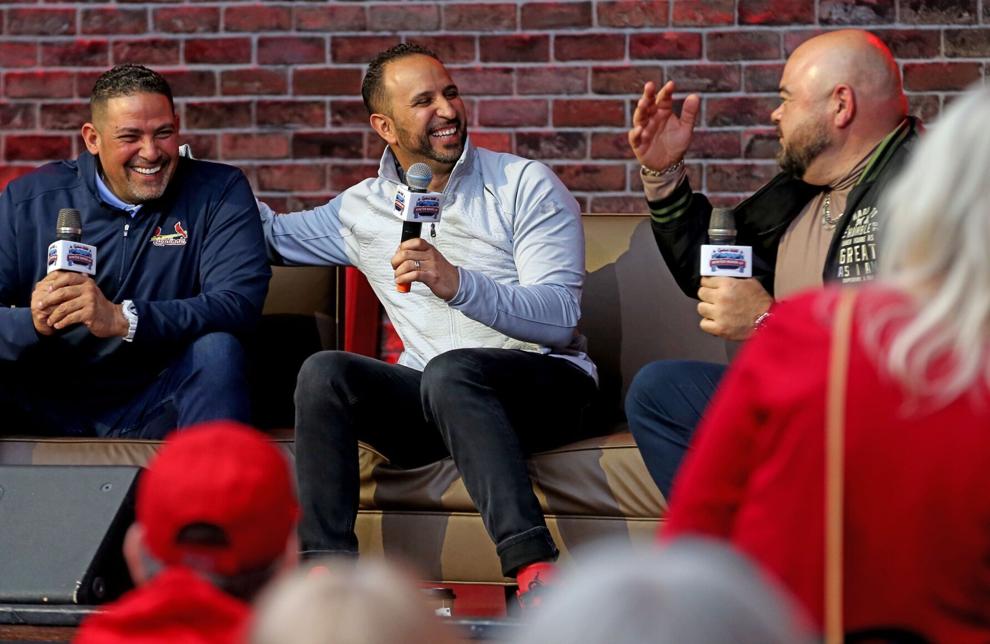 One is the series of rule changes that will go live when spring training exhibition games begin in Arizona and Florida.
Another is the turnstile of talent that will be flowing in and out of camps due to the first World Baseball Classic since 2017.
The latter could perhaps complicate the former.
Especially for the Cardinals, one of the teams attempting to see the positives of having a large swath of players participating in the international competition.
"Not yet," second-year manager Oliver Marmol said Sunday, when asked if he has a final tally on WBC-bound Cardinals. "But it's a lot."
A cobbled-together list shows 11 significant Cardinals on unofficial rosters across eight teams: United States (Miles Mikolas, Adam Wainwright, Paul Goldschmidt and Nolan Arenado); Mexico (Giovanny Gallegos); Japan (Lars Nootbaar); South Korea (Tommy Edman); Canada (Tyler O'Neill); Italy (Andre Pallante); Dominican Republic (Genesis Cabrera); and Panama (Ivan Herrera).
Taichung, Tokyo, Phoenix and Miami are the hosts for the bracket that starts March 8 in Taiwan and ends with a championship game played March 21 in Miami.
"More reps," Marmol said. "Seeing them every day rather than an at-bat here or there. It's a chance to get eyes on a lot of those young guys. Some of the pitchers. Some of the position players. Jordan. So I'm looking forward to it."
The Cardinals, like every MLB team, publicly support the WBC. Players' motivations to play in it, many described in detail here this weekend, have been inspiring. Wainwright described a lifetime longing to pitch in the red, white and blue. Reigning National League MVP Goldschmidt and fellow finalist Arenado shared how previous participation in the tournament jump-started strong MLB seasons. Nootbaar explained what it means to his family that he will become the first U.S. born player to play with Team Japan. Edman is in the same boat, with South Korea.
"The intensity of playing those games, they are playoff games, dare I say World-Series-type atmosphere games, definitely as you get into the single-elimination," said Goldschmidt, a member of the 2017 championship-winning U.S team. "I was basically begging to be on the team again this year."
While it would help streamline things for MLB if the WBC featured MLB's new rules, that's not the case. WBC games will be played with traditional rules. Grapefruit and Cactus league games will be played with the 2023 MLB rules. At Camp Cardinal, pitch clocks will be ticking and enforced. Shifts will be limited, with some managers' minds already whirring about how the new language can be exploited. Cardinals president of baseball operations John Mozeliak suggested a day ago that rumors are flying around about seeing more five-man infields moving forward. Marmol doesn't think it will happen much. We'll see. Bases will be a little bit bigger, encouraging more steals but also requiring base runners and defenders to update their footwork muscle memory around the bags.
"There will be strategy around all of it," Marmol said. "It's good that our minor-league system has experienced it to a certain degree. We can draw from them to understand some of the ins and outs."
Little tweaks, sure, but overlooking or underestimating them could become regrettable the moment a regular-season game swings on a walk issued by a pitcher who was too slow to deliver a three-ball offering.
Young players and veterans alike participating in the WBC will have less time than teammates to adjust.
"You are going to have guys spread all over the place," Marmol said. "You have new rules. The team that really locks in on how to communicate those things and keep everybody on track is definitely going to have an advantage."
Fortunately for the Cardinals, their manager and the updated staff with which he enters his second season can cite communication as a strength. Signs of that have been plentiful this weekend, and not just because last season's work stoppage kept players and staff from talking, period. Marmol has connected silos. It shows.
O'Neill spent his offseason in St. Louis, and the team's medical, training and coaching staff feel better about his preparation to stay on the field than they have in the past. Hitting coach Turner Ward and pitching coach Dusty Blake have traveled around the country visiting players this offseason, showing and explaining data that could help inform productive changes. Paul DeJong has been providing regular hitting reports that are sent directly to Marmol as he prepares to get plenty of reps in camp, reps Marmol can provide due to the WBC. One of Marmol's most recent phone calls before the Cardinals flocked to St. Louis for the Winter Warm-Up came from Arenado, who was calling himself to share positive feedback from a Nootbaar swing session he observed. The Cardinals are high-level communicating. They'll need it in the coming months.
"Oli is the best manager I've had," Arenado said Sunday. "I know I haven't had too many managers, but he's the best. The way he goes about his business. He lets us go about our business. He treats us like grown men. And that's how we need to act. He expects us to get our work done. He's honest. He's real. That's all you can ask for. I love the way he goes about it. First year as a manager, it's not easy. I thought what he did last season was unbelievable, considering a lot of guys called up from Triple-A. He was able to manage that. Guys got hurt. Just the way he handled all of that. Not an easy thing to do. And he did a great job of it."
The unpredictability of this upcoming camp will ask him to do an even better one.