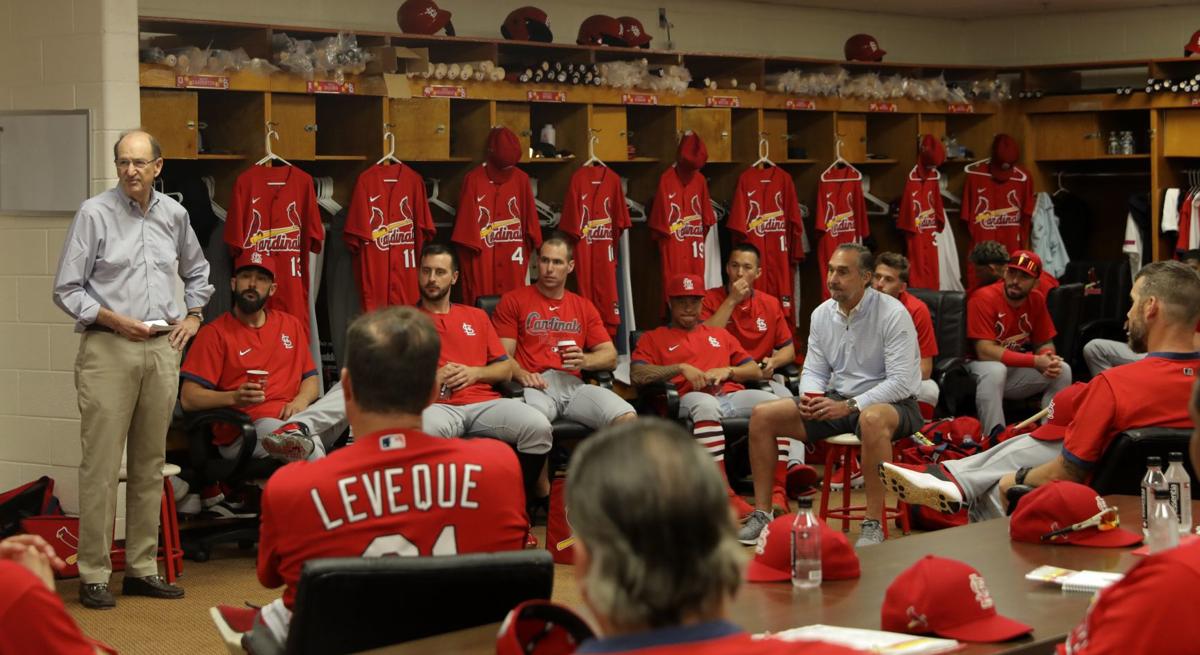 We've got billionaires and millionaires pointing fingers while the U.S. death toll from the coronavirus pandemic ticks past 100,000 lives lost.
Conversations that are supposed to be confidential are becoming public knowledge before they can finish reaching everyone who is supposed to be in the loop.
There's no shortage of grandstanding, a growing number of shots fired on social media, and now even a claim of manipulation that could threaten to divide one of the parties.
Before you tell this sportswriter to stay out of politics, I am.
Baseball's face-palm-inducing squabble over salvaging the 2020 season has taken a depressing turn in tone.
It's starting to sound like cable news.
Political. Predictable. Pathetic.
If you had some hope that the discussions about how to bring baseball back safely in 2020 might make room for some humanity due to the backdrop of real suffering in America, forget about it.
And if you thought these talks could land players and owners in a more positive place before they have to figure out the next collective bargaining agreement after the 2021 season, forget about that, too.
It's time to consider the worst-case scenario.
It will take a lot of compromising in a little amount of time — especially on the topic of who gets paid what — before players and owners agree to a plan for 2020. Maybe it can still happen. Maybe it's asking too much.
But that's not the worst-case scenario.
That this process has become so combative despite so many obvious reasons for it to be handled in the spirit of cooperation should terrify everyone about what awaits baseball after the 2021 season, when players and owners will either agree on a new CBA or fight their way into a work stoppage. Consider what baseball could look like if there is just one season (2021) between an abandoned attempt to save the 2020 season and a strike in 2022. And that's factoring in enough optimism that the 2021 season would not be impacted by the lingering effects of the pandemic. Disastrous would not accurately describe it.
Who wins if baseball plays one — or zero — seasons over the next three years?
Not the players, whose shelf life as professional athletes grow shorter by the day.
Not the owners, who have built sprawling campuses around parks that only make money if games are played.
They are the ones baseball is mistakenly assuming won't get turned off by the national pastime's spat during a national crisis.
Owners and players don't seem to be thinking much about the fans lately. They don't seem to think much about anything other than not losing to the other side. Their obsession makes them overlook what they have lost, and what they could still lose.
Gone is the good will baseball could have created. Even if the season is salvaged, an attempt to hold this up as players and owners putting the fans first will flop. Average Joe knows better. Whether he blames the rich players or the richer owners, he has tired of the backbiting and the undercutting other American sports have largely avoided while working toward their returns.
I keep thinking about what Adam Wainwright said in a Roger Dean Stadium parking lot the day coronavirus shut down Cardinals camp. He was asked how the conversations that would take place before baseball could return might help or hurt the conversations that would try to determine the next CBA. It was clear even then that this pandemic was going to push players and owners apart even more, or bring them together at least a little bit.
"I think everyone involved is probably hoping that this all makes everyone realize how much we want and need baseball," Wainwright said that day. "That's my goal. That's what I think everyone is hoping for. It's just a vital part of people's everyday lives, and it provides an outlet for people who had a tough day at work, or who just need to sit down, relax and watch a game."
That powerful message has been drowned out by saber rattling.
Let's review some of the low points.
Owners wasted precious time trying to gain momentum for a revenue-sharing system they knew players would never accept, then leaked it before presenting it officially, which they never did. Players showed their distrust of owners' claims about how games without fans would impact league finances by asking for a mountain of evidence. Owners showed why players distrust them by not fulfilling that request to the players' liking. Players shook off the owners' first official pitch, a financial proposal that asked players to accept a staggered system of paycuts that would result in players making significantly less than what they say they already agreed to accept. And now there are signs of tension among players after pitcher Trevor Bauer took to Twitter to accuse super agent Scott Boras of meddling in players' union affairs. That's the same Boras who went from writing a New York Times op-ed about how baseball needs to help the country heal, to encouraging his clients — some of the biggest names in the game — to take a hard-line stance on refusing the owners' first proposal.
But if these negotiations stall for good, and no 2020 season arrives, the one thing that will be remembered is the disagreement about the agreement. Players continue to say they locked up a prorated portion of their salary for however many games they will play in 2020 thanks to the late-March agreement they made after spring training was canceled. And owners continue to say the additional language in that agreement about how games without fans could change things freed them from that financial obligation. That's the snapshot. These two sides can't even agree on what they agreed about.
The coronavirus pandemic rocked our country to its core, but it did nothing to inject some much-needed perspective into baseball's biggest feud.
It was silly to hope it might.
This is America in 2020, after all.
Concerned about COVID-19?
Sign up now to get the most recent coronavirus headlines and other important local and national news sent to your email inbox daily.