When Blues star forward Vladimir Tarasenko went down with a dislocated shoulder more than two weeks ago, we wondered how the team would come together — or fall apart — as it searched for answers.
The effort has been impressive.
The Blues won the game Tarasenko exited. They have since won seven of the eight games that followed, claiming five in white-knuckle overtimes. Their seven-game winning streak has carved out a five-point lead on the Central Division.
Between the moment Tarasenko was shut down and Monday morning, three Blues have produced a points-per-game average that is among the 20-best in the NHL. This is how it must be done. Every player has to dig a little deeper, give a little more.
One is Ryan O'Reilly (four goals, eight assists, 1.33 points per game over the last nine games).
Another is Alex Pietrangelo (three goals, eight assists and 1.22 points per game over the last nine games).
And the third is David Perron, who has matched Pietrangelo in goals and assists since the Tarasenko injury.
Perron, the 31-year-old veteran playing in his 13th season, made headlines this weekend when the one-timer he flashed by Calgary's David Rittich made Perron the first player in NHL history to score three overtime goals before his team's 20th game.
That accomplishment seemed like a good reason to run the numbers for a fresh perspective on the forward's latest stint with the team, a run that includes a Stanley Cup championship and the securing of a crucial role.
Perron has now played in 75 regular-season games since his third reunion with the Blues before the start of last season. He is healthy. He is confident. He has developed an on-ice chemistry with O'Reilly that is fun to watch — unless you are the team trying to stop it.
I was interested in how Perron's scoring stacked up against Tarasenko's and the rest of the league since his latest return to St. Louis. Here's what I found after looking up how his numbers compare to Tarasenko's and the 432 other NHL players who have played in 75-plus games since the start of last season. You might be surprised.
Tarasenko, 36 goals, tied for 38th out of 434 NHL players with 75-plus games since 2018-19
Perron, 31 goals, tied for 67th
Tarasenko, 23, tied for 64th
Perron, 21, tied for 83rd
Tarasenko, 13, tied for 16th
Perron, 10, tied for 38th
Tarasenko, 5, tied for 58th
Perron, 3, tied for sixth
Tarasenko, 1, tied for 47th
Pause here and remember that Perron, who missed two months of last season due to a concussion, has played 11 fewer games than Tarasenko during this stretch. On this list of 434 NHL players who have played 75-plus games since the start of last season, Perron ranks last in games played and 326nd in ice time. Keep that in mind while you cruise some of these averages.
Tarasenko, 0.42, tied for 29th
Perron, 19.4 percent, fourth
Tarasenko, 12 percent, 135th
Perron is not taking over for Tarasenko. You don't simply replace No. 91 by asking one player to be a hero. But perhaps the absence of Tarasenko has opened some eyes to how well Perron has played lately, and, really, since he rejoined the Blues.
Blues Quick Hits
ALEX PIETRANGELO: BUILT TO LAST?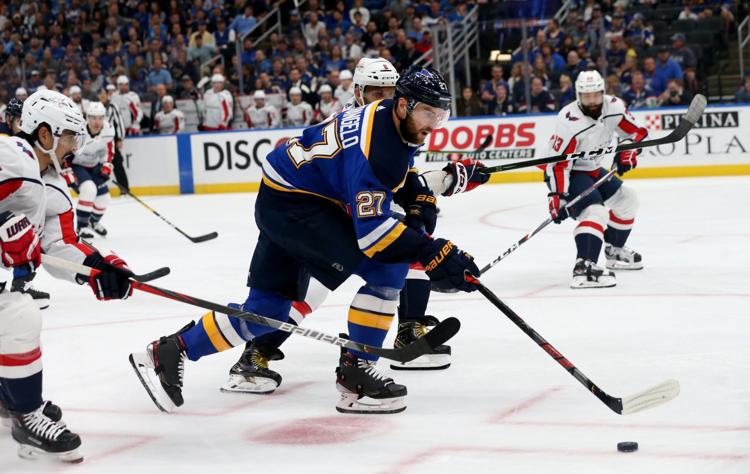 QUESTION: Do you think the type of game Alex Pietrangelo plays lends itself to a long-term contract? He seems very durable, not having missed many games during his time with the Blues. Is he a Nicklas Lidstrom type, who stayed healthy and never won a Norris before the age of 30 ... and then won seven before he retired at 41?
TOM T.: I think the Blues can be a lot more confident in giving Pietrangelo a long-term deal than they were about giving one to David Backes. Even a three-year deal would have been optimistic for Backes. (For fans of alternate history, try to project what the Blues would have looked like last season if they had signed Backes. Is Ryan O'Reilly on the team in that case?)
I don't know that Pietrangelo will be playing at 41, but I can see him contributing very capably at 36 or 37. The reality is for the Blues to re-sign Pietrangelo, they'll have to give him a long-term deal to keep the AAV down. If the Blues come to him with a short-term deal, he'll find a team that will give him a long-term deal. He remains an elite defensive player in the league.
DOES PETRO TALK ABOUT STAYING IN ST. LOUIS?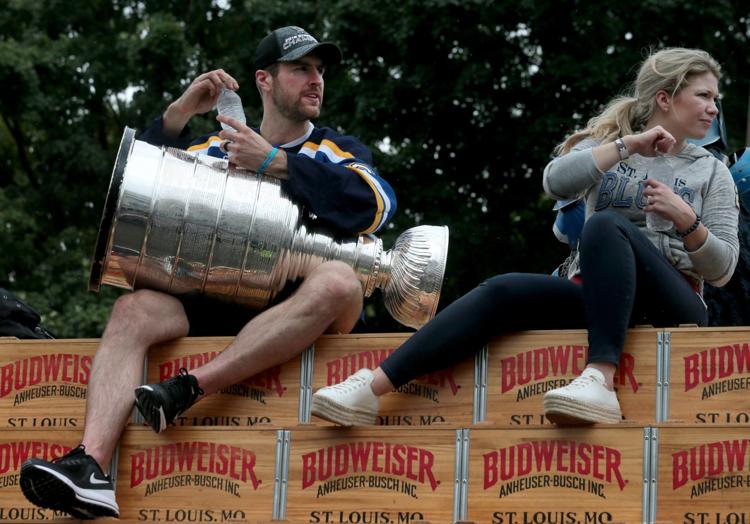 QUESTION: Has Petro made any public statement about wanting to stay in St. Louis? I trust Army has a pretty good handle on his intentions.
TOM T.: Pietrangelo said in training camp that he wasn't going to talk about his contract situation, and he's held to that. Armstrong describes these discussions as finding a spot where both are comfortably uncomfortable. So far, that hasn't happened.
All things being equal, Pietrangelo and his family would love to stay in St. Louis, but also, if it's what was best for them, they could handle five or six or eight years living somewhere else. There will be houses available if he wants to come back.
WITH VLADI OUT, WILL BLUES CONSIDER A TRADE?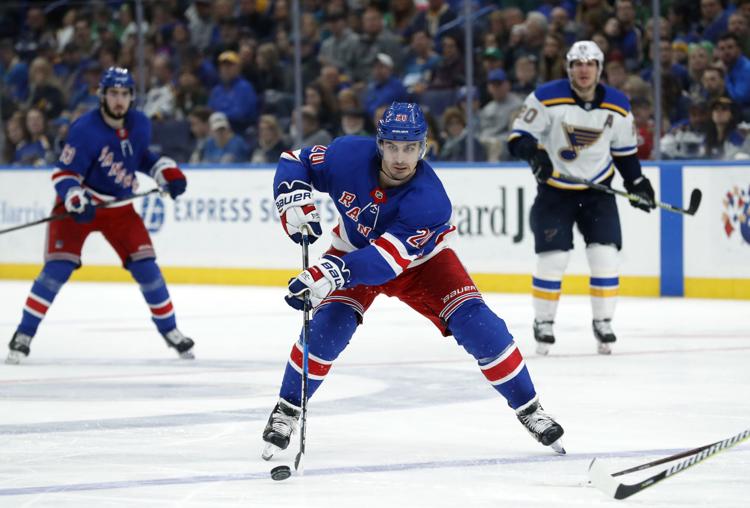 QUESTION: With Tarasenko basically out for the year, do you see the Blues making a trade? I hear Chris Kreider's name mentioned. Others you might see as a target?
TOM T.: Kreider's name comes up the most and makes a lot of sense. But the Blues making a trade for a big-name, big-salary guy is unlikely if there's any chance Tarasenko is back before the regular season ends, since they can't do it under the cap.
The question raised is, what if the Blues are fighting for a playoff spot and Tarasenko can play for the final two weeks, but the Blues can't do that because of the cap? Does having him sit out those games (he could then be activated in the postseason, when the cap is off), make sense? If the Blues know for a fact that Tarasenko won't play again in the regular season, they can make a move, but otherwise, it would be tricky.
SHUFFLING THE 'D'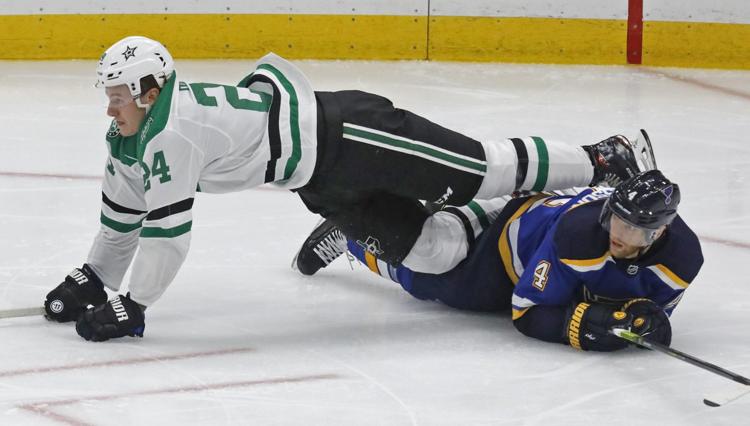 QUESTION: Any particular reason for the constant shuffling of the defensive pairings? Gunnarsson was recovering from an injury and Faulk is new, but at some point, they have to settle on something, right? It's got to be rough on the new guy playing with a different partner every game.
TOM T.: Coach Craig Berube has said he's just looking for combinations and that they move lines around all the time and this is just like that. The Blues seem to have gotten away from having players play on their off side, which has provided some semblance of order, but the next time Bortuzzo goes back in for Gunnarsson, that will throw off the left-right balance and they'll be back to rearranging things. I think it was the Minnesota game where the defensive pairings they started with lasted one period.
I think eventually they'll settle on something, but the reality is also that as long as Bortuzzo is a righty and Gunnarsson is a lefty, it's going to change when the lineup changes.
WHAT'S HOLDING BACK FAULK?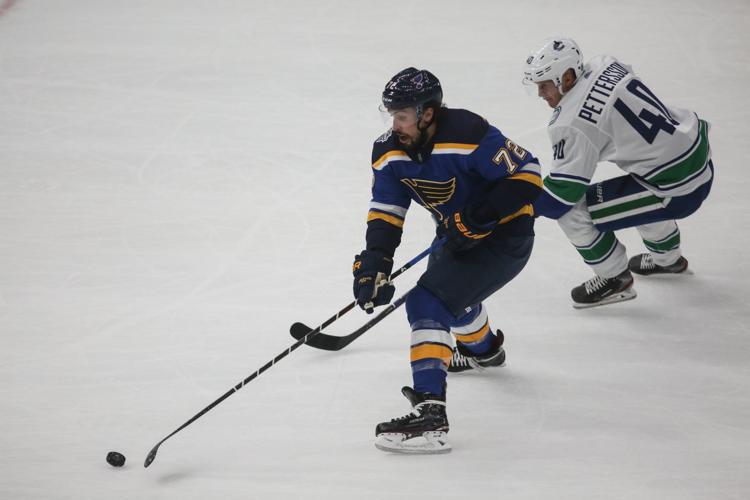 QUESTION/COMMENT: Impressions of Justin Faulk so far? He has been OK, but they're not paying him to be OK. If Army was sending a message to Petro that he could be replaced, this has blown up in Army's face. Faulk's offense has not come around, and he has been a negative defender.
TOM T.: Good, not great and I think he's leveled off a bit. Berube thinks he's still adjusting after playing his whole career with one team and having to pick up on some new things. His shots have been way down of late. He had six against Los Angeles, and he's had six total in the six games since.
Defensively, the Blues want him to be more aggressive. Offensively, like the entire team, he needs to shoot more.
WHAT WILL JAYBO DO?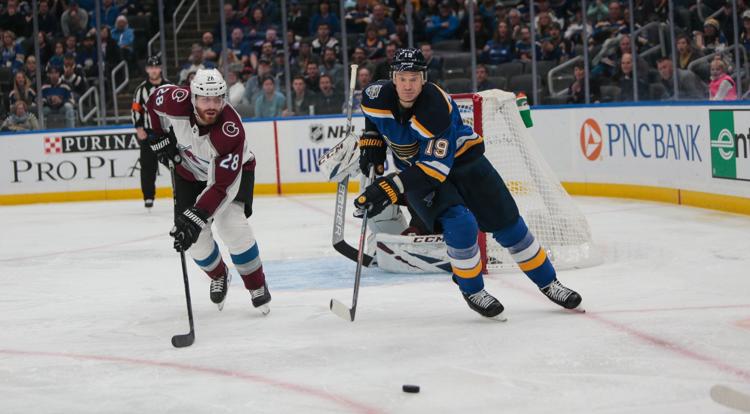 QUESTION: What is JayBo's future with the blues?
TOM T.: Jay Bouwmeester and the Blues can't sign an extension until after Jan. 1, but I would expect that the real talks wouldn't happen until later in the season, when Bouwmeester decides if he wants to play another season. If the season progresses as it is now, I would think the Blues would give him another one-year contract.
But the first decision will come from Bouwmeester on what he wants to do. Right now, he's on their shutdown pairing. He keeps himself in better shape than anyone on the team. The Blues wouldn't walk away from that, I don't think.
ANY PROGRESS ON THE POWER PLAY?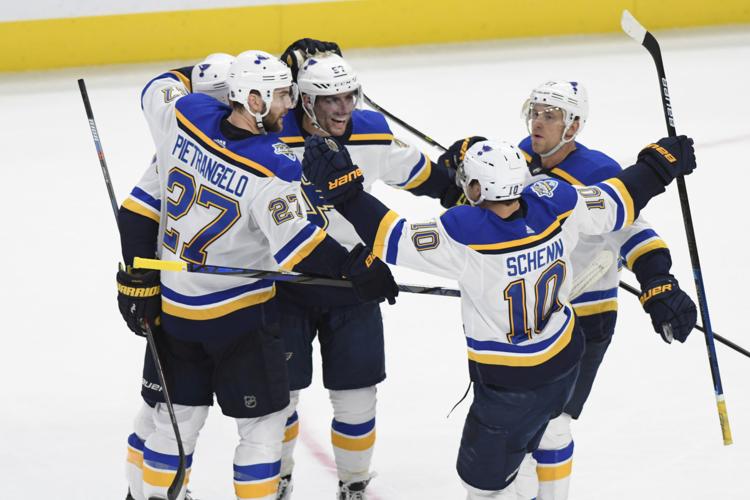 QUESTION: Based on what you've seen, how is the Blues' power play coming along?
TOM T.: When it's good, it's good, and when it's not, it looks terrible. I guess that's progress over last year, when it just looked terrible.
I haven't seen the Blues' faceoff numbers this season, but they seem to be down, and when you lose that first faceoff, you're taking 20 seconds or so off the power play. In the past seven games (before Wednesday night), power play goals have looked like this: 3, 0, 2, 0, 2, 0, 0. So it really has been hit or miss.
I think there's some potential there and I think it will ultimately be a plus for the team. The threat of shorthanded goals still seems to loom large over that group though. Almost another last night.
BORTUZZO IN BERUBE'S DOGHOUSE?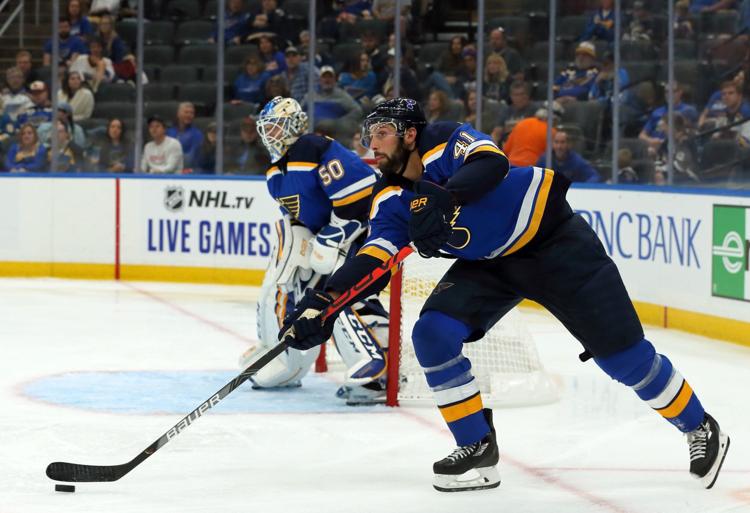 QUESTION: Like Fabbri was until Wednesday, is Bortuzzo in Berube's doghouse? Is he not performing in practice?
TOM T.: Bortuzzo has historically been the seventh defenseman, though he and Gunnarsson began sharing that mantel last season when Gunnarsson was healthy. Early on, the theory was that Gunnarsson would play against fast teams, Bortuzzo would play against heavy teams.
What's happened now is that in wanting to get players on their proper sides, Gunnarsson and Pietrangelo have become a pairing that seems to work. It worked well last season. And again, if the team keeps winning, coaches are hesitant to make changes.
RUNNING O'REILLY RAGGED?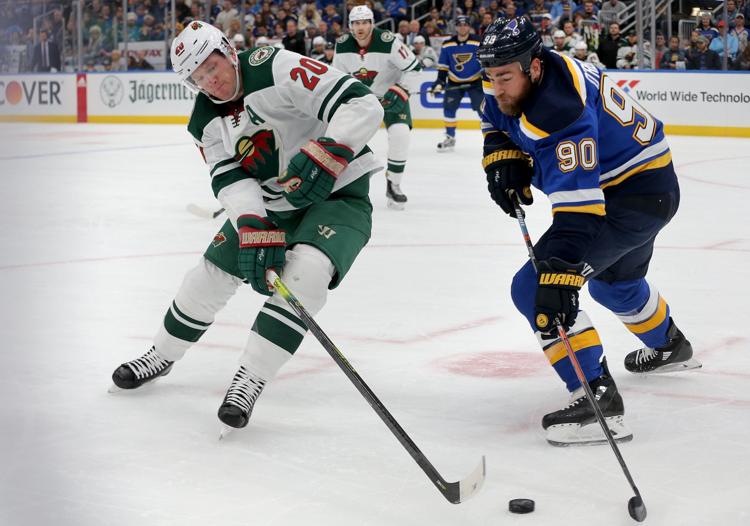 QUESTION: Will Ryan O'Reilly be alive come the playoffs? I don't get Berube — he is not following Army's mandate to not put all the minutes on the top two lines. But Berube is doing just that.
TOM T.: It's always a challenge when the puck starts flying and you want to win. And with O'Reilly, who plays on both special teams, if there are penalties to be killed or power plays to be whatever-ed, Berube is going to want him out there.
The simplest way around this would be for the Blues to try winning a game by a couple goals for a change so Berube can keep rolling four lines.
SHOOT MORE, SCORE MORE?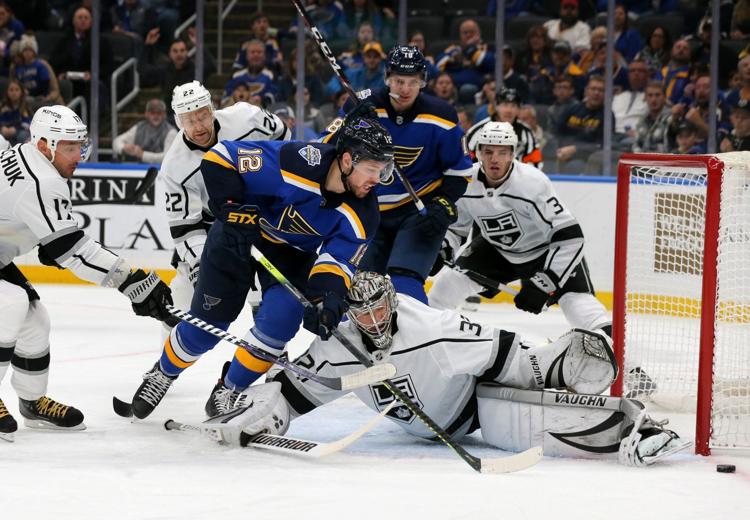 QUESTION: The Blues are rocking one of the league's worst "expected goals for" percentages (sub-45 percent in 11 of 16 games). It's incredible that they sit atop the West. How much longer do you think they experiment with MacEachern/Sanford before the kids in San Antonio get a call-up?
TOM T.: It's not MacEachern's fault the team's expected goals are so low. Of the 12 forwards who suit up most games, he should be 12th in shots. Sanford is a different matter, since he's playing on a top two line. Sanford has no shots in the past two games and has committed penalties in three of the past five games. The issue with Sanford remains the same -- he plays well for a few games, then slowly comes back to earth. He had four shots in the Los Angeles game, seven shot attempts, four hits. He was everywhere. In six games since, he has five shots on goal.
But it's not just him. This team isn't shooting much, and when you don't shoot much, that brings your expected goals down. The Blues are scoring at about the pace they should for the chances they have, but they need more chances. There were some flurries of extended zone time last night in Vancouver, which is what made the Blues good at the end of last season. They need to do that more. And shoot.
TOO MANY CLOSE CALLS?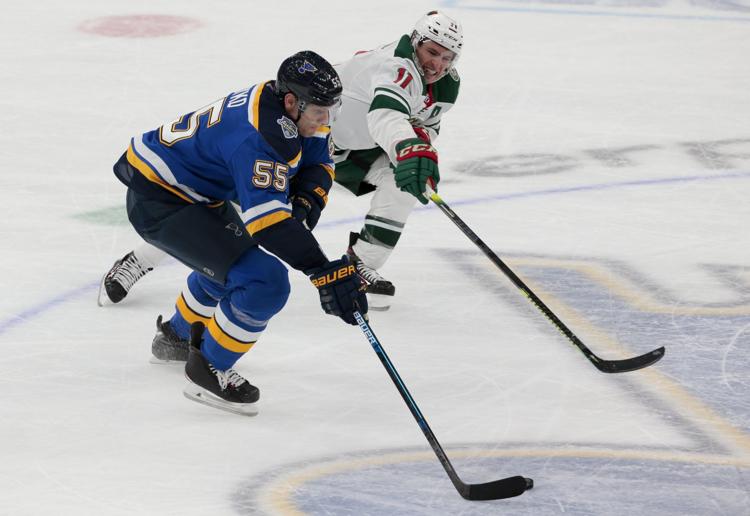 QUESTION: Does the Blues' recent run of OT and late one-goal victories make you nervous about what's to come? I worry that OT can be a coin flip, and eventually those wins might start turning into losses, and also that the failure to close out games in regulation may hurt us at the end of the season.
TOM T.: Well, it doesn't make ME nervous (other than the fact it makes writing every game story into a deadline ordeal), but if I were the Blues, or their fan base, I'd be concerned.
I've said this for years, but I'm seldom impressed by a team's record in one-goal games or overtimes, Those games can go either way on the bounce of a puck, and no game is more random than hockey. Show me how a team does in games decided by two or three goals, because the really good teams at that are the really good teams. (Same with basketball; tell me a team's record in games decided by 10 or more points.)
Other than the Columbus game, which was decided eight seconds in and before the Blue Jackets touched the puck, any of the recent overtime games could have gone the other way very easily. It doesn't take much for wins to become losses. So yes, while these points are good for the Blues to have, their method of acquiring them is not the optimal way.
---
Follow-up: Considering how the team won in the playoffs last season and that Vladi is gone for the year, is it realistic to expect this team to win by 2 or 3 goals a night? Unless the PP becomes a top 5 unit, 2-1, 3-2 seems like how this team is going to win on most nights.
TOM T.: The way this team is currently playing, 2-1 and 3-2 games seem like the order of business. On the few occasions the Blues have had a chance to turn a two-goal lead into a three-goal lead and effectively put a game away, they haven't done it. They need to do it. One-goal games are inevitable, but a steady diet of them is a recipe for trouble.
The Blues need to score more, and to do that, they'll need to shoot more. Thirty goals by Tarasenko lost is a lot, but that still means that in about 60 percent of games, he wasn't scoring, and the Blues didn't win those games 2-1. There are still goalscorers on this team. Jaden Schwartz has two goals. Colton Parayko has none. They need to get on the board more. I've seen it happen. Teams can win by more than one goal.
IS KOSTIN A KEEPER?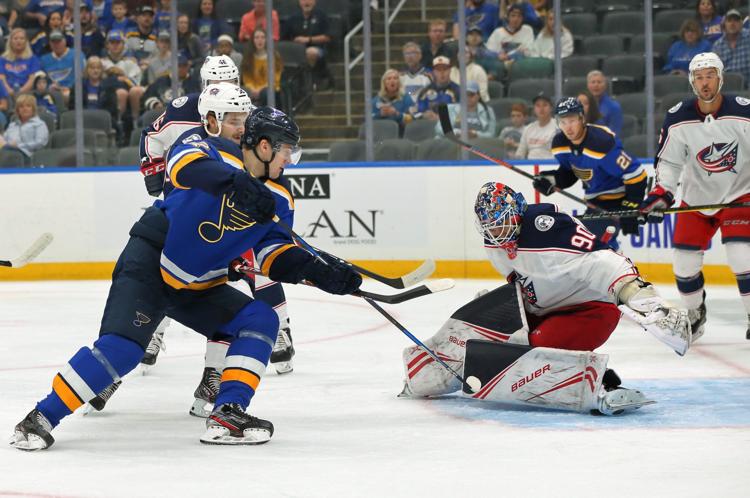 QUESTION: Klim Kostin, what's his deal? Is he not NHL material or is it more that the Blues are winning so there's no reason to call him up? When the Blues brought him in, there was real excitement about his potential. Has the organization cooled off on him?
TOM T.: He is NHL material and the team is high on him. He's also 20 years old, is still adjusting to living in America, and the team wants him to be ready to go when he gets called up.
If the Blues were in a situation today where they needed to call someone up from San Antonio to play tonight, Kostin would likely be the guy. If they needed to call someone up to be on standby and probably watch, they'd likely go with Nathan Walker or Jordan Nolan.
This is Kostin's third year in North America, but in many ways he's still a kid.
THE 3-ON-0 BREAKAWAY
QUESTION: Have you ever seen a 3-on-0 to win a game? How crazy was that?
TOM T.: I think I've seen sort of a 3-on-1/2, where one defender is getting back in the play and makes the other team have to at least think on the fly. But this was the rare time where it was so one-sided that the players were actually able to stop and pass the puck around before a defender got there. It kind of reminded me of the Last Puck drill teams do at the end of warmups, where a bunch of guys stand around the crease and try to score on the goalie.
Just think if Markstrom had made a save on that play? That would have left a mark.
---
Follow-up: Its a good thing Schwartz didn't miss on his shot in OT. He would have never lived it down.
TOM T.: No, though the play was tougher than it looked. Schenn was having a tough time controlling that puck, which was spinning on him. If that puck bounces and the play is shot, all three of them would have been in uncomfortable positions.
HOW THE REST OF THE LEAGUE LOOKS AT THE BLUES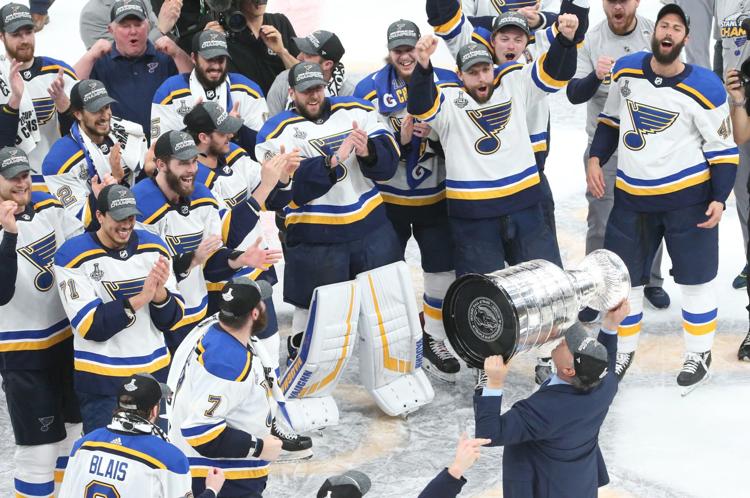 QUESTION: In your conversations with reporters covering Blues opponents and opposing players, do you get the feeling the Blues winning the Cup last season was considered a fluke? You never hear Blues players in the conversation for awards, etc., and maybe everyone is thinking STL has no superstars so it must have been a fluke.
TOM T.: The Blues season will always have a certain perceived flukiness to it because they came from so far back and because there were so many upsets in the playoffs, with all the division champs making early exits and because they don't have a big star. But the Blues were, in the regular season, the best team for a healthy stretch in January and February. Their numbers were way above everyone's.
I haven't talked to enough people to have a definitive answer, but I think their style of play and their attitude made many feel they were deserving.