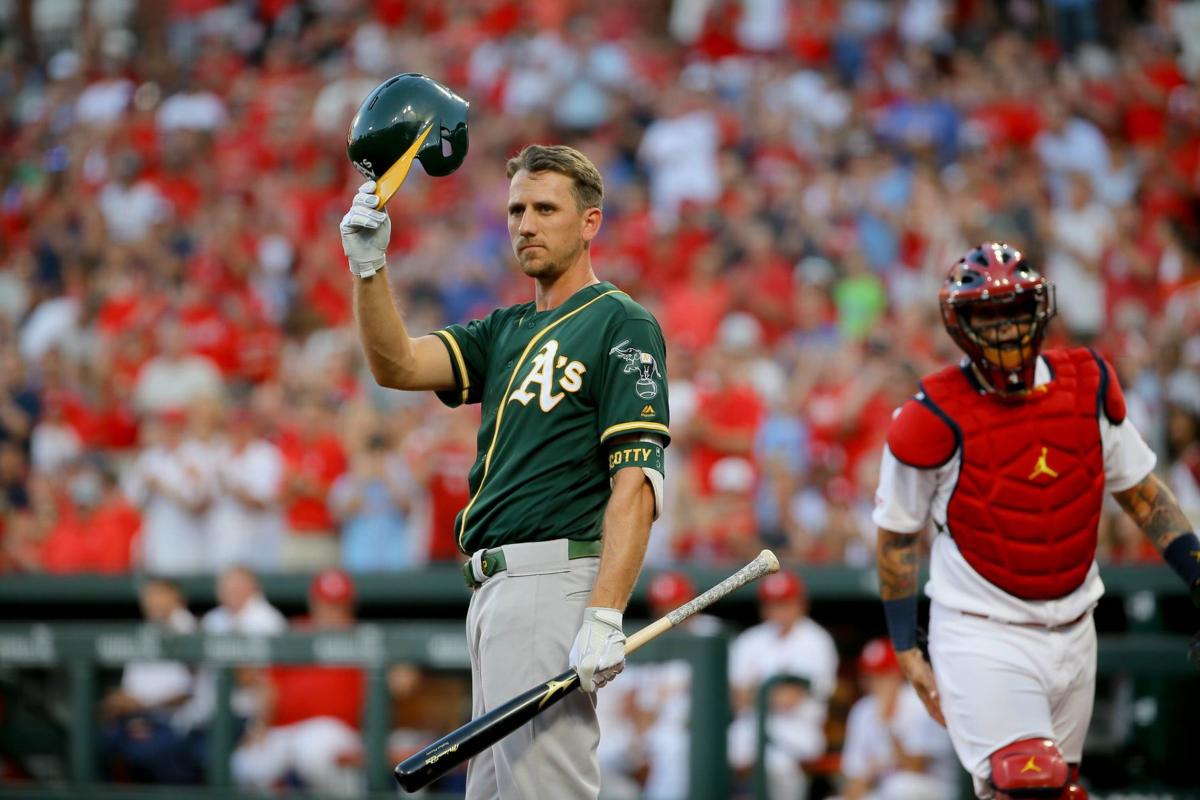 SAN DIEGO — Stephen Piscotty didn't hesitate.
"Yes," he said when a representative from Major League Baseball called this offseason to gauge his interest.
So, there was the sixth-year MLB outfielder bright and early Monday morning, up on a stage at the Hilton San Diego Bayfront.
He stepped to the podium with a lesson from his late mother, Gretchen Piscotty, on his mind.
"My mom wasn't one to like the spotlight or anything," Piscotty said to a few reporters after the cameras stopped. "But when I was traded to Oakland, and the story broke, she was always very open to interviews or anything that helped get the word out. She didn't want anyone else to suffer the way that she was. We could see the passion she had for that. We wanted to carry that."
Major League Baseball's annual charity auction has picked ALS, a devastating and so-far incurable neurodegenerative condition also known as Lou Gehrig's Disease, as the focus of this year's fundraising. Money raised by the public's pursuit of a variety of experiences, from golf outings with players to a package for the All-Star game, will be spread out between different causes dedicated to raising awareness about the disease, treating it and hopefully one day curing it.
The cause is close to Piscotty, of course, because he lost his mother to ALS in May of 2018. His trade from the Cardinals to the Athletics after her diagnosis, one made in large part to bring him closer to his family during their crisis, became a national story at the time. So did the home run he hit in his first game back from bereavement leave.
Piscotty's personal story is both heartbreaking and motivating. And still developing. He was here Monday as more than just a spokesman. The foundation his family started, the ALS Cure Project, is one of five benefactors of the league's charity auction.
"We're trying to use incentive-based research," Piscotty said.
This was when the outfielder started sounding more like a scientist. I had never before heard a baseball player mention biomarkers, or explain the importance of securing a 501(c)(3) tax exemption. Piscotty can now easily toggle back and forth between the world of fundraising — he's got one gala beneath his belt already — and the lacking history of medical treatments for ALS.
Piscotty's father, Mike, is a computer scientist by trade. Stephen, a Stanford product, can keep up. The family and a group of loyal volunteers are committed to a cause that aims to incentivize the pursuit of a cure by funding research on biomarkers — warning signs that might appear in the brain or body of patients — to help increase the opportunity for new treatments.
"It's a tricky thing," Piscotty said. "Because ALS is so rare, often times it falls under the radar. Our general feeling as a family, watching a loved one go through it, it truly is an absolutely brutal disease. It deserves more awareness and funding to get some more advances. My mother was on a medication that was new, and it was the first new drug in 20 years. There just haven't been many advances. We feel like, with the technology today, we should be able to make more strides."
Piscotty had heard of Borchelt's death. He sent his condolences to the family. He hopes to, one day, be able to do more.
"Our goal is to cure ALS," he said. "That's going to take some time, probably. But we will keep working."
Keep up with the latest Cardinals coverage from our award-winning team of reporters and columnists.