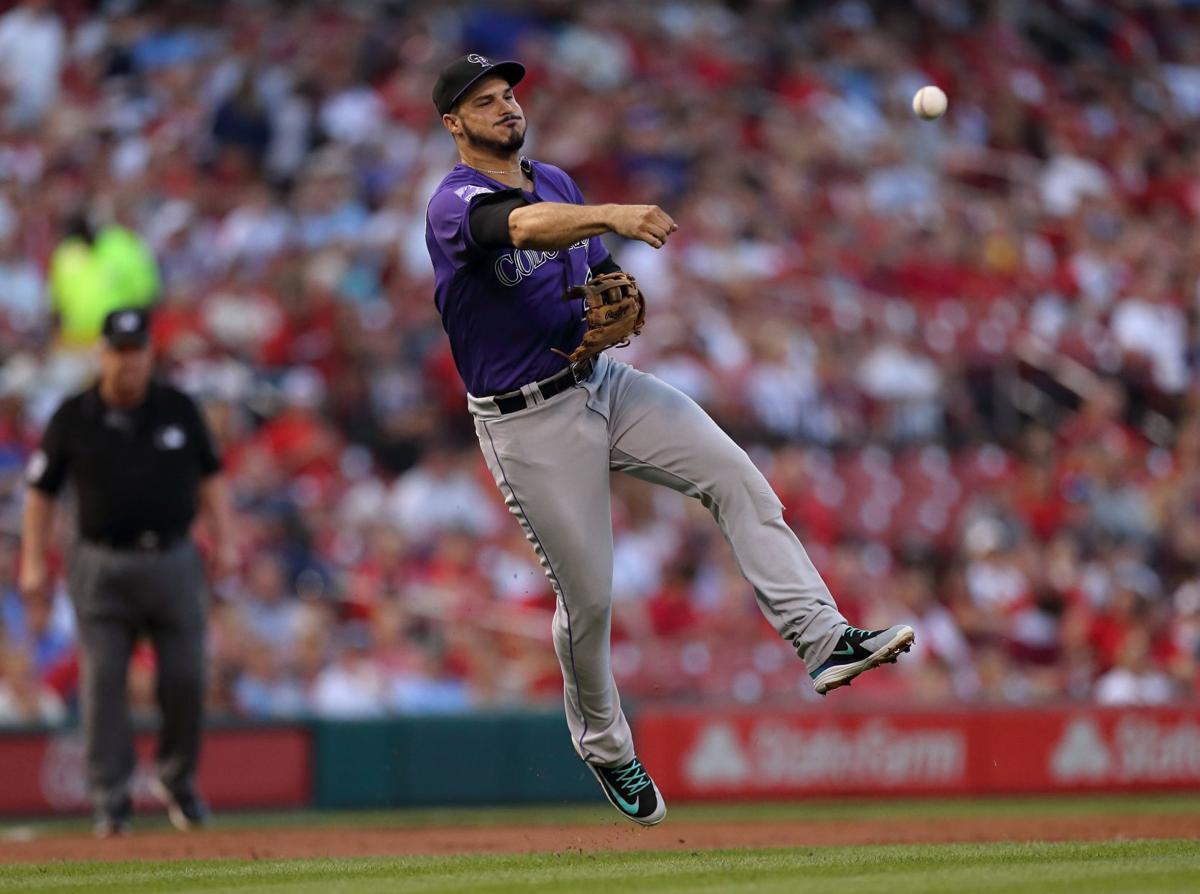 Rounding up hot topics from columnist Ben Frederickson's chat with fans of St. Louis sports:
QUESTION: With the recent setback in its pursuit of state tax credits, where do things stand with MLS4TheLou? Is there a chance this falls through?
BENFRED: I don't have a hard answer as of today.
The MLS4TheLou ownership group is declining to comment on the setback from the state's rejection of the tax credits. We've asked them multiple times. Nothing shared yet. I do know the members of the group are not happy with this unpleasant surprise, and they're not pleased with the public perception that the people they have deals with can pull out and just expect the group to shovel more private dollars into a project that already includes a remarkable amount of private dollars.
They're asking the same questions as anyone who followed this closely. Why would the state show multiple signs of support of the plan and then pull out the rug at the last second?
If I had to make a prediction, it would be that a smaller amount of tax credits is negotiated between the city and the state, something bigger than what was suggested when the $30 million was officially rejected, but not as big as the $30 million.
---
QUESTION: The chatter about Cardinals president of baseball operations John Mozeliak chasing after Nolan Arenado seem to go against what the Cardinals say they are up to the rest of this offseason. Is Mozeliak planning a holiday surprise?
BENFRED: The Cardinals have made it more than clear that they are not in the market for a third baseman. Not sure why the chatter about Arenado ignores that. So, yeah, that would be a massive surprise. I don't expect it.
Remember the commitment the Cardinals gave to Dexter Fowler before last season? The same treatment is being applied to Matt Carpenter now.
The Cardinals would, based on their comments at Winter Meetings, be interested in adding a left-handed, every-day bat for the outfield, at their price. That looks like the trade market now. One option (Mazara) is off the board. I'll remind folks that the last time the Cardinals said they wanted a left-handed bat at their price -- one that was not identified as a major need by the team -- it turned out to be Drew Robinson, who did not beat out Yairo Munoz for the utility job.
I'm not expecting much, is my point. Certainly not Arenado.
---
QUESTION: What do the Billikens need to do in A-10 play to secure a spot in the NCAA Tournament?
BENFRED: Splitting the Dayton series and beating VCU would help a ton.
Those are believed to be the two A-10 teams with better shots at the tournament, where things stand today, than SLU. But this should be a deeper year for the conference. I doubt four teams get in, but three would not be wild.
SLU has no bad losses. Seton Hall and Auburn were both ranked 12 at the time of those losses. Seton Hall has since beaten a top-10 Maryland team. Auburn is now 11-0.
If SLU can upset one of the bigger dogs in the conference, it will be in good shape if not on the bubble, leaning in.
---
QUESTION: What is your early impression and opinion of the Eliah Drinkwitz hire at Mizzou?
BENFRED: Lots of upside. Lots of uncertainty.
His team won 13 games, but he recruited few if any of those guys that were on the field in meaningful roles this season. There's a risk in hiring a first-year head coach, because it's impossible to really know what is real and what is fools gold from his previous program.
I've loved the energy, enthusiasm and confidence he's shown since accepting the job. He's moving the needle, and this fan base could use some of that. It's easy to get fired up about a coach who hasn't coached a game, but he seems to know how to make folks want to watch.
I don't doubt his offensive credentials We will see about his recruiting and ability to handle the deep waters of the SEC.
Gary Pinkel has been really, really impressed, and not just by the comments he has said publicly.
---
QUESTION: Good luck to Drinkwitz, but why didn't the Tigers hire a coach with more certainty? This seems like a risk.
BENFRED: Depends on your definition of the word certainty.
Jim Sterk's initial list had what, I'm sure, he described as certainty. Proven head coaches who had a history of winning, some at places that are not easy to win. But those same coaches were non-starters with fans (and curators) because they didn't move the needle. If these guys -- Blake Anderson, Skip Holtz, Jeff Monken -- were so good, then why had they not gotten a big job sooner?
That conversation steered toward the high-upside, big-risk option of Drinkwitz, he who had one year of head coaching beneath his belt, but had become known as a rising star in the profession. If you wanted absolute certainly, like Nick Saban absolute certainty, then Mizzou was never going to get it. It can't pay enough. The program is not appealing enough. Matt Campbell and the other most desirable options were not interested for what Mizzou could offer.
---
QUESTION: If the Cardinals take the current roster as-is into next season, what would you expect for a won-loss record? Better than last year's 91, roughly the same, or worse?
I'm not quite buying the notion that Marcell Ozuna can walk -- as we all expect him to -- and a bad offense is then going to get better just by simply turning to internal improvement and internal options for replacement.
I'm also not one of the folks who has turned Ozuna into Babe Ruth. His numbers, compared to other cleanup hitters across baseball the past two seasons, are quite unremarkable.
So, perhaps an offense that was unreliable last season is about the same, or a little worse.
I do think it's hard, just based off what we know about baseball, to imagine every guy who had below-career-average production to do the same thing again this upcoming season.
Some guys will be better.
I think Paul Goldschmidt will be one of them.
The Cardinals are going to pitch, defend and run well. The offense is a mixed bag. Sounds similar to last year, right?
The other thing: I think the division takes a step back, which only helps the Cards.
---
QUESTION: Have you seen any economic analysis on how the massive cost overruns occurring with Stan Kroenke's Los Angeles football stadium are impacting the potential money the league hoped that venture would create?
BENFRED: It has to be a historic undershot when it comes to cost projection for a sports stadium.
A combination of unchecked bravado and bad luck, like the surprisingly heavy rainfall that spent days complicating the construction site. Karma! Don't expect to get much info from the Los Angeles media on the true debacle the stadium has become in terms of cost setbacks. One, Kroenke is doing this with his own money, so fewer people care. Two, the Rams are spinning it as they please, and the people covering the team will not want to lose access to the team by digging into Kroenke's sore spot.
The recent ESPN story opened a lot of eyes to the Los Angeles side of this mess. St. Louis folks are following our side of it, and have been for some time now.
---
QUESTION: Does trading Adolis Garcia for cash seem like a bad roster move? Aren't there less-valuable players on the 40-man who could have been processed?
BENFRED: More than anything, it indicates that the Cardinals had started to view Garcia as a declining asset. The Cardinals have a logjam of young outfielders that is not going to be able to be sorted through by playing time alone. There are just too many of them. Garcia's rising age and still-spiking strikeouts put him at the bottom of the barrel. If you were expecting the Cardinals to keep him, or someone in his position, by eating a significant contract of a player they hope they can still get something out of, think again. It's not how they do business.
---
QUESTION: What are the Brewers doing? They let a ton of talent walk, but now they're adding talent again? Are they rebuilding, or what?
BENFRED: They're Brewers-ing.
Trying to remain competitive with budget deals they feel adhere to the financial limits they have decided they're under. Some of the players they had acquired in this same way had, because of their strong play, become more valuable. Now they aim to do it over again with new guys. I agree with you that the new additions don't seem to be better additions, but no one was shaking in their boots about Milwaukee's additions of Yasmani Grandal and Mike Moustakas when they happened, either. The Brewers are not stepping back as much as they are sidestepping. If they don't trade Hader, I think they'll be competitive again, but maybe not quite as much.
---
QUESTION: Should the Cardinals' addition of Kwang Hyun Kim make Carlos Martinez a bit nervous?
The Cardinals no longer have to weigh Carlos Martinez vs. A Pool of Young Pitchers. It can weigh Carlos Martinez vs. a proven left-handed veteran who pitched 190 innings last season. Kim is a solid option as a fifth starter. Maybe better. Martinez can be an elite starter. If he's not elite, he doesn't have to be far off it before Kim could get the nod. Especially when you consider Martinez's success at closer. Not much has to go wrong before the Cardinals start looking for reasons to have Martinez pitching for saves instead of starts.
---
QUESTION: Another Braggin' Rights loss has Illinois fans frustrated. Is the expectation from the Illini fan base that the team should be a tournament team every season unrealistic?
BENFRED: Illinois is a sleeping giant when it comes to college hoops. Don't let anyone tell you differently.
The passionate and loyal fans. The recruiting potential in Chicago. The history.
Those components are the reason Brad Underwood took the job, and the reason he coaches under the kind of pressure that makes losses like Saturday's chip away at his progress.
---
QUESTION: Should the Blues make a move for scoring help before the trade deadline? Are they all in? And could Jake Allen be included in that deal?
BENFRED: Second question answered first. They're all in. Blues GM Doug Armstrong has made that pretty clear.
As the Blues get healthier and continue to win like this, though, there is a fair question to be asked: What is the potential downside of an addition aimed at improving scoring, and could the risk of imbalanced chemistry be greater than the need? Last trade deadline, Army decided to stand back and let a surging team continue to gel. This is kind of starting to look like that, isn't it? Especially if the Blues have a sense that Vladimir Tarasenko could be a contributing member of a postseason team. It's a great question and one that gets harder to answer as the Blues keep piling up wins.
The Blues won't, and shouldn't, trade Jake Allen unless they are sure it adds some scoring they feel they must have to win the Cup. You don't trade him for prospects or something less than proven, not in this championship window. Allen's play has been superb this season, and most championship contenders these days have two solid options in net. The Binnington/Allen combination is not breaking the bank. They get along. The situation is not untenable. So, there's no need to move him unless it's a no-brainer to make the team better, and then you are really risking depth, because Binnington would be one slump or injury away from regret.
One more thing on the Blues' scoring.
Some numbers that might interest you.
Tarasenko was injured on October 24.
Since October 25, the Blues have the 12th-most points (231) in the NHL, four short of the Washington Capitals.
As for winning percentage during that span, the Blues .732 is second-best in the league, trailing only the Caps' .769.
None of us would have predicted this when Tarasenko joined the long list of the Blues' walking wounded. It's really impressive how they have played without such a scoring threat, and it makes you wonder what kind of turbo boost Tarasenko could provide if he returns for the postseason.
---
QUESTION: A Christmas game of "This or That": Egg Nog or Hot Chocolate? Real Tree or Fake Tree? Christmas Vacation or A Christmas Story? Elf or The Grinch? Cookies or Cookie Dough? Turkey or Ham?
BENFRED: Nog; Real; A Christmas Story; The Grinch; Cookie Dough; Ham. These were surprisingly easy. How did I do?