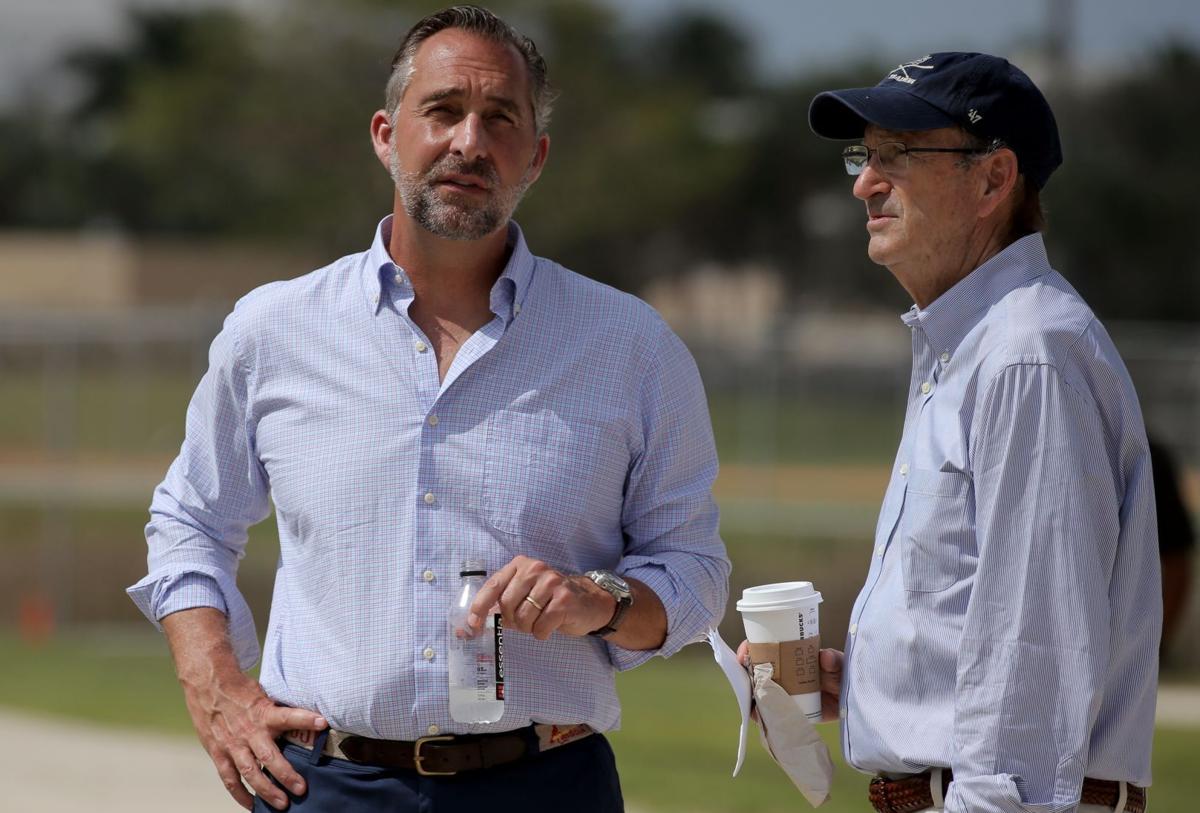 In a roundabout and headache-causing way, maybe Cardinals radio broadcaster Mike Shannon did the DeWitt family a favor on his way toward dropping the mic.
A few of you out there in Cardinal Nation are probably feeling a stronger sense of appreciation for your favorite club's current chairman this weekend. If not, you should be. It's funny how the suggestion something could be nearing an end can make you realize you would rather see it keep rolling.
"Word on the street is that they're going to sell this franchise," the retiring Cardinals Hall of Famer Shannon said about the DeWitt family during the radio broadcast of Thursday afternoon's game, shocking everyone —including the DeWitt family.
Shannon's words spread faster than Harrison Bader rounding first.
Cardinals officials including president Bill DeWitt III and president of baseball operations John Mozeliak rushed to pour cold water on what they called a baseless claim.
But some fans, and understandably so, wanted to hear an answer straight from the top. This is St. Louis, after all. Trust issues with team owners are a very real thing.
Cardinals chairman Bill DeWitt Jr. did the opposite of letting his son and Mozeliak speak on his behalf.
He hopped on the Cardinals' Friday afternoon Zoom announcement confirming Adam Wainwright's deserved one-year extension and stuck around after the veteran righthander departed to field any questions that came his way.
He had a pretty good idea of which one was going to come first.
"I can't imagine in my wildest dreams where that came from, to be honest," DeWitt said when asked by the Post-Dispatch about Shannon's comment.
The long-term future of any team is always a popular speculative topic. Especially when the owner is 80. Shannon's comments brought the topic from the message boards to the main stage. It had to be addressed.
DeWitt did just that, as convincingly as one can.
"There has been no thought in our family of selling," he said. "When I heard it, when I heard that statement was made, I just couldn't figure it. But, you know, people speculate for whatever reason. There is absolutely zero interest in my son and I and the rest of the family in selling our interest. So, you know, there's nothing there."
DeWitt sounded upbeat and optimistic about the future of Cardinals baseball despite the turbulence caused by the COVID-19 pandemic and the uncertainty of an offseason that will require a new collective bargaining agreement to avoid a work stoppage.
"I think we are in a really good place in terms of the team," he said. "The way some of the younger players have come through and shown what we thought they could be is pretty exciting. We've got a good system with some top young prospects we expect to see in the not-so-distant future. I'm very optimistic about what it looks like in the next number of years."
That's about as forceful of a shutdown as you're going to get from DeWitt without him veering toward comments that could come off as disrespectful toward Shannon.
Shannon's unpredictability has always been part of what endears him to fans. That said, this one came out of left field even for Shannon. Shrugs and shaking heads were the reaction from those closest to the beloved broadcaster, who had a tough go with COVID-19 before his final season in the booth began.
"A rumor is just a rumor," Shannon told the Post-Dispatch before Friday's game. "That's what I reported it as — a rumor."
I suppose if the DeWitts ever do decide to get out of the baseball business somewhere down the road, Shannon can say he was right all along. What's the statute of limitations on something like that? Five years? 10? Forever?
But for the present and the foreseeable future, there is no for-sale sign up at 700 Clark.
The DeWitt era churns along, as engaged and present as the chairman father and president son were on the field for Tuesday night's clinching of a wild-card spot. DeWitt Jr. can still name rising prospects who have caught his eye. DeWitt III is as tuned in to fans' highs and lows as any MLB official you're going to find. The family has worked to increase, not decrease, its ownership stake over the years. The statement of commitment to the future is good news brought about by an unfortunate event.
One quick look around MLB — pathetic attendance for the Pirates, a massive selloff for the Cubs, a decade without a postseason for the Phillies, a championship drought since 2009 for the Yankees — presents a reminder that the problems Cardinals fans have lost sleep over during the DeWitt era are the definition of baseball's first-world problems.
Wednesday's appearance in the National League wild-card game will mark the Cardinals' 16th postseason appearance in the 26 seasons — and eighth in the last 11 seasons — since DeWitt's ownership group led the purchase of a declining team from Anheuser-Busch entering the 1996 season.
DeWitt's Cardinals have won 11 division titles, four National League pennants and two World Series championships.
They rank third in the NL in regular-season wins (2,250), first in the NL in postseason games played (147) and first in the NL in postseason games won (75).
In order to catch the Cardinals, the defending World Series champion Dodgers would need 20 more postseason wins while the Cardinals get shut out.
None of this will dampen Cardinal Nation's demands for another World Series championship. Nor should it. Ten years without one is a long time for this historic club, and that will be the mark if the 2021 Cardinals don't turn a season salvaged into a storybook one.
These Cardinals have a shot. They almost always have and almost always will during the DeWitt family's leadership. A rumor rebuffed makes that worth appreciating all over again.
Sports columnists Ben Frederickson and Jeff Gordon discuss the fact and fiction of The Mighty Mo. And they're not talking about John Mozeliak.…