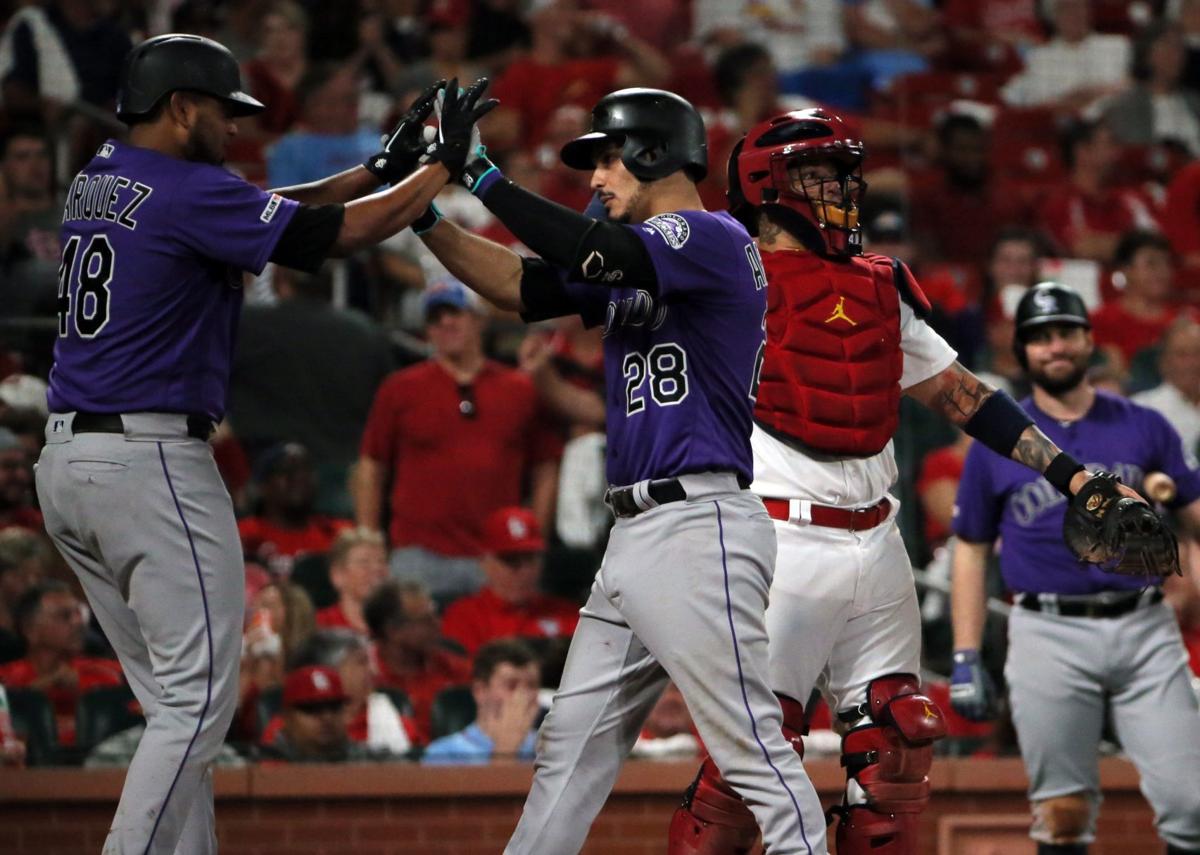 Five topics from columnist Ben Frederickson that St. Louis sports fans should be discussing:
1. Don't sweat Arenado's road numbers
As the Cardinals continue to converse with the Rockies about how a Nolan Arenado trade could work out for both clubs, there has been some discussion in Cardinal Nation about the 28-year-old third baseman's offense away from hitter-friendly Coors Field. Arenado has seven Gold Gloves, five All-Star appearances and four Silver Slugger awards. He also has a career batting line of .265/.323/.476 on the road, compared to a career line of .324/.380/.615 at home.
I get it. That's scary at first glance. But it's worth remembering that Arenado made his MLB debut as a 22-year-old in 2013, and that he didn't really fire on all cylinders offensively until his third season (2015). Since his start of five consecutive All-Star appearances in 2015, he has been a much more impressive hitter on the road. Last season, Arenado's road on-base plus slugging percentage (OPS) was .866, which ranked ninth-best among MLB hitters age 28 or younger. Baseball Reference keeps track of league split OPS, meaning we can compare Arenado's road OPS to the league average road OPS. A number greater than 100 means that hitter had an above-average road OPS. A number less than 100 means below-average. Simple. Got it? Good.
Arenado's number since 2015 is 129. Sure, he's better in the thin air of Coors Field. Of course he is! Just don't let that get twisted into him being ho-hum on the road. Arenado isn't ho-hum anywhere.
2. Another setback for Kroenke?
Those who are paying close attention to St. Louis' ongoing lawsuit against the Rams and the NFL over the league's relocation rip-job took interest in a recent Los Angeles Times headline. Two companies owned by Rams owner Stan Kroenke are suing an insurance firm over the cleanup of arsenic-contaminated soil at Kroenke's Inglewood stadium development. I know, I know. It's tough to hear about more problems for Kroenke's dream stadium, which has overshot cost estimates by billions. That's billions, with a "b."
But more interesting here is the Los Angeles Times confirmation that the Kroenke-owned TKG Management and Pincay Re LLC discovered the arsenic issue during work that was being done in November 2015. Remember, the NFL did not approve the Rams' move to Los Angeles until January of 2016. Hmmm. When did that stadium development work done by Kroenke-owned companies really start anyway?
Add it to the long list of questions to sort out during depositions.
3. What Missouri State should say about Petrino
No need to hire a public relations firm. Here's the line Missouri State athletics director Kyle Moats should stick to during today's introduction of new Bears football coach Bobby Petrino: "We made this hire because Bobby Petrino has a 119-56 record in 175 games as a college football coach, and we have decided that becoming a controversial team is worth the risk as we attempt to escape irrelevancy."
Anything beyond that is bogus.
Any attempt to pretend Moats and Missouri State cared about or considered Petrino's past transgressions should be laughed out of the room.
Supporters of the hire are whining about the criticism of the hire, whining about the coverage Missouri State receives, and whining about how bad the football team had become — as if that justifies hiring a guy who got zero traction for head coaching jobs elsewhere. Why? Because he's left every place he's been worse than he found it while compiling a greatest-hits list that includes constantly and often secretly interviewing for other jobs while on the job, hiring a mistress who happened to be engaged to an athletics department employee, and the complete and absolute flop of a 2018 season at Louisville with a team that turned on him.
As one college basketball assistant said in a text message Wednesday: "Get fired for anything but losing, and you will be OK."
4. Dayton star sidesteps scare
So much for the SLU Billikens getting a weakened version of Dayton star forward Obi Toppin in Friday's big game. Toppin, who averages 19.5 points and 7.5 rebounds, turned an ankle before the Flyers' dominant win against VCU on Tuesday. No matter. He had 24 points, nine rebounds, three assists, a block and a steal in 34 strong minutes in the win. This development would make a SLU win that much more impressive.
5. One thought on L$U
A quick game of Dumb and Dumber (and Dumbest).
Dumb: NFL star and former LSU receiver Odell Beckham Jr. handing out cash to players on the field after the Tigers won the national championship.
Dumber: The LSU spokesman who told reporters the money was fake money, which turned out to be a lie, because, well, duh.
Dumbest: The fact that this story will get more national attention than LSU continuing to employ basketball coach Will Wade, who was caught on a federal wire tap discussing pay-to-play recruiting offers.