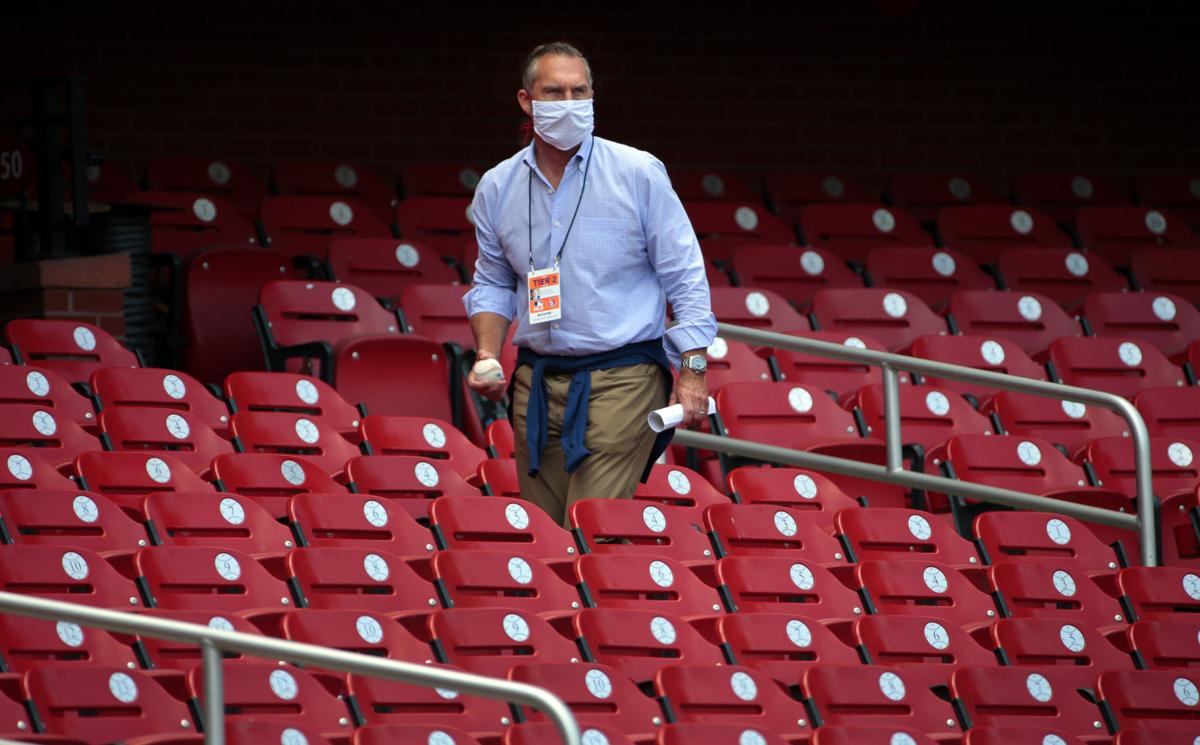 Coronavirus columns were due for an off day.
At least that was the plan when the Post-Dispatch baseball coverage team went through its temperature checks upon entry to Busch Stadium for Saturday's second day of Cardinals summer camp.
I wanted to dig into how manager Mike Shildt plans to use the designated hitter during this 60-game sprint.
But when the Cardinals players who were not on the field Friday never appeared on the field Saturday, and the Blues' uptick in positive cases raised questions about a team hanging out in a bar, plans had to change.
Center fielder Harrison Bader was in the middle of his video interview with reporters when the team's Twitter account alerted the world that two Cardinals pitchers — Ricardo Sanchez and Genesis Cabrera — had tested positive for the coronavirus.
Fortunately, both are asymptomatic, according to manager Mike Shildt. That's good news. The hope is that most professional athletes who test positive will find themselves in this category. An assumption all of them will? Well, that would be wrong. Ask Freddie Freeman about that.
The Cardinals could offer no direct answers about the status of five other players who have not yet been spotted on the field from the press box in the past two days: Carlos Martinez, Alex Reyes, Junior Fernandez, Elehuris Montero and Ivan Herrera.
Impossible to ignore while wondering about them was the knowledge that Cabrera had traveled to St. Louis in a group that included at least Martinez, Montero and Herrera.
For those scoring at home, that's three confirmed coronavirus cases among the Cardinals, five confirmed coronavirus cases among the Blues (four players, one coach), and five more to-be-determined Cardinals who seem to be somewhere in the gray area of the MLB testing protocol that is designed to make sure that those who have come into contact with the virus don't come into contact with the team. A fourth Cardinal, Montero, was announced by the team as a positive case on Sunday. It is unclear if reliever Giovanny Gallego is one of the positive cases; the Cardinals have confirmed he has not yet traveled to join the team.
It's important to remember that teams can only announce the names of positive cases if the players agree. Shildt requested no jumps toward conclusions, and it's a fair and wise request. There is no fun, and no skill, in guessing who has coronavirus. It would be more fun to talk baseball, but that can feel like avoiding the obvious on days like Saturday.
The Fourth of July is supposed to be about fireworks.
Instead we got rain on a parade.
Dodgers starter David Price became the seventh known MLB player to exercise his right to opt out of the 2020 season for health concerns. Giants catcher Buster Posey joined Angels star Mike Trout in declaring he's still on the fence about playing. Other baseball players who reported to summer camps could still change their minds, and it would be unrealistic to assume some won't, especially once they hear about Braves first baseman Freeman, one of four Atlanta players to test positive.
Those who are declaring all professional athletes are going to bounce back from coronavirus in two weeks, tops, might want to read this.
"Most of you might know by now," Freeman's wife, Chelsea, posted to Instagram. "Freddie tested positive for COVID-19 last night. He has had body aches, headaches, chills and a high fever since Thursday. He is someone who literally never gets sick and this virus hit him like a ton of bricks. We've been really strict for the last four months. Haven't gone to a grocery store, haven't gone out to dinner once, haven't seen our friends and only family allowed at our house, and we still got it."
Realists understood all along that getting teams back together would require testing, and that the testing would lead to the news of positive cases in sports, which would in turn lead to critics calling for the comeback attempts to be stopped.
Ignore those predictable shouts. But don't ignore the real threats to resuming games.
Real threats look like signs that suggest getting teams back together leads to the spread of the virus after an initial all-clear. They look like a struggle to establish a healthy baseline of a roster for the bulk of the practices required to have a postseason tournament or 60-game baseball season. They look like an unwillingness of those involved to play by a new set of rules required to minimize the spread of the virus; one example would be a team gathering at a bar. They look like an absence of notable players from the equation because of the virus or those players' understandable decisions to sit out to minimize their chances of catching it.
What realists had to acknowledge Saturday were too many examples of all of the above.
The virus, it just reminded us, doesn't care about our plans.
Correction: A previous version of this column listed Cardinals reliever Giovanny Gallegos as one of the Cardinals who tested positive for COVID-19. He has not been announced as one of four positive tests by the team. The Cardinals have confirmed that Gallegos has not been cleared to travel to join the team. It is MLB policy that teams can only disclose positive tests if the player approves of that news being shared.
Be the first to know
Get local news delivered to your inbox!