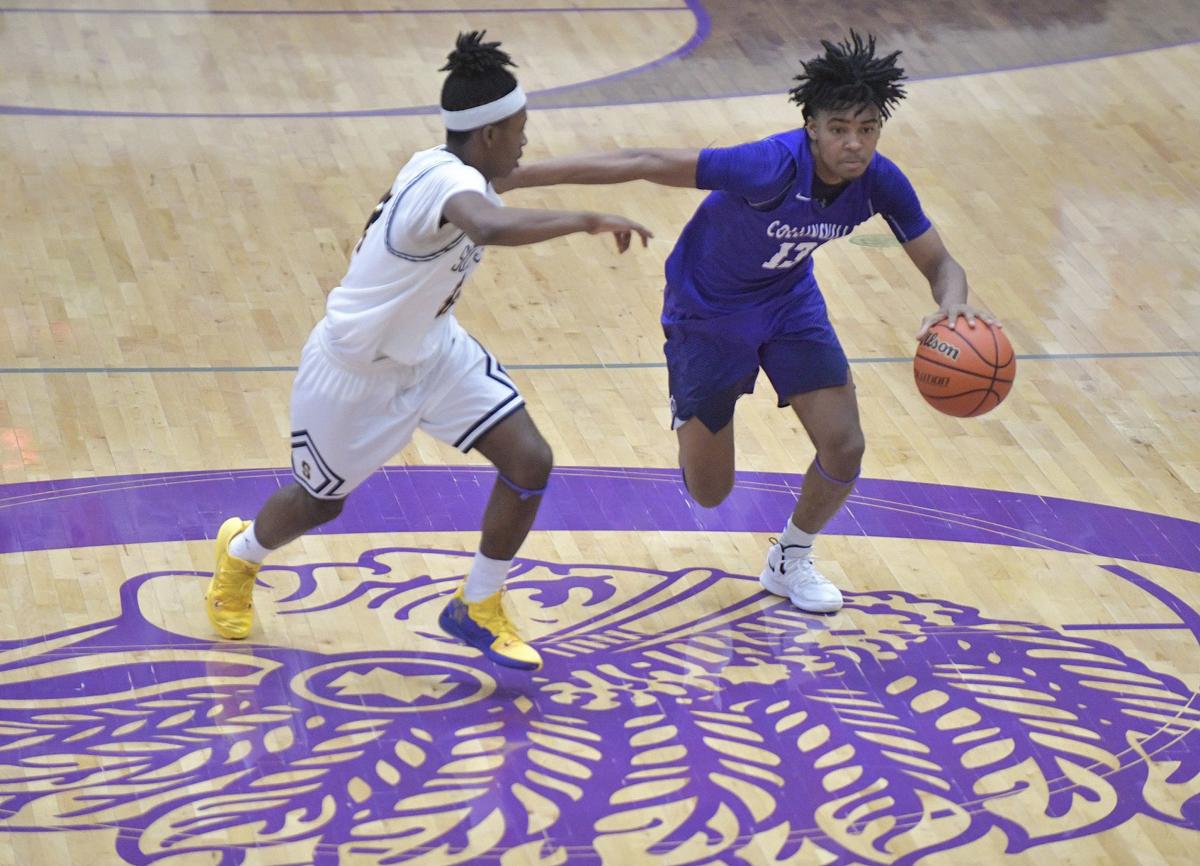 The answer for Travis Ford's Billikens basketball team was here in Collinsville for all Holiday Classic attendees to see.
"I dribble it three times," Ray'Sean Taylor said. "I kind of move my legs while I do it. I try to get my hands placed on the right spot on the ball. Then, I shoot it."
Collinsville's star senior guard has free throws figured out.
How does something so hard for some look so easy for others?
SLU basketball is haunted by horrible free-throw shooting. It's giving Ford gray hair and heartburn. Perhaps Taylor can help.
I'm not saying SLU should sign Taylor. Southern Illinois University Edwardsville already did. But maybe Ford could bring in Taylor for a pep talk of sorts?
"You have to be proud that you are going to the free-throw line," Taylor said. "If you go up there, like, 'Man, I don't even want to be here,' then it's going to be a miss."
By the time Taylor's Kahoks beat Oakville 68-41 on Friday night, Taylor had made 65 of 81 free-throw attempts this season. That free-throw percentage of 80.2 percent is impressive, considering no other player in the STLHighSchoolSports.com database has attempted more free throws this season.
"I pride myself on getting to the free-throw line," said Taylor, who once made 29-of-29 free throws in a game. "When I drive, I know I'm going to get bumped a lot. A lot of reaches. So, I perfected my craft as much as I can, and became a knockdown free-throw shooter."
I realize high school and college hoops are apples and oranges. I also know 15 feet is 15 feet.
The Billikens are a good team. They rank in Atlantic 10's top-five in scoring (72.8 points per game, fifth); field goal percentage (44.8, fifth); assists (14.6 per game, third); rebounds (41.1 per game, tied for first); steals (7.83 per game, tied for fifth); and blocks (4.17 per game, fifth).
After what should be an easy win against Bethune-Cookman on Sunday, SLU should start league play with an 11-2 record, one impressive win against Kansas State in Kansas City and zero bad losses.
SLU lost to then 12th-ranked Seton Hall at home. That same Seton Hall team, now 8-4, defeated No. 7 Maryland earlier this month. SLU's other loss came at then 12th-ranked Auburn. Those Tigers, now ranked eighth, remain undefeated.
A strong start has survived some turbulence. Sophomore guard Fred Thatch, whom Ford figured would be one of the team's leading scorers this season, has missed the last five games with a mystery illness/injury. Then freshman sharpshooter Gibson Jimerson was sidelined for the rest of the season with a foot injury.
So, SLU is in good shape, all things considered. And bracketologists think three, maybe four, A-10 teams could earn at-large bids to the NCAA tournament. But this cloud of concern hovers. You just have this sense that SLU is going to lose a critical game, or two, or three because of its biggest flaw. That would be some of the worst free-throw shooting in the nation.
The Billikens' free-throw percentage of 55.8 percent is the third-worst among college basketball's 351 Division I teams. Only Army (.553) and Mississippi Valley State (.552) were shooting a lower percentage from the free-throw line as of Friday. Army's record reads 5-6. Mississippi Valley State is 0-12.
It would be one thing if this weakness was limited to one player. SLU big man Hasahn French is 20-for-58 from the line, for example. But French is just part of the problem. Opponents aren't pulling a hack-a-French. They can play hack-half-of-the-rotation. Junior guard Jordan Goodwin is 22-for-47 at the line. Freshman point guard Yuri Collins is 18-for-34. Of the eight Billikens who have attempted double-digit free-throws this season, four are shooting worse than 60 percent.
It's contagious. It's driving Ford crazy.
"It does," he said before Friday's practice. "It does."
Some will remember that Ford made 88.5 percent of his free throws during his college days at Missouri and Kentucky. He made 91.2 percent as a senior. He was to free throws as Picasso was to painting. An artist. His Billikens are to free throws as toddlers are to finger painting. A mess.
Ford continues his search for solutions. Subbing himself into games is not an option. His eligibility is exhausted. This topic is exhausting him.
Last season, as the Billikens bricked their way to 59.8 percent from the line, Ford downplayed the flaw, barely mentioning it. This season, he's taken a different approach. He sprinkles free-throw drills into practice, with sprints awaiting those who miss. The problem? His players tend to make those free throws.
"Accountability may be a good word for it," Ford said. "Maybe pressure is. We are addressing that. Enough is enough. Step up and be mentally strong. It's not that we can't make them, because we make them in practice, you know? It's just being mentally strong. Step up there and make your free throws. We've seen games where we have made them. We've seen a lot of games where we haven't. We are trying new ideas on a daily basis."
Full disclosure, though. He only made three-of-five on Friday.
"I lost focus on a couple," Taylor said. "I'm a little frustrated. I'll be better."