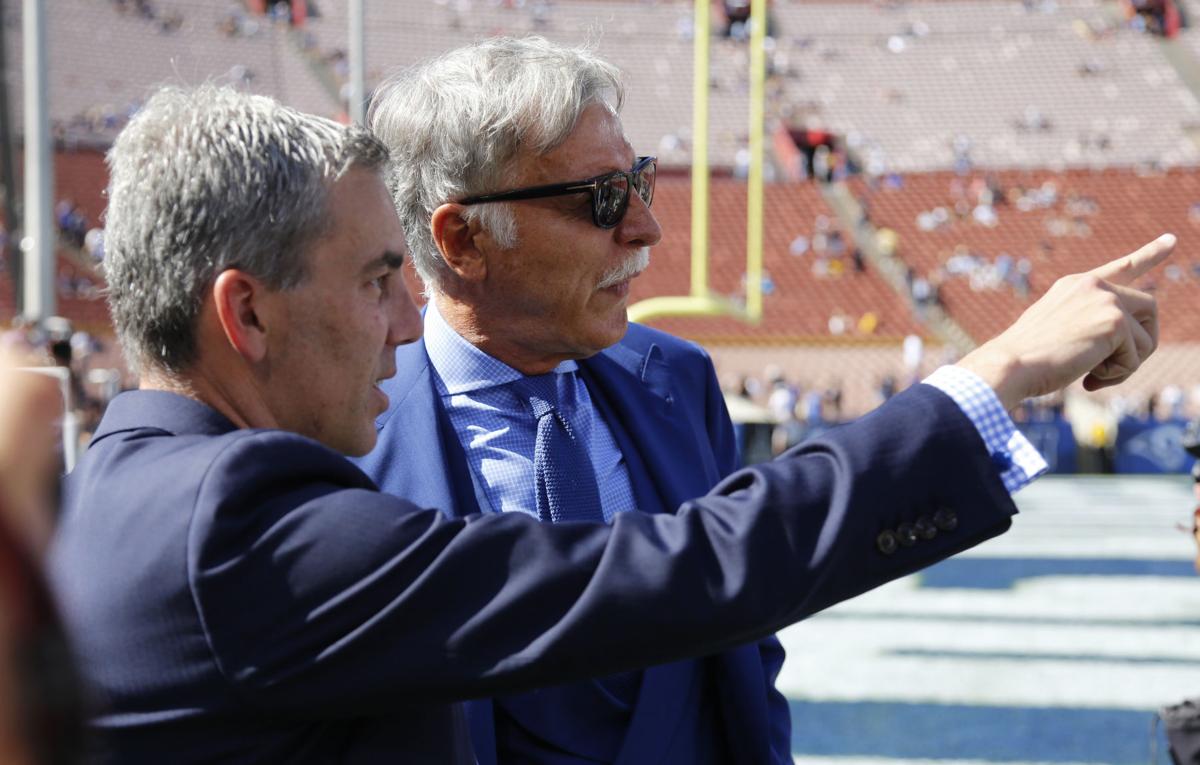 The years-long Rams relocation lawsuit saga wrapped up Wednesday.
The ink had dried on a four-page document as fast as NFL general counsel Jeff Pash slithered out of town.
How does $790 million make you feel, St. Louis?
I think we got our pound of flesh from Rams owner Stan Kroenke. But I have realized not everyone is using the same scale. For those willing to keep an open mind, here is some Thanksgiving food for thought about St. Louis' big settlement check.
• Consider where this lawsuit started. When filed in 2017, it was laughed at by the league and even dismissed here. "STL files stupidest lawsuit ever against NFL," read one local headline. The first column of the many I came to write about the topic suggested it was worth a shot to attempt to hold Kroenke and the NFL accountable for not only breaking the relocation guidelines that were supposed to be something close to sacred, but for throwing a match over the shoulder on the way out. I remember thinking then it would be great if STL got back that $18 million in public funds the task force spent trying to keep the team during what turned out to be a rigged game. The $790 million final settlement was $40 million more than what Kroenke reportedly said his ceiling was if other owners kicked in. A $100 million settlement offer was previously rejected. No one worked harder for free on the task force to keep the Rams than Dave Peacock. He called Wednesday. "We really did it to see St. Louis not get, you know, dismissed," he said. "We are finally seeing, hey, we didn't get dismissed. And in fact, I think it's a good outcome for the region."
• Yes, the lawyers are going to get paid a lot. Please stop hyperventilating. The 35 percent cut was known from the start. The lawyers at Dowd Bennett and Blitz, Bardgett & Deutsch took the case on a contingency basis, and they won. The work of Bob Blitz, Jim Bennett, Chris Bauman and their teammates just secured more $500 million for the region after lawyers' fees. Well done. Go to law school, kids. And remember, the lawyers don't accept a settlement. Their clients do. Mayor Tishaura Jones and county executive Sam Page had the most say in settling. I'm already leaning on Blitz to pursue an NBA team. The St. Louis Blitz.
• An expansion NFL team was not a realistic settlement option. I hate that some were misled and misinformed by manipulative media members. Mean spirited spin and hopeful speculation did a lot of damage in this department.
• A trial that pursued billions of dollars of damages would have been great entertainment. No debate there. But some fact-checking is needed. The idea of Kroenke and spineless Kevin Demoff squirming on the stand was fun to imagine, but it probably would not have gone down like that. In Missouri, you cannot force an out-of-state defendant to show up on the stand via subpoena for a civil case. That's why Kroenke and Co., conducted recorded depositions under oath, which they completed. Those recordings likely would have been played for the jury on a TV screen. The outcome could have been just as damning, but far less enjoyable. It sure would be nice if those depositions somehow got out.
• What might have happened after that epic trial should be considered. The NFL tends to do a lot better on appeals. It's the league's home turf. Those who are adamant a trial was a must should ask themselves, honestly, how they would feel if a massive win at trial was cut back to something less than what is now owed in a settlement check. If an exhausting appeal process awarded something less than Wednesday's settlement, or nothing at all, how would you feel? I'd feel sick.
• But what about holding the league accountable? I'll answer that question with some questions. What about Kroenke registering the Rams as a California company in 2010? What about Kevin Demoff circulating his adios-mother-bleepers letter around the Rams office before the move? What about former Panthers owner Jerry Richardson calling out former league executive Eric Grubman's unfair bias during the relocation process? What about NFL commissioner Roger Goodell being caught in a lie about Kroenke buying the Inglewood site for a football stadium? What about Cowboys owner Jerry Jones saying he never once read the relocation guidelines? The list goes on, and on, and on. The items on the list all came from this lawsuit. They were produced during discovery and recorded in depositions that were made public through pretrial hearings. This lawsuit didn't need to go to trial to expose the league's corruption. The league was exposed time and time again for those who cared to notice. Some don't care. You can't make people care who don't care, and you can't let people who don't care become motivating factors in decision making. It's a good way to lose.
• Buffalo should care. And every other city that gets threatened in a relocation shakedown moving forward. The NFL just forked over big money to avoid having to explain how its relocation guidelines are not a binding contract with host cities. Every region that faces a stadium shakedown moving forward should use this case as its self-defense playbook. Thank us later.
• Pash should be fired. The NFL's top lawyer signed off on the terrible indemnification agreement Kroenke signed in order to move the Rams, and Kroenke's chances of wiggling out of it might be pretty good if he wants to ruffle Goodell's feathers by taking on the other owners in that fight. St. Louis doesn't have to sweat that outcome, thanks to the settlement. Its big check is coming in a month's time no matter what. But the idea the NFL skipped out of this one is wrong. It's bracing for owner beef. For those fretting over what percentage Kroenke pays, why? He will be bothered by giving one dollar. Ask anyone who has been rejected by him while seeking a charitable donation. Each one of these owners was in on the scam. They're all the same. It's not our problem anymore. We have better things to do. Which leads me to …
• Please don't screw this up, politicians. Many are expecting you to do just that. It's a large part of the reason some were disappointed Wednesday. Think about that for a second. Nearly $800 million for a region that needs that kind of money in all kinds of ways, and people are worried it will be misused. Prove them wrong. Be transparent about the process that decides who gets what, and why. Explain the decisions without being defensive. Make plans that make sure years from now this settlement can be traced from Wednesday, to something good. The Rams relocation lawsuit saga has ended. The settlement story starts now. Write a happy ending. St. Louis Rams fans deserve it.