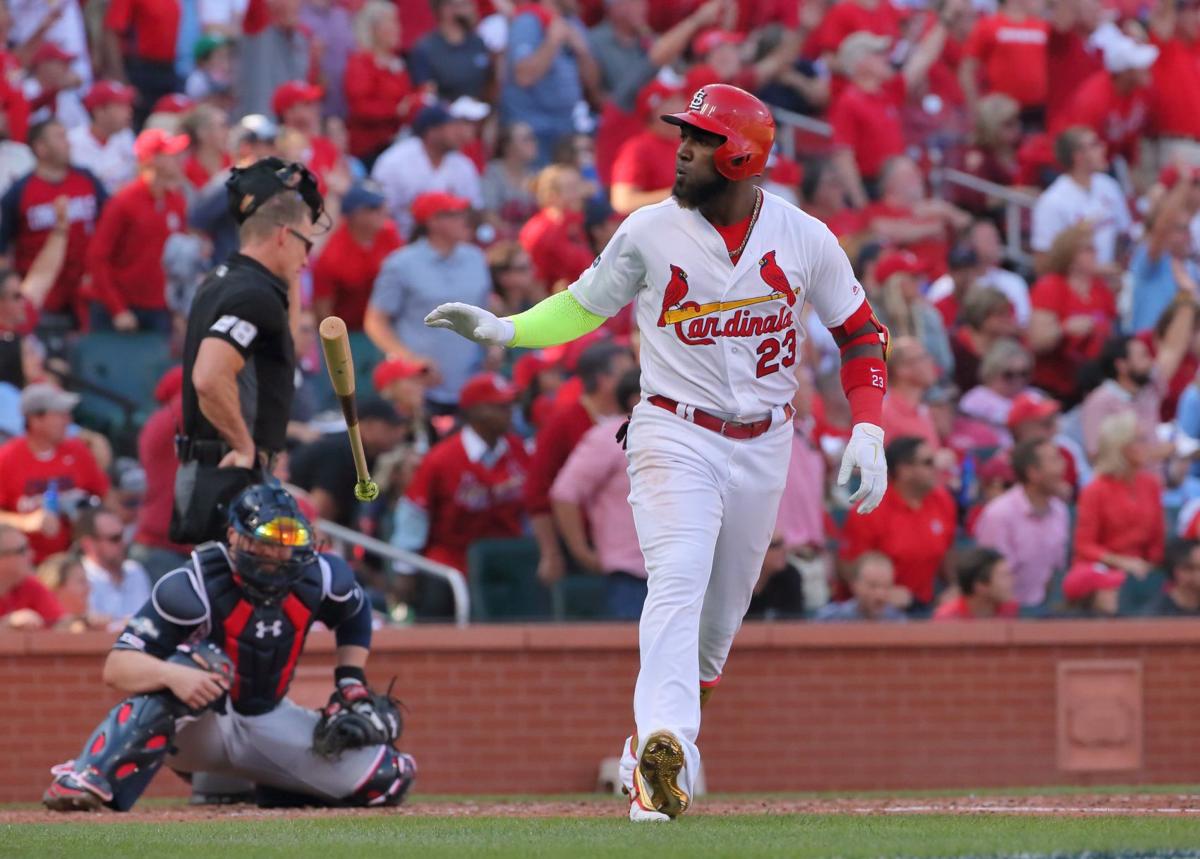 Marcell Ozuna hasn't been this hot of a topic since his midsummer snooze.
The debate about whether the Cardinals should retain their free-agent left fielder and cleanup hitter has become, perhaps by default, the most tantalizing topic in a tepid offseason.
Some myth-busting is needed.
Myth: The Cardinals can't afford to keep Ozuna.
Reality: Come on. The Cardinals can afford any free agent they are determined to sign. Period.
Myth: The Cardinals can't afford to lose Ozuna.
Reality: Ozuna's two seasons with the Cardinals produced an adjusted on-base plus slugging percentage (OPS+) of 107. That's seven points above the big-league average. Eleven righthanded hitters who totaled more than 1,000 plate appearances since 2018 and spent more than half their playing time in the outfield produced a better OPS+ than Ozuna. Former Cardinal Tommy Pham (123 OPS+) checked in ahead of him. Former Cardinal Randal Gricuk (104) was hot on his heels.
Ozuna's defense isn't as bad as his face-planting meme makes it seem, but the state of his right arm has been problematic since he was obtained from Miami. The Cardinals saw few signs of the 2017 Gold Glove winner who somehow still ranks fourth in defensive runs saved (plus-21) among left fielders since 2017.
Ozuna is well-liked in the clubhouse. Manager Mike Shildt has stumped for his return. Ozuna has campaigned for a reunion at his preferred price point.
There were some rough patches worth mentioning, though. Ozuna at times exasperated the organization with the handling of his problematic shoulder, his tendency to arrive at spring training in suboptimal shape, and that time in 2018 he overslept for a day game. Whoops.
Myth: The Cardinals wouldn't miss Ozuna.
Reality: A 2019 Cardinals offense that was historically overwhelmed in the NLCS finished that regular season ranked in or very near the NL's bottom third in every meaningful offensive statistic, from runs per game (4.72, 10th), to on-base plus slugging percentage (.737, 11th). Ozuna accounted for 13.8 percent of that 2019 team's home runs, and 12.5 percent of its RBIs. That's something.
Over the past two seasons, Ozuna's 52 home runs and 177 RBIs are among the top 50 in baseball, and trail only Paul Goldschmidt among current Cardinals. Spackling over Ozuna's departure without a corresponding move of significance significantly could weaken an already shaky lineup. There's a reason Shildt wants Ozuna back. It's not his neon green sleeve.
Myth: The Cardinals have better players waiting to take Ozuna's place.
Reality: The Cardinals could have better players waiting to take Ozuna's place. We don't know they do. They don't, either.
Tyler O'Neill, Lane Thomas, Randy Arozarena, Justin Williams and Dylan Carlson could combine to fill the Ozuna hole, or perhaps even improve upon it. The argument is heavy on optimism. Especially for 2020.
O'Neill's 271 career at-bats in the majors make him the most experienced of that bunch, but the injury-prone outfielder's promising 2018 slugging percentage of .500 dropped to .411 last season.
No other member in the up-and-comers club has more than 38 major-league at-bats. Thomas is returning from a wrist fracture. Arozarena appeared in 19 games in '19. Williams and Carlson, the team's top prospect, are awaiting their St. Louis debuts.
If the wave of young talent is the answer for left field in 2020, why didn't it put more pressure on center fielder Harrison Bader and right fielder Dexter Fowler in 2019?
Myth: Ozuna's market is weak.
Reality: There's no real proof of this. The White Sox were the only team linked to Ozuna that has found its outfield answer elsewhere. The Rangers and Reds reportedly remain interested. The Cardinals still are engaged. Ozuna's main free-agent competitor, Nicholas Castellanos, is unsigned. So much remains up in the air.
Ozuna's age, 29, is not working against him.
His counting-stat clout improves if you include his final season in Miami. Of the 17 outfielders who have played more than 1,000 innings in each of the last three seasons, Ozuna leads the pack in RBIs (301) and ranks third in home runs (89).
His career-worst .259 batting average on balls in play suggests his 2019 statistics lacked luck. Multiple projections think Ozuna will surpass a .500 slugging percentage, 30 homers and 100 RBIs in 2020.
Ozuna's camp has stressed certain advanced statistics from 2019 to make the case he could be coming off his best year in terms of batting approach.
Ozuna's average exit velocity (91.8 mph) was 17th-best in baseball last season. His percentage of barreled baseballs per plate appearance (8.6 percent) was 28th-best, and he performed well against high-velocity arms and pitchers who attacked him up in the zone, an increasing approach during the launch-angle craze. Ozuna's expected weighted on-base average (.379) was 24th-best in the game, seven points higher than his breakout 2017 season.
Expected weighted on-base average is a Statcast darling data point that uses exit velocity and launch angle to determine the likelihood of a hit based on quality of contact instead of the actual result.
Dismiss it if you like. Teams value that stuff these days. They also value scouting reports that suggest there's no reason to test Ozuna up when you can probably get him to chase a pitch low and away.
And that is perhaps what makes this conversation so complicated.
After Ozuna's two seasons in St. Louis, it's easy to conclude his case for a hefty contract looks better on paper than it does in real life.
The same could be said about the argument his departing production will be easy to replace from within.
---
Quick Hits from BenFred's chat
NOT ENOUGH OFFENSE TO WIN THE DIVISION?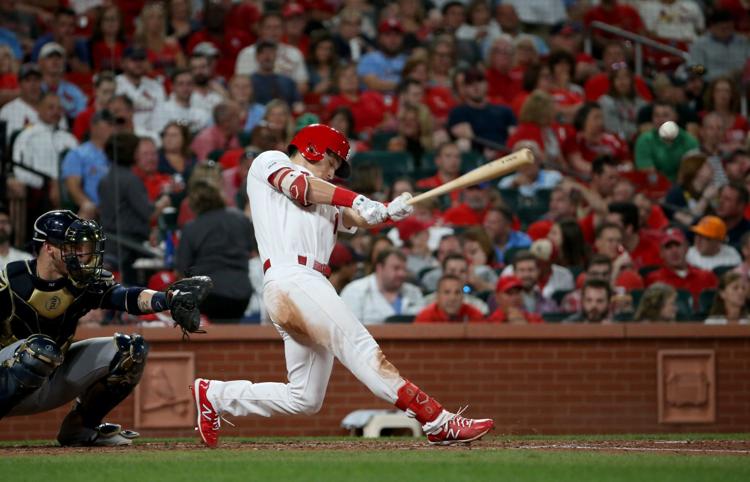 QUESTION: The Cardinals have significant offensive concerns at four positions — third base, and every outfield spot if Marcell Ozuna walks. How are they seeing enough offense returning to win the division?
BENFRED: I agree with the positions you've mentioned. Those are the question marks. They are big ones.
Tommy Edman (above) is the security for Matt Carpenter at third. But expecting him to reproduce his remarkable rookie season is a question on its own.
The depth is the security for the outfield, but that depth lacks guys who have been there and done that.
Lots of hope involved at the moment from the club. Lots and lots of hope.
However, I'm not sure how anyone is claiming the Cardinals could not win the division. They just won the division. What team, other than the Reds, has gotten better after finishing behind the Cardinals? The Brewers made lateral moves, if that. The Cubs made no real moves of significance. The Cardinals are back on top, and acting like it. No one is really pushing them to do more.
A reminder: The Reds, while winners of the offseason and bound to be much more competitive in 2020, finished 16 games back in 2019.
CARDINALS' OUTFIELD STARTERS?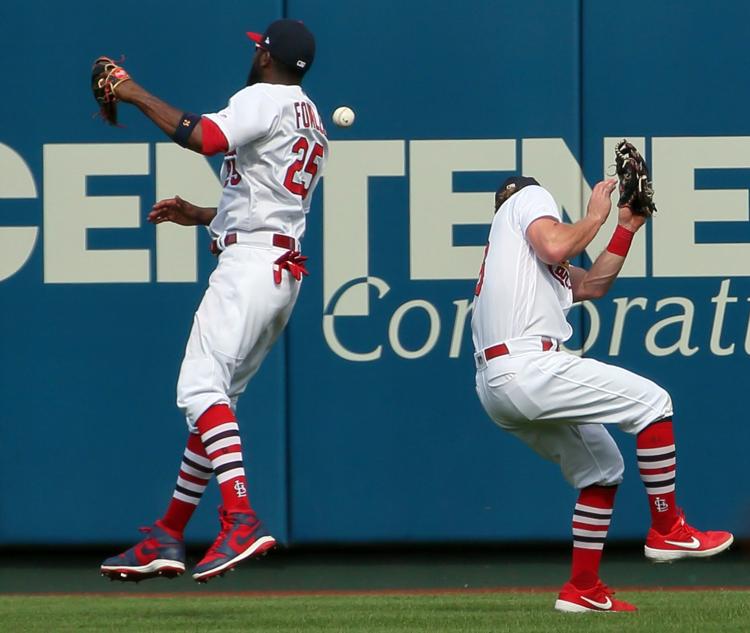 QUESTION: What is the Cardinals starting outfield on opening day?
BENFRED: If I had to guess today? I'll go Lane Thomas in left, Harrison Bader in center field and Dexter Fowler in right. I remain unconvinced that the Cardinals will do more to sign free agent left fielder Marcell Ozuna than some other team.
Best spring performer between Thomas, Tyler O'Neill and Randy Arozarena could get first crack.
I think Dylan Carlson will start his season at Class AAA unless he just tears it up during spring training. He won't be there long, I imagine, but I do think he starts there.
If the Cardinals really think this wave of young outfielders is going to be able to lift the lineup to a better place than bringing back Ozuna, then they should not leave left field as the only place open for playing time. But I imagine both Dexter Fowler and Harrison Bader will get the first shot in meaningful games, unless they have troubled springs.
CASTELLANOS OVER OZUNA?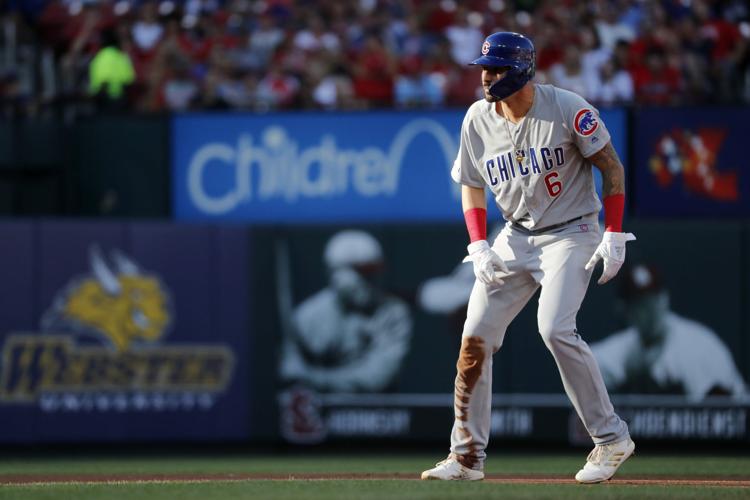 QUESTION: Sign Castellanos if the Cardinals do not sign Ozuna? Castellanos has a better batting line than Ozuna over the last 2 to 3 years.
BENFRED: More like Castellanos over Ozuna, if I get to pick. Castellanos has been a better hitter over the past two seasons. Castellanos hits doubles. Neither are good defenders now, so that's a wash.
We will see who gets more in the end but I think Castellanos' offensive profile is more appealing. I don't think the Cards would be willing to pay him what it would take — considering the outfielders they have in hand.
Working in the Cards' favor, potentially, with Ozuna is his desire to be in STL and his familiarity if his market is not what he expected in the end.
WHY DID THE BLUES TURN AWAY FROM KYROU?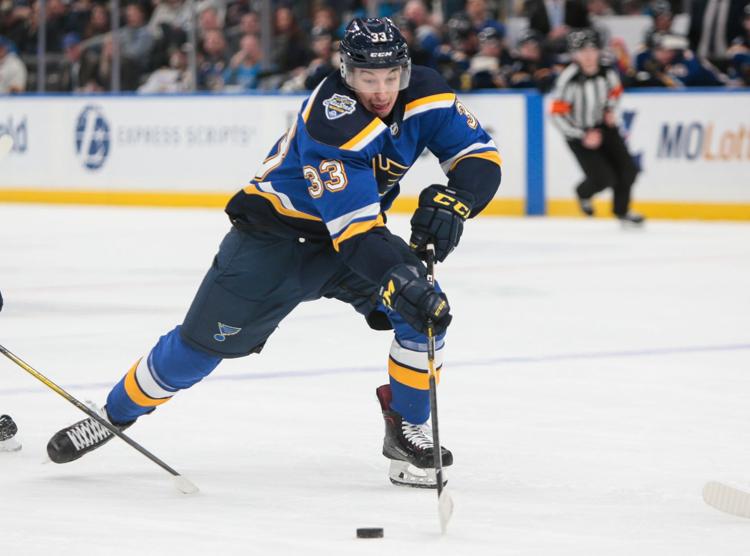 QUESTION: Why did the Blues turn away from Jordan Kyrou, and what is the role for Zach Sanford moving forward?
BENFRED: With Craig Berube, it almost always comes down to defense, physicality, willingness to invest in the system's less fun fine points when it comes to the decisions on who is an and who's out. Kryou is no different.
There's also another thing in play here. Berube needed every cylinder in his engine last season to win the Cup. He has to make sure even the spare parts, like Sanford, get a chance to contribute as the Blues try to decide who can be relied upon this season. The Blues' strength is their depth, so you can't ignore pieces and expect them to help you when they are needed.
Berube's comments have been pretty positive about Kyrou. And why not? Kyrou has shown signs of being a difference maker in the making. I'm as excited about him as anyone else, but the goal of this season is not for the season to cater to his development. It's to win, and be the best team possible entering the postseason. If Kyrou disappears, then we will have more to talk about. I hope he's back in there soon, and considering the last two games without him have been losses and the young man can score and help teammates do the same.
Sanford seems to be running out of time to grab a role. Sammy Blais will be back eventually, and Sanford could be on the chopping block. He would have to go through waivers. Maybe they trade him to try to maximize it.
WHO'S THE CLOSER?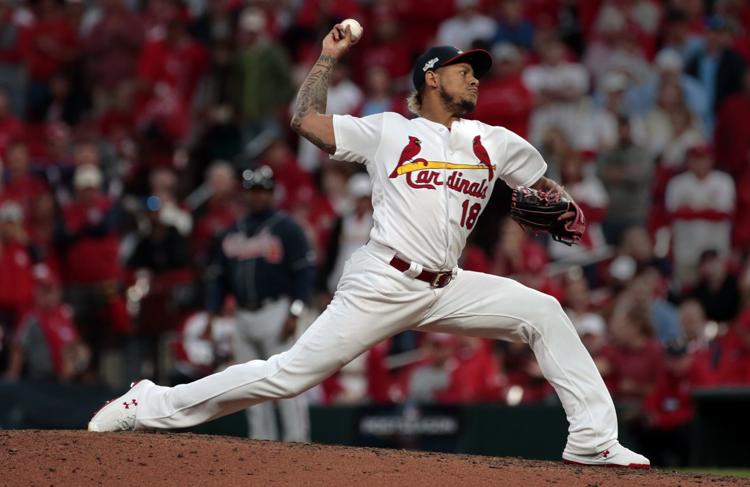 QUESTION: Who is the Cardinals closer on opening day? What about back-up catcher?
BENFRED: I'll bet on Carlos Martinez. I think you have to lean toward Kwang Hyun Kim winning that competition for the fifth rotation spot until Martinez can prove he's got the health, stamina and stuff to avoid another bullpen assignment. This will be one of the more interesting aspects of spring training.
I can't imagine the Cardinals will want Andew Knizner to sit most of an entire season behind Yadier Molina, so I imagine he will log reps at Class AAA while the Cardinals go with a Matt Wieters-type, and perhaps Wieters himself, as the backup in St. Louis.
FAIR EXPECTATION FOR REYES?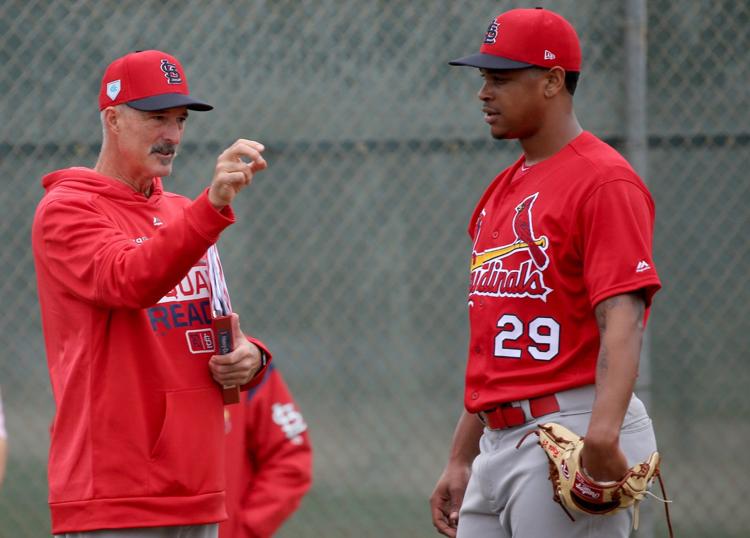 QUESTION: What's a fair expectation for Alex Reyes in 2020?
BENFRED: He's in the Robby Fabbri Zone of expect nothing but hope for the best.
He's gotta stay healthy before he can have a meaningful role. We won't know if he can until spring.
And if he's healthy, he's gotta get hold of his control. That was his challenge when he was last demoted, before he got hurt again.
COULD PUJOLS FINISH HIS CAREER IN ST. LOUIS?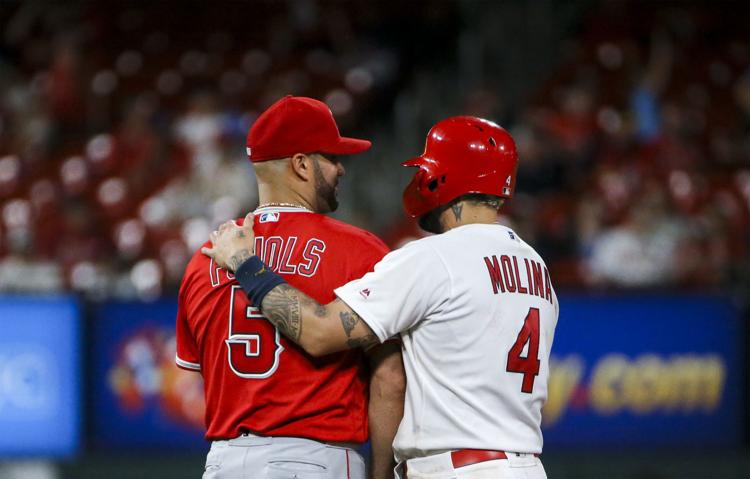 QUESTION: After attending the Albert Pujols reunion at Busch Stadium this season, I left hoping Pujols will be involved with the Cardinals after his retirement, and hopeful that he will want the same thing. Maybe the Cardinals could make a trade for him so he could end his career in St. Louis, though in a reserve role? Will his contract with the Angels keep him from being a presence after he's done playing?
BENFRED: That series represented closure in the best possible ways. A number retirement and statue are just a matter of time for Pujols here. Molina too, I think.
I don't think Pujols will play another game for the Cardinals, though. And it's probably better that way.
Some of the reason his time here was so special was that it was almost vacuum sealed. St. Louis didn't see him age. Didn't see him begin to decay. He arrived like a lightning bolt, starred as one of the best to ever do it, then went away and became human. There's some mythology there that shouldn't be ruined by old, worn-down Pujols coming back as a sideshow. Just my opinion.
As for fine details of his personal service clause with the Angels, I have not read it and don't know the ins and outs of it. I've always thought that Pujols, after his retirement, will be as much of a part of Cardinals events as he wants to be. The Cardinals certainly are not going to turn him away. And you saw what it meant to him to be back. I would bet on him being a part of opening days in the future, even if it takes a while.
WAINO'S 2020 ROLE?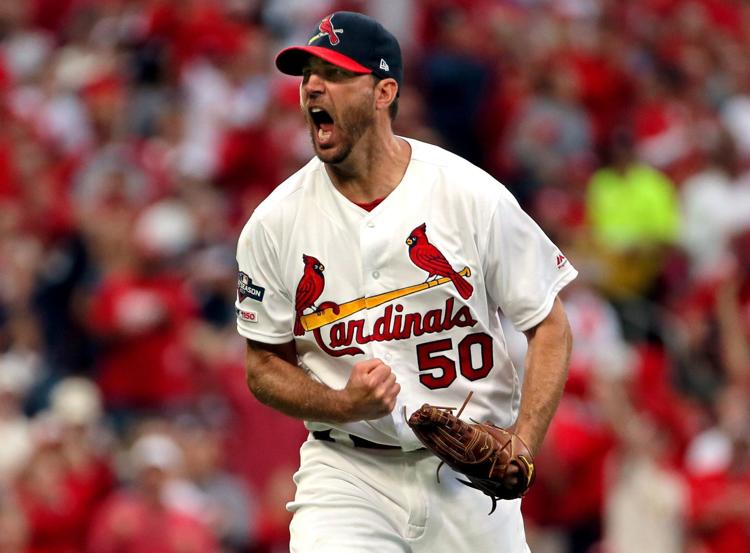 QUESTION: Is Waino in 2020 more likely a bridge for an internal guy moving upstream, or a pending free agent floating from elsewhere like a Bauer, Ray or Stroman?
BENFRED: Don't overthink it. Adam Wainwright is a starter the Cardinals hope to see finish with a flourish, an expectation he earned based off of his performance last season.
He's not the ace. Don't have those expectations. He's a starter until someone pitches him out of that spot, and it's going to take someone clearly pitching him out of that spot — either because of their excellence or his lack of it — for him to be moved to the bullpen.
WOULD CARDS BE IN THE MIX FOR ARENADO?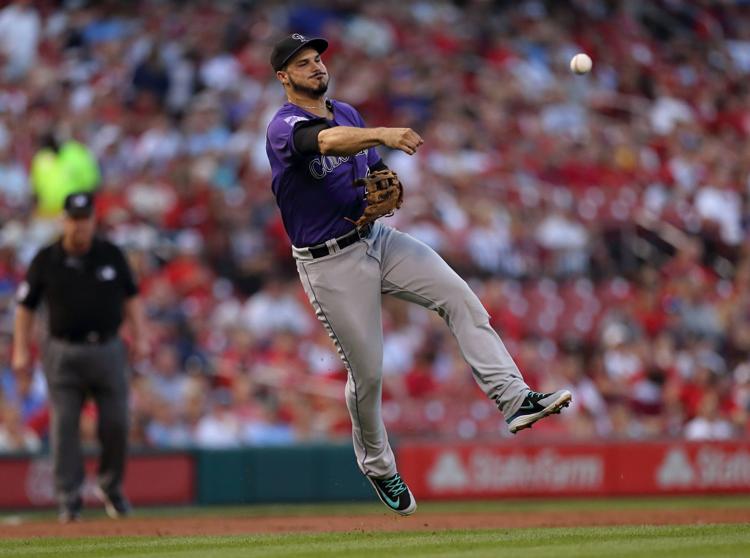 QUESTION: Reports suggest there's a 50/50 chance Nolan Arenado will be traded. Should Cardinals fans hold out any hope the FO would try to acquire him? If the Carpenter extension didn't happen, would that change the answer?
BENFRED: If the Carpenter extension didn't happen, then the Cardinals could have been looking for a third baseman in the year of third basemen. Rendon. Donaldson. Arenado Trade Gate.
But the Carpenter extension did happen, and the Cardinals have offered no signs they are not going to bank on Carpenter to bounce back. In fact, they've given plenty of signs they are doing just that. I don't think the Cardinals are seriously in the market for a third baseman. I'll be very surprised if they add one. And this is not to suggest the Cardinals would have signed Rendon in the alternate universe.
We have seen a lot of evidence that suggests the Cardinals are not willing to give the kind of contract it takes to win a wide-open race for a premier, young free agent. Yes, Arenado has been appealing to the Cardinals for a long time. Arenado has been appealing to any team that appreciates awesome baseball players.
COACH DRINK'S RECRUITING PROWESS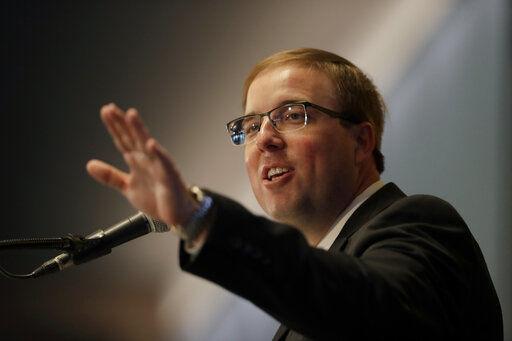 QUESTION: Mizzou coach Eliah Drinkwitz knows offense. Does that help the Tigers recruit? Finish this sentence: "Looks like a schoolteacher, talks like a preacher and recruits like a ...."
BENFRED: It should be of interest to playmakers, absolutely. The new coach at Mizzou runs an offense that scores touchdowns. It should be a fun system to play in. That sells.
For the fill-in-the-blank . . . recruits like a … "guy we have not really seen recruit yet, but a guy who realizes recruiting is going to be the best way for his team to elevate its profile in the SEC."
Catchy, I know.
Remember, Drinkwitz didn't win with his players at his last stop. He mostly inherited that team and won 13 (12 before he left) games with it in his lone season. That's not bad! Certainly better than the alternative -- losing. But we haven't yet seen him recruit as a head coach yet. That starts now.
ILLINI COACH ON A HOT SEAT?
QUESTION: Is Brad Underwood safe at Illinois? Illini are not meeting expectations at the moment.
BENFRED: The fans are growing restless, but consider Illinois AD Josh Whitman. See his all-in approach with football coach Lovie Smith. Whitman believes in Underwood. More importantly, he hired Underwood. I think he will give Underwood the Smith treatment, meaning he's safe from real job security issues despite fan grumbling.
Smith's team securing a bowl win was a big win for both Smith and Whitman, but the team completely let go of the string after that accomplishment. Smith's best team should be the upcoming season.
Relatively soon, Underwood needs that kind of breakthrough. Expectations for Illinois hoops are high, and should be. Program is a sleeping giant.
FREE-THROW FOLLIES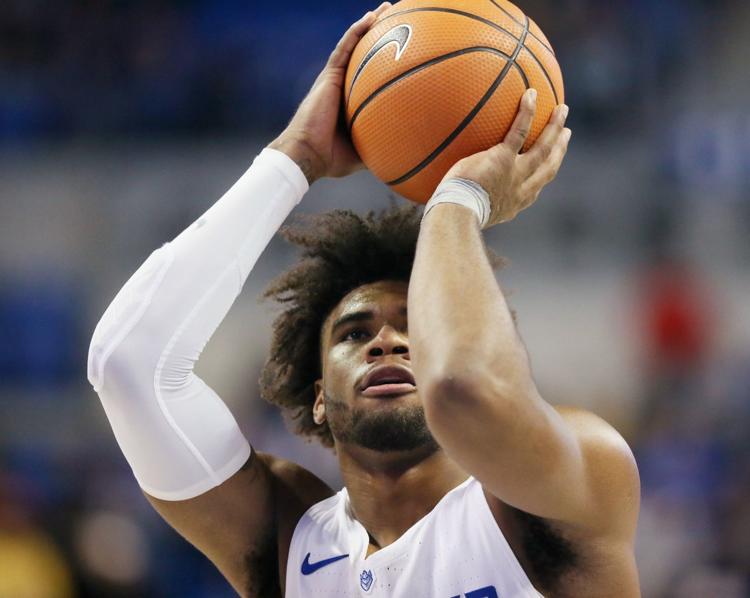 QUESTION: I can't figure out why SLU and Mizzou can't hit free throws. Should some try shooting under-handed? Seriously.
BENFRED: Don't put SLU and Mizzou in the same category free-throw wise.
SLU is one of the worst free-throw shooting teams in the country. It drives coach Travis Ford crazy, in part because he made nearly every free throw he shot as a college player. He can still step to the line and make them one after the other.
I think modern players think it's embarrassing to try alternative approaches like an underhanded free-throw shot. I think it's more embarrassing to get fouled intentionally because opponents know you are going to miss.
SLU's Hasahn French (above) is a big guy. He rarely shoots from out there if it's not a free throw. That's not an excuse, but what is more confusing and frustrating are the team's guards, who can make 3-pointers but not free throws.
At some point it's a personal pride and practice thing. A coach can't make his players make free throws. Ford is trying. Guys have to do it on their own and figure out how to take into a game.
Ford's players mostly make free throws in practice. Then the game starts, and it's like they've never been to the line before. It's almost contagious. Baffling.
GAMBLING ON THE BATTLEHAWKS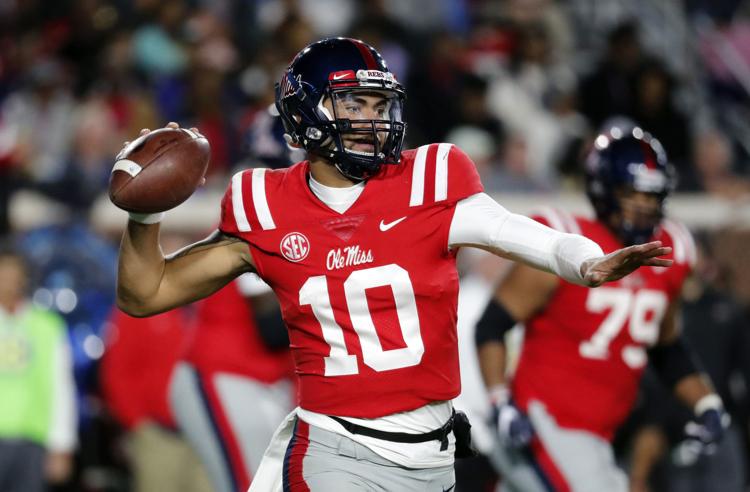 QUESTION: Vegas odds say the BattleHawks are tied with Seattle as the least likely to win the first XFL championship. Is Vegas underselling St. Louis?
BENFRED: Anyone who claims they know much about which XFL team is better than the other is just guessing. We know the coaches and the quarterbacks. That's about it.
There's a presentation this week about the rules of the sport, something most of us are still a bit fuzzy on. So, keep that perspective in mind. When the league is so new the rules have to be explained, trying to predict who is going to be best seems very much like a shot in the dark.
That said, hard for me to buy that St. Louis is the worst team in the league. I think quarterback Jordan Ta'amu (shown above, playing for Ole Miss) is good for this league, and his offense should let him show off his arm.
BRYANT'S BEEF WITH THE CUBS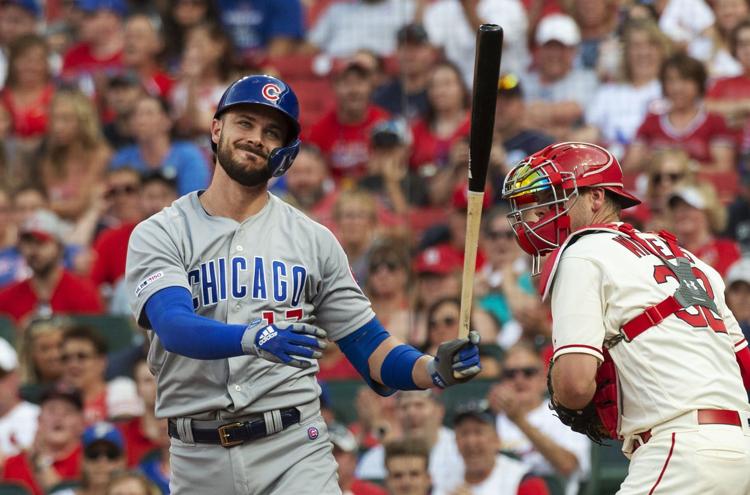 QUESTION: What do you make of the Kris Bryant beef with the Cubs over his service time issue from years ago?
BENFRED: I find it fascinating. Baseball for years has assumed that young players will forget and forgive the business of baseball bumps and bruises they are forced to accept along the way. Bryant didn't, and he should be an example looked at by other young players who want to see the system shift.
Baseball is telling players on the wrong side of 30 that they are old, beyond their prime, etc. There is not the money there for these guys that there used to be. But there is more money than ever before. And that money, if the "old guys" are not earning it with performance, should be shifting to the younger players who are becoming stars in the modern game. Shorter wait times for free agency and the elimination of service-time shenanigans should be major priorities for players in their jousting with ownership.
Bryant did the opposite of forget. He became his team's players' union rep. This isn't just about him. I think he sees it as bigger than that. It's a big story that deserves attention. And yeah, it was clear what the Cubs were doing.
EXPAND THE COLLEGE FOOTBALL PLAYOFF?
QUESTION: Are you for or against expansion in the College Football Playoff? Why or why not?
BENFRED: For. Here's what I would like for the playoffs: Every conference champion from a Power 5 conference gets in, plus the best team from the non-Power-5 pool.
It creates more importance for the regular season. It forces conferences to figure out a way to name one champion. It gives the best of the smaller schools -- determined by the committee -- a shot while incentivizing them for playing tougher schedules.
Six teams.
Anyone who gets left out can't whine, because you should have (a) won your league, or (b) scheduled better.
Sure, the non-Power 5 school would get waxed most times. The times it didn't would be worth it. And then jokers like UCF could not claim bogus national championships.
Be the first to know
Get local news delivered to your inbox!