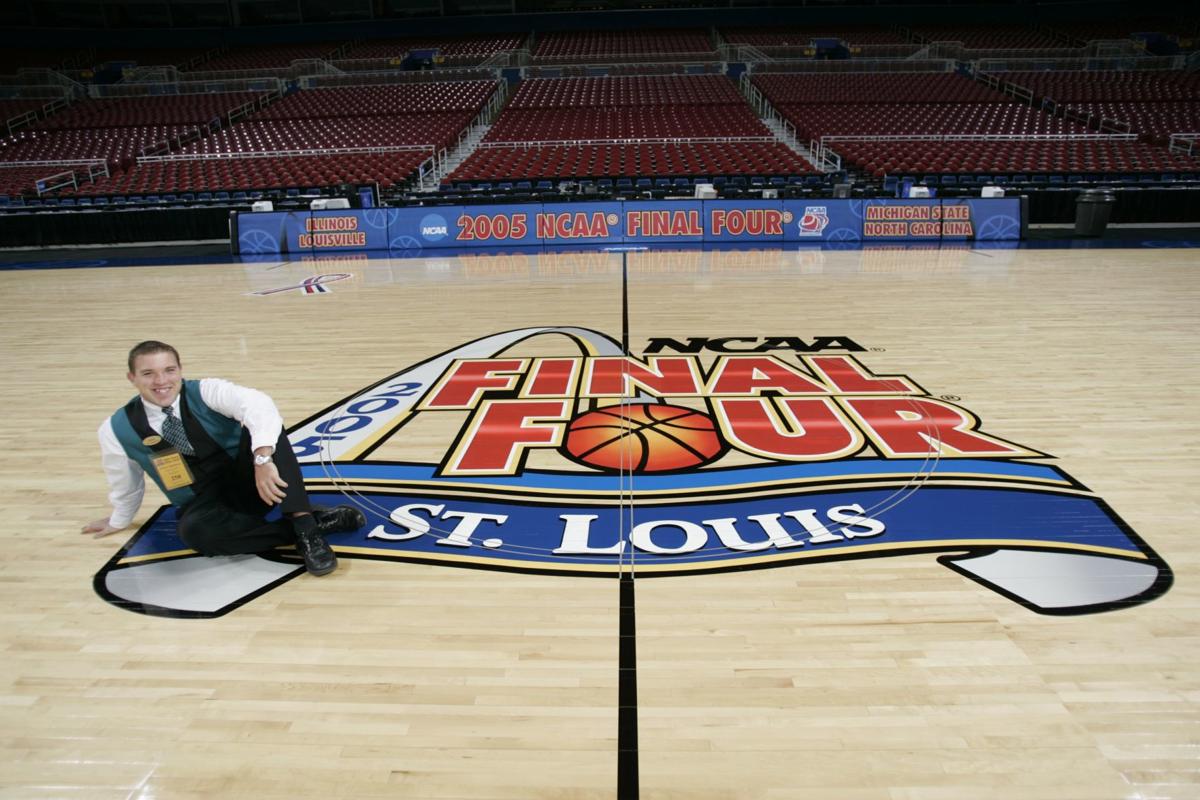 Legs that had climbed countless stadium steps now rested in a wheelchair.
Hands that once stopped screaming foul balls from reaching Cardinals fans could not be lifted high enough to shake hello.
The cruel disease was trying to break him down.
ALS had underestimated Aaron Borchelt.
When I think of the tireless servant the St. Louis sports community lost Tuesday, I will think of May 20, 2019.
In terms of giving back, Aaron wore more hats than a baseball team after rosters expanded. That evening's event, the sixth annual Jason Motte Foundation Cornhole Challenge, was a big one on his crammed calendar. He ran this show, taking care of everything from the detailed notes he handed the inexperienced charity auctioneer (me), to the selection of songs on the playlist that pumped through the Anheuser-Busch Biergarten.
Nothing could have stopped Aaron from doing his thing that night, and Aaron did nothing without his signature precision.
As former Cardinals pitcher Motte and current second baseman Kolten Wong prepared to speak about the importance of raising money for cancer treatment and research, Aaron pressed play on the introductory video. If a crammed court of cornhole competitors needed direction, Aaron had the answers. When Dexter Fowler's daughter, Naya, one of Aaron's biggest fans, showed an interest in the microphone, Aaron grinned and helped her make an announcement.
Every year, it was Aaron who kicked off the tournament. He had this line he used to send the bags soaring. "Let it fly!"
We didn't know it that night, but Aaron had fewer than 200 days left. The evening helped raise an event-record $213,000 to fight cancer. That's how I will remember Aaron, worrying about others while others worried about him.
As the news of Aaron's death spread, and a sports city came together to mourn, it became clear how many of us knew Aaron through completely different avenues. He had stitched together this beautiful quilt of service right in front of us. We had each noticed different squares. Now we see it unfolded and in full.
Aaron David Borchelt, 37, was a loving son and brother, a dedicated church member and a hard-working professional at Maritz and later Concordia Publishing House. He was a diehard St. Louis sports fan who wanted to do more than just cheer. So, he found ways to help.
And help. And help. And help.
He became a beloved Cardinals usher after joining the retiree-heavy crowd at the ripe old age of 17. During his days guarding Busch Stadium's first-base line, he flipped countless foul balls to kids such as Austin Smith, who approached Aaron this summer to thank him for helping cement Smith's love of the game with a toss back in 2006. Another time, Aaron encountered a little girl at the ballpark who was sad she did not get an autograph. His signature — "Aaron, the usher" — made her day. After he shifted behind home plate, his face was the one players' family members looked for on the way to their seats.
"He became our home base at every game," Aliya Fowler told Post-Dispatch baseball writer Derrick Goold. "When Naya would run ahead of me in the concourse, I knew she would find Aaron and stop and wait for me with him. He will be so deeply missed."
Ushering and his charitable work with Motte's foundation were just two squares on Aaron's quilt.
He was a student manager for football and women's basketball during his college days at Mizzou.
He was the play-by-play voice for Lutheran South High. Football in the fall. Basketball in the winter.
He often could be found crunching stats behind the scorer's table at SLU, UMSL and Maryville.
He was a decadelong volunteer with the Missouri Valley Conference, and his prompt and cheerful delivery of fresh stats helped stressed sportswriters covering Arch Madness.
"Volunteer extraordinaire," MVC associate commissioner Mike Kern said.
He was one of the names the St. Louis Sports commission could count on for boots-on-the-ground help, whether it was needed at a gymnastics tournament, the 2017 Winter Classic or the annual Musial Awards.
"He didn't do much — other than volunteer for every single event we ever had," St. Louis Sports Commission president Frank Viverito mused during a somber conversation Saturday. "He was the best. It warms your heart, when you think about all he did. It breaks your heart, when the story ends like this."
A great man taken too soon cannot be explained. He can be remembered. He can inspire.
In the most fitting tribute possible, Aaron's family has asked for donations to a charity of your choice in his name. He was involved in too many to pick just one. That was Aaron.
Another way to honor him would be to donate something just as valuable, something Aaron gave so generously — time. Or, just try to be Aaron-like in life's little moments. Be the welcoming face in a crowd. When life gives you a baseball, flip it to a kid.
Giving back doesn't have to be a massive gesture. You can make someone's day in a moment. Aaron taught me these things.
When he sent a text message in June to share the news of the fundraising success of the cornhole tournament, I told him it was fun to play a very small part.
I didn't expect an answer.
Seventeen minutes later, one arrived.
"There are no small parts," read the reply.
Be the first to know
Get local news delivered to your inbox!