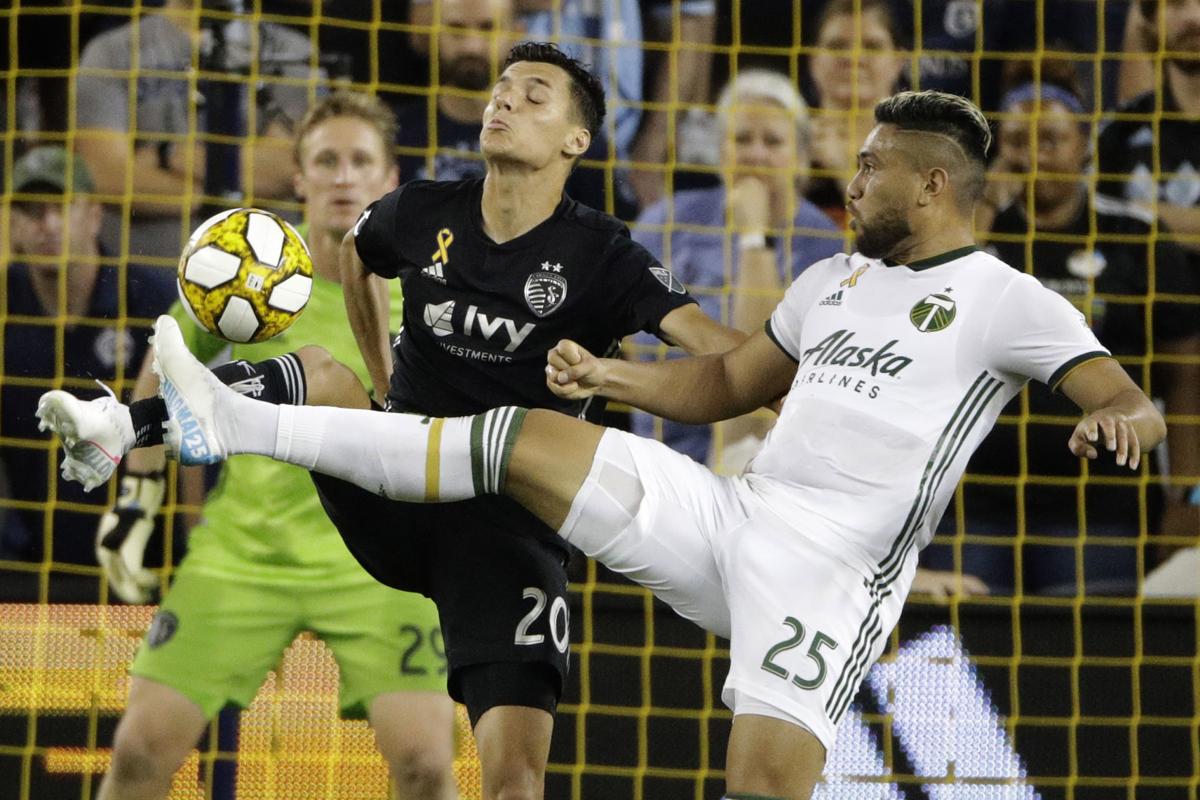 The daily discussion about what American sports will look like on the other side of the coronavirus pandemic, specifically when games will return, mirrors the way Americans talk about sports.
Bold predictions are easy to find. Accountability for misinformation is missing. The silliest things — what an uninformed college football coach wishes, for example — seem to get more attention than relevant news.
So, in case you missed it, a question.
Did you know Major League Soccer welcomed back players for workouts on Wednesday?
Chances are you haven't heard much about it.
First, because it's soccer.
Second, because the details are ridiculously complicated.
It's still important. Incredibly important.
What took place in five MLS cities since Wednesday marks a noteworthy milestone. This MLS experiment is a lot more relevant to the return of American sports than how the Korea Baseball Organization found a way to start its season. Why? Well, because one is on the same side of the Pacific Ocean as your favorite teams, navigating the same coronavirus landscape.
If you're hoping to see the Blues defend their Stanley Cup title, or the Cardinals vs. the Cubs, I would suggest checking in on Sporting KC.
The Kansas City MLS team that should become a nice rival to St. Louis' unnamed expansion team when it begins play in 2022 has positioned itself as a leader in its league's return to action. It is one of a handful of MLS teams welcoming players back to its practice facility for individual workouts. This small sign of progress is also a staggering reminder of all of the hurdles that will have to be cleared before games, even without fans in attendance, can begin.
"It was kind of like kids on Christmas getting together under the Christmas tree," Sporting KC CEO Jake Reid said in a teleconference with media members. "Everyone was very excited just to be there. It was very well received, and I'm very excited for the guys to get back out there and start doing workouts outside of their home. Listen, we've got a long road back through this thing. But anytime you can get some positive momentum like we did today with guys getting back to the soccer pitch and running around, it was a great start."
What is taking place at Sporting KC's Compass Minerals National Performance Center represents one of the first MLS-approved events since the pandemic forced the league to press pause in mid-March, just two weeks into its regular season. Every action has to comply with strict league guidelines. Here's how the Kansas City Star explained the workouts:
Players parked in designated spots in their workout gear, put on face masks and gloves and waited for a signal to individually approach a trainer who was stationed outside of the facility. Only after a player's temperature was taken and no fever was detected could the mask and gloves be removed. From there, the player entered his designated quadrant, a 37.5-by-60 yard space that was assigned to him for his workout of drills and running.
Teams that have two outdoor practice fields can have as many as eight quadrants, meaning eight players can conduct their individual workouts at once. But there is no passing of the ball from one player to another; players don't share any equipment whatsoever. Coaches and staff wear masks the entire time. Equipment is sanitized between each session. Indoor facilities are limited to staff and players who require rehabilitation treatment. Players put masks and gloves back on as they exit the facility to return to their cars.
Only five of the league's 26 teams were participating as of Thursday. All of the workouts are voluntary. Teams can't force players to participate, and some prefer to continue to work out at home.
If this all sounds excessive, it is.
Whether you are trying to contemplate a post-coronavirus plan for Major League Baseball or college football, the best case scenario is starting a painfully slow build-up from individual workouts toward games. Avoiding a virus-caused detour is the most important objective. One flare-up could stop everything all over again. Three massive challenges loom, assuming players and teams can agree on plans.
There is no vaccine for COVID-19. Someone can have the virus and pass it along to others before showing symptoms. The production of reliable testing has not yet reached the point where teams have enough supplies to test as often or as willingly as they would like before resuming group activities. That last part is especially problematic, considering teams have no business buying and conducting large amounts of tests until health care workers have what they need.
If MLS can get through these individual workouts without a snare, it will keep adding phases. Small group workouts would take the place of individual drills. Team practices would follow. Then games.
"There's a general sense across the major leagues in America that testing will become readily available," Atlanta United president Darren Eales told media members on a conference call. "That'll be part of how we take the next step."
If one small step keeps leading to another, the league is hopeful its most recent postponement of games, through June 8, will be its last.
Then again, it was hopeful that the previous postponement, through May 10, would not have to be changed.
That's the problem with our obsession over return dates.
It overlooks every single little thing that must go right leading up to it.
That's the real story, and it's just beginning on a soccer field not far from you.
Concerned about COVID-19?
Sign up now to get the most recent coronavirus headlines and other important local and national news sent to your email inbox daily.