COLUMBIA, Mo. — The spotlight has shifted to Jim Sterk.
When Mizzou's athletics director shared the news of Barry Odom's firing with the fourth-year football coach in a meeting Saturday morning, Sterk sidestepped a relatively safe option and picked the path that probably will cement Sterk's legacy at Mizzou.
Sterk is serious about this top-25 thing. Since he stepped on campus in August 2016, he has made it clear that he wants a top-25 football program to be the doorstep of his athletics department. He now must make the hire that takes the Tigers there.
Odom's fourth season was supposed to be the big breakthrough. It wasn't.
The Tigers face-planted at Wyoming, spoiling an offseason of hype. Then Mizzou followed up five consecutive home wins with five consecutive losses before a hollow season-ending win against Arkansas.
The Tigers had one of the most desirable schedules in the Southeastern Conference, a graduate transfer quarterback many schools wanted, a ton of returning and experienced talented players on offense, and a defense that was positioned to be its most sound in Odom's tenure.
Then they lost four games to underdogs and did not come close to pulling off a season-saving upset. A six-win season rarely is this underwhelming.
"I felt we lost momentum of the program," Sterk said.
Injuries took a big chunk out of the Tigers. Linebacker Cale Garrett's early departure was damaging. Kelly Bryant's physical limitations at quarterback because of knee and hamstring problems limited the offense significantly. Health was not the only issue, though.
Derek Dooley, the offensive coordinator Odom hired despite zero play-calling experience, had no answers as the offense stalled in a ditch. The depth chart did not have a decent option after Bryant was injured; that's on recruiting. An offensive line that returned three starters played terribly all season. Key play-makers such as Albert Okwuegbunam and Larry Rountree faded in front of our eyes. Opposing teams' backup quarterbacks gave Mizzou's defense fits.
The Tigers committed too many brain-dead penalties. Players kept saying they would run through walls for Odom, but they just kept bashing their heads into the same walls. Odom, while asking his team to tune out the noise, struggled to do so himself, worrying about his job security in the final weeks.
If Sterk wanted to buy time for the coach he did not hire, he could have cited the win Friday, the postseason ban, the injuries and Odom's all-around likability as reasons to bring the band back next season.
He could have ignored the troubling signs of Odom-coached teams — too many losses to underdogs, too few upsets of favorites and three five-game losing streaks in four seasons — and followed Odom's lead by comparing Odom's first four seasons with former Mizzou coach Gary Pinkel's.
That was another thing that held Odom back. He never knew whether to embrace Pinkel or stiff-arm him. He let a valuable resource go mostly untapped because of his stubbornness.
Standing by Odom would have been the safe move for Sterk. He still is licking his wounds from his recent lost appeals battle with the NCAA. He could have benefited from some time on the sideline.
Many figured Sterk would take this approach. Wrong.
Sterk made a more difficult decision instead. He dropped a .500 coach because he could not make sense of a .500 season that should have been so much more. He challenged himself to find and hire a leader who can secure that top-25 foothold. He revealed his doubts that Odom could lead this team there.
We are about to find out what kind of relationship Sterk has developed with Mizzou decision-makers and donors. MU is missing its share of the SEC postseason revenue pie because of this year's postseason ban. It is buying out and replacing whatever assistants the new coach decides to replace. Can Sterk find $5 million per year for the right hire? That's a leap.
We are about to find out Sterk's status as a salesman. I recall some saying no one would want the Mizzou basketball job after Kim Anderson was let go. The program had become noncompetitive, and that's putting it nicely. Sterk found more money and hired a better coach in Cuonzo Martin.
Now Sterk has to pitch Mizzou football. An SEC job always is desirable. Odom, to his credit, moved the program forward after a hectic 2015 season that included protests on campus and Pinkel's retirement. This is not a full rebuilding job. It wasn't when Odom was promoted, no matter what he said. It isn't now.
The bickering between Odom backers and Sterk supporters has started. This happens any time a program makes a change before it becomes so obvious no one can object. Truth is, we don't yet know how to judge Sterks' move. It's only half-finished.
"We want people to be excited about Mizzou football," Sterk said multiple times Saturday.
Does Sterk dare make a splash like Lane Kiffin? Would his bosses let him? That would equal excitement.
Those in the know say Iowa State's Matt Campbell can be scratched from the list. Bummer.
Is a fast-rising offensive coordinator such as Louisiana State's Joe Brady the answer? Or is there a less-proven name who will be a big name soon, such as Will Healy at Charlotte, whom Sterk would look wise for grabbing first? Did Sterk dodge a question about the notion of a nonconventional hire — such as a former coach currently working as a TV analyst — because he's intrigued by one?
This likely will go down as Sterk's biggest decision as Mizzou's athletics director. Five years from now, Sterk's firing of Odom could look shortsighted, or smart. We can't know until Sterk lands his man.
AD Jim Sterk hopes to hire his next football coach within two weeks.
On Saturday, Mizzou AD Jim Sterk discussed the upcoming search to hire Barry Odom's replacement.
Luke Fickell, Cincinnati
Age: 46.
Record: 31-19 (6-7 in one year Ohio State; 25-12 in three years at Cincinnati).
Salary: $2.3 million.
Buyout: $2.5 million.
The skinny: He's a Columbus, Ohio, native who played at Ohio State and has spent his entire coaching career in Ohio, 13 years as an Ohio State defensive assistant, one year as the Buckeyes head coach between the Jim Tressell and Urban Meyer regimes and the last three seasons as Cincinnati's head coach. After a four-win debut season with the Bearcats, he went 11-2 last year and 10-2 this season. Mizzou might prefer an offensive-minded  coach, but Fickell figures to be a prime Power Five candidate.
Bryan Harsin, Boise State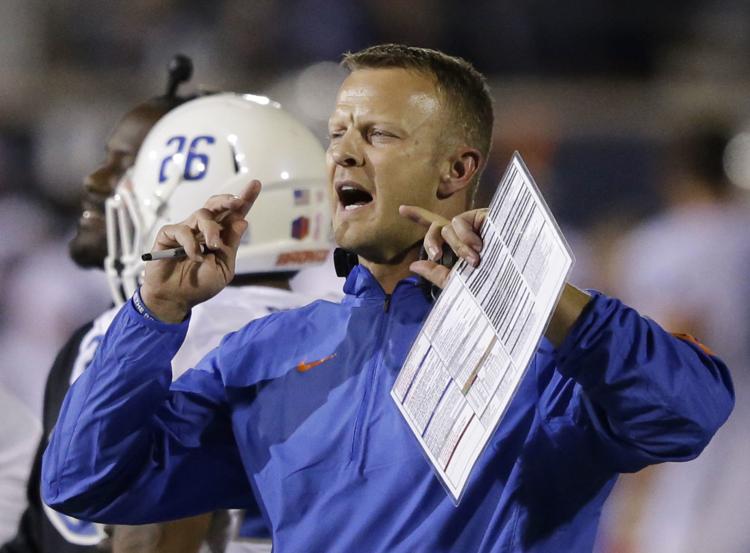 Age: 43.
Record: 69-21 (7-5 Arkansas State, 62-16 Boise State).
Salary: $1.75 million.
Buyout: $350,000.
The skinny: Harsin spent a couple seasons as Mack Brown's offensive coordinator at Texas and since has been one of the most successful Group of Five coaches in the country, with five double-digit win seasons in six years at Boise State, his alma mater. He might be difficult to pull away from the West Coast but figures to eventually leave for a Power Five position.
Josh Heupel, Central Florida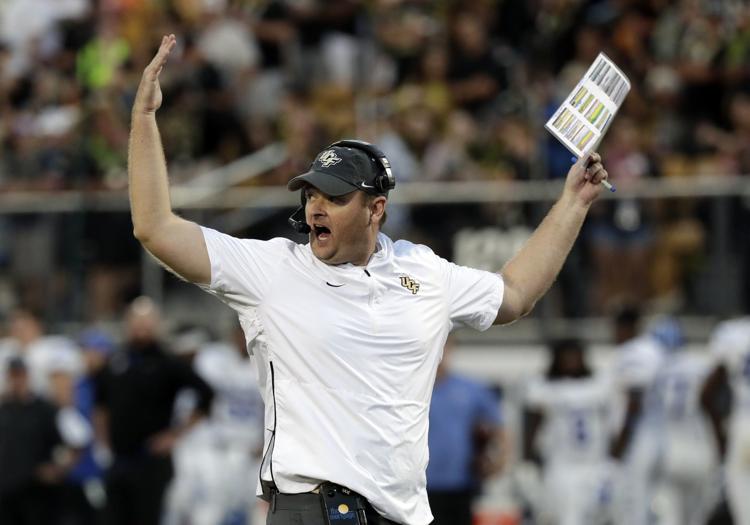 Age: 41.
Record: 21-4 (two years at UCF).
Salary: $2.3 million.
Buyout: $10 million.
The skinny: Heupel knows Missouri's program well having served as just-fired coach Barry Odom's offensive coordinator and quarterbacks coach in 2016-17. The former Oklahoma quarterback and longtime Sooners assistant long has been associated with explosive offenses and as a first-time head coach last season led Central Florida to a 12-1 record. Heupel has familiarity with Jim Sterk, but the Mizzou's athletics director is especially close with Central Florida AD Danny White and might not want to poach his head coach.
Lane Kiffin, Florida Atlantic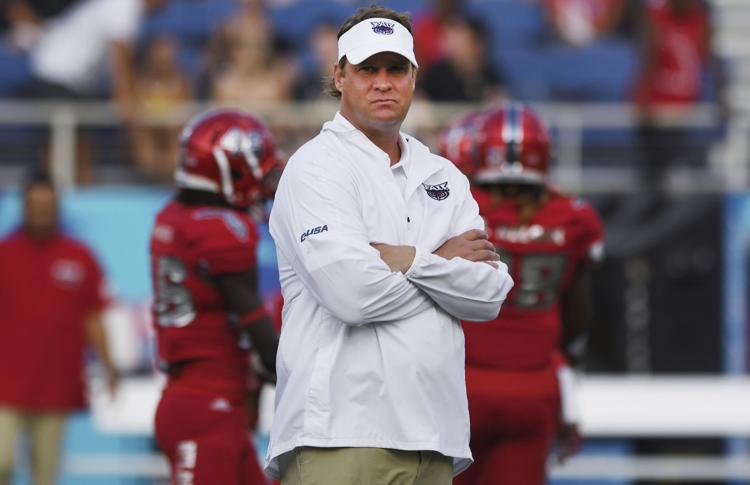 Age: 44.
College record: 59-34 (7-6 in one year at Tennessee, 28-15 in four years at USC, 24-13 in three years at FAU).
Salary: $1.432 million.
Buyout: $2 million.
The skinny: Kiffin was an easy punchline after a controversial short stay and abrupt departure from Tennessee, then was famously fired on the runway five games into his fourth season at Southern California. He rehabilitated his career with a three-year run as Alabama's offensive coordinator, and other than a few spicy tweets, he's stayed out of the national headlines at FAU, where he made a splash with an 11-win season in 2017, followed by a five-win setback in 2018. He's known as a gifted offensive mind and aggressive recruiter and would certainly bring some swagger to a program short on buzz.
Jeff Monken, Army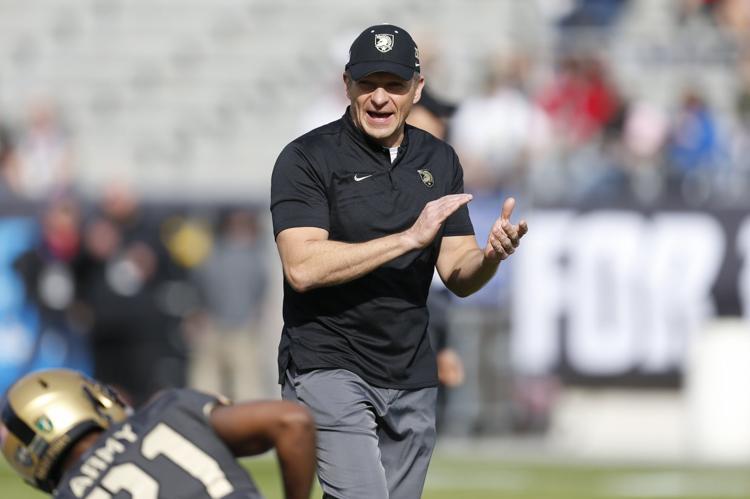 Age: 52.
Record: 78-50 (38-16 in four years at Georgia Southern, 40-34 in six years at Army).
Salary: Unavailable.
Buyout: Unavailable.
The skinny: The Peoria, Ill., native would be an unconventional option on two fronts. One, he runs the flex-bone triple option offense, a rarity at the Power Five level during the age of the spread attack and run-pass option craze. Two, he's been incredibly successful at West Point — three straight bowls and 21 wins in 2017-18 — but hasn't recruited at Power Five caliber of
Mike Norvell, Memphis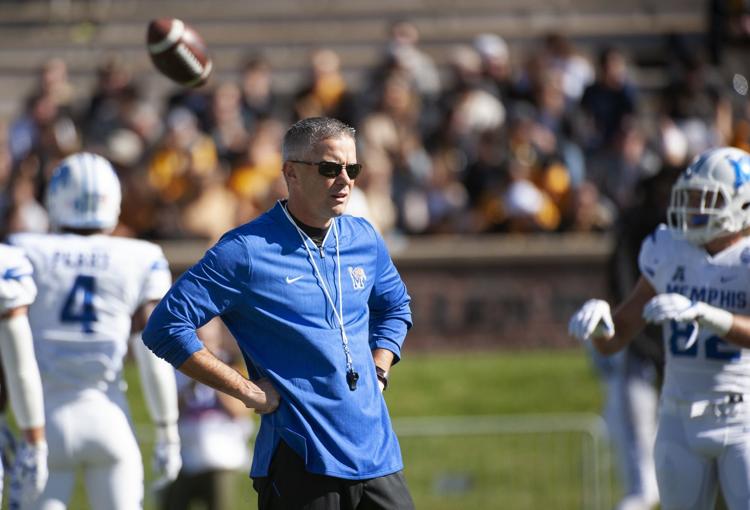 Age: 38.
Record: 37-15 (four years at Memphis).
Salary: $2.66 million.
Buyout: $500,000.
The skinny: One of the nation's most successful under-40 coaches, Norvell has two double-digit win seasons in his four years at Memphis and is known as a sharp offensive coach. As an assistant, he's coached at Tulsa, Pittsburgh and Arizona State and figures to be in high demand from other Power Five programs — notably Arkansas and Florida State.