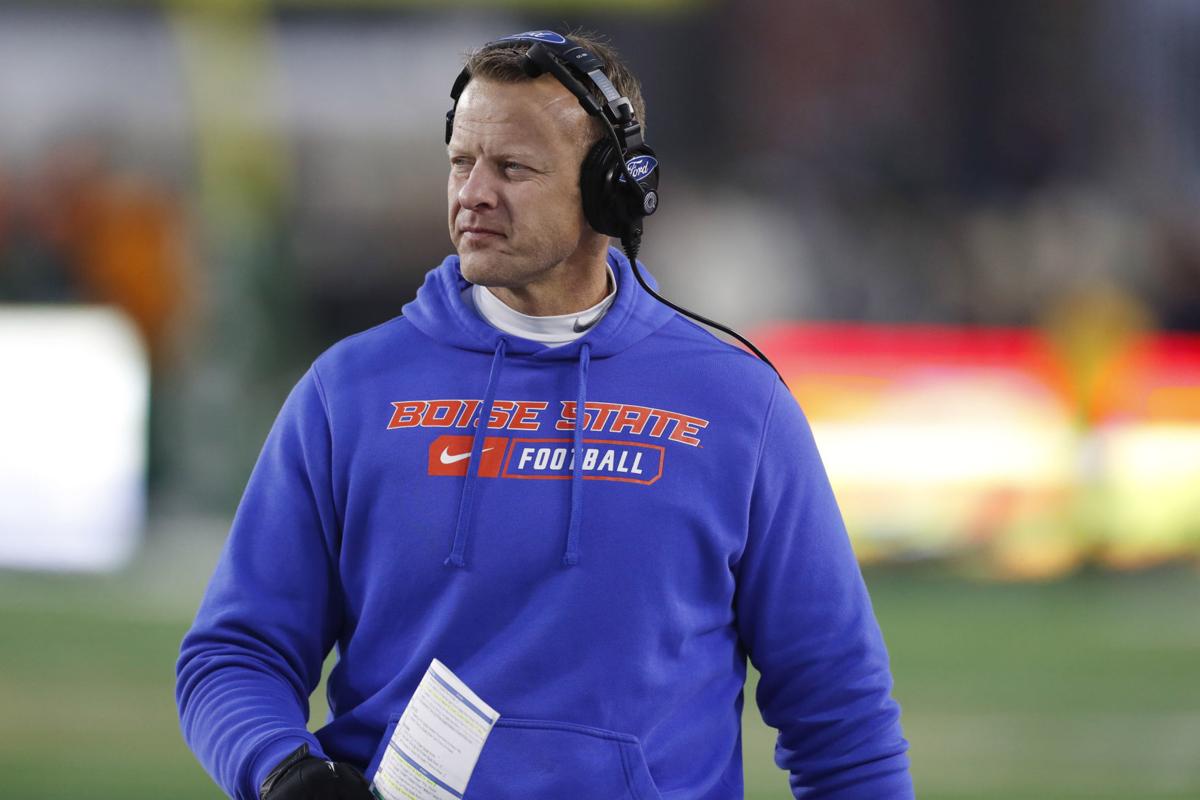 Just when you become convinced the college football coaching carousel has reached its capacity for chaos, stuff like this happens.
Poor Matt Luke reportedly found out Ole Miss fired him while he was in a recruit's home. Then a Twitter joker convinced half the world that the Rebels had hired Washington State's Mike Leach. That was news to Leach. And Ole Miss.
Sports Illustrated reported Clay Helton was out at Southern Cal, but that was either false or premature, so Sports Illustrated debunked the Sports Illustrated report. What?
Fans are tracking airplanes like the FAA. Rumors of Bob Stoops and Urban Meyer keep taking flight. Crazy season is now boarding for takeoff.
Mizzou fans are riding the highs and lows. Jim Sterk's emphasis on privacy during his hunt for Barry Odom's replacement should make more sense now. If an athletics director took a moment to dismiss each wave of wackiness, there would be no time for interviews.
One of the few things we have learned for certain between the news of Odom's firing on Saturday and now is that Sterk's task has become more complicated. That's what happens when Ole Miss surprises everyone by crowding in alongside Arkansas, Florida State and Mizzou. Some thoughts on Sterk's search as it begins to spin:
• It's hard to think of a better hire, on paper, than Boise State's Bryan Harsin. The Broncos are preparing to play in yet another Mountain West Conference championship game. They are 63-16 during Harsin's six seasons there. That .797 winning percentage is the sixth-best in college football during that span. Only two coaches — Alabama's Nick Saban and Clemson's Dabo Swinney — have a higher winning percentage with one program during those same years.
Harsin's program churns out NFL players. His background is on offense, where he learned under Chris Petersen and Mack Brown. His buyout is a very reasonable $350,000, and his current contract pays him about $10.25 million through 2024. Would he jump on a five-year deal that came close to doubling that haul?
Some doubt Harsin is willing to leave his alma mater after relocating there from a one-season stint as Arkansas State head coach in 2013. Some believe he is holding out for a Pac-12 gig. But the 43-year-old has shown interest in other jobs lately, including Oregon and Tennessee. If he is convinced he has reached his Mountain West ceiling, the SEC could be appealing, especially a job in the less-threatening SEC East.
• Here's hoping Sterk's Mountain West connection stops in Boise. The former San Diego State AD has a lot of respect for Air Force coach Troy Calhoun. But Calhoun's off-putting personality and his triple-option system would be hard sells at Mizzou. The Tigers are known for producing quarterbacks and defensive linemen. What QB wants to run the triple-option? What defensive lineman want to get chop-blocked every day in practice?
• I wonder if Sterk would have any reservations about shopping for a coach on super agent Jimmy Sexton's list. I wonder if Sexton would be standoffish toward dealing with Sterk. Odom was a Sexton client. Odom and Sexton pushed for an extension and raise last season, campaigning for a bump that Mizzou would have provided on its own schedule. Odom got his money. It came with some tension.
Then came the Derek Dooley disaster. The offensive coordinator who cost Odom his job was a Sexton guy. The arranged marriage flopped.
Swimming in Sexton's waters might not be Sterk's first choice, if he can avoid it. Sexton might not be Sterk's biggest fan at the moment. It should be mentioned that Sexton represents both Florida Atlantic's Lane Kiffin and Memphis' Mike Norvell.
• Don't rush to dismiss the idea of Charlotte's Will Healy as a potential candidate. The 34-year-old, baby-faced ball of positive energy is a relentless recruiter who has been labeled College Football's Next Big Thing.
The former Richmond quarterback made the transition from coaching quarterbacks and receivers and leading recruitment at the University of Tennessee at Chattanooga to becoming the head coach at Austin Peay entering the 2016 season. Healy was only 30 then. Austin Peay was the worst Division I program in America, with a record of 8-60 in its previous six seasons.
Healy went 0-11 in year one before going 8-4 in 2017, a turnaround that won him the Eddie Robinson Award for top Football Championship Subdivision coach. Before Healy jumped to Charlotte after his third season at Austin Peay, he had landed four top-five FCS recruiting classes in his past five seasons between UT-Chattanooga and Austin Peay. In its first season without him, his former Austin Peay team is 10-3 and still alive in the FCS playoffs. Meanwhile his first Charlotte team is 7-5 and riding a program-best five-game winning streak into Charlotte's first bowl appearance. His group of Charlotte commitments for the 2020 season, according to 247Sports, ranks third in Conference USA.
Healy sells fun, and follows through. He joins his players in locker room dance parties after wins. He announced the team's trip to the Bahamas Bowl by dressing up in scuba gear. It's corny unless you believe in it, and he believes in it. A growing list of impressive coaches believe in Healy, including Clemson's Swinney and Georgia's Kirby Smart.
Sterk mentioned "energy" a lot when describing the hire he hopes to make. Healy would check that box, big time. He might need some guidance when it comes to jumping into the SEC. If only there was a longtime, successful coach still around Mizzou who could serve as a non-threatening mentor. Oh, yes. That's right. Gary Pinkel exists.
Don't write off Healy. I asked a source close to the search if I'm crazy for continuing to bring him up. The answer was no.
One more thing. Healy's agent is, of course, Sexton.
Coaching search season and all of its craziness is only just beginning to bloom.