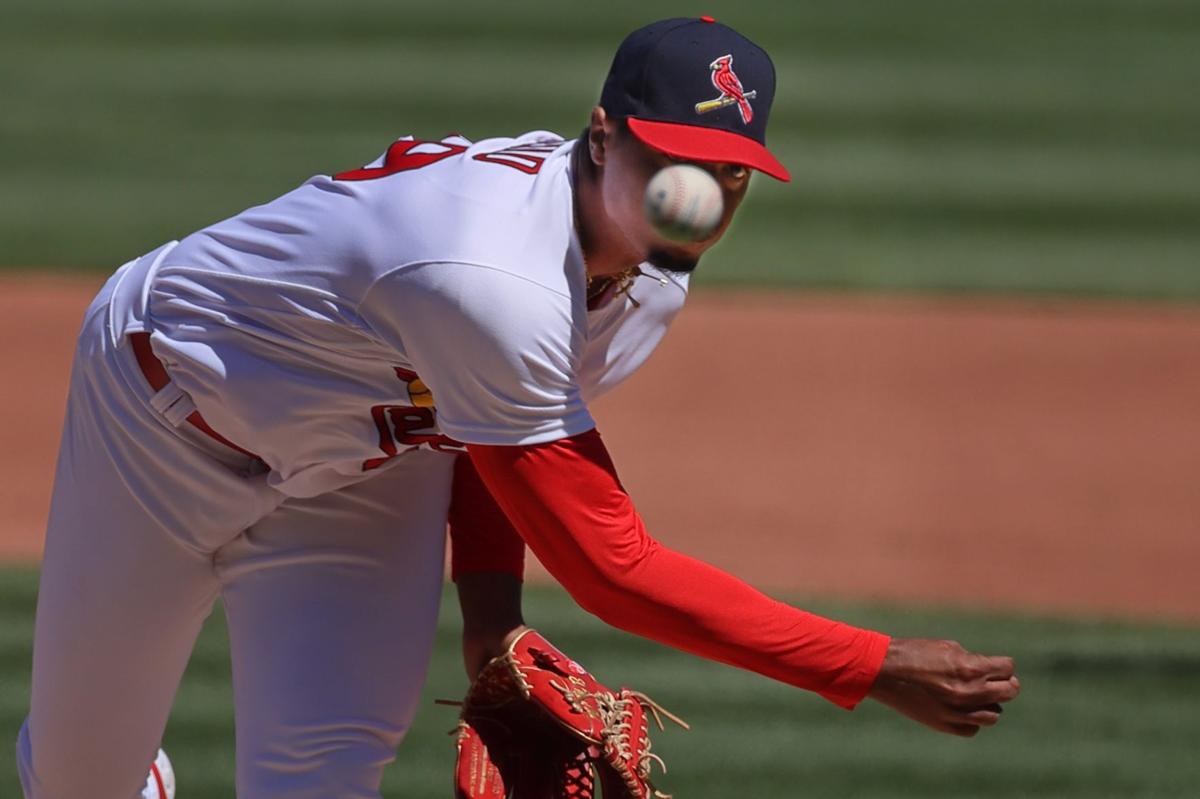 Johan Oviedo pitched like he should have been in there sooner.
In Sunday's game, and in the Cardinals' rotation conversation.
The Cardinals are making it seem as if the only decision they're really wrestling with regarding starting pitching at the moment is whether to slide soon-to-be-returning starter Kwang Hyun Kim into Ponce de Leon's spot, or John Gant's.
The club's 9-3 loss Sunday to the Brewers made that decision pretty easy.
Ponce de Leon had one decent start in Miami, and one disastrous start Sunday. It's hard to justify keeping a coin flip in the rotation. Manager Mike Shildt used another term. Ponce de Leon, he said, is a tightrope pitcher. That leads to too many games like Sunday's, in which the Cardinals were out of it before Ponce de Leon was.
Maybe things would have turned out differently if Shildt pulled Ponce de Leon for Oviedo before Travis Shaw's second-inning, two-out home run sent the Brewers ahead by the score of a touchdown and a successful PAT. This game was pretty far out of reach by then, and that was a bummer because by the end of it the Cardinals were playing an opponent that was without its starting second baseman Kolten Wong (oblique), its MVP candidate outfielder Christian Yelich (back tightness) and the star of the game in Shaw, who was lifted after he fouled a pitch off himself.
Combine the Brewers' losses with Oviedo's entrance and effect, and it's fair to wonder if the outcome would have changed had Oviedo started the second inning.
Nothing can be changed about that now.
Something can be changed before Oviedo's talents once again are used in a lopsided loss.
Watching Oviedo put the clamps on Milwaukee, you had to wonder if the Cardinals should seriously consider another rotation change in addition to sliding Kim back in there.
Oviedo is in line to receive some starts as the team's sixth starter when that opportunity comes up. But throughout spring training and in front of a crowd Sunday, he suggested he's capable of more.
The 23-year-old righthander with the build of an NBA shooting guard allowed just two hits and two walks while striking out four in his scoreless 4 2/3 innings of triage. His fastball averaged a tick above 96 mph, and he showed more trust in his changeup and curveball than we saw during an encouraging but limited sample size last season.
The biggest threat to Oviedo on Sunday was not a Brewer.
Yadier Molina's wizardry on a 2-6-4 double play turned Brewers starter Brett Anderson's sacrifice bunt into the end of the fifth inning. It also nearly took off Oviedo's head. The 6-foot-5 Oviedo pulled a page from "The Matrix" playbook and bent over backward to dodge Molina's laser.
The two pounded fists after the play, as if it had been planned. Nope.
"I thought he was going to kill me," Oviedo said with a smile.
Oviedo even contributed at the plate, scoring the Cardinals' first run. It came in the second inning with a bases-loaded RBI groundout against Anderson after battling back from a 1-2 count. Not bad for a guy who has slightly more experience hitting in the majors than those watching from the stands.
Oviedo debuted last season and made four solid yet short starts before the Brewers knocked him around for six runs in his final one, on September 16. Manager Craig Counsell's club saw a different pitcher this time around. Oviedo has increased his trust in his changeup and curveball to work along with his fastball and slider. He's turned into a four-pitch pitcher with a four-seamer that screams.
"It's really about confidence," Oviedo said. "I'm way more comfortable throwing the ball like that."
Oviedo's pitches are too good for the alternate site in Sauget, and on Sunday they looked too good for long relief, a role that tends to be called upon when games are out of reach.
Swapping Kim for Ponce de Leon is now an obvious call.
Here's another one the Cardinals should consider.
Swapping Oviedo for Carlos Martinez.
Martinez went from being challenged to earn a spot during spring training, to being mentioned along with Jack Flaherty and Adam Wainwright as cemented starters. The only thing that changed, in reality, was that Mikes Mikolas (shoulder) and Kim (back tightness) got hurt.
Martinez has allowed seven earned runs in 10 innings and has pitched just five innings in both of those starts. His first start, in Cincinnati, lasted 77 pitches. His second, against the Brewers in St. Louis, lasted 83. His ERA after the two starts, both losses, reads 6.30.
The Cardinals like to set their pitching plans and follow them, not rewrite them on the fly three series into a season. Oviedo has all of five major-league starts beneath his belt. This would be a hopeful move, but not some crazy one. Oviedo has been lengthened out to throw 90 pitches. Current Cardinals starters have been pulled before that mark five times in nine games.
The Cardinals are 2-4 with two series losses against National League Central Division opponents. They have been outscored 46-29 in those six games, against the Reds and Brewers. Any fair examination has to start where games begin, with the starters. A staple is struggling.
Even before the Brewers pounced on Ponce de Leon for seven earned runs on 52 pitches, the Cardinals' rotation entered Sunday's loss ranked 12th in the National League in ERA (5.11), 13th in strikeouts per nine innings (8.10) and 12th in opponent on-base plus slugging percentage (.726). The rotation still has just one quality start. Look around the National League. The Brewers have three, the Cubs have four, and the defending World Series champion Dodgers have seven.
The Cardinals talked themselves out of letting Alex Reyes and his electric arm get a fair shot at the rotation. As a result, they have a strong closer who could have been a special starter. That's not a terrible tradeoff.
Limiting Oviedo to long relief and occasional starts, if he keeps pitching like this, would be a more costly self-imposed restriction.