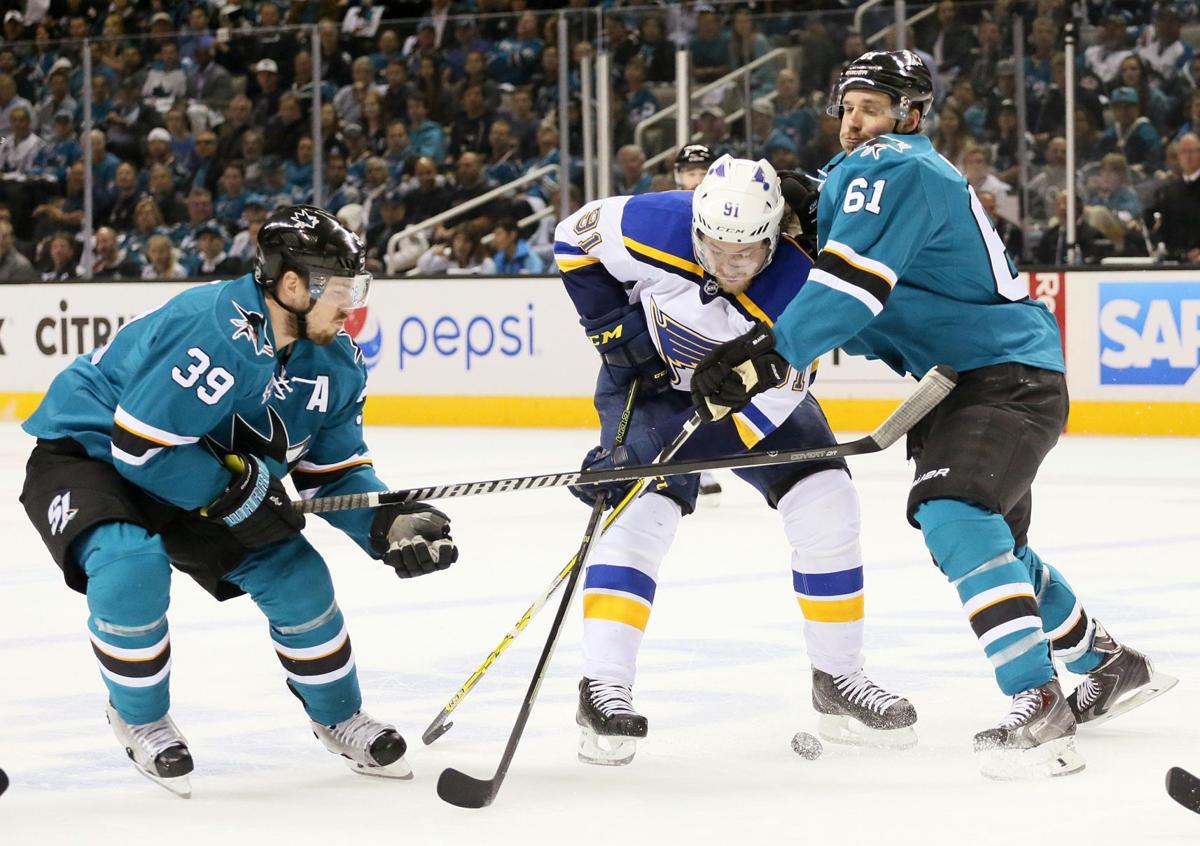 During a locker clean-out that marked the transition from this season to next, Blues star Vladimir Tarasenko missed a chance to take out the trash.
The $60 million man declined to participate in the final media availability of the season on Saturday. The no-show was harder to explain than Tarasenko's disappearance in 17 of the Western Conference final's 18 periods. This time there wasn't San Jose defenseman Marc-Edouard Vlasic to blame.
Tarasenko was present at the Scottrade Center. You just won't find any comments from No. 91. He told the team he wasn't doing interviews. That's a problem.
A quick spin through the coverage provided by Post-Dispatch scribes Jeremy Rutherford and Tom Timmermann shows some of the topics Tarasenko's teammates faced.
It wasn't all cupcakes and rainbows.
Kevin Shattenkirk once again addressed chatter that he could be traded.
Troy Brouwer discussed an offseason that could send him to another team.
David Backes, the captain, reflected on the fact that this might have been his final season as a Blue.
Yet Tarasenko took a pass.
Whether Backes stays or goes, Tarasenko's influence on this club is about to grow. The 24-year-old winger scored 40 regular-season goals and led his team in postseason goals (nine) despite his struggles against the Sharks. His actions Saturday suggested his hockey skills surpass his leadership capabilities.
Tarasenko's teammates faced the music. But he skated. The face of the team refused to be part of its voice.
Sometimes media members inflate the importance of their prying. Our profession tends to bristle when a subject says, 'No thanks.' This isn't that.
Tarasenko's comments — if they came — would have been his final message to Blues fans before the team goes off the grid for months. People deserved to hear from the star who struggled late.
Tarasenko's two goals against the Sharks came in the third period of Game 6, after the Sharks grabbed a four-goal lead. More than anything, the late flurry made you wonder how different the series might have been if Tarasenko had broken through earlier. Everything from Tarasenko's ice time, to his physical shape, to his willingness to push through adversity became popular talking points.
He could have told the doubters why they were wrong. He could have told those who defended him why things will be different next postseason. The new father could have explained what it was like, balancing the biggest moment of his personal life — he welcomed a son into the world before Game 2 — with the biggest moment of his professional career.
At least tell them something.
More importantly, Tarasenko's no comment closed the book on his season without addressing the elephant in the dressing room.
There is growing speculation of friction between Tarasenko and the Blues. Is there a rift between the star and his club?
If I'm a member of that front office, I sure would have liked a player under contract until 2023 to squash such a story on Saturday.
We'll hear from Blues general manager Doug Armstrong and coach Ken Hitchcock on Tuesday morning.
Apparently everyone but Tarasenko has to talk.
The latest STL Blues hockey news, NHL headlines, scores, standings and rosters.