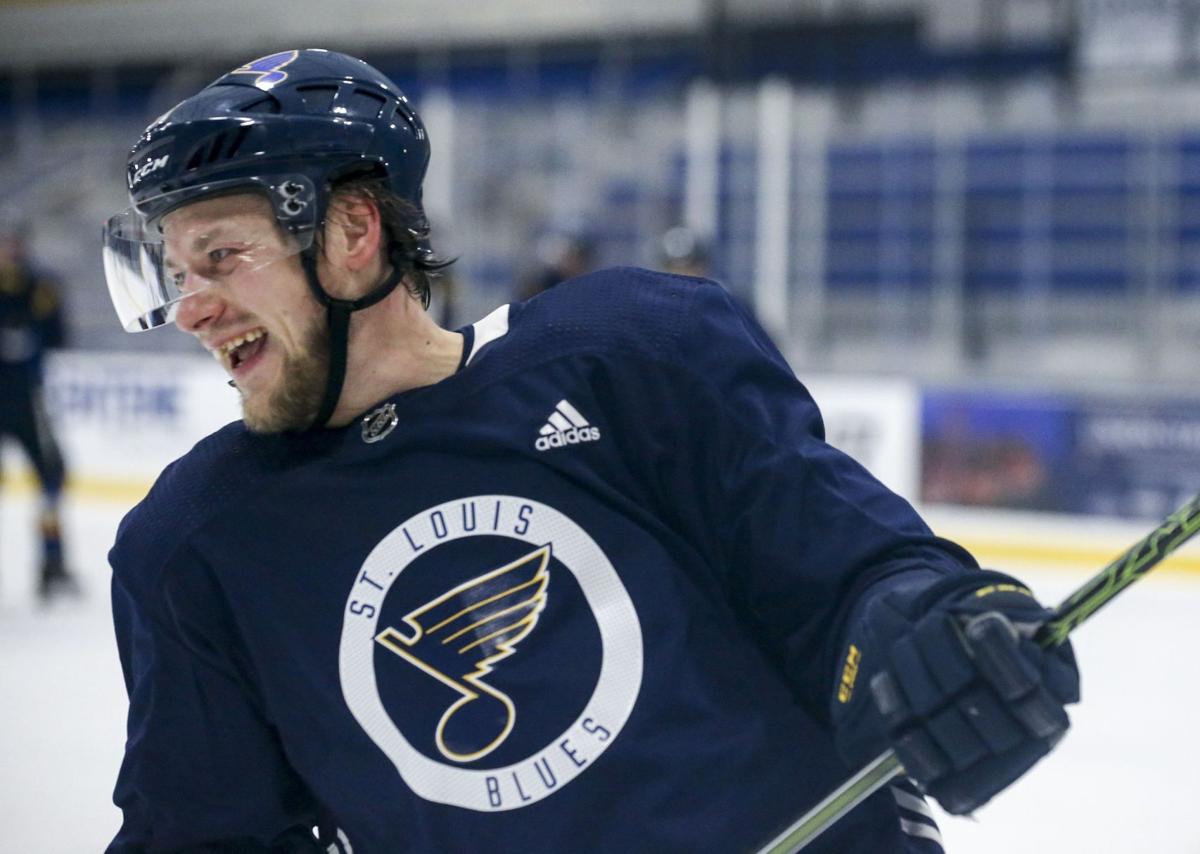 Vladimir Tarasenko's apologists are working overtime.
The mercurial Blues forward with a total of 42 regular and postseason games played the past two seasons and $15 million left on a contract that runs through the next two seasons has decided he wants out. On his terms. Now.
His camp has thrown the Blues' medical staff under the bus for the continued shoulder problems that have limited the winger's game while simultaneously decreasing his trade value.
Problem signs that used to be ignored as Tarasenko enjoyed a lengthy run as one of the least-criticized St. Louis professional athletes in recent memory are now finally begrudgingly being acknowledged.
Tarasenko wasn't just disappointed when Ryan O'Reilly was named captain. He felt disrespected. It became a thing. Those who dismissed or explained away the quotes Tarasenko gave to a Russian media outlet voicing his displeasure about being passed over were guilty of being misleading or being misinformed.
Tarasenko's clash isn't just with the Blues' decision-makers. It's in the dressing room. Tarasenko can be a treat to play with when he's scoring goals. When he's not, not so much.
And still Tarasenko's staunchest defenders are diving headfirst to block anything they interpret as a check of No. 91.
There is the happy-trails approach. Some have rushed to wish Tarasenko a warm sendoff, as if he is electing to leave via free agency, like former captain Alex Pietrangelo did after the Blues' Stanley Cup championship win. Sorry. Asking for a trade when your value is at its lowest and allowing an airing of grievances against the team's medical experts on your behalf in what sure looks like a leverage play is not the same as opting for free agency. What about all those times Tarasenko insisted he was healthy, fully recovered, good to go? So much for the Blues quietly shopping Tarasenko. Now they have to deal him or risk a chemistry nightmare.
There's the fast-forward approach. Some are skipping over the drama altogether and trying to push the conversation toward what kind of haul a Tarasenko trade could net, as if there is a decent chance the Blues can come out ahead. That's hard to believe. If you are expecting a return worthy of a two-time All-Star and annual 30-goal scorer, you are going to be disappointed.
Maybe the 29-year-old Tarasenko will get back to that level in the future, but if he does, it won't be with the Blues. The Blues are 14-20-8 in the regular and postseason games played with Tarasenko since the 2019-20 season. He's been a minus-18 in those games.
And remember, Tarasenko's no-trade clause has been activated. The best value for Tarasenko would be him bouncing back in St. Louis. That's no longer a realistic option. Blues general manager Doug Armstrong can't let a player who does not want to be part of the team erode the team.
Don't blame the Blues
Then there's the revisionist-history approach. Some have decided to solely blame the Blues. For everything. Logic be damned.
These are the ones blaming Armstrong and the team for selecting O'Reilly as captain — even though that was the obvious choice at the time, as Tarasenko's me-first reaction to the news, along with O'Reilly's downplaying of the dust-up, proved. Tarasenko had six seasons before O'Reilly arrived to prove he should be the next captain. He didn't.
These are the ones blaming hard-nosed Blues coach Craig Berube, who had the audacity to call out Tarasenko when his effort sagged and — gasp — encouraged Tarasenko to consider planting his big, strong frame in front of the net more often in order to evolve.
These are the ones blaming the team's medical experts — even though that means ignoring their credentials, ignoring the lack of any real proof of mishandling of Tarasenko's shoulder problems and ignoring the fact significant injuries to significant joints sustained by elite athletes often result in a performance decline, no matter who handles the scalpel during surgery.
Requesting a trade is one thing. Shoving the docs beneath the Zamboni? It's a cheap shot.
I prefer the real approach.
It's a shame the relationship between Tarasenko and the Blues reached this point. The blame for that is on both parties for not finding a better way to handle a declining superstar who was used to having things his way and his intersection with a coach who doesn't play by those rules. Even if Tarasenko needed to move on, it didn't have to go down like this.
For a generation of fans who have become some of the Blues' most passionate supporters, Tarasenko's face was the one that defined the team they fell in love with, and he returned that love time and time again with his engagement and interaction with fans.
Once a big star
Tarasenko brought legitimate sports star power to St. Louis, with evidence on the cover of the NHL 17 video game and every time a No. 91 sweater is spotted at Enterprise Center. His run of five consecutive 30-plus-goal seasons between the 2014-15 and 2018-19 seasons trailed only Alex Ovechkin and John Tavares during that span. Only nine players in Blues history have produced more than Tarasenko's 442 points while wearing The Note. Only four have produced more than his 218 goals.
On top of it all, Tarasenko helped the Blues secure the ultimate prize, scoring 11 goals and six assists during the Blues' push to their first championship in 2019, responding with a flourish after Berube challenged him publicly during the Western Conference finals in San Jose.