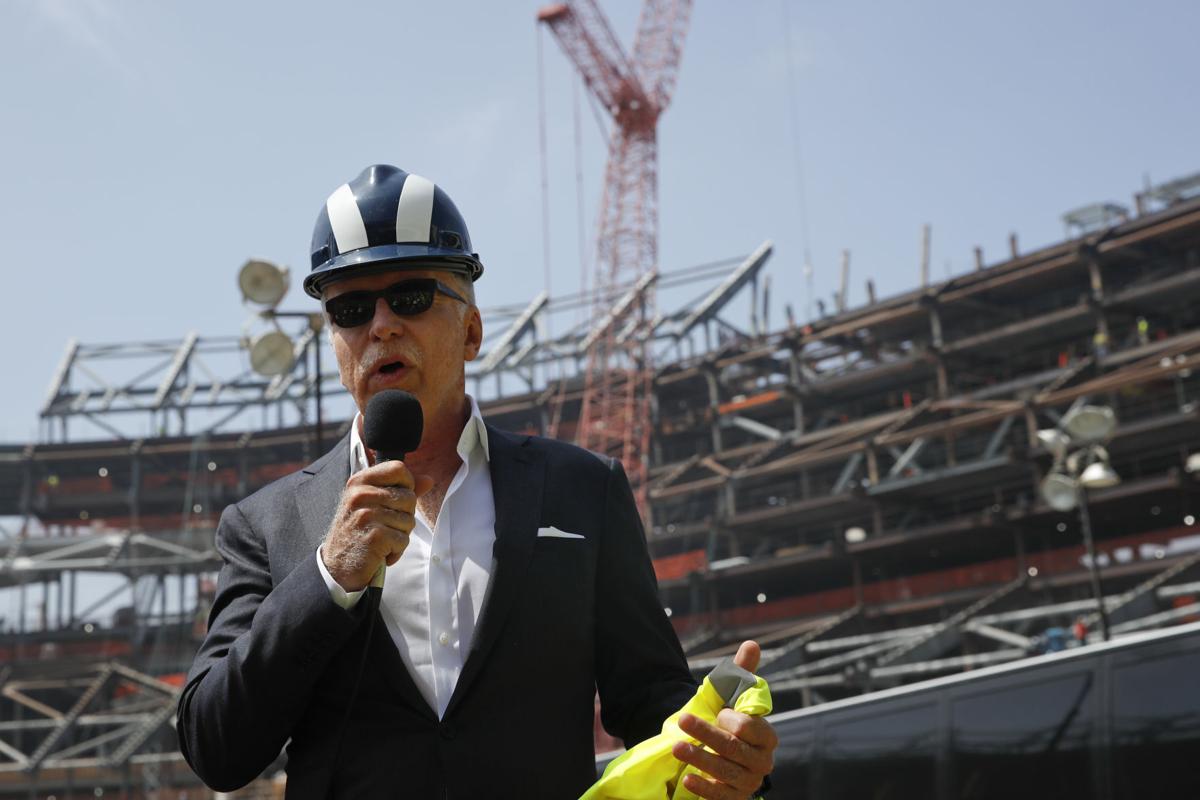 I've been reading more legal documents than box scores.
My brain aches. I can't see straight. I think I broke a Post-Dispatch printer, or at least ran it out of ink.
This is what happens when P-D teammate Joel Currier advances the ball on the Rams' relocation saga, this time scoring a large cache of context-providing internal reports and partial deposition transcripts, plus the news of yet another contentious chapter in our region's attempt to hold the NFL accountable for the Rams relocation rip-job.
Team Kroenke — the lawyers representing Rams owner Silent Stan, the Rams and the NFL — are making yet another attempt to derail the civil lawsuit brought by Team STL — the lawyers representing St. Louis, St. Louis County and the St. Louis Regional Convention and Sports Complex Authority — before a public trial begins in January.
Some thoughts jotted down in between nursing paper cuts ...
• That Team Kroenke is pursuing a motion for summary judgment is no surprise. It's common. It's just another chance to get the case trimmed back or tossed entirely, and Team Kroenke has pursued each chance up to this point. The previous ones failed, for those sweating.
• Team Kroenke, among a lot other things, is claiming the NFL relocation guidelines — which the NFL seems to think can be presented like commandments one day and shrugged off as mere suggestions the next — are not serious and cemented enough for Team STL to claim the relocation rip-job violated a contract with St. Louis, interfered with business relationships here and improperly profited by the Rams' move to Los Angeles. Team STL disagrees with that, of course. We'll see.
• Hasn't Team Kroenke made this argument before? Yes. Whether it was trying to steer the suit toward closed-door arbitration, or hoping to convince the U.S. Supreme Court to step in, Team Kroenke stresses in its motion for a summary judgment some of the same points it has reiterated since the lawsuit was filed in 2017. One, that the Rams' right to relocate stemmed from the team's win in the years-long, back-and-forth about the first-tier clause in the team's original 1995 lease to play in The Dome. Two, that the NFL relocation guidelines Team STL prioritizes in the lawsuit are a lot more malleable than Team STL claims. And increasingly, three, that everyone should have known the Rams were leaving anyway. Someone forgot to tell Eric Grubman, I guess.
• Timing is important. Team STL seems very focused on what the league's relocation guidelines suggest should have happened as the task force created to keep the team spent more than $16 million on plans for a riverfront stadium. Team Kroenke seems focused on proving the relocation decision was basically over by then, and that it had basically been over since the team won the arbitration hearing over the Dome upgrades. The latest court documents show in great detail just how disinterested the Rams were in the riverfront stadium. In fact, Kroenke suggests that option was — go figure — a breach of the lease, in that the proposal would not have risen to the level of the Dome improvements the Rams felt owed. So far, St. Louis Circuit Court Judge Christopher McGraugh has seemed to agree with Team STL's take that the relocation guidelines, not the lease, are what is under examination.
• What's this about Oakland's lawsuit against the Raiders getting tossed, and could that mean bad news for Team STL? Team Kroenke hope so, but it could be apples and oranges. Oakland's was a federal case due to the primary claim of a violation of antitrust law, an approach that almost always ends poorly for regions attempting to hold accountable relocating teams. Oakland could continue to pursue its other claims in state court.
• Does anyone else remember what then-NFL VP Grubman told the Post-Dispatch in mid-January 2015? He said that while Kroenke was looking at relocation possibilities, Kroenke had not made it clear to the league that he wanted to relocate the Rams to LA. Grubman said that the league was, "looking for a solution to the St. Louis Rams to be the St. Louis Rams, not for some other team to be the St. Louis Rams," and that the league's role was to give the St. Louis, "the best chance possible." That best chance, Grubman said then, included building a new stadium. I'm curious how those Grubman comments are going to clash with Kroenke admitting in his deposition that he had talked to owners about relocating to Los Angeles prior to October of 2013. And how will Grubman's comments square with the portion of the Rams' relocation application that details how the Rams specifically focused on Los Angeles during the 16-month period that followed July 2013, when the Rams were informed they would not be getting their big updates to the Dome? Team Kroenke argues that St. Louis decision-makers knew of the Rams' intent to relocate by at least January 5, 2015. Yet Grubman was publicly slapping St. Louis backs with encouragement more than a week later? Makes you wonder what the full timeline will look like once Team STL starts revealing some of its discovery.
• It seems important to hear an answer on why these documents were able to be obtained by the Post-Dispatch, beyond the fact Currier is a great reporter. This case is under a protective order, meaning most of the documents have been placed under seal. Yet a whole bunch of documents that present Team Kroenke's side were publicly available before later being placed under seal. Fascinating. Team Kroenke has a lot of highly paid and talented lawyers for a mistake like that to happen. That's all it was, a mistake, right?
Hundreds of pages of court documents obtained by the Post-Dispatch shine a light on NFL's efforts to support Rams' relocation to Los Angeles.