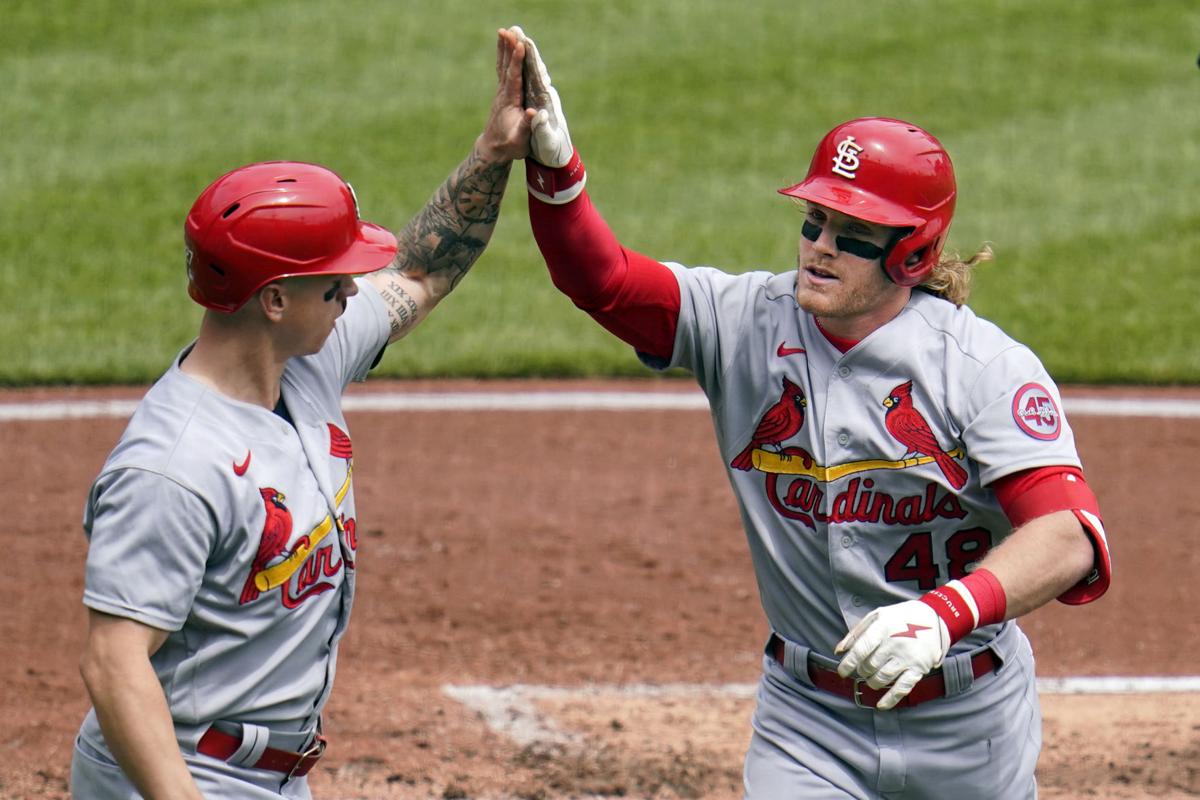 The best sign yet that the Cardinals' outfield experiment has finally worked arrived, ironically, one night after the Cardinals' season ended.
Randy Arozarena once again did something amazing in October, and for the first time since the Cardinals traded him away, the highlight did not feel like a complete kick in the shin back here in St. Louis.
Don't misinterpret that last sentence. The Cardinals have, on the record, acknowledged they underestimated the 26-year-old Rays outfielder who has become Mr. October 2.0 for Tampa since the Cardinals included him in a 2020 deal for promising pitching prospect Matthew Liberatore. Arozarena becoming the first player to hit a home run and steal home in the same postseason game in the Rays' divisional series win against the Red Sox on Thursday only added to his postseason lore. But the sting of Arozarena's playoff magic has softened a bit here, finally, because underestimating Arozarena can no longer be directly contrasted with a Cardinals outfield the front office looks guilty of overestimating.
"I think it's really the emergence of the outfield," John Mozeliak said recently while discussing the multiple aspects of what launched a season-salvaging surge to the postseason along with a sense of optimism for 2022.
The president of baseball operations didn't even have to cross his fingers behind his back as he said it.
Even despite the success of traded-away Arozarena — and, yes, Jose Adolis Garcia, too — it's hard to not feel upbeat about the Cardinals' current outfield situation.
The biggest on-paper unknown for the club entering the 2021 season — back before the pitching crumbled and had to be rebuilt on the fly — was an outfield experiment that placed big bets on left fielder Tyler O'Neill, center fielder Harrison Bader and right fielder Dylan Carlson.
Their status as starters entering the 2022 season seems as set as anything can be now, and two of them are about to make some serious paper.
Bader is entering his second season of arbitration. O'Neill is entering his first. Carlson is not yet there, but negotiations between MLB owners and the players' union might raise the major league minimum he's owed. The Cardinals pursuing early extensions with any of them would not be surprising — if business as usual was not being held up by the wait for a new collective bargaining agreement. All three upped their value in 2021.
Back when I was at risk of needing Tommy John surgery for beating so hard on the Bryce Harper drum, the Cardinals suggested their projections for O'Neill indicated he could one day provide Harper-like production at the plate, along with plus defense and great baserunning. It was hard to believe then. Not so much now. Harper very well could win National League MVP, but the 26-year-old O'Neill will receive consideration for the same award along with his second consecutive Gold Glove in left field, at a fraction of Harper's price. Those lofty projections became the present, not the future. The often-injured O'Neill stayed healthy enough to play a career-high 138 games and did the kind of damage one needs to do if he's going to strike out as often as O'Neill does, which this season was 31.1 percent of his at-bats. O'Neill tied Nolan Arenado for the team lead in home runs (34) despite totaling 111 fewer at-bats. He homered every 14.2 at-bats. Harper homered every 13.9. If O'Neill stays healthy, he's an All-Star.
Bader's defense remained elite, and he should win his first Gold Glove award for his work in center. The 27-year-old was the team's hottest hitter during the historic 17-game winning streak. He took a big step toward evening out his bad splits against right-handed pitching, and produced a career-best .267 average. When hitting eighth in the lineup, Bader's on-base plus slugging percentage climbed to .806, which tied Cincinnati's Kyle Farmer for highest OPS from a No. 8 hitter in the NL. Few if any can patrol center field like Bader. Only a few more can turn the eighth spot into a plus for a lineup. He did both.
Carlson, the least-discussed member of the trio, could be the biggest star when all is said and done. The switch-hitter is just 22. This season was still officially his rookie one, and he will receive points in the NL Rookie of the Year race. He finished top-three in that field in extra base hits (53), home runs (18) and RBIs (65).
Of the 63 MLB outfielders who totaled at least 350 at-bats this season, all three of the Cardinals finished in the top half in on-base plus slugging percentage: O'Neill (.912 OPS, eighth); Bader (.785 OPS, 25th); and Carlson (.780 OPS, 27th). Time missed due to injuries did not stop them from lifting the Cardinals' outfield to fourth in the NL in OPS. Between a forearm strain and broken rib for Bader, a groin strain and finger facture for O'Neill, and a wrist sprain for Carlson, the three were limited to just 70 games started together. The Cardinals went 44-26 in those games.
Defense had a lot to do with that record. If a fly ball did not leave the ballpark, it usually turned into an out. Per Fielding Bible's calculations, O'Neill finished first in Defensive Runs Saved in left field (12 runs above average), Bader finished second in center (plus-15), and Carlson finished 11th in right (plus-4).
"Our outfield is certainly the fastest I've been a part of," veteran starter Adam Wainwright said. "Covers the most ground. Good jumps. Good reads. Diving plays, all year long, for me."
And don't forget the baserunning bonus. Of the Cardinals' 89 steals this season, 26 were by one of the three outfielders. The Reds had 36, as a team.
"This is really the first year that we've been able to play together collectively, consistently, and, I mean, we're only going to get more comfortable out there, too," O'Neill said. "We all trust our abilities. We're great outfielders out there, and we're a great unit. We communicate well, hit the right bases, hit the cutoff man, do all the right things, so we're just going to keep doing that, keep training hard."
Added Bader: "The word unit stands out. The most important thing is being each other's eyes, especially as an off outfielder, working together pre-pitch, understanding what our pitcher is giving to the batter. We have each other's backs to prevent extra-base hits when balls are hit in the gap. A unit like that working together, it's a pretty good force."
Carlson took a shorter route. When asked if he's excited about this outfield's future together, he simply responded, "Heck yeah."
The Cardinals have a rotation to fortify, a need Liberatore needs to help with soon for the Arozarena trade to have a chance of evening out. They have a chance to upgrade their shortstop play during a round of free agency that will revolve around the position. They must figure out how they plan to play with a designated hitter.
The one about the outfield, for now, rests. The experiment took longer than the Cardinals hoped, but it finally worked and the result is good. And the best part? This group should get better.