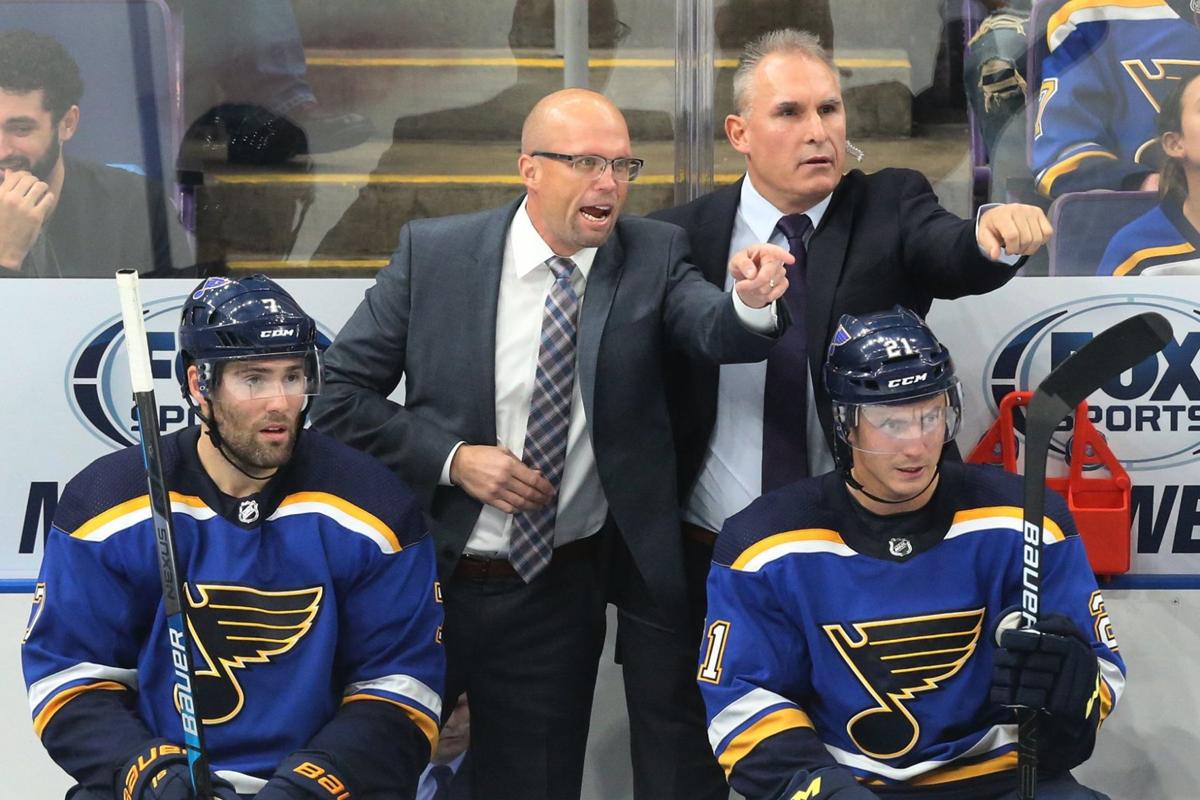 There's no tiptoeing around it now.
What had been wondered about before the season and whispered about as this awful start worsens by the day is now front and center — as obvious as the purple swaths of empty Enterprise Center seats that grew and grew during the Blues' humiliating 7-4 loss to Columbus on Thursday night.
Mike Yeo's job is on the line.
Blues players say they don't think it should be, and I tend to agree with them. But that doesn't change the fact that it is. Yeo knows.
"Heck, my job should be in question right now," Yeo said after the Blues humiliated themselves and their fans by blowing a two-goal lead, pulling starting goalie Jake Allen and rolling over to the point that, near the end, Oskar Sundqvist, who had sustained a terrifying facial injury during the preseason, found himself face down on the ice with a Blue Jacket ramming him from behind after the whistle, and none of his teammates did a damn thing to stop it.
Yeo mentioned this is the kind of start, and specifically the kind of loss, that prompts hard questions.
The hardest one is whether he's the right man for the job.
His players bristled when they heard that one.
Their coach didn't blink.
"Of course," Yeo said, acknowledging the situation. "That comes with the trade. But, I'm not going to coach to try to save my job. I'm going to coach to try to win a Stanley Cup. I believe in this group. Whatever we need, every single day, I'm going to try to do that."
Are you listening, Yeo's players?
If you like Yeo as much as you say you do, you are running out of time to prove it.
Watching Yeo up there Thursday, the man looked exhausted. He has tried every trick. He's come out of losses fighting mad, throwing motivation from the podium like lightning. He's come out of losses more disappointed than ticked. He's come out of losses upbeat and optimistic. But this time, he came out of a loss acknowledging he knows he might not have many more losses left to come out of if this is not rock bottom.
"There has been lots of, trying to give them heck," Yeo said. "There has been lots of, trying to motivate in different ways, whatever the case is. Right now, what I think we need to do is, come together."
The Blues are 2-4-3. Seventh in the Central Division. But it's so, so much worse than that.
They look like a group that spent the offseason listening to us talk about how good they can be instead of actually doing what it takes to be good. Yeo admits that now. He did not coach it out of them soon enough. That's on him and his staff.
What else can you pin solely on Yeo?
He pulls Allen, and Chad Johnson gets peppered. He scales back human punching bag Jay Bouwmeester, and another defenseman looks just as bad. Is it the job of an NHL coach to force his players to play hard, not quit and care about the fundamental aspects of the game they have been taught since they started skating on ponds?
Blame the coach if you must, and that's the way this is headed. That's what happens in a league that changes coaches like NASCAR changes tires during a pit stop. But understand what that would say. General manager Doug Armstrong hired Yeo to be a public coach-in-waiting under former coach Ken Hitchcock. He stuck with Yeo as other intriguing coaching options came and went. He did not add to last years' team because he saw this season as the beginning of a long run of postseason appearances and maybe, just maybe, something magic. Would he really scrap that plan so early? That's how bad this team looks right now. And that's how few other options a general manager has when he's spent to the cap on a nucleus that lacks flexibility. Yeo knows the spot he's in. Blaming this solely on him is as wrong as blaming it solely on Bouwmeester or Allen.
The Blues offense is not as dangerous as it should be. The defense is performance art honoring Swiss cheese. They have allowed fewer than three goals once. They choke on leads and sleepwalk through third periods. They are bad right now.
They sound like a group that finally realizes it. They sound like a group that wants to change it. They sound like a group that wants everyone to know this is not their coach's fault.
"It's not that," Alex Pietrangelo said. "It's got to come from us. We've got to get back to doing the small things."
"It has nothing to do with anything going on outside of this room," Alexander Steen said.
"There is no question of anyone thinking he doesn't deserve to be here," Vladimir Tarasenko said. "We support him. We believe in him. That's why he's our coach right now, and we will (bleeping) play for him so hard."
I asked Yeo what it meant to hear that kind of support. He appreciated it, and made it clear he believes in his team. He cares about his players. He thinks this can be a turning point.
"I'm sure the guys had a lot of good things to say tonight," Yeo said. "It's an emotional loss. There's no question. It sucks to have a game like that in front of our fans. Where we are at, looking at the start to our season, everyone is frustrated and disappointed. Questions start to get asked."
The biggest hangs over his head.
He knows players saying the right things won't do a thing to save him.