President of baseball operations John Mozeliak came prepared Saturday, knowing his early offseason prediction of an increase in team spending, while technically accurate, left much to be desired on the opening day of Cardinals Winter Warm-up.
After some initial ducking and dodging that included mentions of outside expectations and media agendas, Mozeliak dropped the semantics and admitted he too was expecting something different when he suggested in late October that the Cardinals were preparing for an offseason that included more significant additions than simply finding a quality replacement for retiring catcher Yadier Molina. Instead the Cardinals have made just one splash. They signed free-agent catcher Willson Contreras, then ripped up on the emergency brake. Fans who streamed into Busch Stadium and Ballpark Village for Saturday's autograph sessions, surprisingly, were not wearing neck braces to ease their symptoms of whiplash.
Labor peace had been restored by a new collective bargaining agreement that followed an ugly lockout. The wildly successful reunion/retirement season of Albert Pujols had pulled fans and their wallets downtown. And while Pujols helped power a 93-win season that included a reclaiming of the National League Central, the postseason in St. Louis once again ended almost as soon as it started. Fired-up fans desperate to hear signs of impatience got something to read into, so they did.
Mozeliak's October message hinted at a coming flex. The Cardinals looked poised and sounded eager to make an already good team better. Whether it came through free agency, trades or a combination of both, so be it. But then, after proactively grabbing Contreras, the Cardinals went dark. The offseason's baseball bull market, propelled by heavy spending from National League competitors who are playing deeper into the postseason than the Cardinals do these days, blew the Cardinals' hair back and pushed them to the sidelines.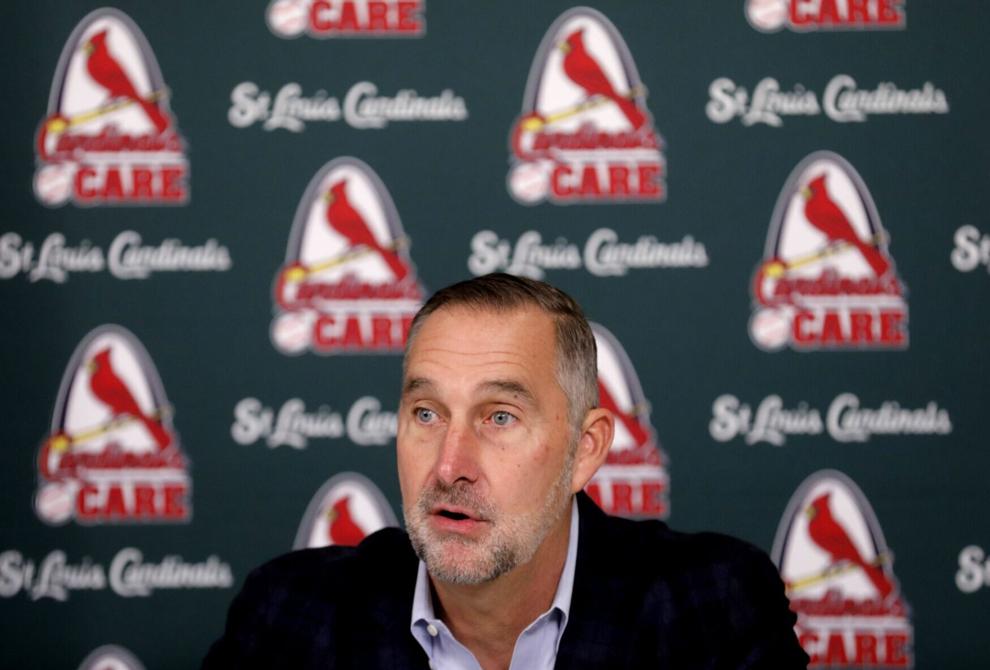 No, Mozeliak said Saturday when asked if the Cardinals had spent the kind of cash he thought they would back when he sounded so optimistic about a significant uptick in spending. "We could have spent more," he said. "But we are not just going to spend to spend. My guess is, by the season's end, it will probably be spent."
Yes, said Mozeliak, confirming the existence of a growing pile of dry powder that is larger than it has been in years. "Do we have bandwidth to still add to this club throughout the year? Yes, we do. Is the market something that had an adverse affect to us spending? The answer is, of course. The way we operate is, we are going to invest in what we think are smart investments. Prudent."
Maybe, summarized Mozeliak, when discussing if the Cardinals are going to need to modernize their thinking about spending moving forward.
Perhaps they should have revised it on the fly this offseason?
The Cardinals are a good team that should not overpay for ho-hum help. Their internal options are good enough to handle ho-hum, and usually better.
But they could have taken a step toward becoming a great team if they gulped hard and added another piece they really needed, specifically a top-shelf starter who would look great on the mound in game one of a postseason series.
They didn't want to pay the price for proven and elite pitching from a veteran on a short-term deal, like new Mets star Justin Verlander. They didn't want to pay the price for a younger, longer-term proven high-end pitcher, like new Yankees starter Carlos Rodon. They don't want to trade their prized prospects in a deal that nets high-end pitching on a more affordable contract. It's a Goldilocks situation, but none of the chairs feel right.
Last season, the Cardinals' unofficial slogan after the Pujols addition was about not settling for nostalgia. This season's, as of Saturday, is about hope and optimism. The Cardinals are hopeful their best performing returners, like MVP finalists Paul Goldschmidt and Nolan Arenado, don't skip a beat, and optimistic key pieces who struggled or were injured last season — Jack Flaherty, Tyler O'Neill, Steven Matz, Dylan Carlson and others — reward the team's patience in them. Of course, many of those same players could have still been bet on again had the Cardinals added another piece. Now the stakes are even higher. Even more has to go right.
Mozeliak is taking his lumps, but it's worth remembering during a discussion like this, the president of baseball operations has a boss. Cardinals chairman Bill DeWitt Jr., who also will speak at Warm-Up, will face questions about where the Cardinals should slot into this big-spending NL, and how much a declining trend for his team in the postseason should impact his answer.
Mozeliak downplayed the Cardinals' overhyped connection to free-agent shortstop discussions, as he has consistently since the Cardinals prioritized Contreras over a trade for Sean Murphy that could have included a middle-infielder in a package sent to Oakland. The Cardinals pushed hard for a veteran left-handed bat and felt good about their chances of landing one, but lost out to a competitor. They don't sound all that interested in what's left, as long as this week's player physicals check out. Mozeliak acknowledged there were a few impact-making starting pitchers available, but the Cardinals were unwilling to beat the highest prices for the best of them, and not convinced the lesser options were better than what they already have. By now you are probably sensing a theme. The Cardinals have money to spend and thought they would spend more, but between a team they say they like and prices they admit they did not, they decided to save a lot of it for a rainy day, or perhaps a trade deadline.
But prices tend to go up, not down, at the trade deadline. And the teams playing deeper into the postseason than the Cardinals do these days will go trade-deadline shopping too, even after outspending the Cardinals this offseason.
Fans frustrated by the stacking up of here-then-gone postseasons didn't come up with unrealistic expectations on their own.
They were nudged in that direction.
That's why day one of this Warm-Up felt like it got a bucket of cold water dumped on its head.