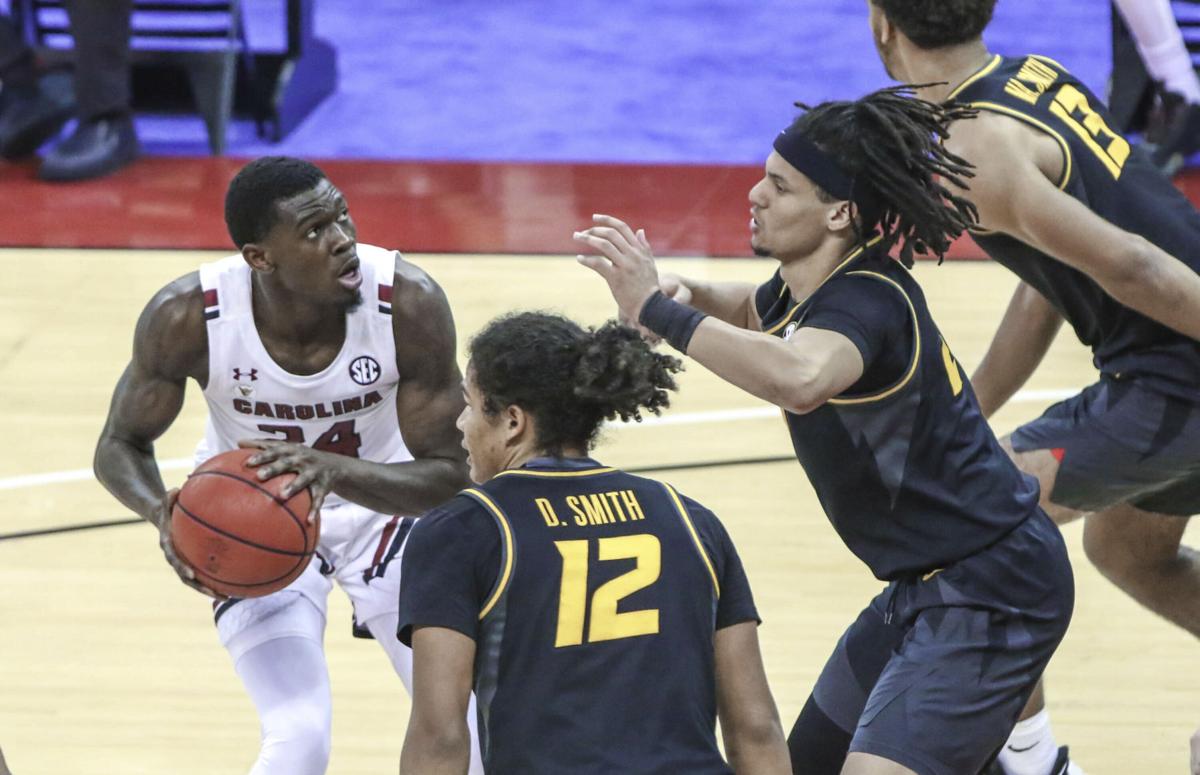 Familiar warning lights flashed.
A missed Mizzou 3-pointer turned into a South Carolina layup.
The Tigers whiffed on not one but two layups the next possession.
Then a missed South Carolina layup turned into a South Carolina offensive rebound that turned into yet another South Carolina layup.
A second-half Tigers lead of 16 points with 18:39 to play was suddenly down to seven.
If another dreaded second-half collapse was going to derail Cuonzo Martin's team once again, this was going to be the exact moment everything unraveled.
Martin had spent a previous timeout imploring his players to dial up the defense and select better shots.
"We just all came together and said we have to nip this in the bud right now," senior guard Mark Smith said.
The next 32 seconds decided and defined the game.
We'll find out soon enough if they can reenergize a season.
Senior center Jeremiah Tilmon, back with the team after missing two games following the death of his grandmother, made two critical free throws after drawing a foul on Wildens Leveque. Tilmon, just a 57.5 percent free-throw shooter for his career, swished all seven of his shots from the line against the Gamecocks on Saturday. None were bigger than these two.
Sixteen seconds later, senior guard Dru Smith swiped the ball from TJ Moss, sprinted the length of the court, drew a foul against Moss and made the free throw that followed.
Just like that, the Tigers' lead was 12 points. It didn't dip into single-digits the rest of the game.
"It felt we kind of grabbed it back a little bit," Dru Smith said after Saturday's 93-78 win against five-win South Carolina. "We were just able to kind of settle ourselves down, get back into the groove of the game, take control of everything. That was a big turning point for us."
The Tigers, and their fans, can draw a deep breath.
The season is not over. Bad stretches happen to good teams. Good teams tend to find ways to recover from them.
The Tigers took a big step in that direction at Colonial Life Arena. It wasn't that they beat a bad South Carolina team. It was that they stopped beating themselves.
Did you know that seven of the teams ranked ahead of Mizzou in the NCAA's NET rankings have weathered a losing streak of at least three games this season?
Did you know that Iowa, Arkansas and LSU, at one point this season, lost four games in a five-game span?
Did you know that three of the teams that participated in the last Final Four got there after at one point losing three games in a row?
I'm not predicting the Tigers are headed to the Final Four — touchy subject, I know — but I'm attempting to point out, gently, that the Tigers have not suddenly turned into chopped liver.
They are 6-4 in Quadrant 1 games, the toughest competition possible, according to the NET.
They are 6-0 in Quadrant 3 and 4 games, the easiest competition available, according to the NET.
Two losses in their now-snapped three-game losing streak were played without an all-conference caliber player who has provided nearly 20 percent of the team's points, more than 20 percent of its rebounds and more than 30 percent of its blocked shots.
Tilmon's absence was not the only reason the Tigers have been out of sorts, though. Junior guard Xavier Pinson had been in a funk. The team's commitment to defense had wavered too much for Martin's liking. The half-court offense was too often turning into stand-around-and-watch. Oh, and don't forget those second-half panic attacks.
The Tigers had issues. They still do. They're working on them by addressing them head-on. Because that's what good teams do.
A recent players-only meeting aired out and sorted through individuals' issues with the recent downward trend. Martin and his staff held a film study specifically designed to drill down on the after-intermission lapses that were giving opponents too much unearned momentum. Pinson looked refreshed and refocused Saturday. Tilmon, buoyed by the support from his coach and teammates during a trying year that has now robbed him of two grandmothers, returned with a broken heart but a focused mind.
Tilmon's teammates tend to turn toward him in tense moments. Saturday's poise at the free-throw line reminded us why. He scored 17 points, grabbed four rebounds and blocked a shot after easing into the game off the bench.
"Just having that presence in the post gets other guys open looks," Dru Smith said, mentioning the multiple times a Tilmon pass out of the paint resulted in a teammate making a pass that produced a bucket. "Just having his presence out there on the floor is something that you can't really replace, so it was definitely nice to have him back. Obviously, we're all happy, and energy is lifted a little bit just to get him back in the locker room, just to have him around."
If we have learned anything about the Tigers by now, it's that their fate is in their hands. They were picked to finish 10th in the SEC. They were once ranked No. 10 in the AP Poll. When they are right, they can beat any opponent. When they are wrong, they can lose to any opponent.
"When we lose games, in most cases, we might as well look in the mirror," Martin said Saturday, after the Tigers got back to liking the team they saw waiting there.