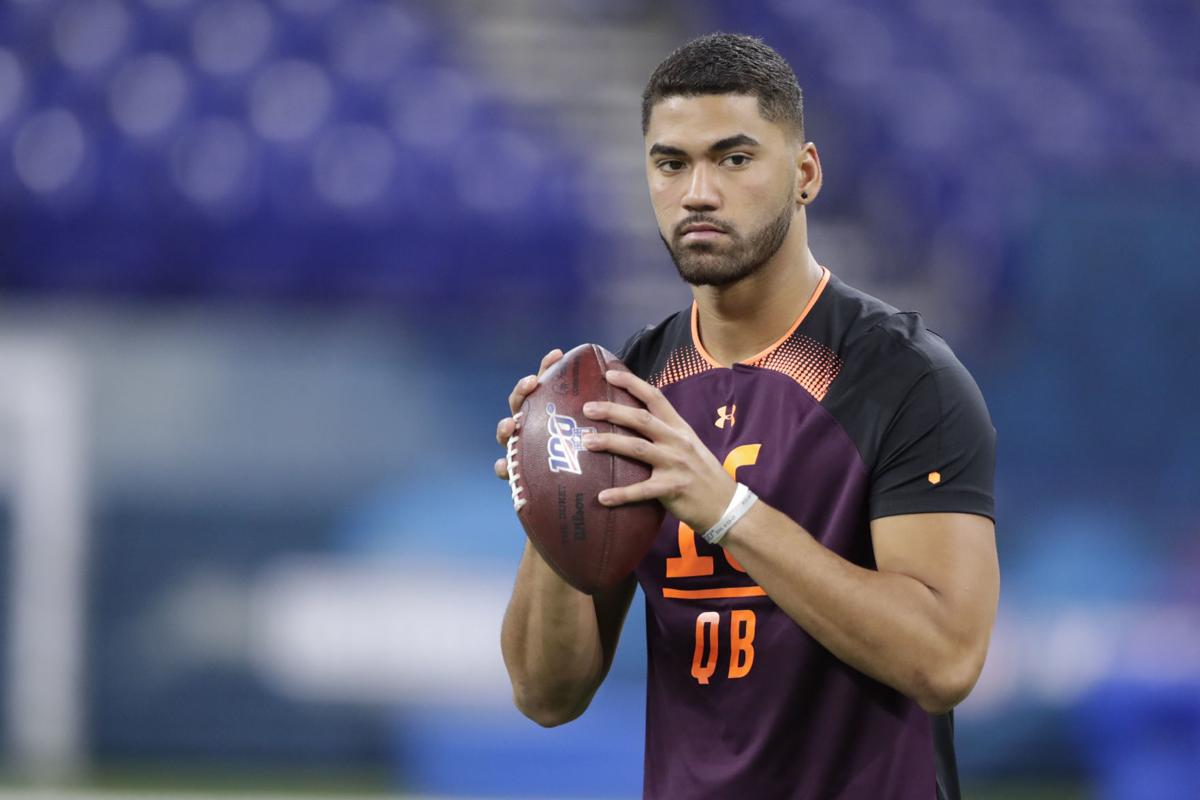 Yes, sir, he will tell his story.
If it can help St. Louis get to know him better, Jordan Taalolo Ta'amu-Perifanos will explain how a kid from Hawaii who grew up writing his goals on the bedroom wall of a crowded two-bedroom apartment became the first St. Louis BattleHawk.
All we had to do was ask.
That, and withstand all of those yes-sirs that come naturally from the son of a corrections officer, a young man who played at a military academy before majoring in criminal justice at Ole Miss. He wants to be a police officer and FBI agent after his football days are over. Really? Yes, sir.
The XFL remains mostly a mystery at the moment. St. Louis has some serious professional football scar tissue left over from the NFL's departure. We'll see how a scorned football city and an alternative option mix.
One thing is certain. The BattleHawks have their face. It's Ta'amu. Pronounced "tah-AH-moo." The more you learn about this guy, the more you want him to succeed.
St. Louis knows a thing or two about being counted out, about working hard to prove critics wrong. Ta'amu can relate.
Growing up in Pearl City, Hawaii, the second of Billy and Luisa Ta'amu-Perifanos' four children made a promise. He was going to college, and his parents were not going to pay. He would find a way, through football. Of all his goals, this was the first.
In his head, that scholarship would come to play quarterback at the University of Hawaii. But the home-state school asked him to pay his own way and play safety. So Ta'amu packed his bags for New Mexico Military Institute with a full ride scholarship in hand.
"I wanted to take that route, to help my parents out," he said.
His father picked up a second job loading luggage for an airline company so flights to the mainland would be cheaper.
Yes, sir, it's true that Hawaii later offered Ta'amu a scholarship to play quarterback. It was one of five on the table after he dominated in junior college. Yes, sir, he politely turned it down as a matter of principle.
Ta'amu had just started practice as a freshman at New Mexico Military Institute when he hurt his left knee. This wasn't the SEC, where every bump and bruise gets a medical scan. He sat out four weeks and returned to play second string. He was named a starter as a sophomore, threw eight touchdown passes in his first start and finished the season with 3,014 yards passing, 328 yards rushing and 39 touchdowns through the air (32) and on the ground (seven).
Yes, sir, it's true that the left knee came back to haunt him later. The medical tests he took during the NFL combine showed he had spent years playing on a damaged ACL. It never bothers him, he insisted. Didn't matter. He was told it could affect his draft chances. He wasn't drafted.
Ta'amu picked Mississippi over scholarship offers from Minnesota, Eastern Kentucky, Southern Miss and Hawaii. The Rebels told him he would have a chance to compete for the starting job. Shea Patterson had been named starter by the time he showed up. And that wasn't the biggest unpleasant surprise he encountered in The Grove.
"I didn't put my head down or anything," he said. "I just looked at it as another opportunity to keep grinding every day. I was just grateful to be there and do what I loved for a free education. I trained every week, like I was preparing to start."
Ta'amu played second string until Patterson hurt his knee in the seventh game of the 2017 season. Ta'amu stepped in, and took off. He went on to set a program record for 400-yard passing games (four) and finished his Ole Miss career with a 156.8 passer rating, 30 passing touchdowns, a completion percentage of 64.5 and an average of 329 passing yards per start. He also ran for 500 yards and scored 10 rushing touchdowns.
Yes, sir, it's true Ta'amu committed to play for former Rebels coach Hugh Freeze, not Matt Luke, the coach he played for instead. The NCAA lightning bolt that struck Freeze didn't just eject the coach. It landed Ole Miss with a bowl ban in each of Ta'amu's two seasons.
That, combined with a defense that allowed an average of 35.4 points per game, might have encouraged some to transfer. Patterson did. Ta'amu stayed. He led his teammates. He continued to work toward his degree, doing ride-alongs with the local police department to help prepare for his post-football career. Some 21-year-olds run from cops. Ta'amu shadowed them.
"I could have left," he said. "I had teams calling me after junior year. I wanted to stay and compete."
Reaching the NFL was another goal on his bedroom wall. The undrafted free agent got his best shot with the Houston Texans after their backup, A.J. McCarron, hurt his thumb this preseason. Ta'amu was cut after McCarron's thumb healed. He threw 12 preseason passes before his three-year, $1.76 million contract disappeared.
A workout with the Raiders led nowhere. A workout with the Giants led nowhere. Ta'amu wondered if it was time to transition from quarterback to cop.
St. Louis sounded like a great football city to him.
"I'm about to do what I love," he said. "I get to play again."
You're going to like this guy.
Be the first to know
Get local news delivered to your inbox!