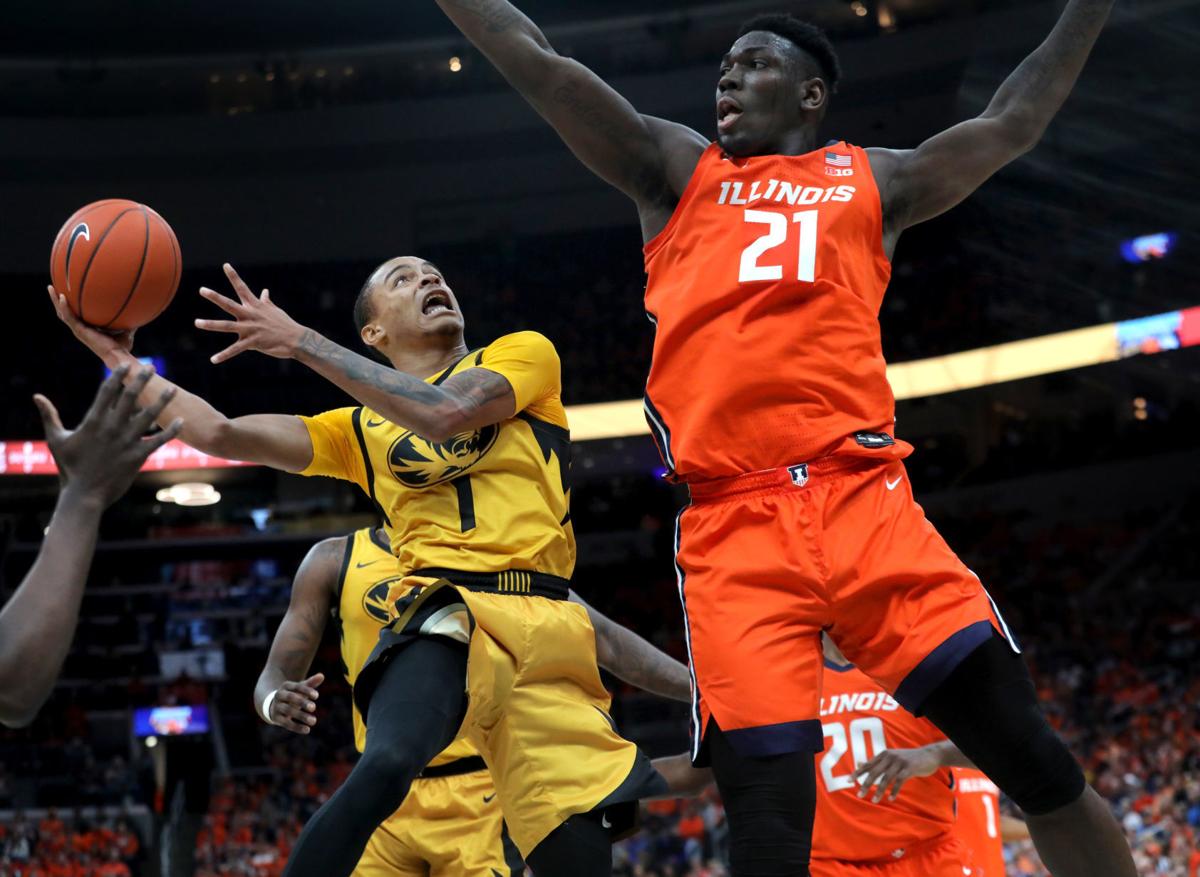 Five topics from columnist Ben Frederickson that St. Louis sports fans should be discussing . . . 
1. Big game just got bigger
It won't be played in an Enterprise Center divided in half by orange and gold, and that's a shame, but this year's Braggin' Rights game between Mizzou and Illinois just became must-watch TV.
That was my takeaway from Tuesday night.
Mizzou (2-0) took down No. 21 Oregon 83-75 in a neutral site game in Nebraska.
Meanwhile in Indiana, No. 5 Illinois (3-1) was tied with No. 2 Baylor 43-43 with 13:16 left in the second half before the Bears pulled away for an 82-69 win.
If you don't yet have Dec. 12 circled on your TV calendar, do it now. That's when the Tigers and Illini clash in an otherwise empty Mizzou Arena. It should be a great game. Perhaps more than some assumed. I'm thankful both programs insisted on finding a way to keep the series going during pandemic times.
The Tigers just got a confidence building win that adds legitimacy to their belief they are a better team than advertised. This was the program's first win against a ranked non-conference team since the Tigers defeated No. 18 UCLA in December 2013, and that was a home game. The Tigers had not beaten a ranked non-conference opponent on the road or at a neutral site setting since a win against No. 10 Illinois in the 2012 edition of Braggin' Rights. Over the last 20 years, the Tigers have just 12 non-conference wins against ranked teams away from home. Here they are:
11/20/2001 Alabama (No. 22)
3/16/2002 Ohio State (No. 14)
3/22/2009 Marquette (No. 23)
3/26/2009 Memphis (No. 3)
12/22/2010 Illinois (No. 21)
12/22/2011 Illinois (No. 25)
12/22/2012 Illinois (No. 10)
12/2/2020 Oregon (No. 21)
"We had to make this statement for our fans back home," Xavier Pinson said during the post-game Tigers Zoom after he scored 19 of his 22 points in the second half.
"The statement is, as long as we follow our principles, and believe in one another, and believe in Coach (Cuonzo Martin), we can go as far as Coach takes us," Pinson said.
The Tigers are not a perfect team offensively, as evidenced by the scoring drought that let Oregon make a game out of this one after Mizzou jumped out to a big first-half lead, but they do look a lot more comfortable breaking the press than they have in years past, and the sharp decline in turnovers is a good sign. Some of the threes that did not fall last season are finding the net. Jeremiah Tilmon is showing he can shake off a couple early fouls and still have a strong game. Pinson proved he can play fearlessly when his team looks tight. The Tigers don't look like a team headed for 10th place in the SEC, which is where the SEC media members projected them.
Yes, Oregon was playing in its first game of the season, and the Ducks were without one of its top players in point guard Will Richardson, who was out with a thumb injury. The Ducks were still the defending Pac-12 champs. Some who shrugged off suggestions that Mizzou will benefit this season from a) being fully healthy and b) relying on battle-tested veterans might be looking at the Tigers a bit differently this morning
Which brings us back to Illinois.
I would NOT look at the Illini much differently after the loss to Baylor, even if their ranking drops. One because Baylor might be the best team in the nation. It certainly has the best defense. That crippling, compressing defense is going to make a lot of teams look bad this season.
Ayo Dosunmu had an off night. Bad timing, but it happens. And Baylor's defense had a lot to do with that.
The Illini's best advantage would have been in the post, but Kofi Cockburn got into early foul trouble.
Illinois played without Austin Hutcherson, whose back issues have kept the transfer off the court.
Illinois is not as good as Baylor right now. Few teams are.
Mizzou was better than Oregon, meaning the Tigers are better than many thought.
Braggin' Rights gets the benefit, a nice boost considering this season's strange setting.
2. Rams relocation lawsuit update
Those interested in the Rams relocation lawsuit should know the depositions are rolling and will be for months. They're being done virtually due to the COVID-19 pandemic. What is going to be a very busy time for the lawyers involved in the case will likely be a quiet time for news about the case. The Rams and the league are doing everything possible to keep as many details out of public view as possible through a protective order. Of course, a public trial would be the end of that. As of now I have no reason to think any sort of settlement offer is on the table.
3. Supporters section planned for St. Louis City SC stadium
Wednesday morning's virtual roundtable with St. Louis City SC's stadium design team provided an update about plans for the stadium's supporters section. A designated safe standing area is in the works, with railings and seats that fold up when supporters are standing. I heard a lot of questions about that from fans when stadium renderings first rolled out. There will be a lot of different types of seating available, including spots more suitable for families, and some pitch-level boxes that put fans there as close to the action as possible.
4. Hanifan was big help to Hall of Famer Pace
It reminded me of the story Orlando Pace once told about the late, great Jim Hanifan.
The title of Hanifan's O-line bible– "Offensive Line Play by Jim Hanifan – featured this note from Pace in the intro.
"Jim is a technician," Pace wrote. "The first thing Jim Hanifan did for me was strip my game down a little bit. We worked on nothing but technique that first year. He said he wouldn't put me out there until my technique was correct and I was ready to play. I missed mini-camps and most of training camp due to contract negotiations between my agent and the St. Louis Rams. Even though I was the first overall player taken in the 1997 draft, Jim didn't make me a starter until the sixth game of the season. For the first five games he'd have me play a series or two, then bring me out so I could make adjustments and learn. I really appreciated that patience from an offensive line coach."
Hanifan was molding a Hall of Famer.
Hanifan should be a Hall of Famer.
5. Jay seeking teammates
Former Cardinals outfielder Jon Jay is partnering with the Boys and Girls Club of St. Louis to host a holiday toy drive Drop-off locations include the Herbert Hoover Club and the Teen Center of Excellence. Jay was a Boys and Girls Club kid in Miami growing up still lives in St. Louis part-time.