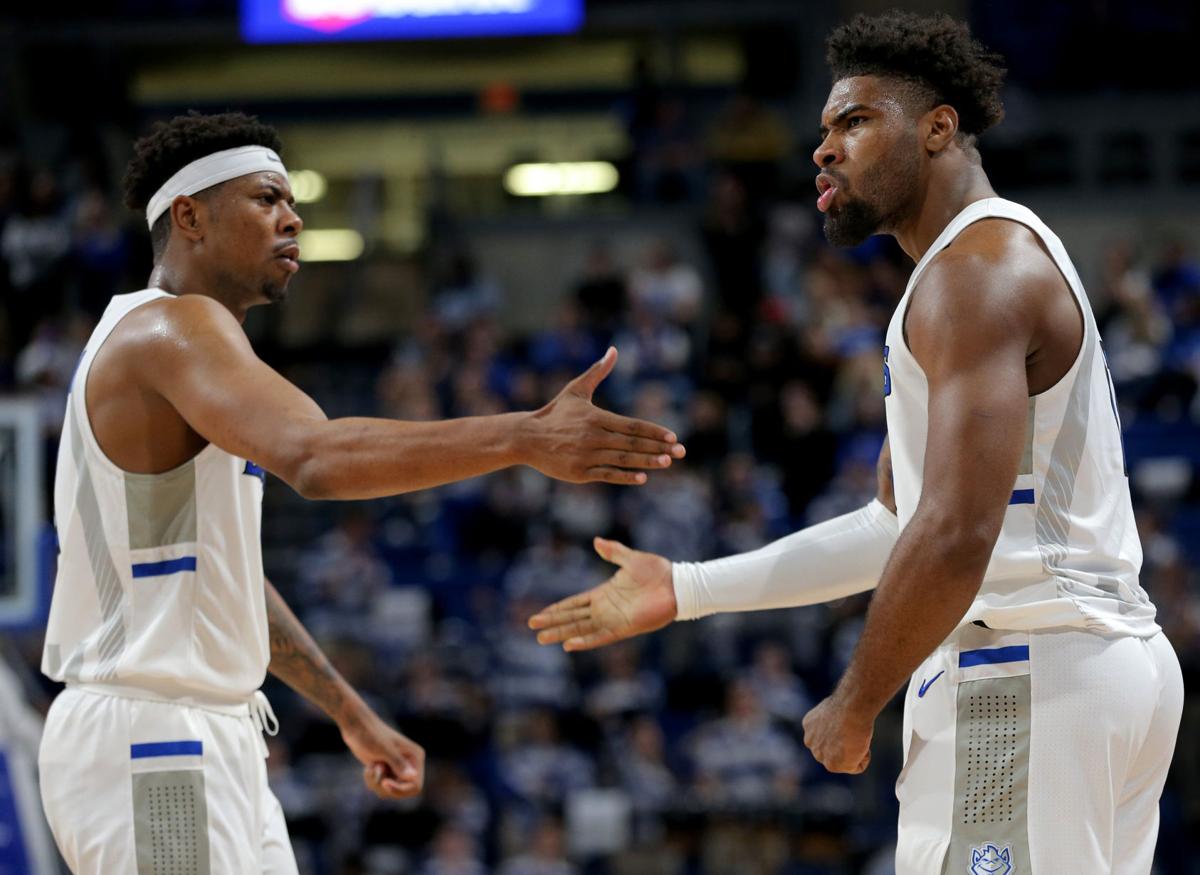 Five quick STL sports thoughts from columnist Ben Frederickson . . . 
1) College basketball experts predicting big year for Billikens
Despite a generous and wise does of COVID-related skepticism that clouds all predictions and projections for the upcoming college basketball season, it is safe to say the writers and analysts most entrenched in the sport are high on Travis Ford's Billikens.
College basketball insider Jon Rothstein, who is known to be a bit breathless so take this with a grain of salt, suggested on Twitter that the "LOADED" Billikens might be the best team outside of a Power 5 conference.
Earlier this week, during an appearance on The Big Sports Show on KTRS, prominent college basketball writer Dana O'Neil of The Athletic heaped praise on SLU as well.
"They (the Billikens) and Richmond are probably two of the best mid-majors in the country," O'Neil said in a discussion you can hear here. "I'm thrilled to see the Atlantic-10 back. It was down a little bit. Now you've got SLU, you've got Richmond, you've got St. Bonaventure, you've got Dayton. Those are four teams that, presuming everything goes as expected, that no one is going to want to see come NCAA Tournament time. Because I think they can make a run. I really do. SLU has everyone back. Richmond, minus the ACL injury to (Nick) Sherod would have too. This is tailor-made for that league to make some noise."
SLU doesn't like the term mid-major. That's not the point here. The Billikens, sitting not too far outside of the preseason AP Top-25, are in position to be a big story nationally this season if they take care of business, and if college basketball is not wrecked by the virus.
2) Marshall's MVC antics were too often ignored
I can remember thinking during an Arch Madness game years ago that I should dedicate an entire column to the pathetic behavior Wichita State coach Gregg Marshal displayed during games.
I didn't. I wish I would have.
Marshall put the mad in Arch Madness.
He stomped. He screamed. He berated refs. He berated MVC officials who were sitting near his bench during games.
It was insane. High school stuff. No one called it out. The Shockers departed the conference. The league moved forward, with thankful eardrums.
The news of Marshall resigning at Wichita State was no surprise considering the reports from Stadium's Jeff Goodman and The Athletic about the horrid way Marshall treated players.
The on-record allegations of physical and verbal abuse are disgusting.
We never saw physical abuse at Arch Madness.
We saw plenty of signs that Marshall was over the line.
Coaches get mad. Some run hot. Marshall was beyond that, and it should have been called out at the time.
3) Petro picks a castle
Former Blues captain Alex Pietrangelo is living large in Las Vegas.
Fifteen-car garage? Check.
Putting green and golf simulator? Check and check.
Three fire pits? Check and check and check.
The Blues' old captain can more than afford it. I did not realize this until recently, but his $61.6 million, seven-year deal with Vegas made him, at the moment of his signing, the fifth-biggest cap hit for a defenseman in the NHL: $8.8 million annually through 2027 with a full no-movement clause.
4) Seeing red?
Confession time. I don't hate the Blues' new alternate, heavy-on-the-red options. In fact, I kind of dig them. Most importantly I have heard from more than a few people who want to buy one. And that, more than anything, is why they exist. And why the league dropped them just before the holidays.
5) Ratings drama
Two questions for those who tell me the drop in certain sports TV ratings this year can be tied directly to athletes' social justice demonstrations . . .
This year's Masters was the lowest-rated one since 1957. I did not see Tiger Woods out there taking a knee.
Meanwhile the WNBA, the league that led the way with demonstrations, saw its average viewership grow 68 percent.
I'm not suggesting people tuned in for demonstrations.
I'm just suggesting that you turning your TV off because of them doesn't mean that's the reason everyone else wasn't watching.
I think the scrambled, overlapping schedules that occurred when all sports rushed back from their COVID-forced pause had the most to do with some of the ratings drama.
But attempting to say the numbers boil down to one specific thing is entirely unprovable, as well as inaccurate.