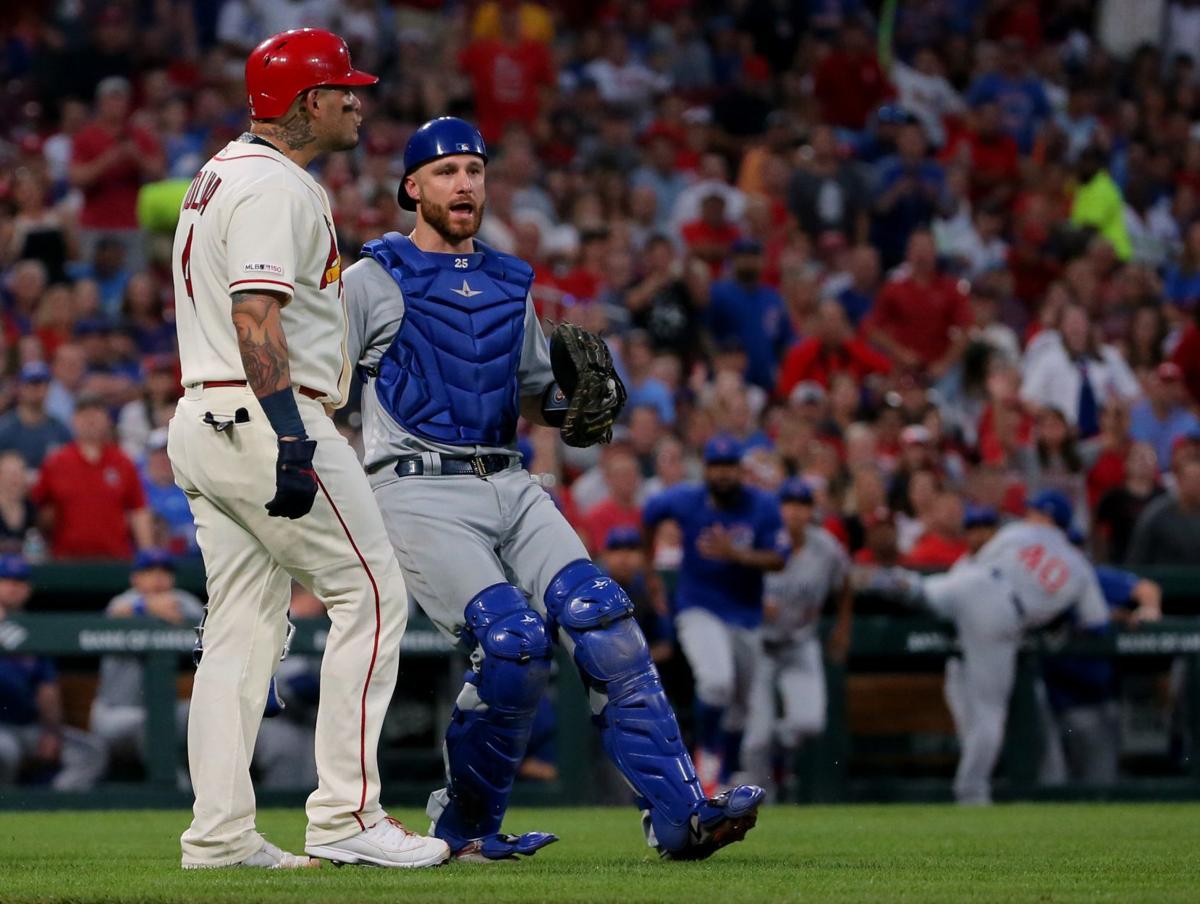 Five topics from columnist Ben Frederickson that St. Louis sports fans should be discussing . . . 
1. No fighting? No, really.
There is one very important line in the operations manual for Major League Baseball's 2020 season that stresses why players and teams that find themselves in a bench-clearing brawl are going to severely hurt themselves, and not just because their actions could increase the risk of catching or spreading coronavirus.
The end of the no-fighting rule reads: "Violations of these rules will result in severe discipline consistent with past precedent, which discipline shall not be reduced or prorated based on the length of the season."
That last part, after the comma, is huge.
Remember the fight between the Pirates and the Reds that broke out last August? That rumble resulted in a 10-game suspension for Keone Kela, an eight-game suspension for Amir Garrett, a five-game suspension for Jose Osuna and a handful of three-game suspensions for others, including Yasiel Puig. These were hefty punishments during a 162-game season. Imagine if it had been a 60-game season.
I'm not good at math, but I can do this one.
Not factoring in the shortened season's length into punishments for fighting means a brawl that earns you a 10-game suspension sits you for a sixth of the regular season.
Want a good way to spoil a team's chances during this 60-game sprint? Have one pivotal player throw a punch.
And you better believe the first players to fight will get an extra heavy punishment to discourage others from following in their footsteps.
It would be wise for players to bury any animosity toward opponents — yes, even the cheating Houston Astros — until 2021.
2. Check that rag
Here's a good 2020 prop bet. How many games will be played before the first pitcher gets busted for using an improper wet rag? Pitchers will be allowed to carry a watered-down rag in their pocket this season due to the ban on putting fingers to the mouth, but the operations manual makes it clear that nothing other than water will be allowed on that rag. Umpires are allowed to check the rag at any point.
I'd bet on hitters asking for checks every game, and at least one early instance of an umpire finding something other than agua.
3. Silver lining to the bogus baserunner
This will shock those who despise my pro-DH agenda, but I'm no fan of the new rule that will drop a runner on second base as soon as games enter extra innings. Fortunately, the change is going to disappear when postseason play begins.
Sure, it's goofy to ask teams to play one way during the season, then change once the most important games arrive. Teams are going to spend a 60-game season trying to small-ball that runner from second base in during extra innings.
That approach will then have to shift during the postseason. Not ideal. But it's better than having pretty much every postseason game that gets to extra-innings end with a (yawn) sacrifice fly. Prepare for that to be the case during the regular season. It will be so terrible no one will mind the universal DH, right?
4. More good recruiting news for Mizzou
East St. Louis football coach Darren Sunkett gave Mizzou football fans something to buzz about during a recent appearance on Frank Cusumano's Press Box radio program.
Sunkett said East St. Louis wide receivers Dominic Lovett and Keontez Lewis are strongly considering committing to the Tigers.
Eli Drinkwitz's 2021 class, currently ranked No. 19 in the nation and fifth in the SEC, already includes a commitment from East St. Louis quarterback Tyler Macon.
Lovett and Lewis are the two highest-ranked 2021 receivers in Illinois, according to 247Sports.
"They know what Mizzou is all about," Sunkett said during his radio appearance. "They want to venture out and see other schools, and be able to meet other coaches personally, which they have not been able to do (due to the coronavirus pandemic). But if you were to ask them personally, they would tell you Mizzou is number one on their list."
5. Name games
Everyone wants to know when the MLS4TheLou ownership group is going to announce the new soccer team's name and colors.
I can hopefully give a better sense of the timeline.
There's a sense the St. Louis team name and colors will be announced after Charlotte's, because Charlotte is going to start play in 2021 compared to St. Louis in 2022.
Dave Matter brings you the latest updates from the Mizzou sports scene.