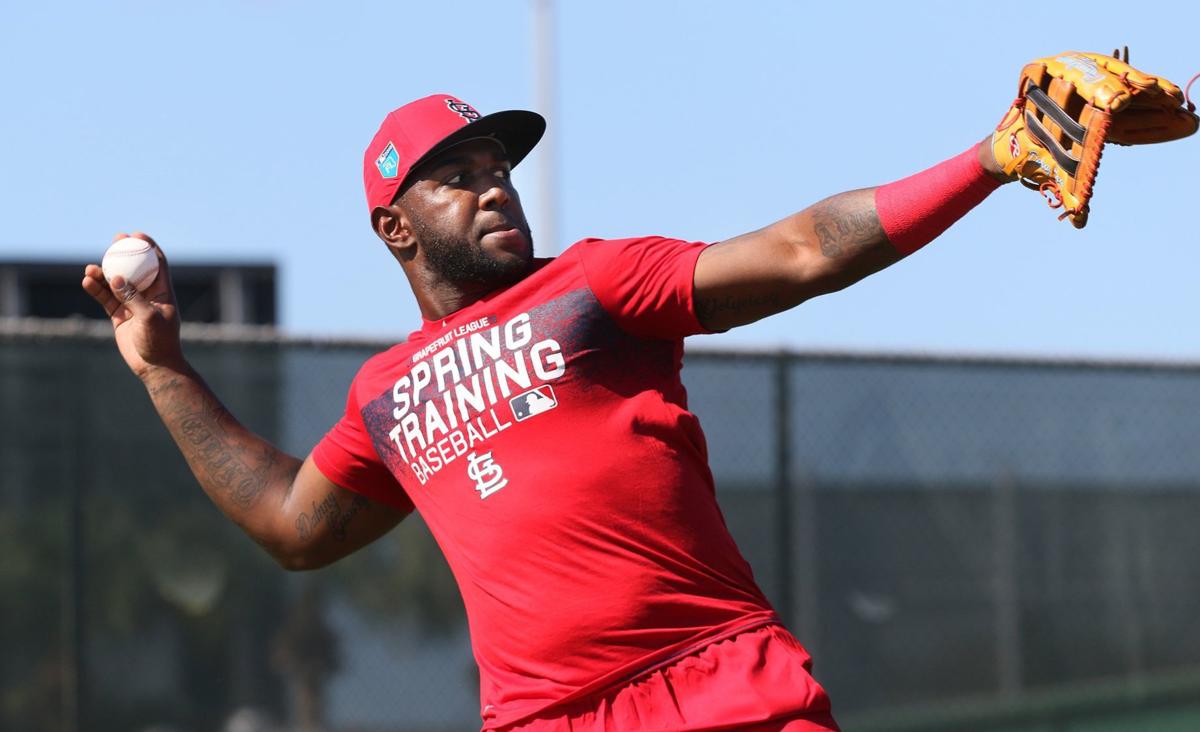 Five topics from sports columnist Ben Frederickson that St. Louis sports fans should be discussing . . . 
1. Ozuna anxiety exists as spring training nears
The Cardinals Winter Warm-Up topic that generated the most Twitter traffic was, without a doubt, Yadier Molina's newfound beef with Cubs third baseman Kris Bryant. A more newsworthy topic seemed at risk of being lost, like tears in a river. Cardinals starting left fielder and cleanup hitter (we think) Marcell Ozuna has been, for the most part, absent from the Cardinals' so-called offseason of accountability.
Nearly every player at Winter Warm-Up shared a story or two about meeting with the team during the offseason, or having a member of the team come to check in, etc. But Ozuna, who was not at Winter Warm-Up, was described as being somewhat off the grid. Normally, that would not be a big deal. But when you are recovering from offseason surgery on a shoulder that was not handled as well as it could have been last season, people tend to worry.
"Anxious" was the word picked by Cardinals general manager Michael Girsch, and that's probably the best fit. No one is freaking out. And president of baseball operations John Mozeliak is headed soon to meet with Ozuna during an unrelated trip to the Dominican Republic for a graduation ceremony at the Cardinals' baseball academy there. But some of these quotes are telling.
Girsch: "I'm not sure we're quite to the concern level, but anytime someone has offseason surgery sort of offsite, and our guys don't have their hands on him, we're sort of anxious to see when they come back where they are."
Mozeliak: "I think he'll be ready to go in spring. I'm not overly concerned. He's going to spend the remainder of his offseason in the Dominican Republic, which is not ideal in terms of our medical staff being able to get a firm grasp of where he's at. But, I'm going to pop down to the D.R. a week from (Saturday) and so, hopefully, I can get a sense of where he's at. But candidly, with three weeks remaining before we go there (to Jupiter), there's not a lot you can do. He has promised me that he will be ready, so I guess I'll have to take him at his word."
Cardinals catcher Yadier Molina: "He told me he is feeling a little bit better. He wants to be ready for opening day. I told him to take it easy, don't push it. He wants to be there for us, so he's going to try to push it. Hopefully he is fine for opening day."
Manager Mike Shildt did say Ozuna is planning to arrive in Jupiter early this season. That's good news.
"We're hoping for the first of February, somewhere in that earlier February range – so he can get in and get seen and on a consistent program with our group," Shildt said.
It seems fair to wonder why, during the offseason of accountability, Ozuna was not on a consistent program under the eye of the Cardinals from day one. But this concern will melt away faster than snow on a warm day if Ozuna hits for power.
2. Should there be more optimism about the Blues?
The roller coaster on ice continued Wednesday night, with a 5-1 Blues road win against Anaheim. They won two of their last three headed into the All-Star break! But they lost three of their last five! But they won five of their last eight! And so it goes with this up, down, but not officially out (yet) hockey team.
The good news? The Blues entered the break three points out of the second wild-card spot. The bad news? They are still sixth in the Central, with just a 32.1 percent chance of making the postseason, according to the model used at CBSSports.com. Here are the postseason projection percentages for the teams currently ahead of the Blues in the wild-card chase: Colorado (71.4 percent), Dallas (50.4 percent), Vancouver (49.6 percent), Arizona (17.4 percent), Anaheim (11.4 percent).
It's going to take more consistency to pull off an impressive comeback.
3. Bess deserves more love
I would like to report a crime. The midseason watch list for the Naismith Defensive Player of the Year award was announced this week, and SLU's Javon Bess is not mentioned. This must be a typo. An accident. A forgivable error — as long as it is corrected when this list is updated later this season.
A rundown of the nation's best college basketball defenders is a waste of time if it does not include Bess. Yes, he's the Billikens leading scorer (16.1 ppg) who also ranks second in rebounds (7.2) and third in assists (1.7), but the most beautiful aspect of his game is his defense, as captured here by Post-Dispatch colleague Benjamin Hochman. Every game, Bess puts clamps on the other team's best. He belongs on this list. Period.
4. NFL remains a joke
Mizzou quarterback Drew Lock is wowing NFL teams on and off the field as he prepares for Saturday's Senior Bowl, if the practice reports out of Alabama are accurate. One note caught my eye. One NFL team did so much research on Lock, it asked about a trip he made to the principal's office during his freshman year of high school. Lock admitted the incident revolved around cheating on a math test.
Keep this story in mind the next time an NFL team tells you it could not possibly be expected to find that report and/or video of a player assaulting his girlfriend.
5. MLS ownership group does not seem worried
The MLS news about the Sacramento expansion effort's newfound wealth did not seem to rattle the cages of the ownership group here in St. Louis. Carolyn Kindle Betz and Co. still feel strongly that they are in line for team No. 28. And remember, the league has said it is going to expand beyond 28 teams.
So, progress for one team does not necessarily mean a negative for St. Louis. The big question is the order. St. Louis very much likes its chances of being 28.
---
BenFred's Quick Hits on Goldschmidt and more
COST OF LOCKING UP GOLDSCHMIDT?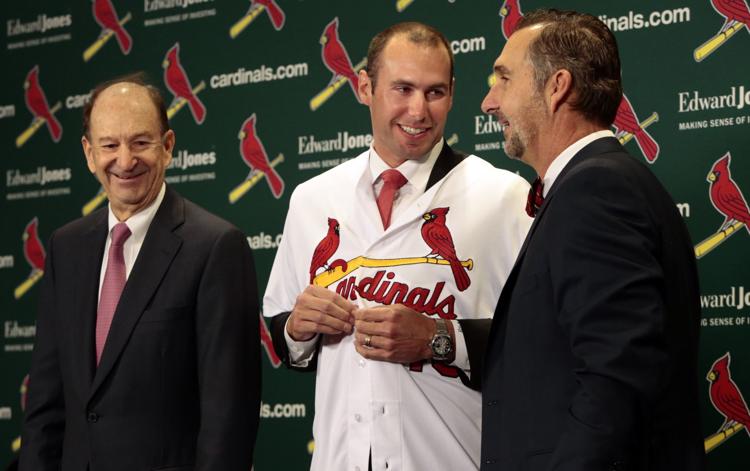 QUESTION: Would 6 years and $175 million get it done for Paul Goldschmidt?
BENFRED: Five years, $150 million seems to be a good starting point.
I'm sure he sees what is happening around the league with free agents similar to his age. He's better than almost all of these players, though. And he has already accepted a team-friendly deal in the past. If he was determined to flex his free-agent muscle, he likely missed his best window. Doesn't mean he won't ask for the moon, or shouldn't.
---
Follow-up: Do you think it's possible the Cardinals and Goldschmidt agree to an extension before the beginning of the regular season?
BENFRED: It sure seems like the Cardinals would love that, but Goldschmidt would have to want it. He has talked about how spring training is really the chance to get to know the team, and start to feel out an organization, so I would be surprised if he's willing to agree to anything before the season begins. Some guys shut down contract talks once games count. Will be interesting to see how he handles this. He's in the driver's seat.
---
To another question about the Cards' interest in a Goldschmnidt extention, BenFred replied:
The day of the Goldschmidt press conference in December, I wrote about the Cardinals' strong desire to extend him. They would not have made the trade if they didn't think they had a fighting chance to do that. They were stiff-arming the truth a little bit then, but their tune drastically changed at Winter Warm-Up. They are now officially recruiting, and viewed the fan reception at WWU as a key point of that. So, that's a goal. 
WHY HOPE FOR HARPER WHEN YOU'VE GOT GOLDY?
QUESTION: I understand the Cardinals' hesitation regarding big, long contracts, but Bryce Harper is the best middle-of-the-order hitter they would have since Albert Pujols, and he's young. Why not do it?
BENFRED: The Cardinals did add their best middle-of-the-order hitter since Pujols this offseason. Paul Goldschmidt, as Whitey Herzog said this weekend, is a top-5 hitter in the National League. I'm not sure where fans got the idea that when the Cardinals said they needed a middle-of-the-order bat, they were going to get two. I harped for Harper harder than anyone, in part because I did not think Arizona would actually trade the face of their franchise. The Cardinals got him for a steal. And when that happened, I knew they were not going to get Harper.
The Cardinals will never say it, but they heaved sighs of relief as the Pujols contract played out in Los Angeles. They are also starting to feel they dodged a bullet when Stanton turned them down. What will be fascinating to watch is how they continue to toggle the needle between sustained success at a historic level and desperation to win now, based off recent postseason misses.
I would argue there has been some toggling toward the right (win now) this offseason. Trading years of control for Goldschmidt on one guaranteed season is an example of that. As much of an example as the fans would have liked? Probably not. But when do those views ever line up?
MOVING ON FROM OZUNA?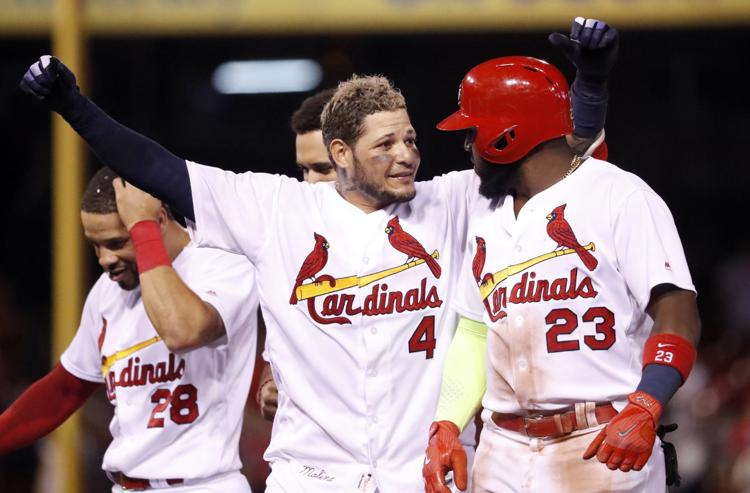 COMMENT: Probably a minority opinion, but if Marcell Ozuna bounces back, I think the Cards should try to extend him along with Wacha, Mikolas, and Goldschmidt.
BENFRED: There are multiple reasons for the Cardinals to prepare for life without Ozuna, as things stand today. Could that change? Sure That's what this season is all about. But where things stand right now, he had a disappointing 2018 that stemmed from a shoulder that they were not pleased with how it was handled by the player. And then the offseason surgery comes during the so-called offseason of accountability, and they can't get their staff's eyes on Ozuna. The Cardinals have not seen him in person and won't, until Mozeliak goes to the Dominican Republic for the high school graduation at an academy the Cardinals have there.
One more thing: Ozuna's agent is Scott Boras, and he is likely going to steer his client toward free agency in an attempt to get the last dollar on the table. If Ozuna has a monster season, the Cardinals could decide they have to have him moving forward. This season is going to determine a lot, but right now it does not look like an extension waiting to happen. Especially when you consider some of the outfield prospects on the rise.
---
Follow-up: Safe to say the optics aren't good on the Marcell Ozuna offseason communication, or lack thereof?
BENFRED: The best word for the situation is anxiety. The Cardinals are not sure what they are going to get when Ozuna rolls into spring training, and this offseason was supposed to be all about the opposite of that. Molina's comment about Ozuna struck me.
"He told me he is feeling a little bit better. He wants to be ready for Opening Day. I told him to take it easy, don't push it. He wants to be there for us, so he's going to try to push it. Hopefully he is fine for Opening Day."
Opening Day?!? Buckle up.
TRAFFIC JAM IN THE OUTFIELD
QUESTION: Why have Tyler O'Neill on the big league roster wasting away behind Fowler and J. Martinez, when he can pick up ABs tearing up Class AAA? Wouldn't Adolis Garcia make more sense as a defensive replacement and 5th OF?
BENFRED: So Adolis can waste away? It's not a great scenario for either guy. O'Neill has less to gain and less to prove in Class AAA than Adolis. And he's fine defensively, and can play any of the positions out there.
The Cardinals really, really like the projections on O'Neill long term. Don't sleep on him, especially as the Ozuna outlook looks a little shaky at the moment.
---
Follow-up: I'm not sleeping on O'Neill, I like him better than Ozuna, better than Fowler, better than J-Mart. But where will the ABs come with this logjam?
BENFRED: If everything goes according to plan, the at-bats for O'Neill will be hard to find -- this season. But things rarely go according to plan, right? Ozuna's shoulder is a concern. Fowler's feet are a concern. Bader has never played a full season in MLB center field. O'Neill will get chances.
---
Follow-up: The offensive stability of Martinez doesn't justify playing him over the significant defensive upgrade/offensive potential of Tyler.
BENFRED: When he's the second-best hitter on your team the past two sesaons and O'Neill strikes out 40 percent of the time, it does. Let's see what O'Neill can do with (new hitting coach) Jeff Albert. Let's see how Martinez holds up.
But there's no reason Martinez should not be slotted ahead of O'Neill at the moment. None.
WHO SHOULD ST. LOUIS ROOT FOR IN THE SUPER BOWL?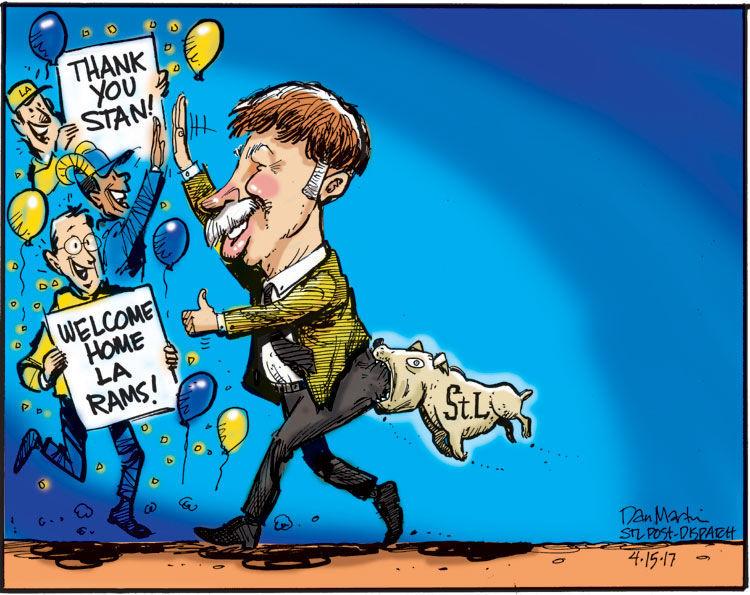 QUESTION: Which team should St. Louis pull for in the Super Bowl? It's a rather grim question.
BENFRED: I'm rooting for an overflowing toilet in the owners' boxes. Kidding. Not really. It would be great for the Rams players, who had nothing to do with the relocation rip job, to win the Super Bowl. And it would be fun to watch the NFL own the fact that their terrible officiating system and perhaps worst blown call in football history produced the Super Bowl winner. I don't mind the notion of Kroenke's Super Bowl ring having an asterisk of diamonds in the middle.
But no, I don't want the Rams to win. Of course I don't. While they are noted cheaters, the Patriots' Super Bowls are easy enough to ignore at this point. They all kind of blend together. Here's a question: If St. Louis beat the Patriots in the 2002 Super Bowl, would the Rams be in Los Angeles today? And you all wondered why I don't watch NFL anymore.
---
Follow-up: A previous poster mentioned taking comfort in Stan Kroenke meeting his maker. First, I'm an atheist, so that doesn't do much for me. And, if moving an NFL team sends you to hell, well, that's a pretty high standard. Seems to me this Super Bowl Sunday is a perfect reason for Netflix.
BENFRED: Ha! The moving the NFL team would not be first on the list. Pushing poor people off of the ranch land they had leased for years would rank above that, along with a long list of close friends betrayed in business deals and lawsuits. Stan is rich, but he's poor when it comes to what matters most. And that has NOTHING to do with football.
BLUES SHOULD BE SELLERS — THEY'RE NOT GOOD ENOUGH
COMMENT: I hope Blues management will come to its senses and figure out the Blues should be sellers at the trade deadline and get over this delusion they are a playoff team. How can you beat the Caps twice and lose to the Kings twice?
BENFRED: They lost three out of their last four after that three-game winning streak, the first of their season, the one they became the last team in the NHL to secure. I said pump the brakes, and I got hammered for being Negative Nancy. And, here we are. They played a little bit better for a while. Then they regressed again.
They are who they are: Not good enough. Not committed enough. Too quick to pat themselves on the back. They don't turn corners. They just keep spiraling. Yes, the Blues should sell.
SILENCE IN ST. LOUIS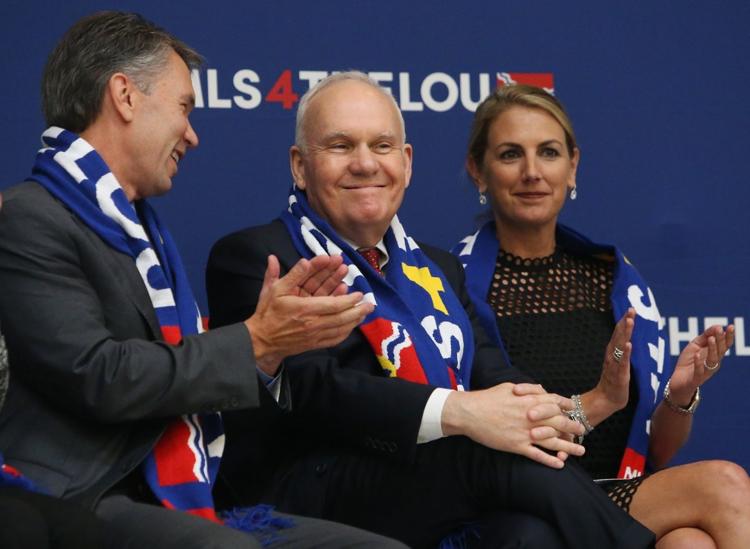 QUESTION: Sacramento just got a multi-billionaire to back its MLS bid. Any idea how this may affect STL's getting the final bid into the league?
BENFRED: As far as what it means, I'm not exactly sure, other than saying any good news for the competition is probably not good news for St. Louis at this point. I asked more than a week ago to chat with the ownership group about how things are going and what boxes are left to check, and was told they are not doing interviews at this time.
---
Follow-up: If St. Louis doesn't get an MLS franchise in this round of expansion, should the city just abandon going for this league?
BENFRED: This ownership group has given a now-or-never vibe, but so have other ownership groups that have attempted in the past. It's leverage. Sometimes, it's not exactly true. MLS has confirmed it will expand beyond 28 teams.
AS YADI GOES, CARDS GO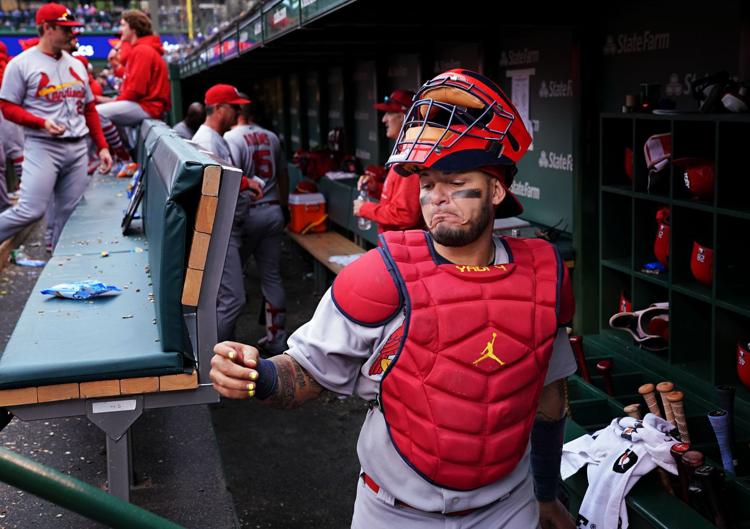 COMMENT: When the Cardinals win the division this year, should fans send Kris Bryant a thank-you card? The team goes as Yadi goes.
BENFRED: Agreed. Harrison Bader said it best. Here's a long quote worth reading.
"I think the most important thing about everything that happened was Yadi's response," Bader said. "And obviously I don't necessarily believe Kris Bryant meant anything malicious, but regardless, I think it is important that Yadi said what he said. And obviously anything he says we support. And I obviously disagree (with Bryant) – I think this is an incredible place in regards to baseball, there really isn't any better place to play. So his comments were sort of insensitive in that matter." 
"You just learn very quickly about certain guys, just looking at personnel on and off the field. And one of the first people I just obviously gravitated towards in terms of someone who you want to emulate both on and off the field is obviously Yadier Molina. And then just getting the opportunity to play with them on a nightly basis really is an honor. I know we kind of toss that around, because in many ways maybe taking it for granted, because you just go out there and play baseball. But just his presence night to night, and just the way he goes about his business, it truly is an honor.
"There's no reason why he shouldn't be excited, because he's been on some incredible teams, and I like to think that this is, in his mind, shaping up to be one of those as well. So the energy he feeds us just purely by who he is and what he does really does lift the locker room up. And it's just incredibly fortunate to have a presence. Shildty made a comment about anything (Yadi) says you listen to. He's very vocal, but at the same time, he really doesn't speak a lot. He's just very particular about the way he goes about his business. And it's just the personality that you just you want to latch onto as best you can. So it's going be a great year, and I'm happy he's excited for it."
CARDS STILL SEARCHING FOR LEFTHANDED HITTER?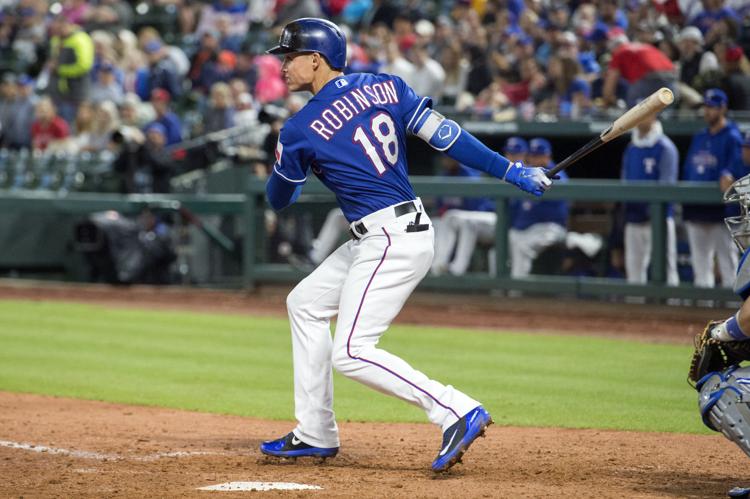 QUESTION: Have the Cardinals given up the thought of getting a LH bench bat more proven than Drew Robinson?
BENFRED: This remains a bit of a mystery. At the time of the Patrick Wisdom trade, Robinson was said to be a guy who could be in St. Louis. Then he was described as an option to be in St. Louis. He was at Winter Warm-Up, but was not mentioned by the team in the big moves they made for 2019.
What does that mean? I think they are still looking for potential upgrades for that role, depending on who winds up looking for a pillow deal. Asdrubal Cabrera is out, by the way. Rangers got him for one season at a reported $5 million.
FINDING RELIEF WHILE STILL PAYING FOR CECIL?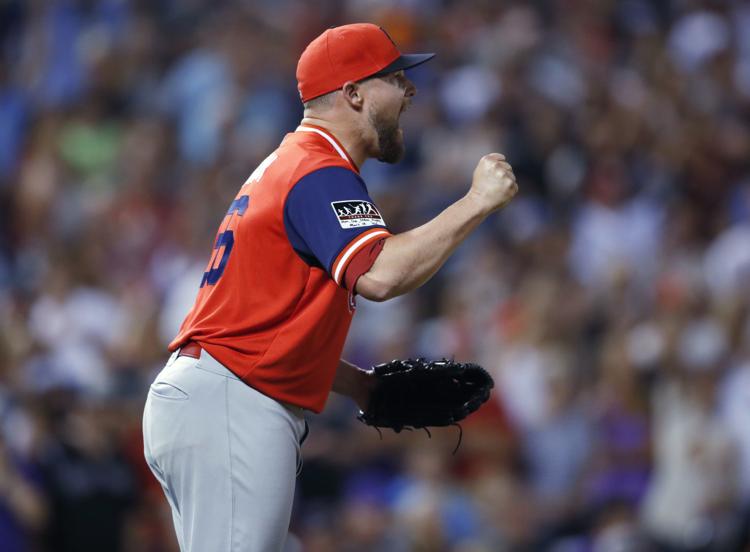 QUESTION: Does Brett Cecil's remaining money make it improbable this offseason that another (pricey) quality veteran arm is added to the bullpen?
BENFRED: It shouldn't. That's an area the Cardinals can afford and should find some more certainty. Go get another strikeout pitcher and let the chips sort themselves out at spring training, especially when the good relievers without deals begin to get very, very nervous during spring training. A Bud-Norris-like deal worked out for the Cardinals last season.
SHOW ME ... THE NBA?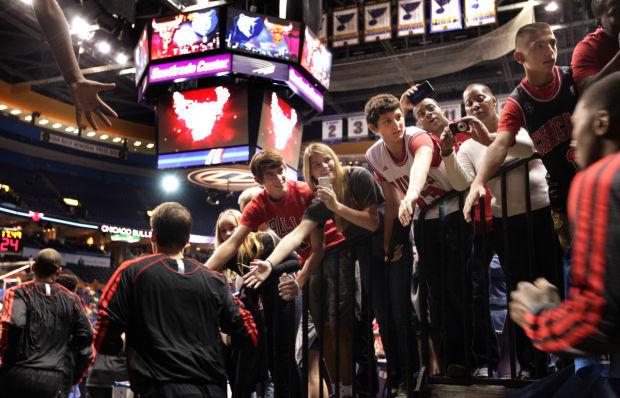 QUESTION: Isn't it odd that Missouri doesn't have an NBA team? Two MLB teams, one NHL team, used to be two NFL teams, yet zero NBA teams for the past 33 years (over 50 years in this market). What is the reason?
BENFRED: No love for the Bombers and the Hawks?
There's been some NBA to STL chatter recently. Dr. Richard A. Chaifetz got it rolling. I've asked him if he would like to expand on that, but have not heard back. KC has also made it known they have folks there who might be interested.
You can find some in NBA circles who say the league has interest in STL as a potential market, but there has been no official interest expressed by the league. I think having a team in Memphis and Indianapolis makes it a bit crowded here regionally. I also think KC might be more appealing to the league at this point.
I have no doubt STL would support the NBA. Anyone who says otherwise is misinformed. Problem is, the league has to want to be here, and there has to be an ownership group with the cash to make it happen. Until then, it's just a pipe dream.
FLASHBACK: DARK DAYS AT THE DOME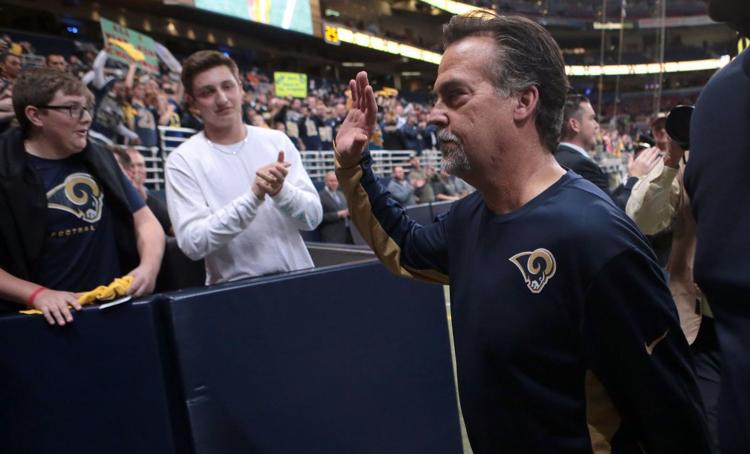 QUESTION: Is Sean McVay that good of a coach, or was Jeff Fisher just that bad?
BENFRED: Combination of both. Fisher was archaic and outdated. It says a lot that no team has touched him in any capacity. The game had passed him by, and Stan Kroenke was the only one who did not see it -- or he didn't care enough to act on it as he wanted the team to shrivel and die in St. Louis. I'll take the latter.
Now, if you will excuse me, I'm going to go throw up.
SLU'S NCAA TOURNAMENT OUTLOOK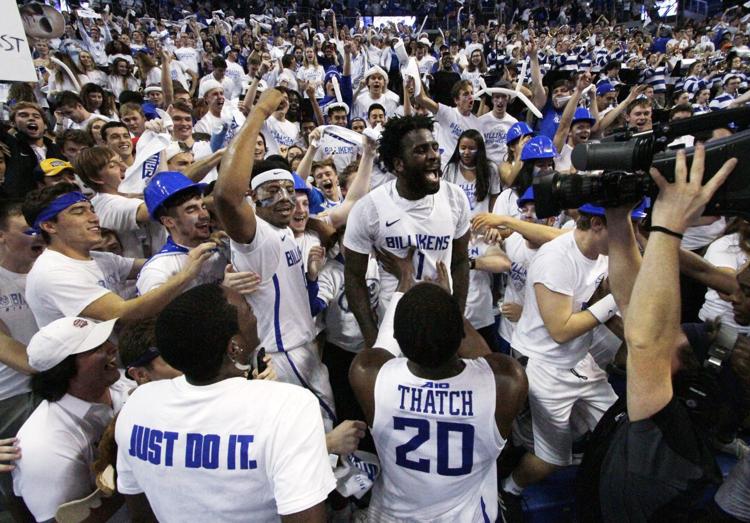 QUESTION: Lots of season ahead, but as it stands now, would SLU have to win the A-10 Tournament to go to the NCAA? I have an uneasy feeling the A-10 may only have one team in The Dance.
BENFRED: Agreed. SLU did itself a favor with a tough non-conference schedule, but not every other team in the league can say the same. I don't think SLU would want to leave its fate in the hands of the committee. They should be viewing it as win the tournament or go home, even if it's not. Could be close.
REASONS FOR THE FREE-AGENT FREEZE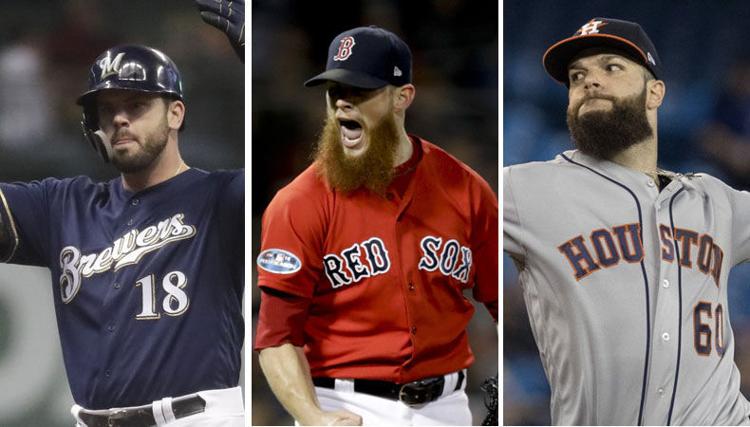 QUESTION: Is tanking doing as much, if not more, damage to free agency than the aging curve?
BENFRED: I've argued the same point. Cardinals chairman Bill DeWitt Jr. says every owner wants to win, but they take different routes. And it has been pointed out that the Cardinals have benefited (Ozuna, Goldschmidt) from teams that are pivoting toward rebuilds. DeWitt is going to stick up for owners, just like players stick up for players.
But we see what we see. Not every team cares about competing in the present, or even the near future. And it does hurt the players, because that means fewer teams are interested in paying good players in their prime. If it's 2019 and your goal is to build toward 2023, then of course you are less interested in the star free agent right now. For many reasons -- international draft, increase in analytics that has made every team view players similarly, increase in spending on development -- free agents have less leverage than before. But the amount of teams who are not interested in winning now, and actually want to avoid it so they can get better draft picks, should not be dismissed as a big factor in the free-agent freeze.
IS IT ON THE PLAYERS TO FIX THE PROBLEM?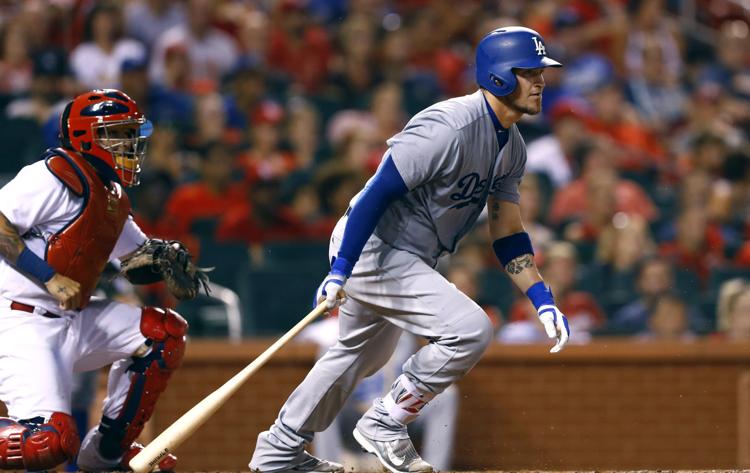 QUESTION: If, as a player, you are not a free agent until the age no one wants to sign you, is free agency dead?
BENFRED: Not dead, but it needs to be tweaked. Players should stop complaining about owners not handing out bad deals, and start looking at ways to make sure they reach free agency sooner. They should fight for fewer arbitration years and for decreasing service-time tinkering. Arguing against the age curve is not sound logic. Owners have adjusted to it. Players have not. Their power is limited until the CBA expires after the 2021 season.
Their discussions can get a head start, and they have, according to the players who spoke during Winter Warm-Up, guys like Goldschmidt and Miller and Flaherty and Carpenter. The owners are getting crushed for being cheap, and some truly are cheap, but it goes ignored that these players have agents who are working to drag this process along as much as possible. That never, ever gets mentioned. Harper and Machado should be absolved from the 30-year-old-plus free agent discussion until they sign a contract that shows they got a raw deal. I don't think that will be the case. Lumping them in now is premature, and potentially inaccurate. See what they get, then let's talk.
And don't forget the agents are competing here as well. Owners got ripped when Yasmani Grandal turned down a multi-year deal worth $60 million from the Mets, then had to scramble for a one-year, $18 million deal with the Brewers. Why didn't his agent get ripped ? The agent steered his client away from a better deal than the one he steered him toward.
National media types, especially, shape the discussion. They intentionally leave out the agents if there is anything negative to say. Why? Because they get info from agents. Think about it. Let's see what Harper and Machado get before we trot them out there as the signs of a broken system. Especially when there is a massive pile of 30-plus FAs that truly show the system is broken.
THE DH DEBATE (CONTINUED)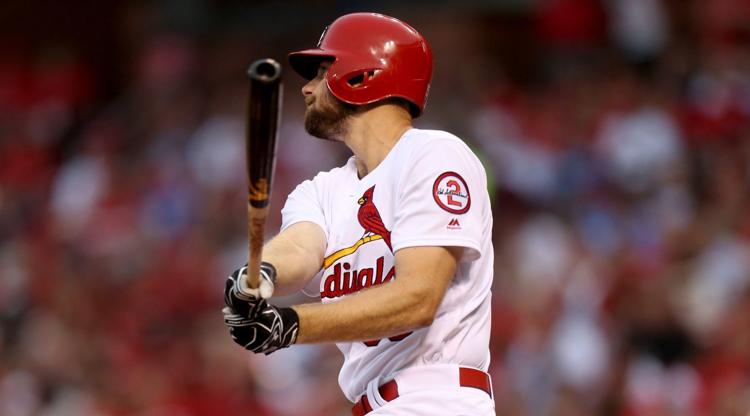 QUESTION: Please help me understand the pro-DH-in-the-NL position. Last season, Cardinal pitchers only averaged two plate appearances per game. Eliminating those is not going to make any difference in gaining the interest of someone who is not already interested in MLB. But adopting the DH in the NL is going to infuriate and alienate a sizable percentage of the existing fan base that enjoys the strategy of pinch hitters, double switches, and lineup construction. Why would NL owners do this?
BENFRED: I don't think the pro-DH argument's strongest point is that it will increase interest in the game, at all. Players want it because it will create job security for older sluggers, and players tend to fight harder for guys who have been there, and done that -- it's one of the reasons the big free agency clash is happening right now. Players point to what they have done. Owners are increasingly asking what they can do next.
I think you have overestimated the size of the crowd of fans who will go bananas if the DH comes to the NL. There seems to be, to me, an age-related split. The older generation tends to strongly dislike the DH. The younger generation tends to strongly dislike watching pitchers hit. DH solves that.
And then the last one: Why would NL owners do this? Because players could prioritize it in the upcoming CBA discussions, and owners -- whether they will admit it or not -- realize they are at a disadvantage when it comes to signing certain players because they don't have a DH spot to offer, and because some also realize it's just a matter of time until the league adopts the same rules across the board. There are fewer and fewer people willing to die on the no-DH hill.
Be the first to know
Get local news delivered to your inbox!