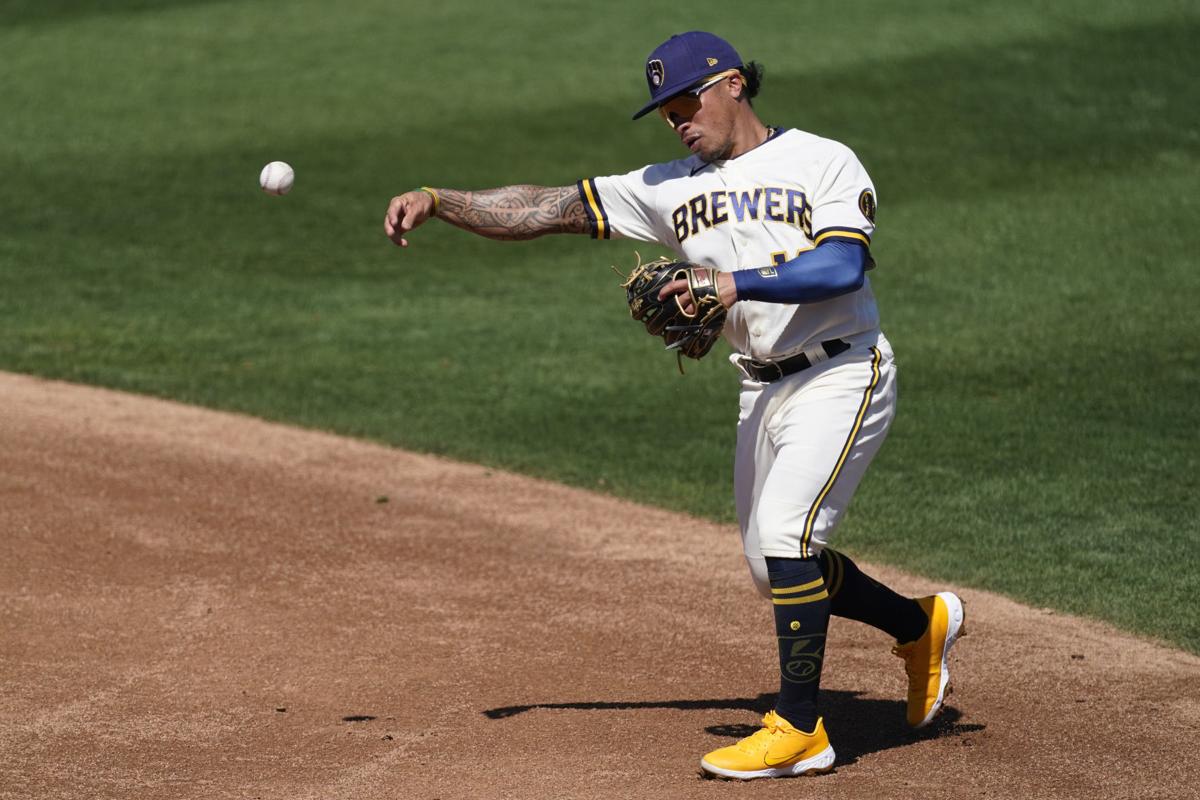 Five topics from columnist Ben Frederickson that Cardinals fans should be discussing . . . 
1. First up: Wong vs. Waino 
The lighthearted smack talk between former Cardinals teammates started days ago.
Brewers second baseman Kolten Wong – that still feels strange to type – said a text message from Cardinals starter Adam Wainwright arrived earlier this week.
"Be looking for that first pitch curveball," Wong said the message read.
"Knowing Waino," Wong said, "it's probably not going to be a first pitch curveball."
A flood of all sorts of emotions? On deck.
Whether it's a pregame chat with catcher Yadier Molina at the plate, a tip of the cap to Cardinals manager Mike Shildt, or the standing ovation that should await him from a socially distanced crowd, this won't be an ordinary series for Wong or his former teammates.
"It will be bittersweet," Shildt said. "Unusual to see him in that uniform, to see him on the other side of the field."
Wong's eight-season run with the Cardinals ended in free agency after the Cardinals declined to pick up a contract option that would have paid him $12.5 million in 2021.
The Brewers gave the two-time Gold Glove award winner a two-year deal worth $18 million that could turn into a three-year deal worth $26 million if a club option is picked up down the line.
Now playing for a divisional rival, Wong gets the chance to prove the Cardinals made a mistake by not finding the money to keep him instead of steering second-base opportunities toward Tommy Edman and Matt Carpenter. Time will tell. But first, a homecoming Wong hoped he would never have to experience.
"It was kind of crazy walking over from the hotel experiencing being an away guy," Wong said. "I'm so used to driving in through Paddy O's and coming into the stadium getting ready for opening day. It's definitely a different deal, but I'm excited. Once I get out there and experience all of the fans and see my old teammates, everything will start to hit me a little bit more."
A tweaked oblique that kept Wong out of the Brewers' lineup Wednesday has been greenlighted for Thursday afternoon's game. He's leading off for Milwaukee and starting at his old stomping grounds, Busch Stadium's second base. That means he will be the first hitter to step into the box. Against Wainwright.
"We had a little talk a couple nights ago, talking a little smack back and forth," Wong said. "Waino is a good guy. He took me under his wing when I was a young kid and showed me what it's like to be a pro. I'm excited to compete against him."
2. A goal for Wainwright
If you count both regular and postseason starts, Wainwright will make his 176th home start for the Cardinals this afternoon at Busch Stadium. Only three Cardinals totaled more during their careers: Bob Gibson (242 regular and postseason home starts), Bob Forsch (209) and Jesse Haines (196). For Wainwright to jump ahead of Haines, he needs 21 home starts between this season and postseason. He's never had more than 20 in one season, and that happened just once, back in 2013, when Wainwright made three home starts during the postseason run that ended in a World Series loss to the Red Sox. If Wainwright falls short, he could just come back in 2022. President of baseball operations John Mozeliak said Thursday he's not yet ready to assume this is the final home opener for Wainwright and Molina.
3. Carlson leading rookies
Dylan Carlson's three home runs through six games leads all major league rookies. He's one of just four rookies who entered Thursday's games with more than one homer. Carlson is leading the team in home runs, RBIs and slugging percentage (.632) but had only hit seventh and eighth in the lineup before today, when back tightness scratched Paul Goldschmidt and caused the lineup to shift gears. Carlson will hit sixth today against the Brewers while Matt Carpenter hits second. Color me confused. Please spare me the concerns about pressure, because we're talking about the guy who hit cleanup for the Cardinals in the postseason, and did it quite well.
4. Carpenter's company
Some quick context on Carpenter's slide. Since his 2018 surge hit a wall in September of that year, Carpenter has been one of the least impactful regulars in the majors. A total of 148 players have had 650 or more at-bats since September 1, 2018. On that list, Carpenter (658 at-bats as of Thursday morning) ranks 146th in average (.207), 98th in on-base percentage (.328) and 146th in slugging percentage (.350). His on-base plus slugging percentage, boosted by his walks, still checks in at 142nd (.678). Considering the lack of offense the Cardinals are getting out of right field to start this season, the team can justify creating opportunities for Carpenter. I continue to be baffled by the decision to hit him in prime lineup spots.
5. Music to my ears
Can I be sappy for just one moment? Cardinals baseball is not complete without the sound of Cardinals fans at the ballpark. There was not a soundtrack of fake crowd noise that could do Cardinal Nation justice. Welcome back. You were missed.