Quick Hits: BenFred on STL sports
Rounding up hot topics from columnist Ben Frederickson's weekly chat with St. Louis sports fans.
WHY DON'T THE CARDINALS WANT TO KEEP OZUNA?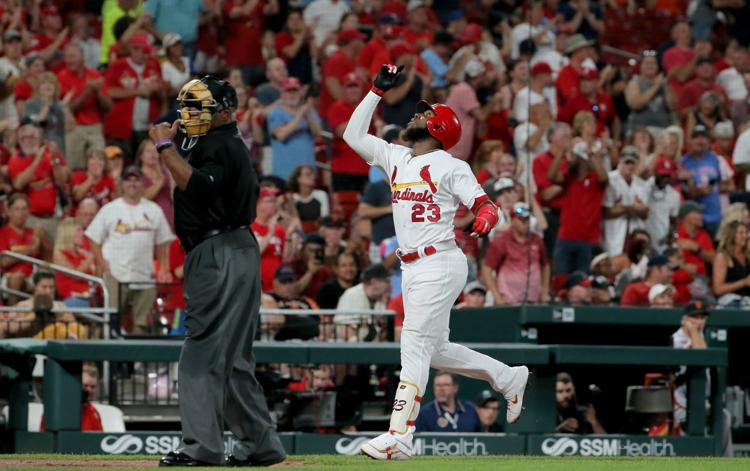 Q: What reasons could the Cardinals decide against extending Marcell Ozuna? He clearly wants to be here.
BenFred: First off, this could change. I've said from the beginning that a deep postseason run might alter the team's thinking here. Heck, Ozuna's production to this point might change the team's thinking here. But what we know for sure right now is that things have been very cold on the Cardinals end of things so far. Ozuna has made it clear that he wants to be back. Multiple times he has said that. And the response from the front office? Crickets. So, take that into consideration. Ozuna confirmed there have been no extension talks. Cardinals decision-makers have not made upbeat public comments about wanting to work something out. Mostly silence. And take into consideration the long list of outfield options the Cardinals are intrigued about moving forward: Dylan Carlson, Tyler O'Neill, Lane Thomas, more. And also take into consideration the ups and downs between Ozuna and the Cardinals during his time here, everything from the alarm clock issue, to the frustration surrounding his shoulder injury, to the displeasure with the shape he showed up in this spring. Ozuna has made a strong case since then. He plays every day. He bounced back from an injury and showed power soon after. He's been a big part of this team, and could be moving forward. Now, take into account what he will want. He's just about to turn 29. It's his first shot at free agency. His one big bite, based off current trends. He's made himself a more expensive player with his performance this season. You asked for reasons it might not happen, and those are the biggest ones.
IS CASTELLANOS A CARDINALS OPTION?
Q: If the Cardinals let Marcell Ozuna go through free agency, would Nick Castellanos be an option for right field? He's been a major difference maker for the Cubs since they added him at the trade deadline. He could add experienced insurance over prospect Dylan Carlson.
BenFred: The Castellanos addition for the Cubs has been huge. After his home run in Monday night's game, he was averaging .347/.373/.707. Yes. he's slugging .707. He has 14 home runs in 150 at-bats. Crazy.
Castellanos, thanks to his performance and his lack of draft pick compensation due to his trade from Detroit, has likely made himself a lot more money if he reaches free agency. Not sure if there's a fit there with the Cardinals, although his previous experience at third base might be interesting -- depending on the plan with Matt Carpenter moving forward. More importantly, if the Cards do let Ozuna walk -- or offer him the qualifying offer knowing he's going to leave for a multi-year deal elsewhere, then they are doing it in part because they feel Dylan Carlson, whom you mentioned, will be a factor in the starting outfield next season. If you're going to add someone in front of Carlson, why not bring back Ozuna?
HOW WORRIED SHOULD WE BE ABOUT THE CUBS?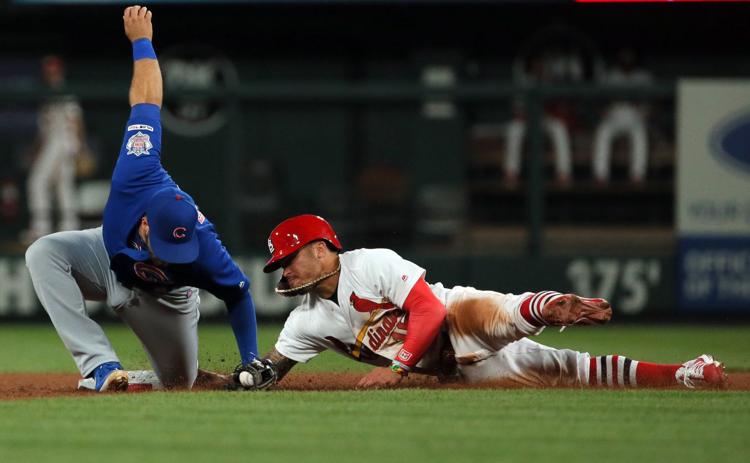 Q: Is anyone else concerned about the Cubs' chances of catching up with the Cardinals? The Cards have a much tougher schedule through the finish line.
BenFred: Don't forget the Wrigley Field Issue either. The Cards are 0-6 there so far this season. For what it's worth, the postseason projections from FanGraphs like the Cardinals' chances of finishing this out.As of Tuesday afternoon, FanGraphs had the the Birds at a 78.5 percent chance to win the Central, compared to the Cub's 18.5 percent chance.
The big question, for me, will be the pitching.
The Cardinals have three of the most-used relievers in the National League.
They've got a question mark every time they go with Wacha and the opener-ish plan.
If the other four starters can finish strong, then the Cardinals should win, and then shift to a four-man rotation during the postseason.
WHAT IS MO'S FUTURE, PLAYOFFS OR NOT?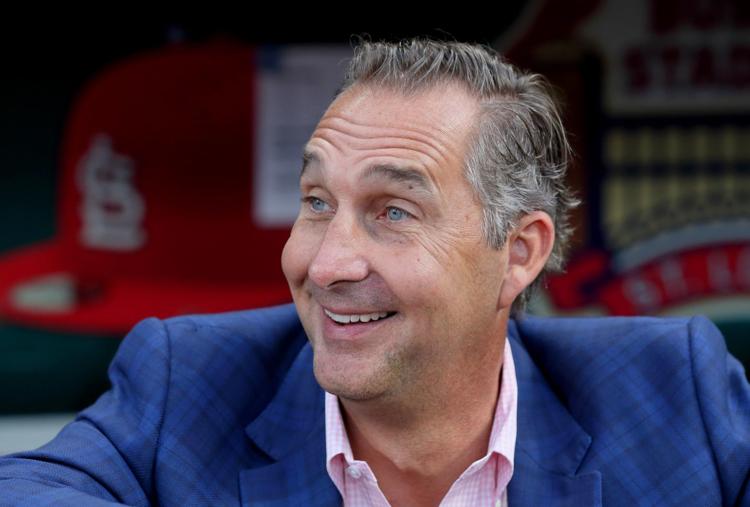 Q: If the Cardinals make a deep postseason run, are the bad moves by president of baseball operations John Mozeliak simply forgotten by the front office?
BenFred: Shouldn't a deep postseason run be considered when taking stock of a president of baseball operations? That -- returning to the postseason -- what this season was supposed to be about, right?
The ownership and Mozeliak are aligned, and there have been no signs -- even when the Cardinals were struggling -- that this will change.Here's something to chew on.
More than wondering if Mozeliak will be fired, it might be worth wondering if he could be of interest to the Red Sox.
If Boston grew tired of Dave Dombrowski's heavy spending and practice of swapping prospect talent for production now, and Red Sox want to try a more sustained success model, it would make sense to look to St. Louis as blueprint, but with a Boston payroll.
HAS ANDREW MILLER BEEN WHAT THE TEAM EXPECTED?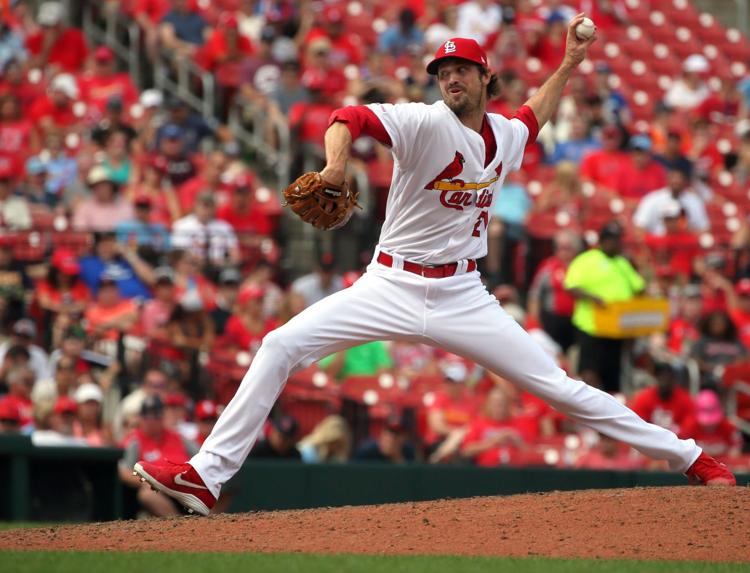 Q: Is Andrew Miller's performance to date what the Cardinals envisioned when they signed him?
BenFred: I think the Cardinals had a range of expectations.At the top end of that range was Andrew Miller being the guy who redefined fireman, Swiss Army knife relief, a totally versatile lefty who could come in and get one out if needed, close if needed or go for multiple innings if needed.
At the bottom end of that range was Andrew Miller being the best left-handed reliever the Cardinals could turn to when they needed that matchup, because that matchup is needed a lot in this division.
Miller has pitched more than one inning in an outing just five times this season, and just twice after July.
As the Cardinals made him more of a one-inning and matchup-based pitcher, his results improved. His numbers became sharper by the month from March through July. Things have been a bit shakier over the past month. If he can lock back in and finish strong, I think the Cardinals will be pleased with their first season of Andrew Miller. He hasn't been the force he once was. He has been better than what the Cardinals had before.
WHAT MADE THIS WONG'S BIG BREAKOUT YEAR?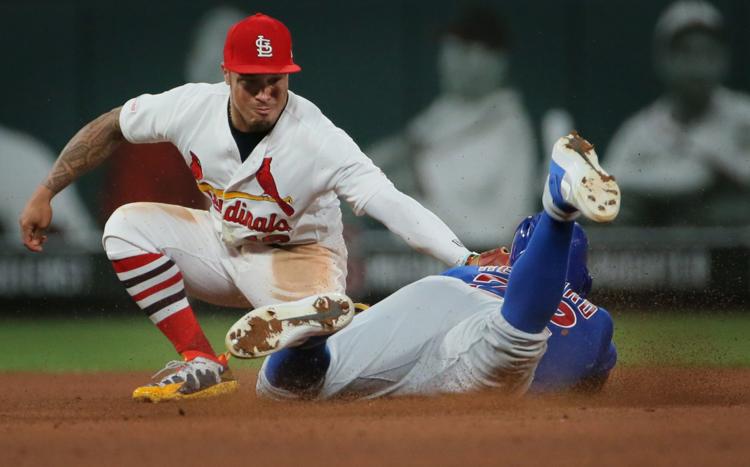 Q: Do you believe Wong's success this year is tied entirely to him playing with confidence knowing he has maximum latitude with the manager? If so, could the team have tapped into this potential earlier in his career if they had taken notice?
BenFred: It's not entirely that, but that is a part of it. I don't know if maximum latitude is the right phrase.Wong is no different than any other player in that if he does not do his job, does not prepare and go about things the right way, then he can deal with the same consequences.But what has happened is manager Mike Shildt made it clear in his messaging and his managing that Wong is valued and will play every day without having to look over his shoulder if his defense remains elite, which it has, even if his bat has ups and downs, which it has. But his offense has been a lot more up than down lately, and the cries for him to be moved for an offense-first second baseman have faded fast. He's on track to play a career-high amount of innings while leading the league in defensive runs saved at his position and also ranking among the top second basemen in OPS. He's having a career year, and part of it is because of the relationship he has with Shildt. Not all of it. As for the question about if the team could have tapped into it earlier, I think it could have, yes. Matheny's management of Wong was never going to get the best Wong possible. Some of that's on Wong. Some of that's on Matheny. You have to know how to get the best out of each player. Matheny never got the best out of Wong. Putting him in the outfield for 100-plus innings look especially crazy now.
WHAT HAPPENS IF IT'S CARDS-BRAVES IN POSTSEASON?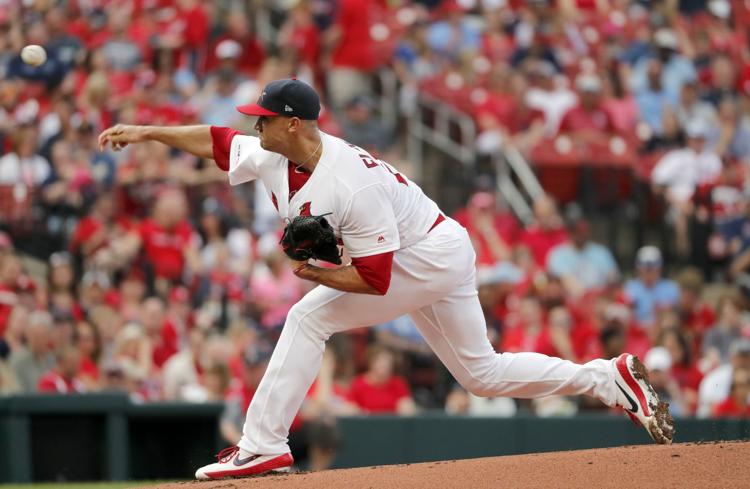 Q: Can the Cardinals beat the Braves in a postseason series?
BenFred: It's possible, yes. The Cardinals went 2-4 against the Braves this season with a wide variety of results. They had a 14-3 win on the road, a 4-0 loss on the road, a 10-2 loss on the road, a 5-2 loss at home, a 6-3 win at home, and a 4-3 loss at home. Flaherty and Hudson started in both of the wins. One of the losses included Flaherty pitching 6 scoreless innings. Wainwright has not pitched against the Braves at home this season.
AREN'T CORNER INFIELDERS LIKE OZUNA EASY TO REPLACE?
Q: Why all the worry from fans about not extending Marcell Ozuna? Powerful corner outfielders are relatively easy to replace.
BenFred: I would stop short of saying Ozuna is easy to replace. He's the current team leader in RBIs (81) and OPS (.830). He only trails Paul Goldschmidt (29) in home runs (26). And despite the occasional odd play in left field, he has ranked in the top half of left fielders in terms of Fielding Bible Defensive Runs Saved during both of his seasons in St. Louis. That kind of production doesn't grow on trees. Last season, a lot of these chats revolved around the discussion that the Cardinals did not have the kind of lineup that offered two big bats, like some of the other contending teams. Well, know the Cardinals have two big bats. Three, if you count Paul DeJong, and you should. They haven't always hit together, but when they have, it's been hard to beat. So, letting one of those walk is a calculated risk. You better get some solid production from the young player or players you are clearing space for. The Cardinals' bets on young outfielders have had mixed results to this point. But they might feel more confident betting on Dylan Carlson than they have any of the others.
WHAT SHOULD WE MAKE OF MIZZOU'S START?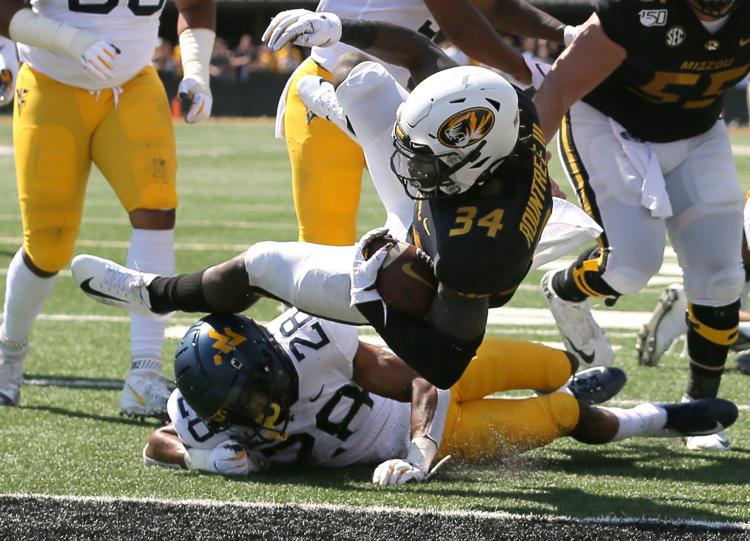 Q: So, year four of the Barry Odom era at Mizzou. What do you make of this start? I admit to drinking the Kool-Aid and buying into the possibility of an 8-0 start. But how does that performance at Wyoming happen? And then the turnaround against West Virginia? I don't know what to expect at the moment.
BenFred: Yeah, you're talking to the guy who wrote the column that said Mizzou should start 8-0.I got shelled for that one after the Wyoming loss.
Fair.
Thing is, the Tigers really should have started 8-0.
Look at what they did to West Virginia.
Look at the schedule, especially now.
Wyoming labored against Texas State after knocking off the Tigers.
Florida labored against a Miami team that lost to North Carolina.
South Carolina lost to North Carolina, then lost its starting QB for the season.
Kentucky is also without its starting QB for the rest of the season.
Vanderbilt and Tennessee are both 0-2.
This is the easiest division Mizzou could ask for.
It's Georgia, and then it's wide open.
And the Tigers shot themselves in the foot against the Cowboys.
It's not taking credit away from Wyoming to point out that the mistakes that turned that game were all self-imposed from Mizzou.
It boiled down to three big turnovers, and two blown plays defensively.
That's the game.
For Odom's team to re-earn the hype it had created this offseason, it has to show it can respond favorably when something bad happens on the field.
Five times, his team has lost after leading by multiple possessions.
Kentucky last season, South Carolina last season, and now Wyoming have made fans cautious, have made fans question the coaching. All fair.
We know the Tigers can thump teams. We don't know if they can take a punch and respond to win a game. Especially against a decent opponent.I like what Odom has done in recruiting and development.I like his style and accountability.He needs to come up with the coaching answers on the field, the preparation and execution that maximizes a team's potential.This season is not lost. It did begin with a flat tire.
DO YOU FORESEE ANY FUTURE FOR THE NFL IN ST. LOUIS?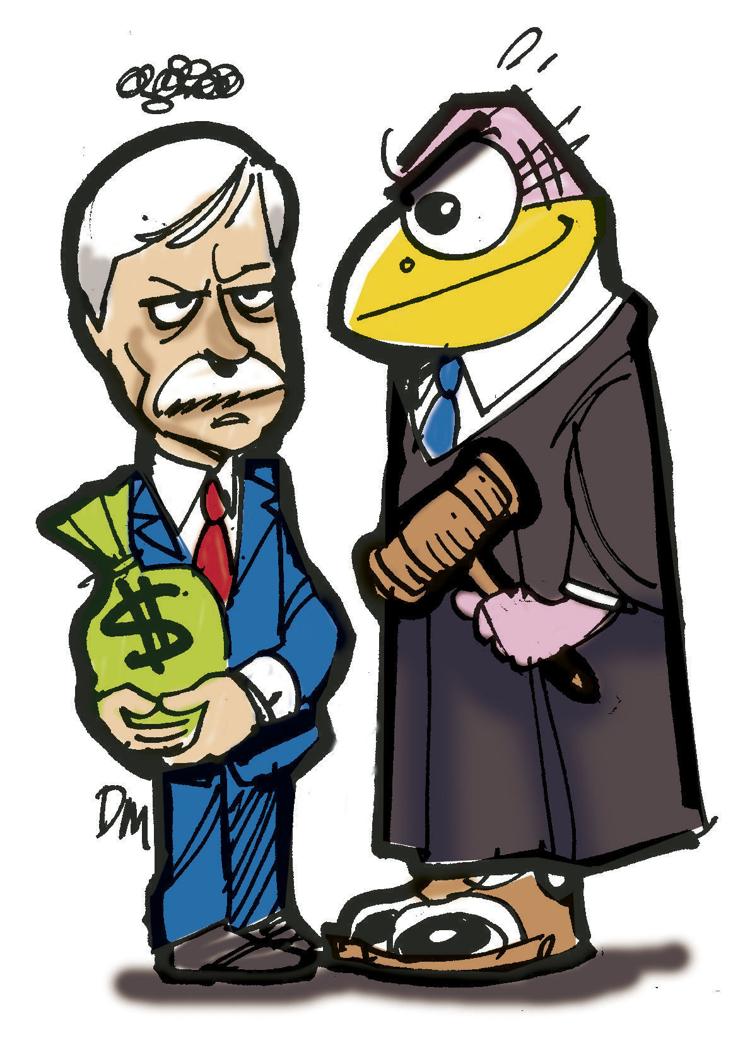 Q: What are your thoughts on Kroenke trying to get the Supreme Court to weigh in on the relocation case? Could this reach a point where the NFL offers St. Louis an expansion team as a way to settle the matter?
BenFred: This should not be a surprise. Kroenke and the NFL share the same playbook. Delay. Delay. Delay. And if the legal opponent does not back down, find a way to settle and sweep under the rug. Avoid court. Avoid dirt getting out from beneath the rug. The idea of an expansion franchise is interesting. I'm one person and won't pretend to speak for everyone, but I do wonder if St. Louis would feel like welcoming the NFL back. Would be interested to hear thoughts on that. By continuing to pursue a trial, there is a chance to get something back from the rigged process that led to the relocation and also become an example that kept the NFL from abusing its powers down the line. I think that could be as rewarding as having a team, now that we have seen how this league operates behind the curtain. The NFL made it quite clear how it felt about St. Louis. I don't think St. Louis should want another team. Another thing: I think the NFL is walking down a long path toward becoming less relevant.
Maybe it doesn't happen in my lifetime, but consider the forces at play.
The NFL is a tree that is drying up at the roots and losing branches at the top.
Youth leagues can point to lack of participation due to concussion concerns.
Top young stars at the pro level are walking away earlier than before, citing the need to preserve their physical and mental health.
The tree is big and strong, but it does seem to have more challenges by the day.
It's OK to say no.
WHAT WOULD CBC'S CALEB LOVE MEAN FOR MIZZOU?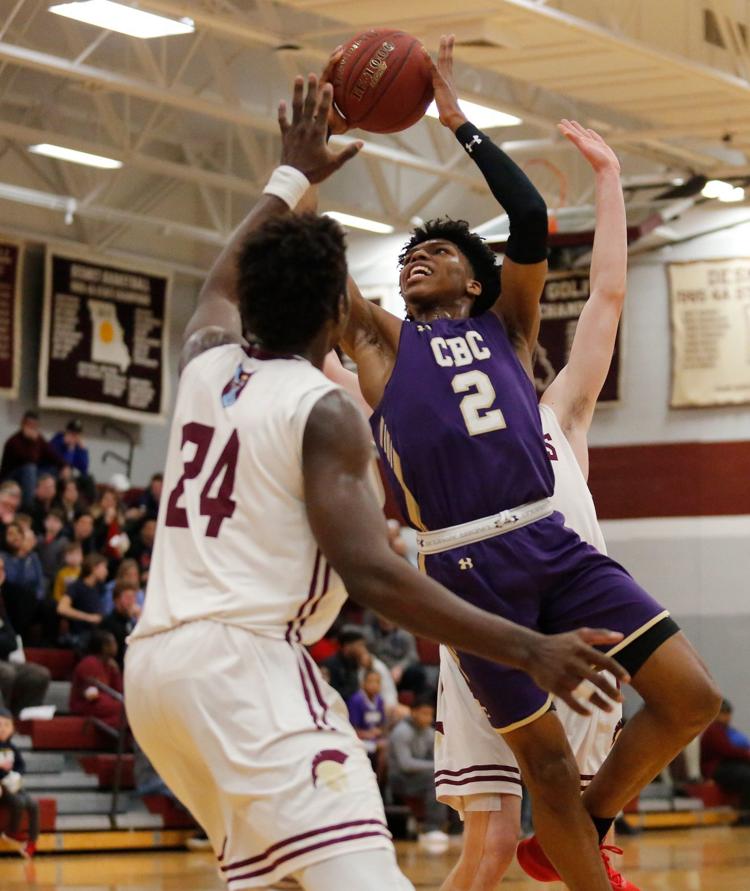 Q: Momentum seems to be swinging Mizzou's way in the basketball team's recruitment of CBC star Caleb Love. How big of a commitment would that be for Cuonzo Martin and the Tigers in STL?
BenFred: First, it's going to feel that way, because Mizzou was Caleb Love's first official visit. First of five. So, when he makes his other trips, and gets photographed on the sidelines of those football games, and tweets out pictures of himself in those uniforms, then it will feel like momentum is swinging that way. That's just recruiting. Second, it sounds like it was a good trip to Mizzou, in part thanks to the football team winning big. And Mizzou should be encouraged that a) it was his first official visit; sometimes that order means something, and b) that it was an official visit in the first place. Meaning, it's good for Mizzou that they got one of his limited official visits. Sometimes, kids from St. Louis prefer to visit Mizzou on an unofficial visit, meaning they pay their own way and elect for less than the full experience because of the proximity between CoMo and STL. That can be a minus for Mizzou, to some degree, because they don't get to roll out the red carpet like they would if the visit was official. Make sense? So, the kid ends up comparing his official visit at School X to his unofficial visit at Mizzou, and that's not always a fair comparison.Martin said his goal was to make Mizzou an intriguing place for the top talent in the state. He's done that. He's doing that. Eventually, he will land another big fish after the Porter splash. Love might be the one, and it would be big.