Quick Hits: BenFred on STL sports
Rounding up hot topics from columnist Ben Frederickson's weekly chat with St. Louis sports fans.
WHY IS CARLOS STILL CLOSING?
QUESTION:  Why are the Cardinals still sending Carlos Martinez out there as their closer? He's barely getting it done. Trade him while you can.
ANSWER:  There are no style points for closers. You either do, or you don't. Carlos does. Remember the Rosencoaster? This is the Tsunami Wave. Ride it. Carlos is seven-for-seven in save opportunities since Jordan Hicks got shut down with Tommy John surgery. Pretty good. Yes, he makes it hard on himself. Yes, he has at times eliminated every bit of wiggle room. Yes, he's also being overworked in that capacity, which likely has something to do with his recent theatrics. The Cardinals should not trade Carlos now. Maybe after this season, if they're tired of him, and don't think he can get back to starting and dominating in that capacity. Yes, I do think the Cardinals will add another reliever regardless of what happens with Carlos. They want a new left-handed option for the pen. They should also get a starter, a good one. One more thing on Carlos: He has been used more than any other pitcher in the game in the past week and a half. That's not easy to handle. Still, he's getting the job done. He's also figured out how to save 14 of his 16 chances dating back to last season. I'm in no rush to see him go. Not now.
HOW IMPORTANT IS YADI?
QUESTION: Are the Cardinals better off without Yadier Molina?
ANSWER: That's a pretty heavy conclusion to draw after 12 games without him. The Cardinals are 8-4 since he last played. Good record. But it's because Molina has been out? Have a hard time buying that. We can agree the Cardinals are a better team without a physically compromised Molina. If he's healthy, he will hit better, and come up big in big moments. We've seen enough to know that, haven't we? I want Yadier Molina on my team, playing, as it heads down the home stretch.
WHEN WILL RANDY AROZARENA GET A SHOT?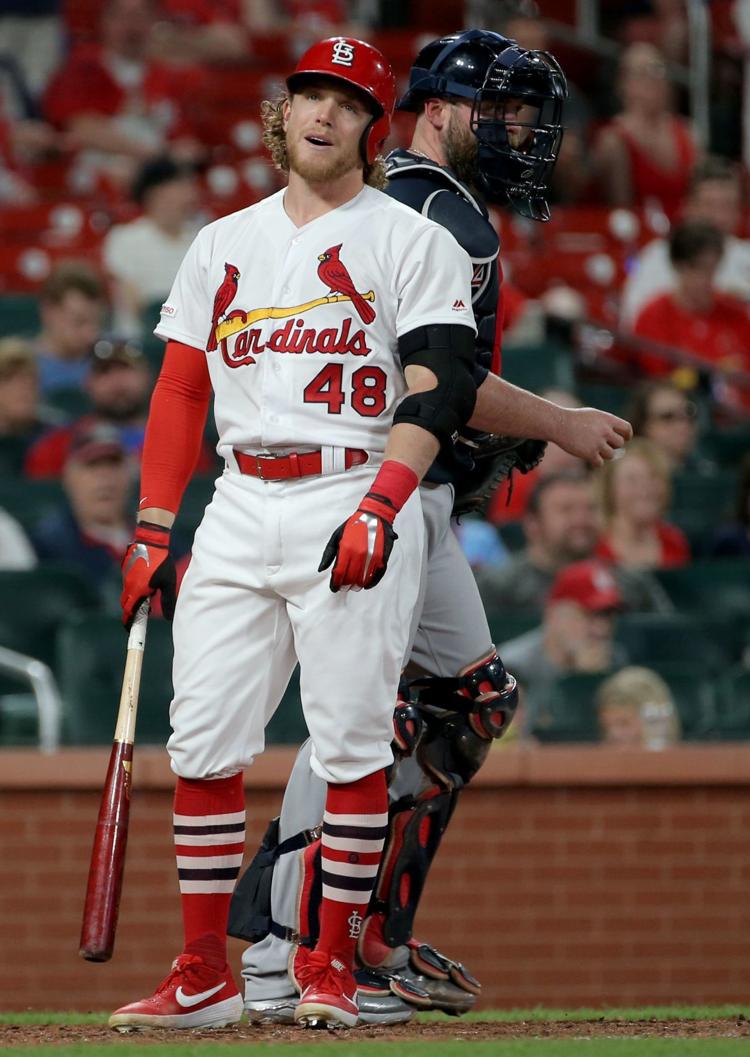 Q: When does Class AAA outfielder Randy Arozarena get his shot with the Cardinals? How many times can the Cardinals watch Bader strike out on a pitch in the dirt.
ANSWER:  It's hard to argue with this. Bader's offense has become impossible to defend. Entering Tuesday night's game, he was slashing .125/.276/.208 since July 5. The front office was pumping up Arozarena during the break. Perhaps that was trade related? Lots of smoke and mirrors this time of the year. If the Cardinals are not going to send Bader for a Class AAA tune-up, it makes sense to create more opportunities for Tommy Edman and Yairo Munoz in the outfield. We saw that last night. When Ozuna gets back, I think the Cardinals will have to roll with Ozuna, Fowler and O'Neill/Martinez and use Bader as off-the-bench speed and defense without regular starts. But if he can't hit, then you're keeping a pretty non-threatening pinch-hit option around. Count me among those who would like to see what Arozarena can do, even if it means a Memphis break for Bader.
WILL CARPENTER AUTOMATICALLY BE IN THE LINEUP?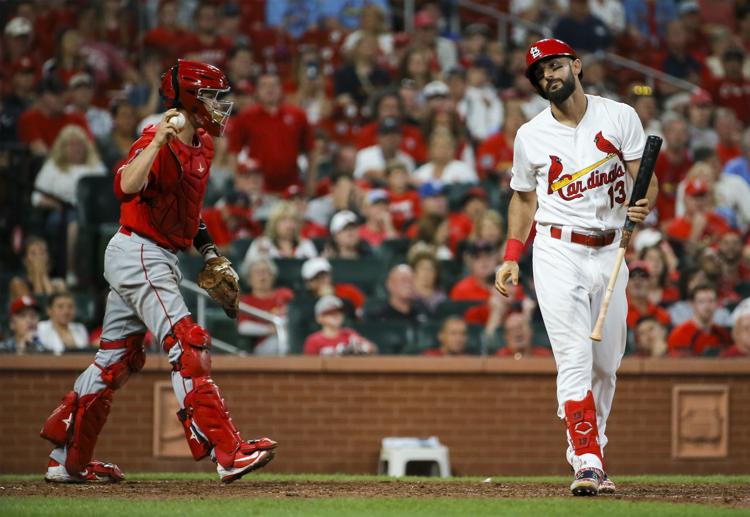 Q: The Cardinals are not going to rush Matt Carpenter through his rehab and start him automatically once he returns no matter the results, right? How is that a move a winning team makes?
ANSWER: Fair question. Let's at least save the outrage until Carpenter navigates these rehab starts. If he can't buy a hit against minor leaguers, or isn't physically ready with the foot, then this conversation we are trying to have isn't going to be make much sense. The Cardinals said they expect him back Friday. He's gonna get four at-bats per game until then. Let's see if it's more of the same. If it is, against minor-leaguers, the Cardinals can't justify plugging him in there over Tommy Edman and The Youth Movement.
​
DID PIRATES BLOW IT WITH BUNT?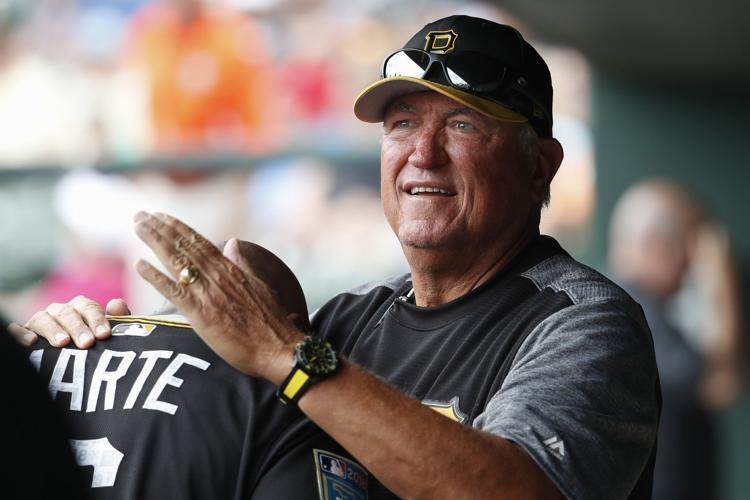 QUESTION: Did the Cardinals send a thank-you note to Pirates manager Clint Hurdle after Monday's crazy win? There are almost no data analytics that support a bunt in the game today. Carlos Martinez was nothing short of dreadful in the 10th inning, and the Bucs handed him the all important first out via bunt.
ANSWER: Not sure I agree there. If Carlos blows that throw -- and who would have been surprised if he did at that point? -- then it's a smart move. Also worth pointing out that the bunter mentioned, Elias Diaz, was something like 3 for 27 in his last 10 or so games. And he's a weaker hitter against right-handed pitching. He puts the ball on the ground nearly half the time. Hurdle wanted to advance his guys and avoid a double play. Seems like there was some logic in there.
WILL FANS WONDER 'WHAT IF' ON GOLDSCHMIDT?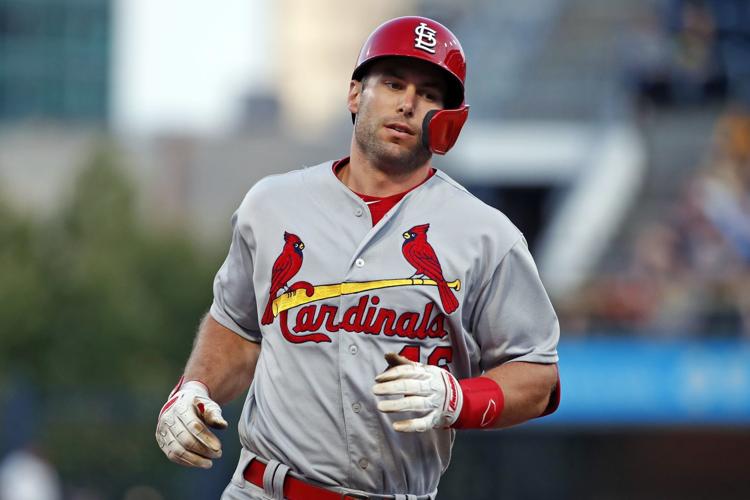 QUESTION:  Is this what we can expect from Paul Goldschmidt? High strikeouts, low average and the occasional big blast that makes us wonder, what if?
ANSWER: I'm going to slow, slow, slow-play writing off Goldschmidt. He's starting to stir. I think he has more in him that is better than what we've seen last season. He might not be what he was at his best again, but I think he can be a lot better than what St. Louis has watched so far this season. And I think he will be.
STARTING PITCHER, OR LEFT-HANDED STARTING PITCHER?
QUESTION: Would you say that the Cardinals should focus on acquiring a lefty starter if at all possible over right handed options not named Grienke or Thor? The Cubs struggle against left-handed pitching, plus there's also match ups against Votto, Yelich, and even Bellinger to consider.
ANSWER: That's what makes Mike Minor of the Texas Rangers so fascinating to me. He checks all the boxes, and he's a lefty. A better-performing lefty than Madison Bumgarner this season. And Bumgarner might not even be on the move, considering how the Giants are playing as of late. A trade for Minor would get him for two postseasons, too. That will increase the prospect cost it takes to acquire him.
Minor is fascinating. I like him the more I research him.
I like Marcus Stroman more than most.
Zack Greinke intrigues.
I'm lower on Bumgarner than most.
At this point it would be surprising to see Bauer moved, considering Cleveland's position.
WILL DREW LOCK PLAY THIS SEASON?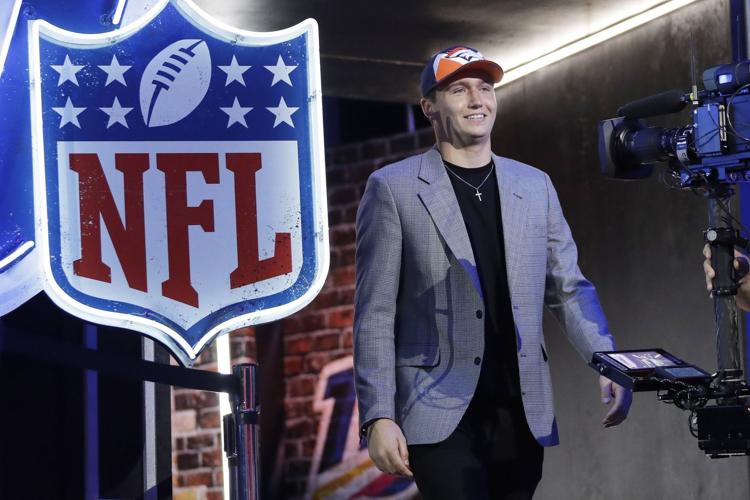 QUESTION: Do you think former Mizzou quarterback Drew Lock will play for the Broncos as a rookie?
ANSWER:  Based on the comments of Broncos coach Vic Fangio, it does not sound like it.
In case you missed it, here's the coach's recent quote about Lock: "His college offense really had no carryover to pro offenses and he was under duress a lot of times at his college, so a lot of his plays he was running around"I don't think he's far along being a ready NFL quarterback as he could have been. ... He's not a quarterback yet. He's a hard-throwing pitcher that doesn't know how to pitch yet."
I've got some thoughts on this quote.
1) Fangio is trying to stop speculation that Joe Flacco isn't the guy.
2) Fangio is right about Lock's college offense - -when former OC Josh Heupel was in charge.
3) Fangio is showing a lack of knowledge about his rookie QB with the line about duress. Lock was not under duress at Mizzou. He ran a quick-throw offense under Heupel and had strong offensive line play every year in a system that encouraged him to hurry up and throw, not stand tall in a collapsing pocket. That was odd.
4) Of course Lock has a lot to learn. He went through three OCs at Mizzou. His arm talent has always been what made him an NFL prospect. If Flacco stays healthy, it sounds like Lock is headed toward an apprenticeship season. If Flacco gets hurt, I bet Fangio changes his tune. Fast.
ROBOT UMPIRES FOR BALLS AND STRIKES?
QUESTION: With TV games making it so clear when umpires have terrible strike zones, how is it not a more popular opinion among fans to call for robotic strike zones?
ANSWER: It's worth mentioning that the strike zone you see framed by the TV broadcast is not the one handed down by God. Each umpire has his own, to some degree, and pitchers and hitters get a feel for it as the game progresses. What drives me -- and them -- crazy is when it's inconsistent. That's the worst, and it happens more often than it should. I'd also point out the Atlantic League, which has gone the way of a human ump relaying calls from a robotic strike zone, has already had someone ejected for arguing balls and strikes. There were always be disagreements even when the computers take over. And that's before the inevitable hacking scandal in strike zones becomes a thing. (Kidding. Kind of.)
CAN JOHNSON SET RECORD AT MIZZZOU?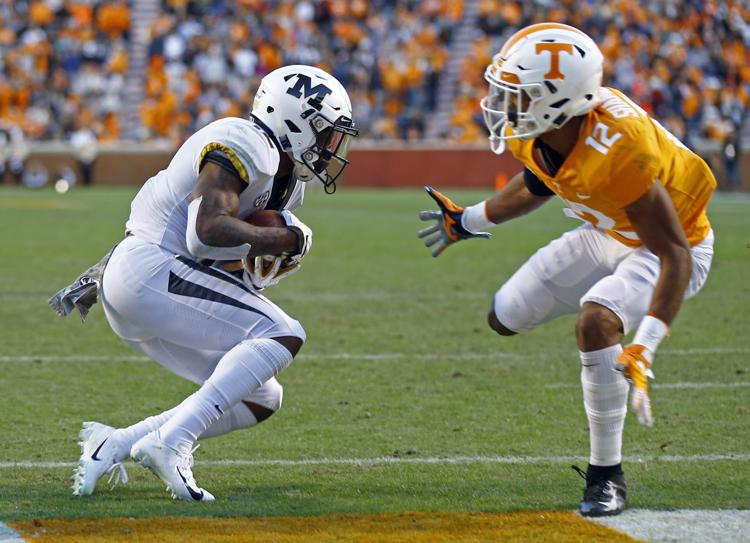 QUESTION: Mizzou receiver Johnathon Johnson is quietly 883 yards away from being the Tigers' all-time leading receiver. Does he get there?
ANSWER: That stat surprised me when Tigers coach Barry Odom mentioned it during his SEC media days speech. I could see him coming close, but I doubt he gets there. With what we know about Kelly Bryant's arm -- accurate, and more geared for the short and intermediate game -- that should mean Johnson is going to get plenty of targets. He had 737 receiving yards last season and 724 the year before. On the other hand, only 10 players in the SEC topped 800 receiving yards last season. And only 4 totaled 880+ receiving yards. The Tigers are going to run. Bryant is going to run. And there are other pass-catching targets who will cut into Johnson's total. And he would have to stay healthy the entire season. It's a tall order. I could see him coming close, but I'm going to take the under.
WOULD CHIEFS PLAY ONCE IN STL?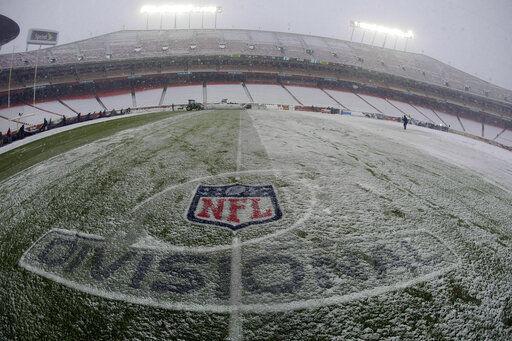 QUESTION: What do you think of the chatter about the Kansas City Chiefs potentially playing a regular-season game here in St. Louis within the next five years?
ANSWER: I know a political type from KC suggested it on Twitter, but I have not been aware of actual, significant momentum toward that happening. If I missed something, let me know. The Chiefs were asked if they were going to try to break into St. Louis when the Rams left, and kind of stiff-armed the notion. Diehard St. Louis Rams fans will also remember how the Chiefs owner voted on the relocation request. That won't be forgotten soon.
WILL MAROON BE BACK WITH BLUES?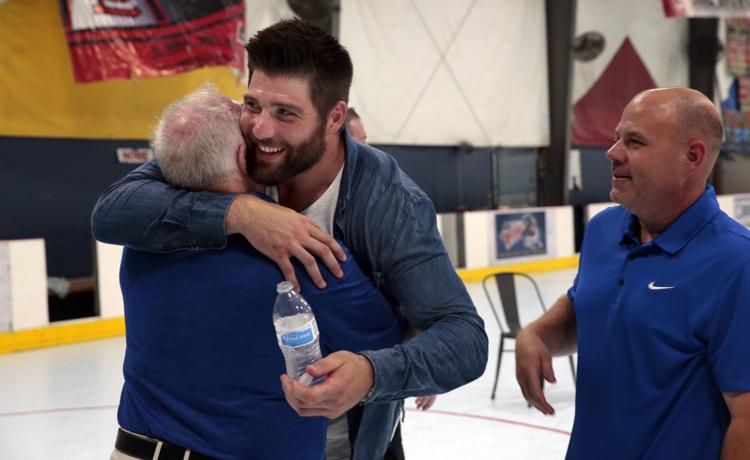 QUESTION: Is it time to move on from hoping Pat Maroon returns to the Blues?
ANSWER: I'll wait and see here. The longer Maroon waits, the less leverage he has. The longer he waits, the less money the Blues have to give him. The Blues have not slammed the door on the idea, but they are going to be close to the cap after taking care of their remaining restricted free agents. There might not be enough money. There is some wiggle room remaining. There is gamesmanship in play here I think. I would love it if he's back, especially on a one-year deal similar to what he got last season. Armstrong refuses to let emotions get involved, and he has a long list of forwards who are hunting for playing time. I said before I think the longer Maroon waits, the more likely it is that he's back. Perhaps that window has closed. We'll see.