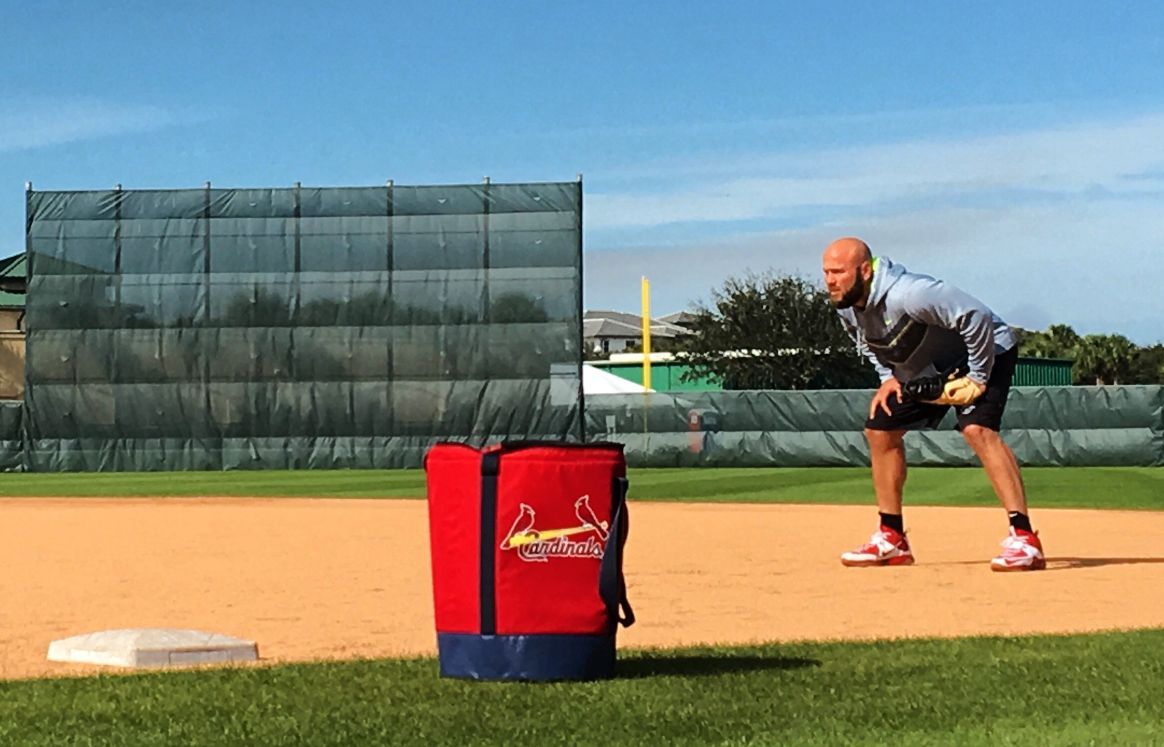 JUPITER, Fla. • At precisely 12 noon, as if he planned it, Mike Matheny arrived to spring training on Friday the 12th, beginning his quest for No. 12.
He walked toward the Cardinals' facility with that assured, slow-stepped cadence of his, as if it wasn't just noon but high noon. Sure enough, of all the people milling about, there was Bill DeWitt Jr., near the facility's door. And so, with happenstance significance, the Cardinals chairman was the first to greet the Cardinals manager, united in pursuit of the Cardinals' 12th World Series championship.
"I look forward to this day, and the first part of spring training, every year," DeWitt told me. "It's something I've been doing forever. It's part of my life. … This is the first day I've been here, and it's always a great thrill to be down in sunny Florida, and seeing the guys working out. We've got a big gang here early, which says a lot for the guys we have on this team. They're motivated."
Here were the pitchers and catchers, before "pitchers and catchers report."
Adam Wainwright, in shorts and a T-shirt, swerving his curve to a catcher in a backwards red Palm Beach Cardinals helmet. Other hurlers having a catch while discussing cowboy boots. A cacophony of mitts popping and handshakes slapping and feet pittering and pattering. At spring training, even annoying noises make for a melody, such as the maintenance man obnoxiously wielding a leaf blower.
And these unofficial workouts provide scenes unseen during the regular season, or at least to the people covering the team. Such as the informality of Wainwright stepping into the batter's box, without a bat, and digging in while Kevin Siegrist pitched.
"Your spin is perfect," Waino said after a breaking pitch. "Throw a heater really quick? I wanna check one thing out (with your mechanics). … Perfect! Perfect!"
Later, Wainwright explained that Siegrist is "learning a new breaking ball, a curveball, and it's got great spin. He's just trying to learn the shape of it, so we're talking through the best way to throw that for a strike, or to throw it for a ball if you want to. To really learn the shape of your pitch. So subconsciously you know where to aim, without having to aim at someone's shoulder or elbow. You see the glove, you know the shape of your pitch, you throw it there."
Spring training, of course, is men at an office. It's work. Mundane, at that. But because our ball gloves, so to speak, have been in the closet all winter, any nugget of our national pastime is nourishing. And what a beleaguering winter it's been for St. Louisans and their sports. Mizzou football didn't even finish .500. Mizzou basketball is broken. The Blues suddenly can't score consistently, and one wonders if the coach is still the right fit.
So yeah, I can imagine that just knowing there are Cardinals in Jupiter is reinvigorating back home.
Wainwright was asked to put spring training in perspective and paused because of a previous time he was asked to put spring training in perspective.
"I have to be careful with how I answer this, because I got in big trouble with my manager a few years ago about this," he said, half-kidding, since Waino is known for his hard work. "(Matheny) read the article out loud to our team in spring training on the first day. I was asked what I thought about spring training, and I said: 'It's my favorite time of year, it's like a two-month vacation.'
"And what I meant by that was – you come down here, you're at home for dinner every night with your family, you get afternoons, and if I'm not starting, I don't go on the road.. But at the same time, there's a lot of work going on at the field. … He was pointing out – 'This is work, we're down here for a purpose, to get better to win a championship … except for the fact that our starting pitcher thinks that this is a two-month vacation.' … And so, I should disclose both sides of that, not just the vacation part."
Friday was also the first day in Jupiter for Seung Hwan Oh, who at times must have felt like he was on Jupiter. The Korean relief pitcher is now a Cardinal, and he shook hands with everyone around the facility.
I actually don't speak Korean, so in efforts to communicate with Oh, I tried to break the ice by playing him his walk-in music on my phone. Except when I clicked on the YouTube link, it played a Pep Boys commercial. And so, Oh, myself and Oh's translator stood in awkward silence for 15 long seconds, watching a commercial in English about water repellent wiper blades.
And then, finally – "BUMM, BUMM, BUMM!" Oh smiled, as the searing song by the Korean rock band began.
Ah, the sounds of spring.