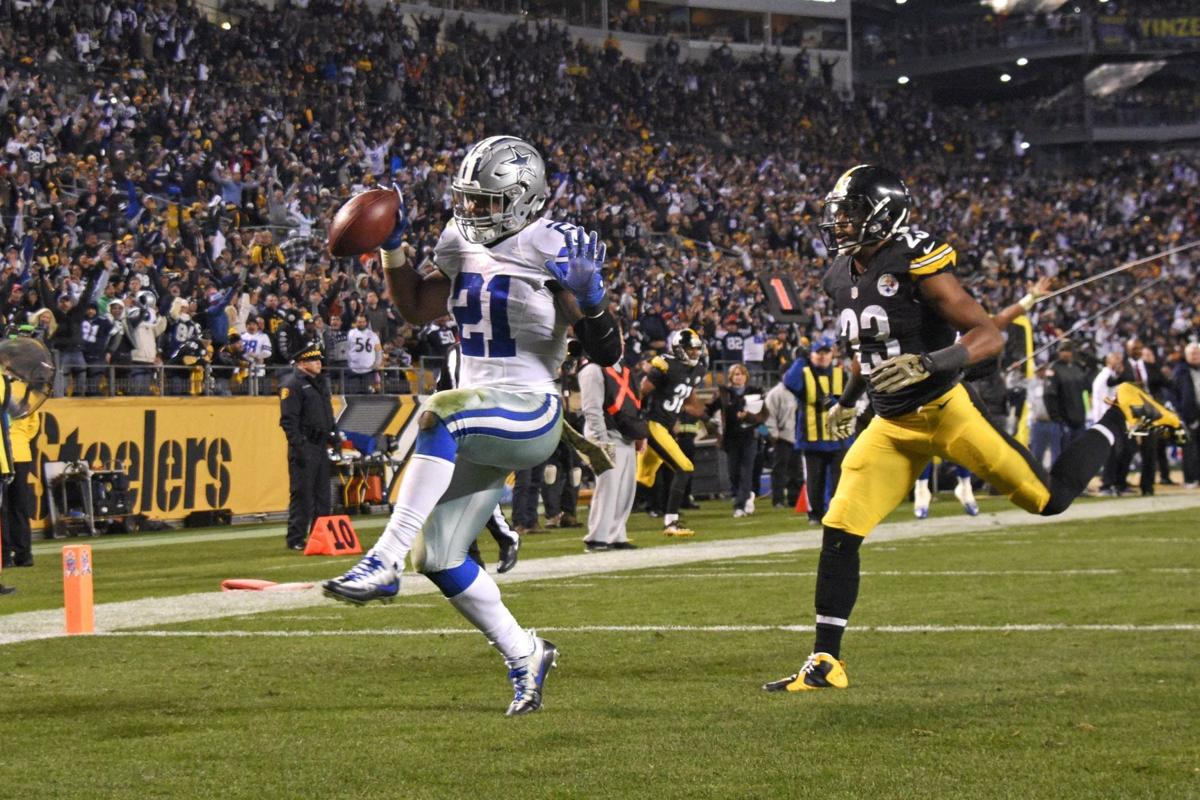 One day, while in high school, Ezekiel Elliott showed up to class without a shirt on.
"This was very exciting to everyone in the school — except for me," said the teacher, John Merritt, who happened to also be Elliott's football coach at John Burroughs School. "I promptly made him go put a shirt on. Zeke, he certainly is his own man. He's always liked showing off that belly, and I don't think that's going to change anytime soon."
Forever cocky and quirky, Elliott is now a lightning-bolt and lightning-rod running back. A kid from the area is now the NFL's top rookie — maybe the NFL's top player? — while playing for the NFL's most polarizing franchise.
"I knew him before he had a driver's license and before he shaved, and look at him now, he's tearing up the NFL," said coach Merritt, who recently joined me and Ben Frederickson on an episode of "2 Bens In A Car," the Emmy-snubbed video series on stltoday.com.
What's most exciting about Elliott is the same characteristic that made him a local personality is making him one nationally. He's unafraid — of opponents, of the spotlight, of critics, of pushing the envelope.
Most recently, he scored a touchdown and jumped in the oversized Salvation Army kettle. And this week, he purchased his offensive linemen ATVs — John Deere Gators, 854d S4, which were custom camouflage and priced, reportedly, at $25,000 each. Videos popped up online this week of the linemen racing in these things.
And Elliott become an instant icon, logging a historic season at one of sports' historic positions: Dallas Cowboys running back. It's up there with Los Angeles Lakers center and Montreal Canadiens goalie. Yes, yes, I won't get carried away here – it's possible that Elliott could stink from here on out. But this season, with two games left, he leads the NFL with 1,551 rushing yards, more than 300 more than the guy who's second overall. And his carries have carried the Cowboys to the No. 1 seed in the NFC playoffs. It's all rather stunning.
And, he's chasing St. Louis' new favorite ex-athlete for some history. Eric Dickerson – the man who took on Jeff Fisher for never getting it fixed – has the NFL rookie rushing record of 1,808 yards. With two games to go, Elliott needs just 258 yards to eclipse E.D. Whether or not he'll play in these next games has yet to be announced, but the Lions aren't going to take any chances.
"He possesses all of the qualities that a great back possesses," Detroit coach Jim Caldwell told reporters this week. "He has speed. You know, sometimes you'll find guys that are real quick that don't have top-end speed. This guy has top-end speed and he's quick and he has power and he can jump over you.
"You know, he's athletic and there's not anything really that he can't do. That's what makes him so unusual. Pretty special talent."
Oh, and he loves to block (Who loves to block?). He's into it. He adores contact. Feeds off it. Has since his Burroughs days.
OK, so let's have some fun. First question – who is the more prominent John Burroughs alum, Jon Hamm or Ezekiel Elliott? A tough one, right? Hamm played an iconic role on television, winning an Emmy and Golden Globe. But Elliott could win the danged MVP as a rookie. He's already a legendary college back, leading Ohio State to the national title. And he could be a star with the star on his helmet for the next half decade. A good debate to have over eggnog.
Here's another one – just how good is Elliott, compared to other current backs?
We know the "back of football card" stats, with the aforementioned 1,551 yards (first in the NFL) and 13 touchdowns (second). A stat I've always appreciated is that of 20-plus-yard runs. Zeke leads the NFL with 13 of them, followed by Buffalo's LeSean McCoy, who has 11.
But how about some stats that could change the way you think about football?
Let's quickly look at two of them.
I was inspired when listening to the podcast "Cowboys Crunchtime."
First, there is DVOA – defense-adjusted value over average.
As seen on the stat site Football Outsiders, it determines a player's value, per play, over an average running back's value in the exact same game situations. It takes everything into account, be it the amount of plays in which that player gets the ball, to the strength of that player's offensive line, to the performance of other skill players on his offense.
Elliot is third in this, at 17.4 percent, behind the 49ers' Carlos Hyde (18.8) and McCoy, who has a preposterous 29.0.
The other stat is easier to follow. It's DYOR – defense-adjusted yards above replacement.
Quite simply, it's how many more yards did the running back get than a replacement player could have.
In this regard, no running back in the NFL is better than Elliott, for he leads with DYOR 347 yards.
(McCoy is second with 301, while Hyde is third at 220.)
So we'll continue to debate greatness. But the fact is, the Alton native and former St. Louis prep star has now lived up to the cockiness.
What's Merritt's favorite Elliott on-field memory?
"There was a play his junior year against Lutheran South," the coach said. "We tried to run a sweep and South knew it was coming. They had all 11 guys over there (instantaneously). All of our guys thought the play was over – except for Zeke, and pretty much everyone stopped playing. But he made all 11 miss him – nobody touched him – and he scored.
"Our plan from there was just to give him the ball as much as we could."