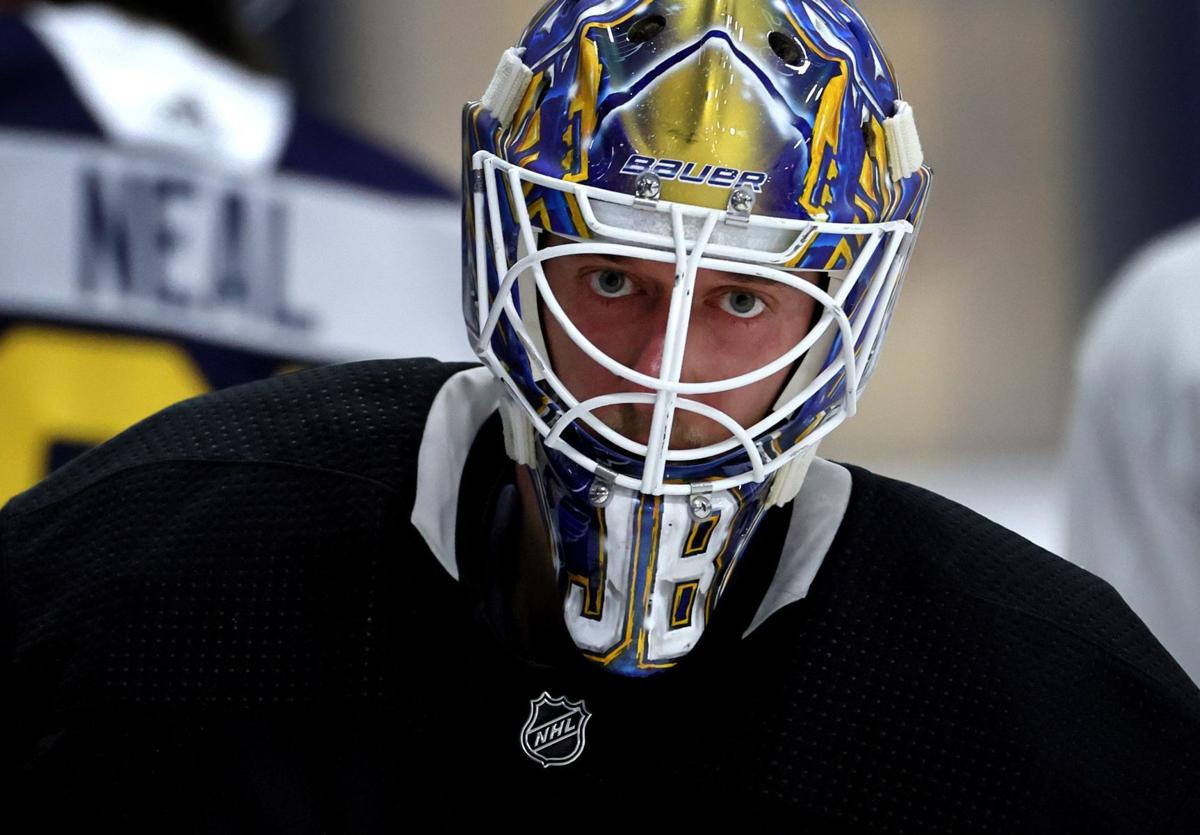 Jordan Binnington authored hockey's greatest story in his very first try.
He's J.D. Salinger on skates. A no-name goalie leads a team from worst to a first Stanley Cup? Binnington's first body of work was his masterwork, his "The Catcher in the Rye," and whatever he'd do next would just be "Franny and Zooey."
But that's the thing. Some literary types say J.D.'s "Franny and Zooey" was quite strong — as were J.B.'s ensuing seasons for St. Louis.
But the Blues' most-recent playoff series win was, yes, Game 7 in Boston in 2019. The goalie, though, is not to blame for the Blues' more recent playoff failures, particularly against Colorado. Last May, he was often screened and didn't allow many, if any, soft goals. He kept the Blues in a couple of those games, especially Game 1, with his 46 saves.
So as we enter Binnington's fourth season, there is optimism from this perch on press row that he is the right man to rewrite greatness. He's equipped to produce high-level work.
"You've got to stay present and take it one game at a time, but the big picture is, obviously, the postseason and winning the Stanley Cup," Binnington said recently. "So that's always on the mind. Saying that, you got to take it one day at a time. It all adds up, all the little details we're putting together here as a team come through when you least expect it.
"It's just working on details and little things that you don't even notice. That's why it's good to have a good coach and watch your film and just keep improving little aspects of your game, because you're not always going to be perfect, and there's always room for improvement. And that's kind of the fun part about it — just continuing to grow your game and always trying to perfect it. It's probably not possible, but you just work toward that consistently."
It was weird hearing Binnington say that perfection is "probably not possible," because he's one of the few hockey players to at least flirt with it. His goals against average in 2019 was 1.89, and his name is etched in local lore and on a chalice in Canada.
In the two seasons following the Cup win, Binnington is tied for the fourth-most wins in the National Hockey League. His goals against average is 2.60, tied for 14th among guys who played at least 50 games. And down the stretch last season, as the Blues jockeyed for a playoff spot, he went 8-3-3.
This was right after his rare "healthy scratch" on April 5, when coach Craig Berube benched Binnington in favor of Ville Husso. Berube pushed the right button. Binnington was pushed, and he ascended.
And now, heading into the 2021-22 season, the 28-year-old Binnington "did a good job of coming into camp with more size — he looks stronger to me," Berube said. "And he's a competitive guy. He wants to win again, like we all do. So he's doing what he needs to do to try to improve. … I think every player goes into the offseason thinking — how can I get better? That starts with your work ethic off the ice."
And Binnington brings a particular, peculiar persona to the ice. He's a live wire. Remember when he tried to get into it with three different Sharks on his way off the ice? Or some of the cocky comments he's made? He's a little different, but in a good way. You want your goalie to have an edge — and sometimes that comes from living on one.
"He's always got that little bit of swagger; he's always got that confidence," said teammate Robert Thomas, a fellow rookie on the 2019 Stanley Cup champs. "I think it's just grown ever since he was a rookie. It gives us a lot of confidence in front of him, when you know you have a guy back there so confident handling the puck — and always having your back.
"I think off the ice, he's really jumped into a leadership role. He's always talking with the young guys, he's always doing stuff for the young guys. So I think on and off the ice he's really grown in those aspects — it's great to see."
This offseason, Binnington got engaged to Cristine Prosperi, the Canadian actress and his longtime girlfriend. So, he's down to get at least one more ring. But he wants more than that. Binnington loves being known for the championship he won, but he yearns to write another chapter.
"He has a unique ability to just rise to the occasion," said former NHL goalie and Blues television broadcaster Darren Pang. "I like to use that word 'gumption' a lot, but he's got inner-gumption, he's got something special inside his soul that's not going to ever give up. And that's what I love about the guy. It's hard league. I know firsthand. I had one good year in the NHL, and I had a real hard time getting back to that one year — and ended up out of the league pretty quick. So you watch the ways he's evolved, you watch his habits, you watch his maturity and you watch how fun he can be to be around. …
"I really think that his overall game has evolved. I'm like everybody else — you wonder how it's going to be following a Stanley Cup win and basically a half of a year of being in the NHL. Is it lightning in a bottle? Or is it the real thing? To me, he is proven he is the real thing."