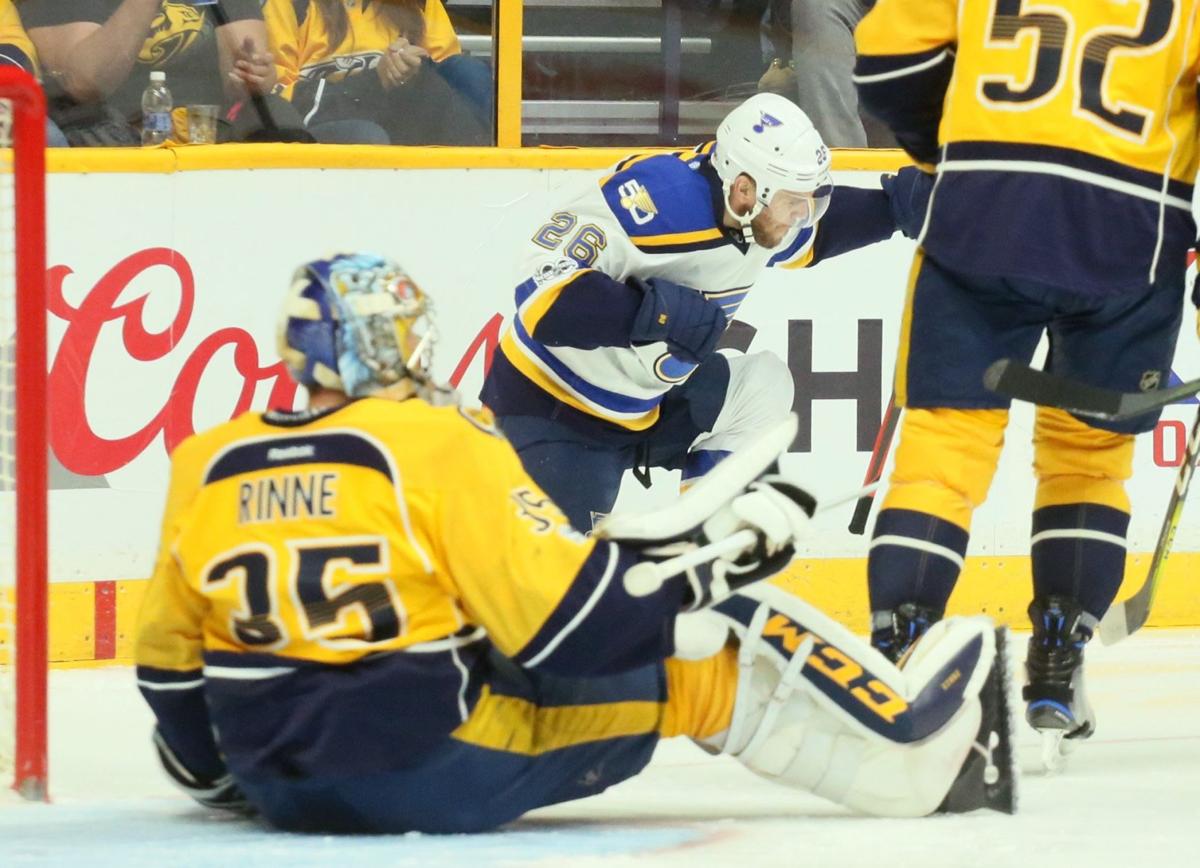 NASHVILLE, TENN. • There wasn't a Game 6 magic-maker for St. Louis, no Doug Wickenheiser lighting the lamp and igniting a miracle, no David Freese to see you Tuesday night.
The season — this rickety roller-coaster of a transition year, which started with Ken Hitchcock and Kevin Shattenkirk and broken play, and finished with Mike Yeo and Vladimir Sobotka and broken hearts — is over.
They lost it Sunday because they couldn't create fortuitous ricochets off Pekka Rinne.
Because they couldn't stay out of the box in the first two periods.
Because they couldn't escape the yellow-colored, bee-like swarm of Nashville's defense.
There won't be a Game 7 on Tuesday in St. Louis, because the Blues mustered just one goal in Game 6 in Nashville (and come to think of it, just one goal in Game 3 and Game 4 in Nashville, as well).
"We didn't find a way to win on the road," Alexander Steen said. "And we had to."
And so it ended at Nashville's raucous and rockin' Bridgestone Arena, which rivals the self-proclaimed Billy Bob's in Fort Worth as "The World's Largest Honky Tonk." The Predators accomplished what the Blues did a May ago – advancing to the Western Conference finals of the Stanley Cup playoffs, rewarding their fan base.
But these Blues, who were arguably playing with house money in this transition season, can hang their helmets on how far they got. An astounding late-season run earned them a berth in the tournament — and this rebirth under Yeo led to a series win against Minnesota, a quality club.
And even though St. Louis lost Game 6 to Nashville, the reality was this – for 93 percent of the time in this Blues-Preds series, the games were either tied or had just a one-goal difference.
"You just realize how small the margins can be to the game" in the playoffs, defenseman Colton Parayko said. "Just how close the games are, one game can be the whole game, the whole series. And everything is magnified, whether it is special teams, offense, defense."
In the coming days, we'll do what we always do. We'll assess the state of the team, and we'll state the team's assets. And the boys, to be sure, are budding. Parayko is only 23. Surprise playoff hero Joel Edmundson is also 23. The great Vladimir Tarasenko, who led the Blues with 23 shots in this series, is 25.
And remember Robby Fabbri? The injured Blue has become a forgotten Blue, and I get how that goes in the whirlwind of a playoff run. But this guy is electric. He has speed that could've rattled the Predators' defense. And Fabbri had his first legal drink in the States just four months ago.
But perhaps most important realization from this postseason – the St. Louis Blues actually have themselves a playoff goalie. A big horse. Jake Allen kept the Blues in Game 6 just like in most of the others this postseason, "And that's what's so incredible about him," Steen said. "Each and every game in the playoffs. I think he's one of the best goaltenders in the league.
"I think when we put in our push in the third (with the Preds up 2-1), we were a little bit too aggressive too early. I think we could've stuck with our game plan a little bit more. We pushed and gave up some chances – and he's there. When he made that one breakaway save (with about six minutes left), I thought that's when we were going to come back."
Jake's story of perseverance encapsulated the season. Bottoming out in January, blossoming in the spring.
But it was the perseverance of Steen himself that encapsulated this postseason. He played on a broken foot.
"It just shows what kind of character we have in the locker room," Parayko said. "He's the definition of it. … It makes you want to go out and play for him."
They played like they were playing for him. The Blues blocked nine shots in Sunday's first period alone. Their top line furiously attacked early, earning the game's first goal. They were always in it.
But David Perron played poorly. And Jay Bouwmeester. As did Dmitrij Jaskin, who was so good the game before. And for however valiant the offense was, St. Louis just didn't create second chances, never solving the riddle that is Rinne.
"When we got them, we did some good things," Yeo said. "There were some times where we got around the net and some pucks just kind of squirted by. But not enough secondary opportunities, not nearly enough."
And now, the offseason. Alas, they'll have to drink adult beverages out of regular-sized chalices. And instead of having their names inscribed on The Cup, baristas will do so on coffee cups.
The quest for the Stanley Cup has reached a half-century, but it's not out of reach — or so we'll tell ourselves all summer, yet again.