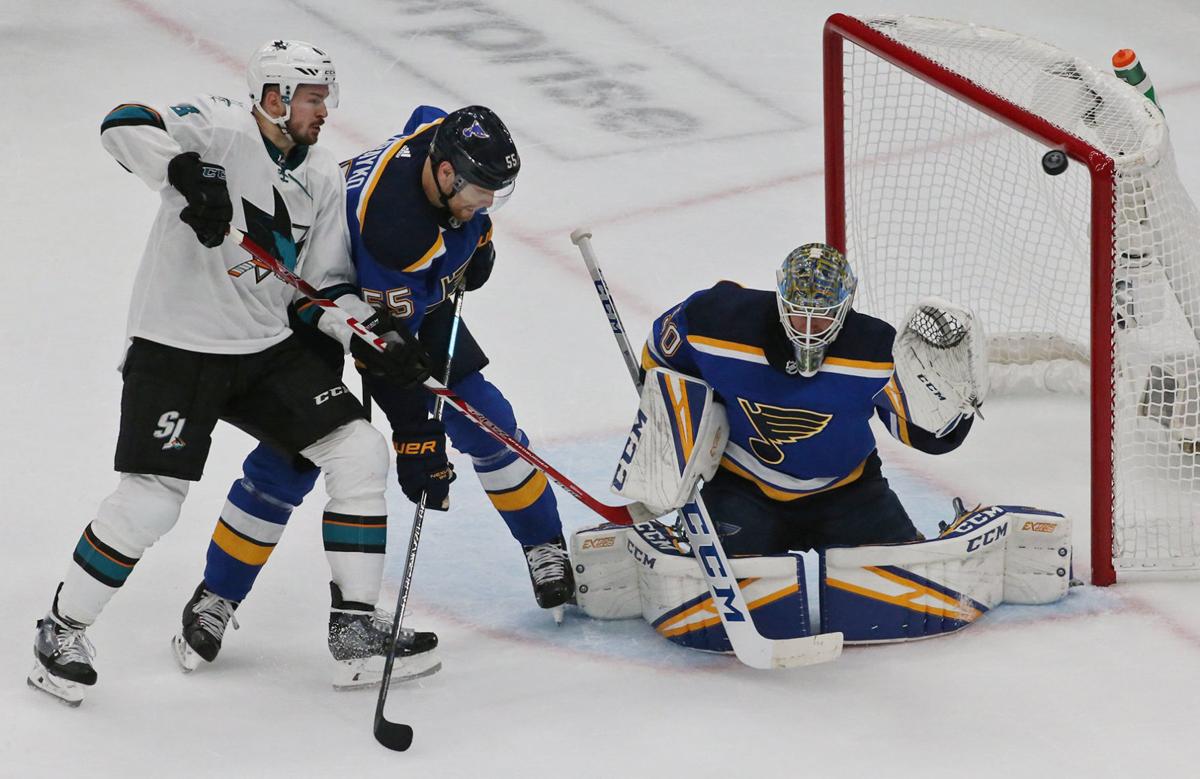 The San Francisco Giants recently were in town.
They're older now. The forever fresh-faced Buster Posey now is 32. So is Brandon Crawford, and the gold has worn off the shortstop's glove. Even Madison Bumgarner is, at least occasionally, mortal. He allowed more runs (six) than innings pitched (five) last Wednesday at Busch Stadium. And manager Bruce Bochy has only a few weeks left wearing his Giants hat — until it's back on his head on his Cooperstown plaque.
But these names and faces evoke Octobers. They were once postseason giants. They're remembered as great champions. But they're also remembered for their eternal reminder — it's crazy-hard to repeat.
No team in sports has ever taught us more about the difficulties of repeating than the Giants — they won the World Series in 2010, 2012 and 2014, yet didn't even make the playoffs in 2011, 2013 and 2015. Three-time champions in six years — and not one repeat in there.
Seeing the Giants in St. Louis made me think of the Blues.
Our town's team accomplished the impossible — from the fewest points in the NHL in early January to Stanley Cup champs. And now the Blues will try to accomplish the improbable — a modern sports team repeating as champions.
The Blues should be pretty good this season. They'll make the playoffs, could win a round or two. But it's hard to think they can win it all, yet again.
If anything, the odds are against them. And not just the Vegas odds — the Action Network has the Blues at 16-1 to win the Cup in 2020, as does VegasInsiders.com (both sites have five other teams with the same or better odds to win it all). But the odds of repeating are so low, because of so many facets and factors.
There was the wear and tear on the body during the long playoff run (that most other teams didn't endure). The shortened summer of training, compared to the other teams. The threat of injuries because of that. The hangover because of the Cup — first literally and then figuratively. And in this particular season, perhaps the best regular-season team of this generation — the Tampa Bay Lightning — returns for revenge after being ousted in the first round of the playoffs. Oh — and the Blues' division, already "Norris-like," was bolstered with acquisitions.
Only once in the salary-cap era (2016 and 2017) has an NHL team been back-to-back champions. That was the Pittsburgh Penguins, who were blessed with a generational talent in Sidney Crosby. Before that, the last Cup repeat winners were the Red Wings in 1997 and 1998. Baseball hasn't had a repeat World Series champ since the Yankees' three-peat from 1998-2000, back when the Blues' Robert Thomas was in diapers. The last NFL repeat was New England in 2004 and 2005. And since we're an MLS town now, how about this — Major League Soccer hasn't had a repeat winner since the LA Galaxy in 2011 and 2012.
The Blues open camp on Friday. That looks wrong. This Friday? Weren't we all just at the Cup parade? Is Brett Hull even recovered? But it's true. It still seems like they just won the title, and now they're preparing to defend it. And they have exceedingly high amount of exhibition games, too — eight. It's all happening. Fast. The season opener is October 2 (incidentally, the first game of the National League Division Series is October 3).
The Blues' front office did a steadfast and stellar job at retaining every free agent but one, and it made sense, with younger players on the cusp, to part ways with Patrick Maroon. Now, there is a very good chance that either the Blues or Maroon will win the Cup in 2020, because he's on the Lightning.
But the Blues' nucleus is pretty much the same one that arrived to camp a year ago, back when many people, including coach Mike Yeo, thought it was a group that could compete for a Cup. Again, this 2019-20 team should be good. And there are some firecracker prospects who hope to crack the club like the rookie Thomas did last year, and Vince Dunn the year before that.
Can Jordan Binnington play at the same level as last season? Of course not. But he still can be expected to play at a high level. And the Blues' blossoming stars that beat the Stars (and Jets and Sharks and Bruins) return to the ice in their prime.
A lot of how the Blues do will be because of how the leadership leads. There is such a fine line between using past success as motivation and resting on laurels. This offseason, Blues players had to work harder and smarter in less time than opponents. But the Blues have something the other teams don't — the confidence of knowing they have a group that can win a Cup. But surely, during the course of this year, the players will also be told that "last year was last year." The messages sent by the coaches and captain must be synchronized.
If we learned anything from last season, it's that the expected is often trumped by the unexpected.
For all the hockey analytics and scouting that goes into a season, sometimes it comes down to a little luck or a magic stick. That's what makes it fun. That's what made it fun — the greatest ride in St. Louis sports history.
The Blues are at it again. It's (almost) hockey season. Get Craig Berube behind the bench and Ryan O'Reilly on the dot and Chris Kerber on the radio airwaves and Jeremy Boyer on the arena organ and let's do this. Should be another thrill ride — though maybe not as bumpy.
But as for this year's team trying to repeat — they might be Giants.
Quick Hits: Jim Thomas on the Blues
BRINGING THE BAND BACK TOGETHER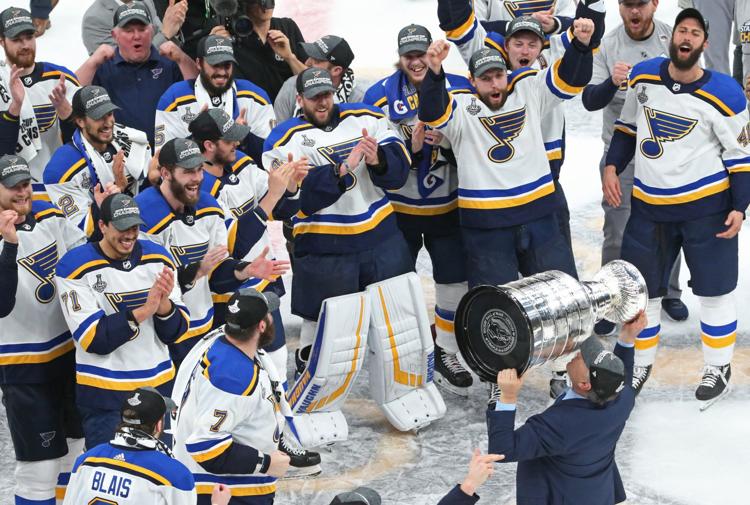 QUESTION: I'm jacked about the fact that most of the team is returning. Maybe it's recent Stanley Cup bias, and there is a bit of a risk being so close to the cap, but I love this team's tenacity and most of the top players should have a few good years left in the tank. Good move, in your opinion?
JIM THOMAS: I think it's a plus to basically have a defending Stanley Cup championship team return intact. There's a lot of character on the team, and even if that wasn't the case, Craig Berube has shown he will keep them motivated.
The team will miss Maroon's tenacity and physical play, plus his locker room and on-ice presence. But I think that means players such as Blais, Sanford, Fabbri and MacEachern have the opportunity for larger roles.
And certainly Kyrou is expected to make a push for a roster spot.
NEVER TOO EARLY TO TALK ABOUT THE LINES!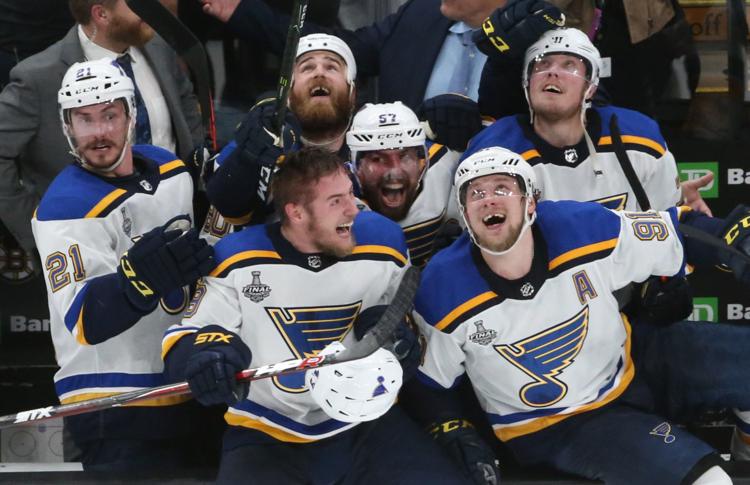 QUESTION: With Barbashev and Maroon figured out, what is your guess on the opening night roster and who are the two extra skaters?
JT: Potential lines:
Schwartz-Schenn-Tarasenko
Sanford-O'Reilly-Perron
Blais-Bozak-Thomas
Steen-Barbashev-Sundqvist
Extras: Fabbri, MacEachern. (Under this scenario Kyrou does not make opening-day roster.)
On defense:
Gunnarsson-Pietrangelo
Bouwmeester-Parayko
Dunn-Bortuzzo
Extra: Edmundson (Yes, it seems odd to have Edmundson as an opening-day scratch, but somebody has to sit, barring injury.)
Goalies: Binnington ... Allen
BOTTOM LINE ON THE MAROON DECISION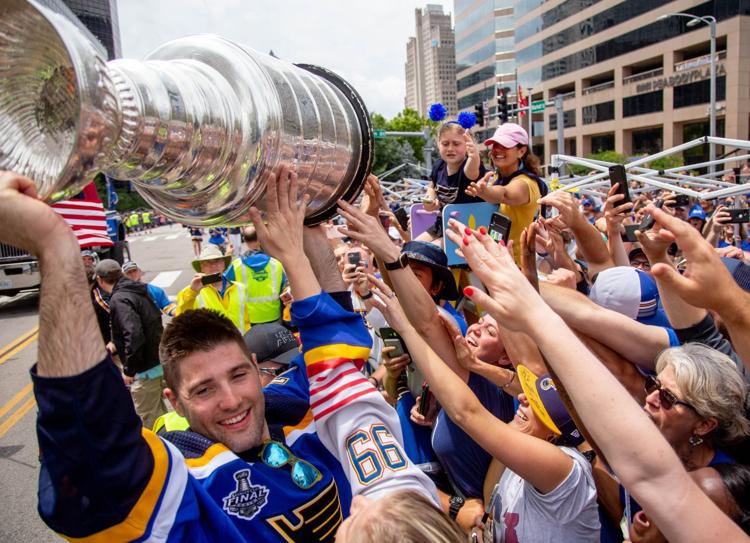 COMMENT: Loved the Barbishev re-signing, and had to agree on the Maroon decision. Your take?
JT: Barbashev is only 23 and has plenty of upside. Maroon is 30, and pretty much what you see in him now is what you get. So I can understand the decision-making, although in no way do I want to demean Maroon's contribution in 2018-19 and what he brought to the team in terms of intangibles.
It was clear that signing all the RFAs was the priority for Armstrong this offseason. A few of them, in my opinion, may have come in a little higher than expected. And that ended any chance of there being enough money to bring back Maroon.
WHO FILLS THE MAROON ROLE?
COMMENT: Seems like M MacEachern should be able to fill the Maroon role quite well, maybe better in the regular season, than Maroon did. He got regular ice time until late in the season.
JT: MacEachern was a forgotten man down the stretch. He was a healthy scratch in the last 10 regular-season games as well as all 26 playoff games. But he has some size to him (6-3, 197) and isn't afraid to hit somebody. Hasn't displayed great offensive prowess, but once in a while he will surprise. So I can see what you're saying to a degree.
Another candidate could be Sammy Blais on the third line. Blais hasn't shown himself to be one that drops the gloves, and hasn't really been a net-front presence. But obviously he will throw his body around. Also, Klim Kostin has shown himself to be very physical in San Antonio, will drop the gloves, but still may need some AHL seasoning.
SURPRISED BY TERMS OF BARBY'S DEAL?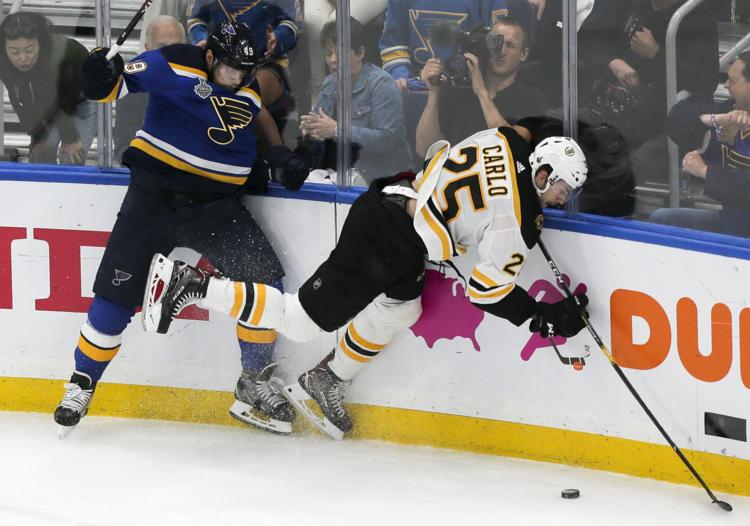 COMMENT: I was surprised by the contract terms for Ivan Barbashev. I thought he would have gotten more $$$ and perhaps another year.
JT: Agreed. I thought he'd get closer to $2 million, but $1.475 million a year is still a nice boost from the $863,000 he was making. Keep in mind, he's still not arbitration eligible after this two-year deal ends, so that hurts his leverage.
As for the contract length, if you're Barbashev, you get more money and a little security with the 2-year deal, but you don't want to box yourself in for longer if you continue to progress like you did last year.
EXPECTATIONS FOR A REPEAT?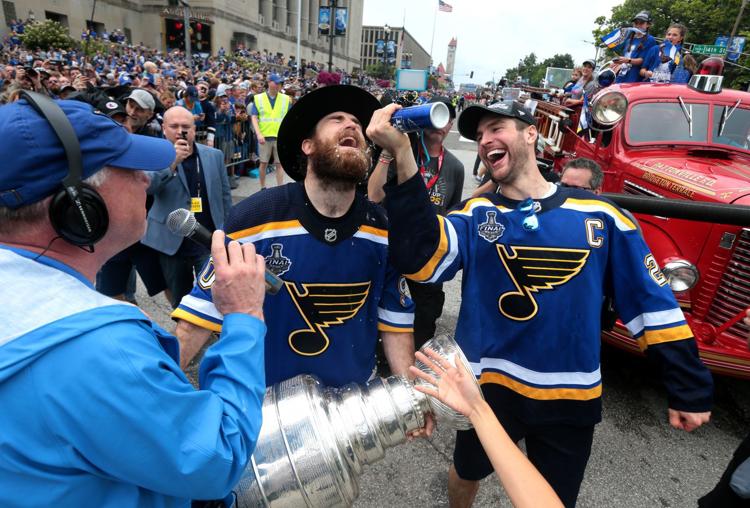 QUESTION: Can (will?) the Blues repeat as Cup champions? Or should we brace ourselves for the boys to fall victim to a massive hangover this season?
JT: History says no repeat, and I don't expect a repeat.
I think some kind of hangover is possible — a slow start wouldn't shock me in the least. But I don't expect a "massive hangover." I think the massive hangovers took place in late June.
TRADE TALK INVOLVING SCHENN?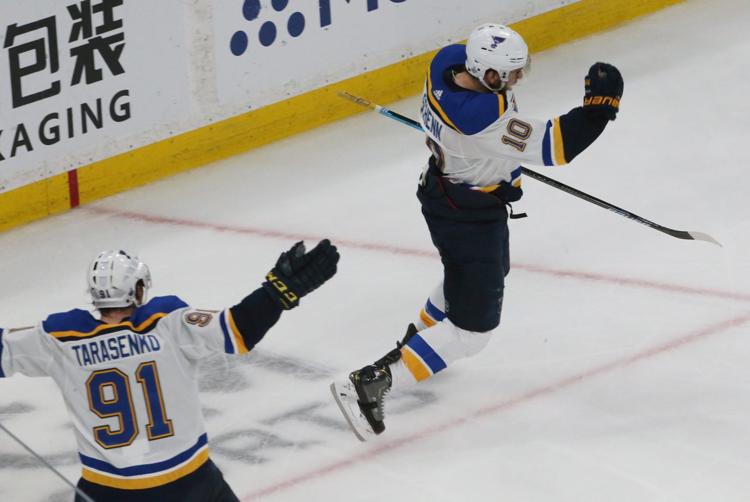 QUESTION: Why is there discussion about Schenn being traded? What's going on there?
JT: I haven't really heard much chatter on that front, but I guess I understand it given the Blues' cap situation, the fact that Schenn's production was down last season, and the fact that he's entering his walk year.
I'm sure the Blues would like to make room on the roster for Kyrou and Kostin at some point in the near future — this year or next.
---
Follow-up: What players one from the Blues varsity rooster and the other a prospect within the organization you suppose currently have the highest trade value?
JT: I guess I'd have to say Kryou and Schenn. And that's with the assumption that Parayko and Thomas aren't going anywhere.
---
Follow-up: How would you feel of a trade of Gunnarsson (maybe to Calgary) for a draft pick, to free up more cap space? Maybe Fabbri as well.
JT: Well, it wouldn't free up much. Combined Gunnarsson and Fabbri count only $2.65 million against the cap
ALL EYES ARE ON . . .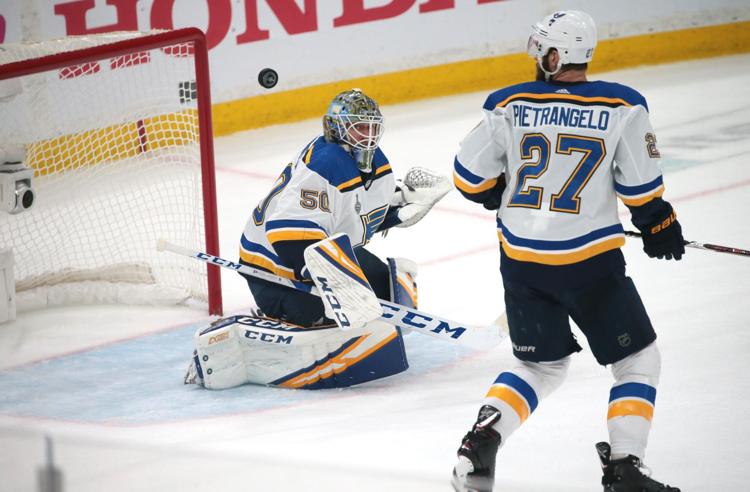 QUESTION: What one player on the team has the most pressure to perform better than ever before?
JT: Interesting question. Not that it's fair to expect him to be better, but I'd say all eyes will be on Jordan Binnington again this season. He won't sneak up on anyone this season.
---
Follow-up: How likely is Allen to be trade bait for a contending team at midseason, should their primary goalie go down before then?
JT: I'ts certainly in the realm of possibility, depending on how Binnington plays, how Allen plays, and just as importantly, how Husso plays in San Antonio.
DOES THAT AMOUNT OF CAP SPACE REALLY HELP?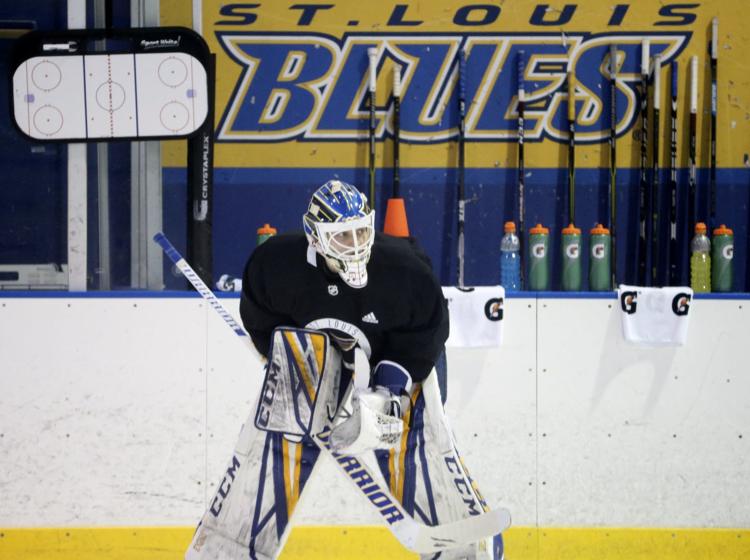 QUESTION: Please explain how the $1.2 million left under the cap would be used to solve an injury shortage.
JT: Simply stated, say Jordan Binnington gets hurt, Ville Husso is called up, Husso's salary counts against the Blues cap if he's at the NHL level. He would make $700K at the NHL, pro-rated of course.
So if he's up for one-10th of the season, it would be $70K. And so on.
LOOKING AHEAD TO YEAR 3 ON THE BEAT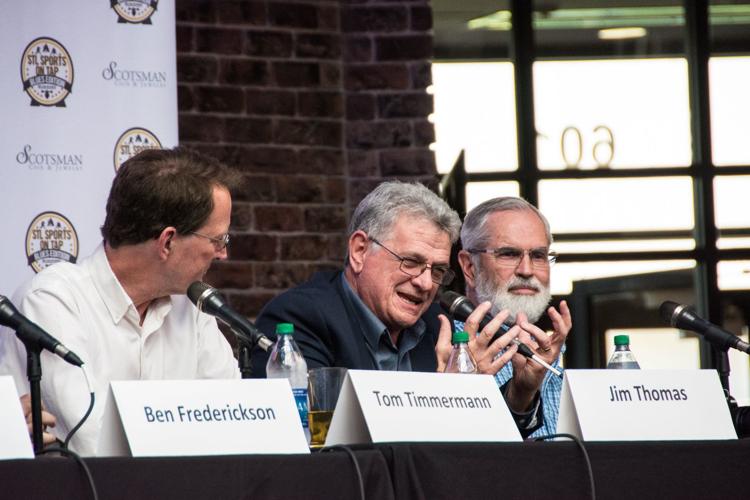 QUESTION: As you start Year 3 with the Blues, are there any aspects of the hockey beat that stand out as your favorite or least favorite? Is there anything you know now that you wish you had known on Day One?
JT: I love the speed of the game. I like the fact that the game basically is all in front of you — unlike football where you really can't get a great feel for line play unless you watch game tape. The access is good. Love the Canadian travel, specifically the western Canada trips. Writers, PR staffs around the league are good to deal with.
Playoff intensity was more than I anticipated.
On the minus side, the deadlines for night games can be nerve-wracking. There are occasions when I wish it was an open locker room instead of a few select players available postgame — although Blues PR does a good job of getting us who we need. Those are just a few things off the top of my head.
WHERE'S GARRY UNGER?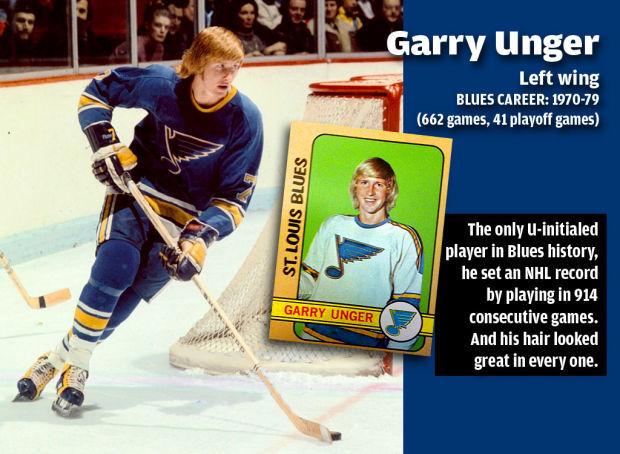 QUESTION: Has anyone checked in with my boyhood idol Garry Unger, either during or after the Blues' epic run to winning the Cup?
JT: Not to my knowledge. I can remember going to a Blues game with some friends during Unger's time here. After the game, we waited at the players' entrance and out came Unger with a blonde on his arm, stepping into a sports car and driving off into the night. Just as you'd imagine it, right?