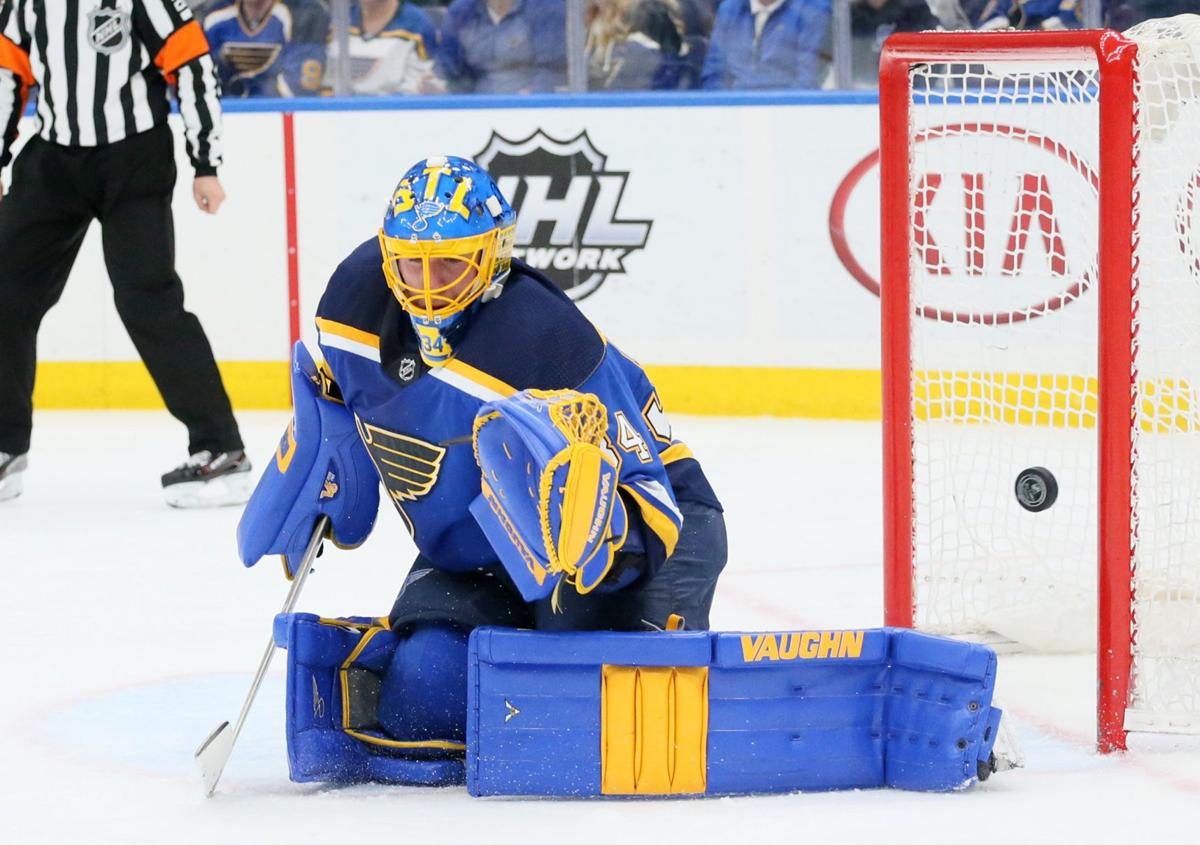 Yes, it's happening all over again, one January later — goalie Jake Allen wasn't playing well, and now he just isn't playing.
But the doldrums don't feel like doomsday because the backup isn't playing like a backup. If anything, Carter Hutton is playing like Jake Allen can play — should play. Hutton has ascended like a phoenix (except that one game against the fellows from Phoenix). But the bigger story is Allen's travails.
The Blues must find a way to shake "January Jake." Allen is the No. 1, no asterisk. Allen is the investment. Allen won the team a playoff series last season. Without a competent Allen, I don't see them winning one this season.
"Carter has been great, but there's a reason why he's been, at his age, a traditional No. 2," said TSN hockey analyst Jamie McLennan, a former Blues goalie, by phone this weekend. "You come down to earth a little bit."
Last winter, it was as if Allen was cast on some sort of sports soap opera. He became a father. He had some conspicuously embarrassing games. They fired Ken Hitchcock (and goalie coach Jim Corsi). They asked the legendary Martin Brodeur to make one more save, rejuvenating Jake.
This year, the stories are a little more sedate. The coach isn't going anywhere. The potential playoff team has won four of five. And the new goalie coach, David Alexander, is a mentor from Allen's past. But the demand to restore Allen's confidence and competence is just as important as the previous season — maybe even more, since the Blues have transitioned from being a "transition" team.
"I think they're a very strong team," McLennan said. "They were banged-up at the start of the season and still found a way to win. I like the way they're constructed. Their defensemen are big and their forwards have skill and speed. They're kind of constructed in the way that the league has success. It's a pace game. You have to be fast, but their defense happens to big big and fast. You look at (Alex) Pietrangelo, (Colton) Parayko, (Joel) Edmundson and even Jay Bouwmeester — and they're big guys. If there is one question, obviously it's Jake Allen's development. He's got to continue to push and they've got to give him some leeway to get more consistent. But I don't see too many weaknesses in the St. Louis Blues."
The biggest question for Mike Yeo is how to get Allen back, while continuing to ride out Hutton. Yeo's Blues don't have a back-to-back until Feb. 8-9. Allen has to get a start before then. Perhaps it's the game this Saturday at lowly Buffalo?
Regardless of how this plays out, if you look at the season thus far, Hutton deserves even more credit than you're probably giving him. People talk about how the Blues were worse without Jaden Schwartz. How about we flip it and say: The Blues would've become a disaster if it weren't for Hutton during the that time. Consider that the boys return from the All-Star break in third place.
Hutton's goals against average this season is 1.74. That is stupid-low, like a Pedro Martinez ERA. Consider that the past two seasons, the goalies who led the league is GAA each had 2.06. Hutton leads the league in the category right now, but the caveat is his 21 games played, compared to his counterparts in the 30-40 range.
And after the Coyotes game, Hutton saved 61 of the 62 shots he faced in the next two games, wins last week against Ottawa and Colorado. He shut out the former, but of the latter performance, Yeo told reporters: "To me, this game was better than even the other night. I thought he was real solid. … Obviously he's got confidence right now and we all know what confidence can do for a player."
But who's in charge of conjuring confidence? It's funny. When a player plays great, we seldom discuss from whom or how he gained confidence. But when a player plays poorly, we meticulously discuss the possibilities of how he can gain some. Is it Yeo and Alexander? Is it the looming Broduer in the exec's box at Scottrade Center? Is it Allen himself?
Another question about Allen is, candidly, is this a guy who can and should start, say, 65 games a season? When he signed the most important autograph of his career, that contract implied that he was always starting except for rest reasons. But as McLennan wondered, "Is Jake a 65-game starter or is he a 50-game starter? There's a difference, because Brian Elliott (now with the Flyers) is kind of a 45-50 games starter. That means he has to work in a tandem. Jaroslav Halak (now with the Islanders) is a guy who has to work in tandem. But there are other guys who aren't. There are only about 10 or 12 of them, realistically, in the NHL.
"Cam Talbot is interesting because when he first got to Edmonton, he struggled, a lot like Jake Allen. Last year Cam Talbot played 73 games and played well. This year, he's struggling again in Edmonton, so I think they're trying to figure it out – I think he's a No. 1 goalie, but he's got to play like it. I think Jake's a No. 1 starter, but you have to push through."
Allen does carry some optimism in his hockey bag. He won St. Louis a playoff round last season. And in the two rounds, his combined goals against average was 1.95. Stymieing. Stellar. There's no longer a question of if he can do it in the playoffs, because he did it in the playoffs.