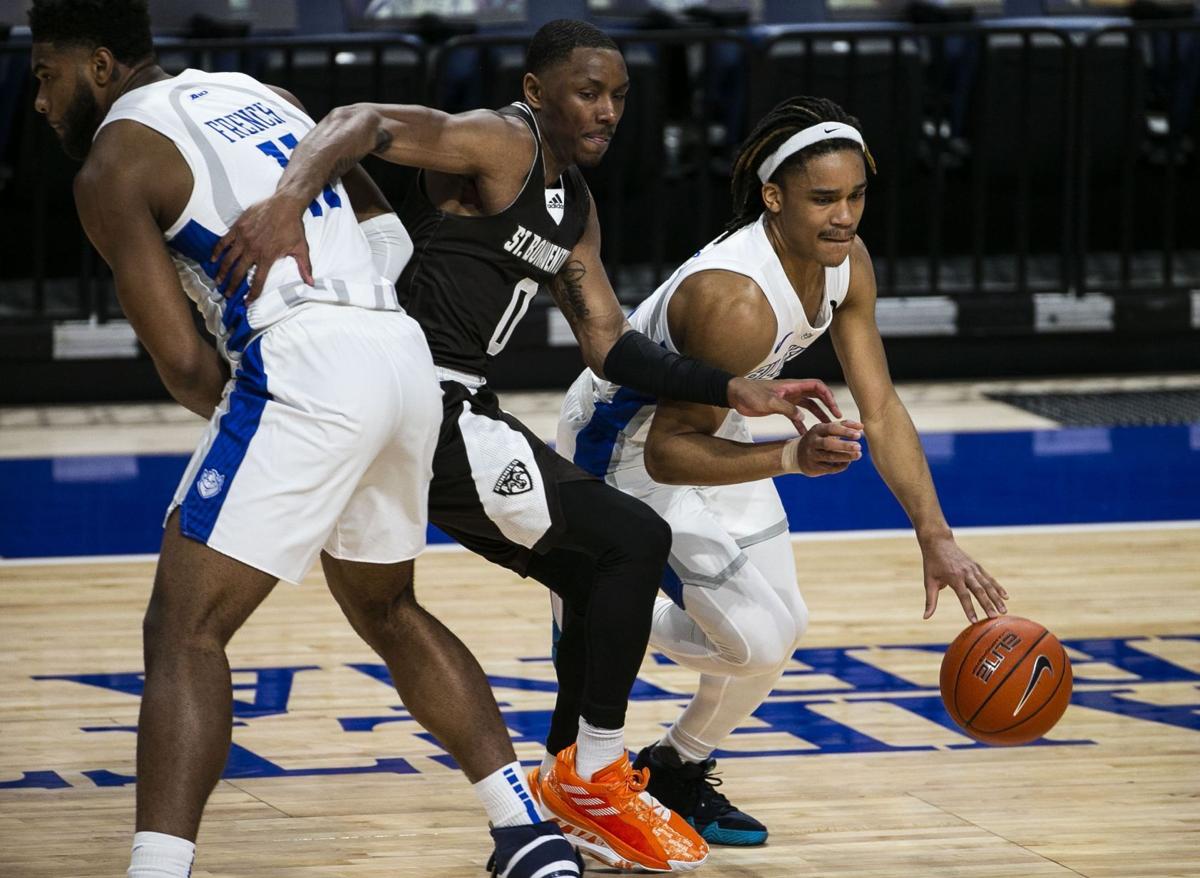 Preordained by the basketball gods to play point guard, Yuri Collins was even bestowed with an extra finger on his right hand, as if to enhance his ball control.
At least that's how I like to believe the story.
Collins has polydactyly, which meant he was born with an extra finger.
"My mom, she had seven," said Collins, the St. Louis University point guard. "It goes on down the (family) line. We all had the extra ones removed. But we have a little bump on the side of our hand that shows where it was, so people are always looking at it or feeling it, because they've never seen anything like it."
He's made due with just 10 fingers.
The sure-handed Collins led the entire Atlantic 10 Conference in assists per game last year (6.1). Only nine players in the country averaged more. And while this next stat isn't as popular or doesn't have the panache of assists, it's arguably more important — assists-to-turnover ratio. And Collins finished second in the conference in that category (2.8).
But if SLU is going to be great this year, Collins has to be even greater. Now in his third season in Midtown, the point guard must take over games more often. His assertiveness is imperative. Two of the better SLU players of this generation have moved on — Jordan Goodwin is on the Washington Wizards' roster and Hasahn French is playing professionally in Slovenia. Collins' play was enhanced by having these talents to his side — now Collins must make other players better.
"I was blessed with the talent to make plays and see things other people don't see, so I'm going to use that to my ability the best way I can," said Collins, who played high school ball at St. Mary's, where he led the St. Louis area with 7 assists per game as a senior.
His coach is also a point guard. Travis Ford manned the backcourt for Missouri and then, famously, Kentucky. Ford sees the position from the position of a coach, but also from the personal perspective of the player — and playmaker.
"I've just enjoyed building our relationship," Ford said. "But now I consider him a veteran player. He and I have talked about that — I told him, he's a total extension of me on the court, and he has free reign to do what he think needs to be done to help our team be successful. He's earned that right. …
"I love the progression he's been on. He's gotten better each year if you look at his stats, except for maybe shooting — but he's taken on the challenge over the summer to become a better shooter. He has been showing that in practice every day. I love Yuri Collins' toughness. He's one of the tougher players I've ever coached. He doesn't let anything rattle him. He's got a great demeanor for competing."
And when the Billikens win, it's generally because Collins is producing. For his two-year career, he averages 6.1 assists per game in wins and 4.8 in losses. And he's had some big scoring outpourings in big games, such as 17 last year in the win against North Carolina State or 17 in the conference tournament against Massachusetts. But seldom does he have a game with big scoring and assist tallies.
This coming season, which begins with an Oct. 26 home exhibition against Rockhurst, should allow him the chance to flirt with double-doubles.
"We're going to surprise a lot of people," Collins said. "People just have to play bigger roles. But we'll surprise people, because they don't think we're going to have the same team or be as good as we were last year — but I think we could be even better."
Like his phonetic namesake Uri Geller, Yuri Collins is a magician — Geller bends spoons, while Collins bends passes around defenders. Over the years, Collins has popped the eyes of fans with the eyes in the back of his head. A halfcourt bounce pass, ho-hum. An alley-oop into the trees? Please.
Everyone who sees SLU plays, sees Collins. Yet Collins feeds off the notion that he's unknown. He even started a brand called "Unknown," and he's selling shirts, now that college kids are legally allowed to do these things.
"Unknown, I feel like that describes me as a person," he said. "I'm not at the level or anything I want to be at. I'm not known around the country. I'm not to the place I want to be right now, so 'unknown' was just who I was. It was something that motivated me — I want to get to a point to where everyone knows who I am and what I do and how I go about what I do."
Lead SLU back to the NCAA Tournament and surely he'll be known by fans nationally who didn't know him prior. It starts in the preseason. It starts in practice. It starts now. And Ford has already seen Collins take "the next step as a leader, especially with Jordan and Hasahn gone. And guys respect him. They listen to him. And they follow him."