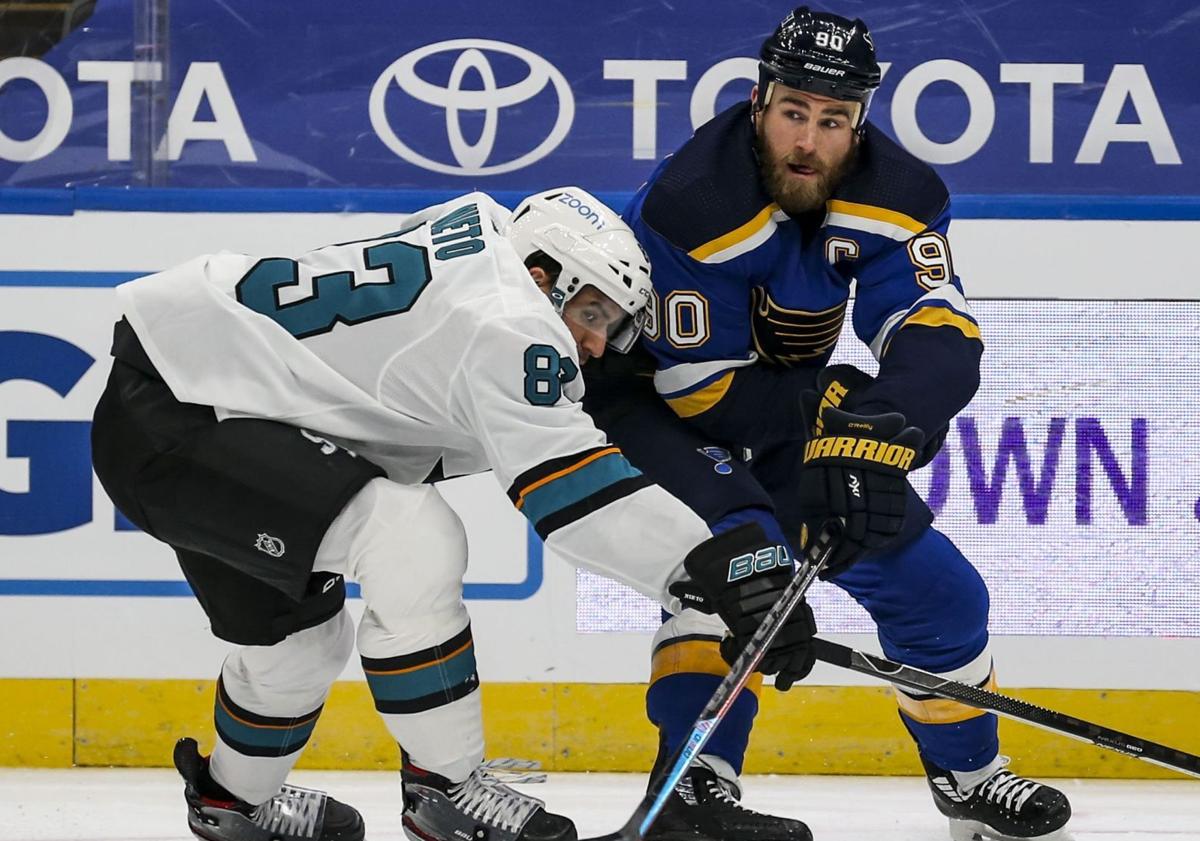 A couple times this nascent season, the cameras caught Ryan O'Reilly thwacking his stick against the boards in frustration.
He's also already been called for three penalties — so that's six penalty minutes in six games, after 10 penalty minutes all last season.
And in postgame press conferences, he sounds embarrassed of his Blues and himself.
It's not so easy being a captain. This isn't to knock O'Reilly — here's thinking he'll come out of it fine — but it's a reminder that there's a weight that comes with the "C" on your sweater. He is the leader of the Blues, and his boys sure don't look like Stanley Cup contenders right now. You know who does? The Golden Knights. They're 5-1-0, and that's who the Blues play in their next two games. And wearing No. 7 in steel grey and gold is Alex Pietrangelo. He knows the pressures of being a new captain — and he epitomized the grace under pressure in his third year, when fans were calling for his "C" as the Blues were falling apart. He navigated it all brilliantly and led St. Louis to its first Stanley Cup.
You want to think that O'Reilly will be the first guy to lift the Blues' second Cup. Still could be this season. But O'Reilly's team cannot continue to play this way. This is the first test of his captaincy. The Blues are fourth-worst in penalties and fifth-worst in goals allowed. Vince Dunn is like a liability in skates. The defenseman looks like he did in the bubble last summer. Come to think of it, there are a lot of comparisons right now with the Blues and the "bubbled" Blues, who somehow took playing for a Stanley Cup for granted.
Really, not since the season-opening game have the Blues played a complete game this year. And when they're bad, it's conspicuous and despicable. They lost 8-0 at Colorado. In the 2-1 shootout loss to San Jose, coach Craig Berube said the team wasn't "competing hard enough." And Sunday against the Kings, at one point the Blues were down 5-1 in the second period.
Not what you want to hear.
And not what you want happening on your watch as captain.
Especially in your first month as captain.
Blues fans should hope that O'Reilly has a good talk with his friend Pietrangelo about leadership during this Vegas jaunt. Then again, that's got to be weird for "Petro," knowing that any help or guidance he gives the Blues' captain will directly help a division rival. Though, knowing the nature of sports and sportsmen, Pietrangelo will be caring and sharing and all the stuff that defines his character.
Now, one reason the Blues (3-2-1) might be inconsistent this season is due to the weird training camp. If you recall, camp was just sort of wedged in there before the season started — it was shorter than in other years and didn't include exhibition games. So the Blues, you could argue, are behind. Though, so are all the other teams. But the Blues have new faces in key places — such as Torey Krug and Mike Hoffman on the power play, and variety of fellows on the penalty kill. And while we expect the power play to ultimately be as good as last year (No. 3 in the NHL), it might take some time.
As forward David Perron suggested in a Zoom session with reporters, "It's early in the year so we can't worry too much about some things. I always find it funny when you start seeing stuff pop up, like 'this guy hasn't scored' or about the power play. We're going through different times right now where we have played some hockey over the summer, but most of the league hasn't played that much since March last year. And now we're getting into a 10-day training camp with new faces and we're supposed to just go out and click?
"And our team structure is probably the biggest thing for us as a team. And so, I think as we go here, we're hoping that all those details will come around. I honestly think our coaching staff has done a really good job of showing us some of the little things that we can do better every single time — and we're going to keep improving."
They have a dynamic roster on paper, but when it's on ice, they sometimes freeze up. Dunn has been the worst so far of the Blues, but Zach Sanford (one point, minus-two) is in the conversation. Tyler Bozak and Hoffman could contribute more offensively. Again, it's only been six games. But it's all we have to evaluate as of now.
It'll sure be nice to see "Petro" out there on Tuesday. And Thursday. He's a St. Louis sports legend, the only captain wearing the Bluenote to lift Lord Stanley's Cup. But let's not forget that it wasn't always easy for Pietrangelo. I sometimes think back to a column from late November in 2018: "Leave the 'C' alone — switching captains won't solve Blues' problems."
That was during the same season the Blues won the Cup.
So, O'Reilly has new challenges in his career here. New responsibilities. He's not just one of the team leaders anymore — he's the chosen leader. So he'll adjust. He'll galvanize. He'll grind. He'll put in extra work, extra thought, extra effort, because these are the qualities that define O'Reilly. These are the qualities that earned him the captaincy in the first place.