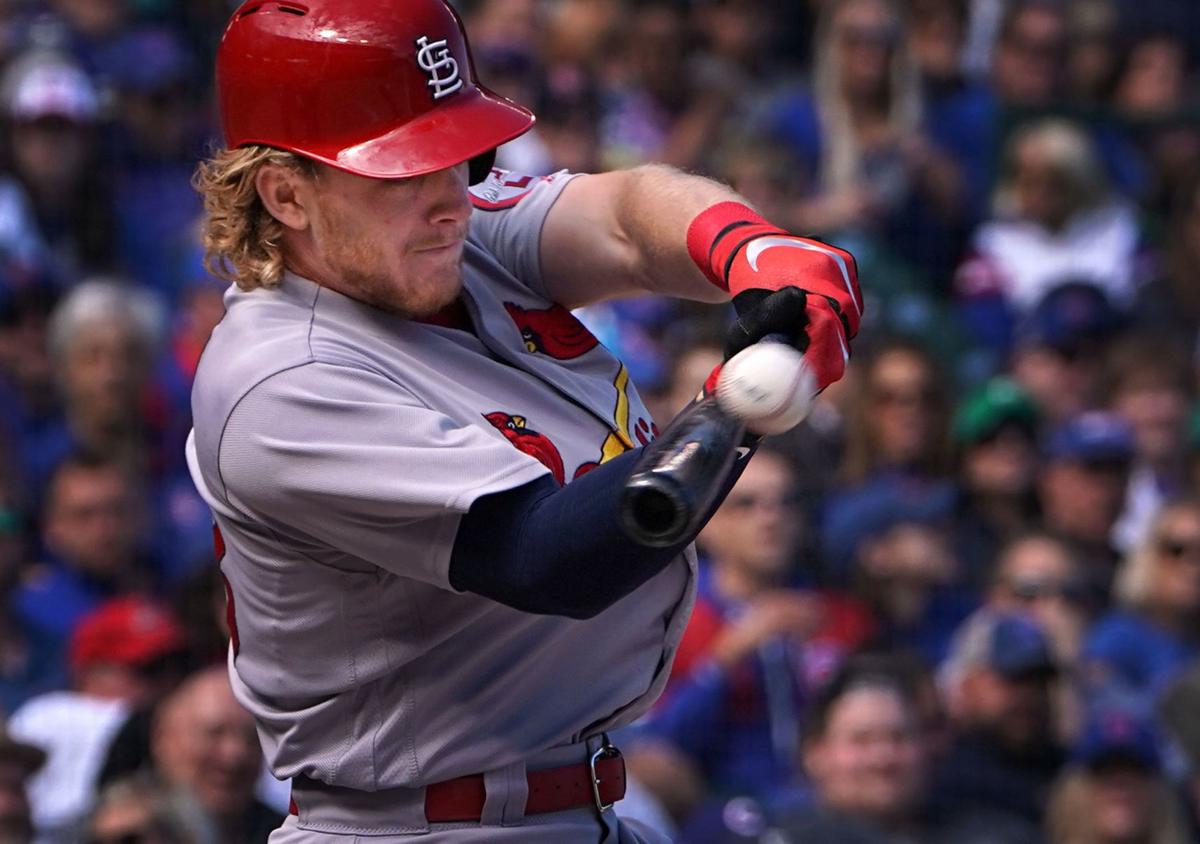 John Mozeliak used an interesting phrase to describe Jeff Albert, the Cardinals' new hitting coach.
The president of baseball operations called him an "advocate for contact."
In the modern game — in which batters had more strikeouts than hits last year — that sounds like a nice and encouraging mantra for 2019.
But what does it mean to be an "advocate for contact?"
"It's also important to consider how the quantity and quality of batted balls contribute to overall production," Albert said Wednesday.
The philosophy that wowed Mo, who wooed Albert, was all about maximizing the amount of hard contact. It's not just about reducing strikeouts by making more contact in general, because that could backfire if the quality of your batted balls is often poor.
And you still want a Tyler O'Neill to hit the ball hard, but striking out at a preposterously high rate of 40 percent isn't good for the team. So it's finding the best combination of what Albert calls the "speed-accuracy trade-off" to get the most offensive production from each batter.
"I think (Albert's) philosophy, his terminology will really resonate with the group," said Cards third baseman Matt Carpenter, who first met Albert in the minors, a decade ago. "It should really help our offense take off."
Since Albert was hired in late October, numerous Cardinals have been in touch with the 38-year-old swing-thinker. At the Winter Warm-Up, one by one a Cardinal came to the podium — like a batter stepping into the cage — to discuss Albert's virtues.
And you know who else really, really likes this guy?
"He's really impressive," the Cardinals chairman said. "He really built up his credentials over time, with a new way of thinking and developing hitting. I think he was a big asset when he was with us. He was still growing (as a coach), and we hated to lose him (to the Astros organization) because we knew he was a talent. And when he went to Houston, they were in a position of doing a lot of new things, and you see the end result."
With Albert as the Astros' assistant hitting coach, Houston had the second-fewest strikeouts in baseball last season. And the eighth-most walks. And was seventh-best in the majors with a .754 OPS (on-base percentage plus slugging percentage). The Cardinals were 14th, at .730.
As for the proficient pitch recognition, the Astros swung at just 29 percent of pitches outside the zone, 26th-lowest in baseball. Yet, in regard to contact made with ball outside the zone, the Astros had the best percentage in baseball (67.7). So they were disciplined and pounced optimally.
Paul Goldschmidt's presence makes St. Louis a better offensive team. But Albert's presence could be critical for maximizing — or even preserving — players' production.
For instance, Albert could be vital for Harrison Bader. For all that was made about Bader's golden glove and golden locks, he struggled offensively against righthanded pitching … and Cubs pitching … and Brewers pitching … and in September, the final month of his first full big-league season.
Albert has the tools and pedigree to help Bader reduce his strikeout rate, which was at a startling 29.3 percent.
"A couple weeks ago, I was fortunate to actually hit with him a little bit," said Bader, who is penciled in as the Cards' starting center fielder. "And yeah, he's a very smart guy, knows what he's talking about. There's just a lot of information that he has at his disposal. You know, some guys do well with sensors (on the bat itself) and watching video and things like that. And other guys kind of do well with just talking about the game. So regards to that, I think he's just going to be a wealth of knowledge. I'm just looking forward to tapping into all those resources."
As soon as Kolten Wong heard of the Albert hire, he texted Mike Shildt. Wong wanted to connect with the manager's new hitting coach. Wong had heard things. How he was "amazing." And how he's "ahead of the curve." Wong's call to Albert ended up lasting a couple of hours. They discussed Wong's heat charts of the strike zone.
"We were able to come up with a plan we're going to use coming into spring training," the second baseman said, sharing some insight to his Albert tutelage. "He simplifies things so much more. One thing he was telling me was "we understand that these guys at this level, they're super good. You can't try to hit every single pitch." He was like, "Look at your heat charts, where do you hit the best?" For me, that was like middle, middle-away. He was like: 'That's where you need to look until you get two strikes, then you can battle. Until then, just focus on that. Take the inside pitches take the pitches away. Just focus on your hot zone and don't miss.' I was like, 'Makes sense.'"
Albert has been a big proponent of using technology to enhance swings. In 2016, the Astros signed a deal with Blast Motion, a weightless sensor, to make its technology the "official swing analyzer" of the organization.
"It's a device you put on the handle of your bat and enable it to track like your bat speed and your angles and stuff like that," Cards infield prospect Tommy Edman said, "to optimize your showing efficiency."
Even though Albert accumulates loads of data, shortstop Paul DeJong said that it's "not so much throwing data in your face. It's more about using tools and stuff on your bat to try and measure angles and stuff like that and really just doing drills that will show you what you're doing and explaining why. Once you know why, you can kind of fix things or do drills that will help you not drop your bat or something on a pitch. He has data to help find that and quantify that. … . It's more about trying to help a guy find his clean swing mechanics."
Cardinals chairman Bill DeWitt Jr. at the 2019 Winter Warm-Up
Cardinals' Matt Carpenter at the 2019 Winter Warm-Up
Pitcher Jack Flaherty on pitchers vs. position players pickup basketball
Tyler O'Neill talks at the 2019 Winter Warm-Up
Cardinals RHP Jordan Hicks, Winter Warm-Up 2019
Cardinals' John Mozeliak at the 2019 Winter Warm-Up
Cardinals manager Mike Shildt on encouraging players
Cardinals General Manager Michael Girsch at the 2019 Winter Warm-Up
Cardinals second baseman Kolten Wong at the Winter Warm-Up 2019
Cardinals shortstop Paul DeJong discusses his performance
Andrew Miller's press conference at Winter Warm-Up 2019
Alex Reyes at the 2019 Winter Warm-Up
Paul Goldschmidt at the Winter Warm-Up 2019
Dexter Fowler at the Winter Warm-Up 2019
Jose Martinez answers questions at the 2019 Winter Warm-Up
Cardinals' Miles Mikolas at the 2019 Winter Warm-Up
Cardinals pitcher Adam Wainwright talks at the 2019 Winter Warm-Up
Cardinals pitcher Jack Flaherty at the 2019 Winter Warm-Up
See more: Photos from Sunday at the Winter Warm-Up
See more: Photos from Saturday at the Winter Warm-Up
See more: Fans get up close with Cardinals players at Winter Warm-Up
Cardinals catcher Yadier Molina speaks at the 2019 Winter Warm-Up
Be the first to know
Get local news delivered to your inbox!