He's here on Wednesday afternoon at Busch, regular spot.
It's quiet now. But Thursday, it'll be bustling, because for the first time since 2019, Cardinals fans will meet at Musial.
Thursday is opening day. It's also homecoming.
And the reunions will occur at the Stan Musial statue at 8th and Spruce. (I had to look up the cross-streets that meet where you meet at Musial; the statue is, simply, where the statue is.)
For generations, Cardinals fans have told family or friends: "Meet me at Musial," from a rotary phone or car phone; a Hotmail email or AOL Instant Messenger; a Motorola two-way pager or SMS text; an iPhone FaceTime or Zoom. Meeting at Musial is part of Cardinal culture. There is something almost ritualistic about arriving at the statue before games for the ceremonial passing out of the tickets. There was never an official referendum for fans to unite at Stan's statue, yet folks from across Cardinal Country instinctively choose the very same meeting spot. It makes for an unintended gathering of homage-payers to the team's greatest player.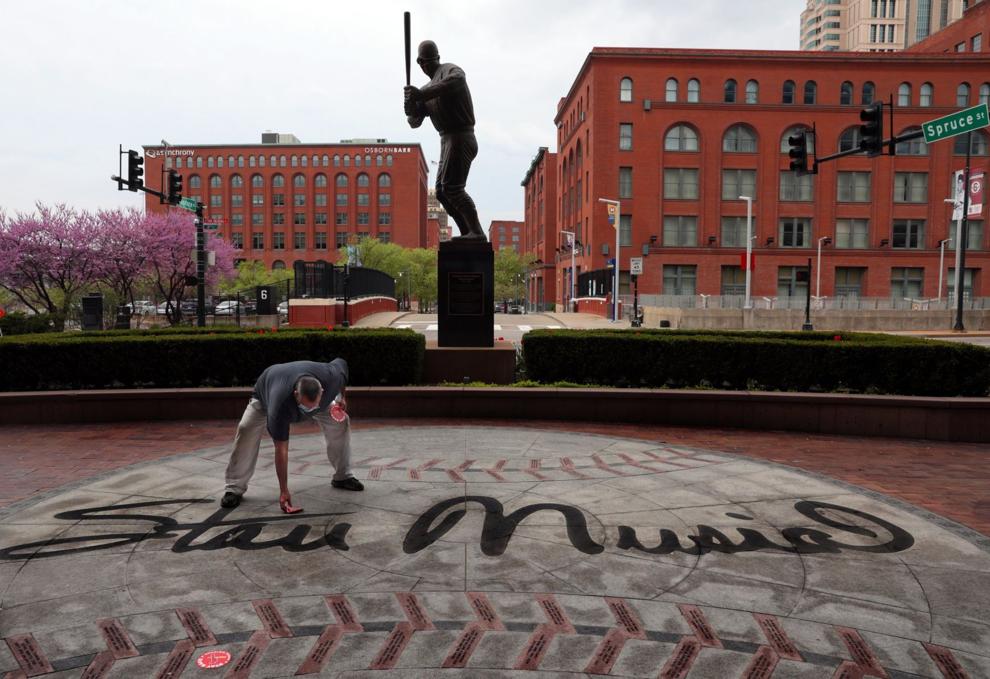 And on Thursday, the Musial meetings will be particularly meaningful. That moment you connect with your friend or family — or have a rendezvous with Ron, Dave and you — it might very well tingle your bones. It's happening — you're going to a ballgame! And there's the person you're going with, and perhaps it's someone who you've cared about for a long time, but haven't seen for a long time. And, really, Thursday will be a shared experience for all the Musial meeter-aters — everyone is at their first ballgame at Busch since the pandemic began.
Of course, only about 14,500 tickets were allowed to be sold for this game. So inevitably the crowd underneath Stan's stance won't be as packed as back in the simpler times. But that's OK. And the reality is that while most people are excited to go back to the ballpark, some are admittedly a little wary about what going back to the ballpark means. Not the baseball part of it (though maybe so if Matt Carpenter gets the start), but the public gathering part. The pandemic might be in the late innings, but it's not over. And this will be the largest gathering anyone has gone to. Thursday will have a lot of newness.
If anything, some pregame interactions at the statue will be awkward, even if the sentiment is genuine. Like a pitcher and catcher with mixed signals, one person might go in for a hug, while the other tries to avoid body contact all together. It's opening day for Musial-meeters, too.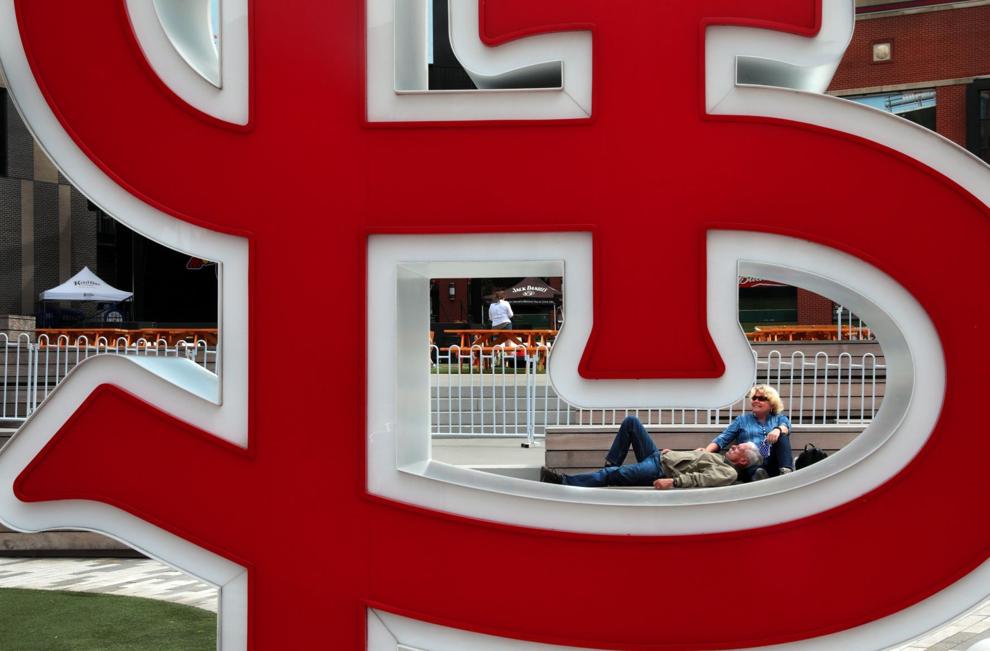 On Wednesday afternoon, a maintenance crew came by and put up some signs about public safety. Heck, even the Musial statue is wearing a mask. And they placed red circular stickers on the ground that read: "STAY SAFE SOCIAL DISTANCE." The guys put the stickers about 6 feet from one another, while trying to avoid covering words inscribed on the Busch bricks.
A few fans lingered around the ballpark. One older woman took a seat under the statue to spend some quiet time to herself. A father and two kids stopped by Stan to snap a pic. And one stadium event attendant, 70-year-old Tilmon King, shouted excitedly to a reporter: "Let them all know we're glad to have them back, and we look forward to seeing them tomorrow!"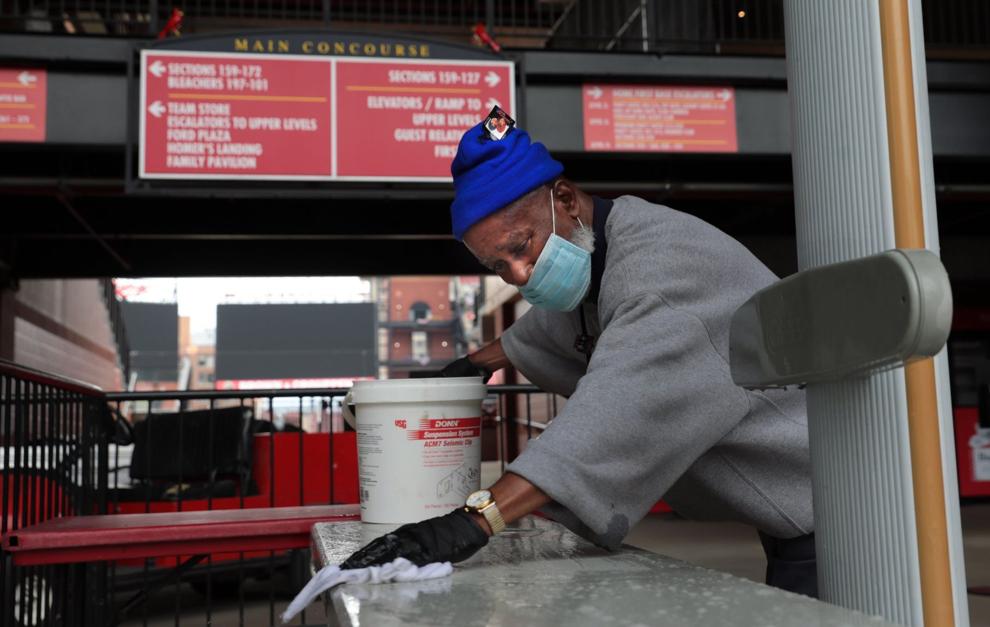 Fans are finally going out to the ballgame. It's been, at minimum, 17 months. Since the pandemic began, fans haven't had the chance to experience the escape. That's what going to the game is — an escape. And if there was ever a time we needed to escape, it's these days, as we deal with some real-deal, real-world reality. At times, the past months have been heartbreaking, overwhelming and suffocating. Now, finally, you're allowed to escape. You can walk through the ballpark entrance and immediately be entranced. Baseball. Cardinal baseball and everything that comes with it: the glorious green expanse, Yadi and Waino, a Busch at Busch, a hot dog with the perfectly squeezed line of ketchup, the sound of the bat that you recognize from sluggers' past; Nolan Arenado, in the flesh; the welcoming melody that is "Here Comes The King" and the welcoming stranger that is Tilmon King.
But first, you need a ticket. And that means you need to experience "the before." And that means arriving at Musial, waiting for your friend, trying to spot people you recognize, checking out the jerseys of passersby (they made ones for Ty Wigginton?), while realizing just where you are … and how fortunate you are.
And finally, your friend arrives and you smile a smile so wide that it would paint the corners. It's a smile so big, your friend can tell you're smiling, even though you're wearing a mask.