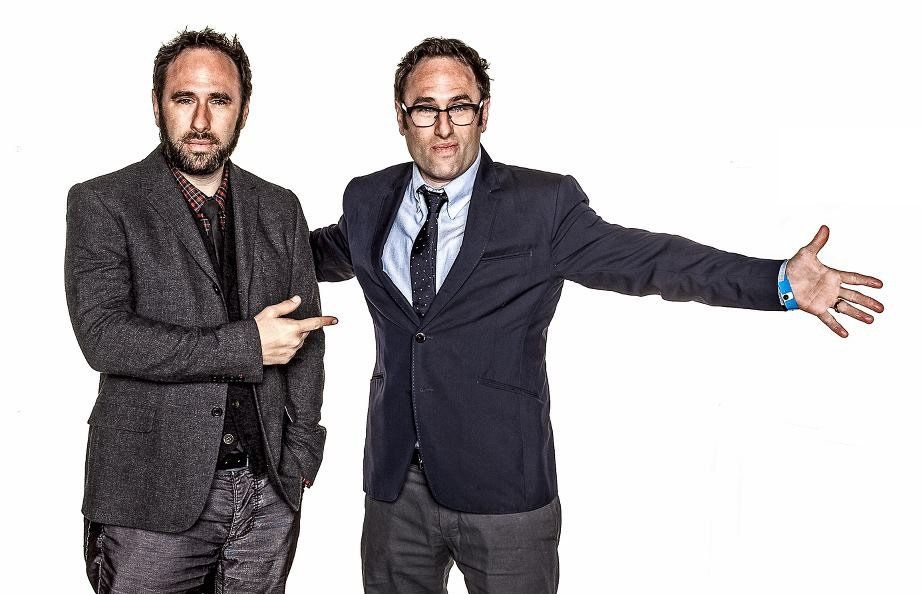 JUPITER, Fla. • They'd be my favorite comedians if they were from San Luis Obispo, let alone the fact that the Sklar Brothers are from St. Louis. Randy and Jason Sklar hosted the ESPN Classic show "Cheap Seats" — and currently host the wildly popular "Sklarbro Country" podcast — and the die-hard Cardinals fans are coming to St. Louis to perform. They'll be at the new Helium Comedy Club in St. Louis this weekend, for one show Thursday, two shows Friday and two shows Saturday (tickets here).
I caught up on the phone with the St. Louis natives about the 2016 Cardinals, as well as their favorite Cardinals memories from the past, notably those involving Jose Oquendo.
Randy: I like that the Cardinals are under the radar (nationally). Adam Wainwright, I feel like he thinks he has something to prove. In the time that they operated on his Achilles and his Tommy John surgery, they added extra grizzle – he's now a grizzled veteran. As a result, he is the personality of this team, so he's going to come back, gut it out and win 18-19 games this year.
Jason: It's hard to be super-bummed about Jason Heyward being gone – I mean, it's a bummer that he's on the Cubs – because something in the back of my mind says, 'Someone else will step up and be Heyward this year.' Spring training brings hope.
Randy: One of my favorite memories was watching Jose Oquendo strike out Deion Sanders – looking. A backwards K. Every time I see Primetime on the NFL Network, I think: 'You got backwards K'd by The Secret Weapon!' You can sell as many Hot Dog Express buns as you want, Deion, but you can change the fact that that K was backwards.' (Watch the strikeout here, starting at 7:57).
Jason: The Willie McGee two-home run World Series game in Milwaukee – and jumping over the wall to steal a home run from Gorman Thomas – I will never, ever forget that game. We were 10 in 1982, we were at our friends house, the Sokolik family, and we were in their den. I just remember it so well. It was like Willie McGee's coming out party. It was so memorable, and from that point forward, he was my favorite. I played center field growing up – I don't have to tell the readers of the Post-Dispatch that, I'm sure they all remember my career – and I was always No. 51. I love that number, it was such an odd choice. And he looked so awkward as he walked into the batter's box. He was all elbows and knees. But he always got hits.
Randy: Throwing out the first pitch last year at Busch for Jose Oquendo bobblehead night was a dream come true. It's amazing how calm you are when you're out there. But I threw it so far left, I brushed back Rachel Maddow. I hit one of the photographers, who was like an 80-year-old guy. I hit him in the shin. I'm probably the reason the Cardinals couldn't get another free agent, because they had to pay this guy's workman's comp.
Jason: I loved Keith Hernandez, I loved Kenny Reitz, they called him The Zamboni Machine at third base. I loved Ken Oberkfell, and how relevant is Oberkfell today, with the new 'Star Wars' out, because that was his theme song. No hip-hop for Ken Oberkfell. Just straight up 'Star Wars,' Obe-Wan. The 1980s Cardinals, I could talk to you for a year about them.
Randy: We have a story about meeting Ozzie Smith at his restaurant. You got to come to our stand-up to see the whole story. It's a story we tell everywhere, not just in St. Louis. People know him, people love him. I actually get a weird sense of pride by how many people know who he is. And there will be some other St. Louis stuff mixed in, for sure.
Jason: We love coming home and performing. We are so excited about Helium, I want this club to succeed. I am just so thrilled to comeback and help build this club up. So people who love comedy, people who love sports, people who love America – come out and see us this weekend. You won't regret it.