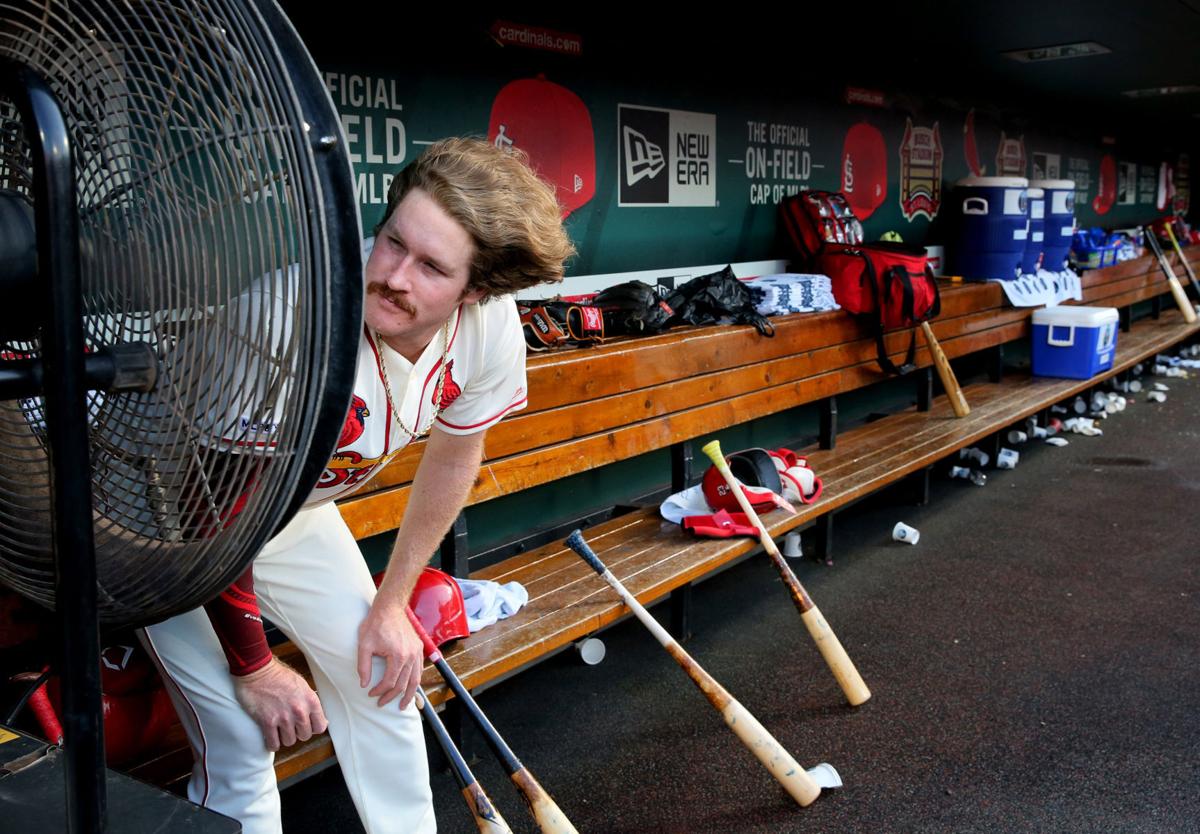 With the Cardinals' starting staff, the fear from here is about durability and endurance.
Yes, there are plenty of nice names with big upsides. But someone's got to start 162 games — divided by five, that's 32.4 starts per pitcher in the rotation. Because Adam Wainwright is unsigned, the Cardinals only have three pitchers who have ever made 32 starts in a Major League Baseball season — Jack Flaherty, Carlos Martinez and Miles Mikolas. That's it (Kwang Hyun Kim pitched 30 twice in Korea).
Yes, because the Cards have eight-to-10 starting pitchers, and because injuries happen, they'll likely spread out the starts. But still, for all the excitement about young arms like Alex Reyes, Johan Oviedo, Austin Gomber and even Matthew Liberatore, we must be realistic about the output those guys can give you in 2021.
That is why Mikolas is so important.
And Mikolas didn't play in 2020 as he recovered from surgery on the flexor tendon in his right arm.
"My arm feels good — I actually had a nice bullpen (session) today, my second bullpen," Mikolas said by phone on Wednesday. "Just a light, almost what you'd call touch-and-feel to kind of get back into the rhythm. But my rhythm was good. I was hitting spots, I was keeping the ball down. The ball's coming out much easier than it was when I was trying to work back from it after the injections (during 2020, before he opted for surgery near the start of the season in late July)."
Sometimes, when a guy is out of sight, it's not that he's "out of mind," but said mind gets a little foggy. So here's a reminder about what makes Miles Mikolas so valuable — he doesn't walk dudes.
In 2019, he averaged just 1.5 walks per nine innings. That was fourth-best in baseball. In 2018, Mikolas' first year wearing the birds on the bat, his "walks per nine" rate was 1.3. Lowest in all of baseball.
The righty's ability to throw first-pitch strikes allows him to control the at-bat and the flow of the game. In 2018, 71.1% of his first pitches in an at-bat were strikes — the highest percentage in the National League and in club history.
But for someone who pitches with razor-sharp precision, Mikolas doesn't have sharp razor precision.
"I'm probably not the best shaver," the pitcher shared. "I did some research, because with my fair skin and with the sensitivity of it, I was subject to the occasional razor burn. So I switched to an old-school safety razor. You know, just the one blade. And I find it much better."
And so, he's preparing both his arm and face for a pivotal season.
"I've got a pretty standard, couple-weeks-old beard right now," he said. "But I'm growing the beard out as to get it ready for a mustache. . . . We're going keep it, you know, mostly business-casual."
Mikolas turns 33 in August, and his $16.75 million salary is third-highest on the team, trailing only that of Paul Goldschmidt and Matt Carpenter. And he's signed through 2023. Here's thinking his inning-eating is imperative if the Cardinals are going to be a contender, even in a diluted division. In his two seasons in St. Louis, he logged 200 2/3 innings and 184 innings.
"If there was a stat (goal), I'd love to throw 200 innings again," he said. "But coming back from injury, I'm sure they'll be easy with the way they use me, maybe? I don't know. It depends. But I'd like to log a good amount of innings. . . . Call it 170, 180, 190. Because if I'm logging a good number of innings, then I'm getting deep into games, and I'm pitching well, because I'm still pitching. And if I'm getting some knocks and I'm helping myself out, it'd be nice."
For all the thrills he gets from batting, Mikolas and the Cards' pitching could benefit from a designated hitter in the NL, if only because the Cards' offense could use all the offense it can get.
But in regards to Mikolas' pitching load, there is optimism from the man who decides how much Mikolas will pitch.
"I think he's positioned well for all of that, he's recovered well," Cardinals manager Mike Shildt told the Post-Dispatch. "He's super excited — just relaying the conversations I've had with him about how good he feels and how nice it is to be pain-free. Miles has got multiple pitches that he throws for strikes and he's efficient with them, and he can go deep into games, and he's clearly been able to show he can be that workhorse for us."
Or to use a word bench coach Oliver Marmol uses — Shildt hopes Mikolas can be an anchor.
"The more of those you can have the better on a club," Shildt said. "Those anchors, guys you can count on, that you know when you look, you go, 'Hey this guy is going to perform, he's going to perform well, he's going to be consistent in that performance, he's going to go about it in a positive, professional manner, on and off the field. You know he's going to take care of his business. He's going to show up and be ready to compete, mentally and physically, every fifth day. You can give him the ball, and he's going to be a pro.' And that's it. As many of the guys as you can get on your club the better your club is going to be."