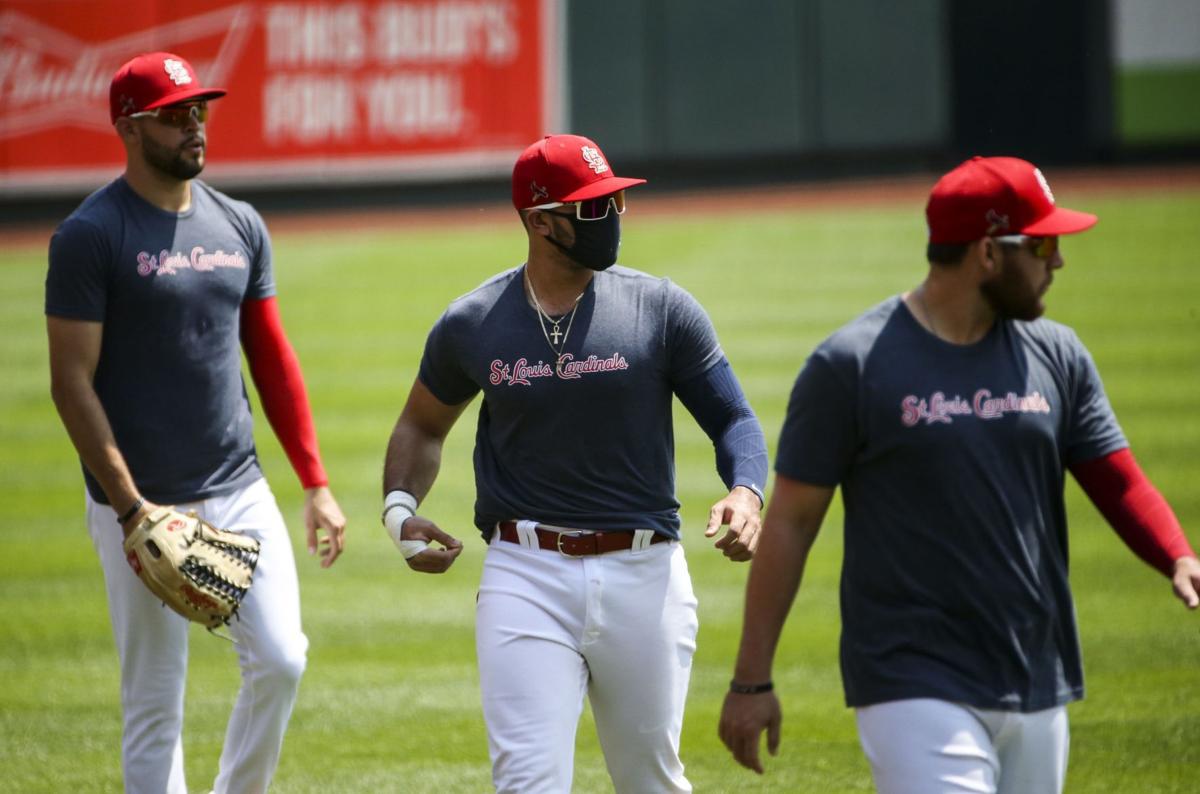 Baseball is supposed to be a symbol of the United States getting back to normal. But to have baseball, its players can't behave like things are back to normal.
Problem is, the United States is in a selfish state.
Players want to play sports and fans want to watch sports, but some of those same people are perpetuating the spread of the coronavirus, taking risks in public without wearing masks or social distancing.
"If this is going to work, if Major League Baseball is going to have a season, it's because players have been responsible. And staff . . .," Cardinals pitcher Andrew Miller said Sunday. "The responsibility part — if guys don't take that seriously, I don't think we have any chance."
And this, right here, shows the sad fragility of the 2020 baseball season. And the 2020 hockey season.
To think that some now-infected Blues players were at bars as if it still was the summer of 2019. No, it's not against the law to go to a bar. But it comes back to accountability. And some athletes cancel out a perceived accountability with this warped perception of invincibility.
The COVID-19 trends are bad in our country, and they're spilling into sports. Another Cardinal tested positive Sunday. Sure, the percentage of total infected ballplayers is small. And yes, the reality was there would be some positive cases. But as we watch this second spring training unfold in this uncertain summer, it's fair to wonder how just how many more cases will pop up. And even if there aren't a lot, each one has the possibility of being the one that infects an infield or dooms a team.
Leagues might start these seasons, but will they finish them?
This weekend, the Cardinals held what team leader Adam Wainwright called "a special meeting." The veterans Wainwright, Miller, Yadier Molina, Dexter Fowler, Matt Carpenter and Matt Wieters shared their thoughts on accountability.
"The message," Wainwright said, "was: 'Listen, if we see ya'll stepping out of line, we're going to let you know about it real quick. Because there's no room for selfishness right now during this part of the season, where everything has to go just perfect for us to play.'
"There's a lot at stake, a lot of livelihoods at stake and a lot of enjoyment at stake for fans who are going to watch. There are a lot of people who have stuff riding on what we're doing. It's very important that we talk about being careful, being safe, controlling what we can control and not going too crazy. For three months. We're talking about three months. After three months, we can't dictate what you're doing anymore. But for three months, we need everybody to kind of be good soldiers."
And so, the soldiers of 2020 sports are 20-something millionaire in cities in which they're stars. The toughest opponent in baseball, it seems, is temptation. Or the Dodgers. They're loaded. But yes, it's all about ballplayers actually behaving like disciplined big-leaguers. Or, as you hear veterans say about being at the ballpark, it's about "having a big-league approach" outside the ballpark, as well.
Carpenter is one of the Cardinals famous for having a pro approach. A father and husband who's dedicated to his craft, he spoke Sunday of knowing "exactly what I wanted to get done on the field, I came and got it done, and I'll worry about tomorrow when it gets here."
Asked about what-ifs, the third baseman said: "You know what? If there is anything this COVID thing has taught me throughout this is to not worry about what tomorrow brings. You will spin yourself into the ground thinking about different scenarios — what if this, what if that. . . . As a sports fan, and as an athlete, I'm pulling for everybody to get through this. I think we all know the challenges that it's going to bring, and it's not going to be easy, but I'm hopeful. . . .
"I've had college coaches, athletic directors, people associated with the universities around that are really hoping MLB finds a way to make this season happen. Because I think they're all kind of looking at us as a test case for if college football is going to happen. If the NFL is going to happen."
In baseball and hockey, the locker room is a sanctuary of sorts — and sanctimoniously, where these great, selfless warriors unite as one. But these are just people. Humans with different mindsets and ways of life. Not everyone thinks alike. But in these preventative times, can they act alike in efforts to avoid bringing COVID-19 into this sanctuary?
For instance, Miller said, "masks are obviously a hot topic in some places, and I won't get too political on my thoughts, but if we want to play, I think we're going to have to be very bought into the protocols that the union and Major League Baseball came up with.
"We're going to be uncomfortable, there are things we're not going to want to do. At the same time, there's a responsibly. There's people's health and safety. I don't want to bring it in and give it to somebody else, who then gives it to somebody else — and then find out someone got really, really sick that was doing their best to avoid it, and yet somehow I'm at fault. I don't want to be the one who brings down a season with billions of dollars of people's livelihoods. That goes beyond players' salaries and owners' earnings. We have people in this room who are relying on a baseball season. So there's a lot of responsibility. There's (also) going to be a little bit of luck, to be completely honest."
Concerned about COVID-19?
Sign up now to get the most recent coronavirus headlines and other important local and national news sent to your email inbox daily.