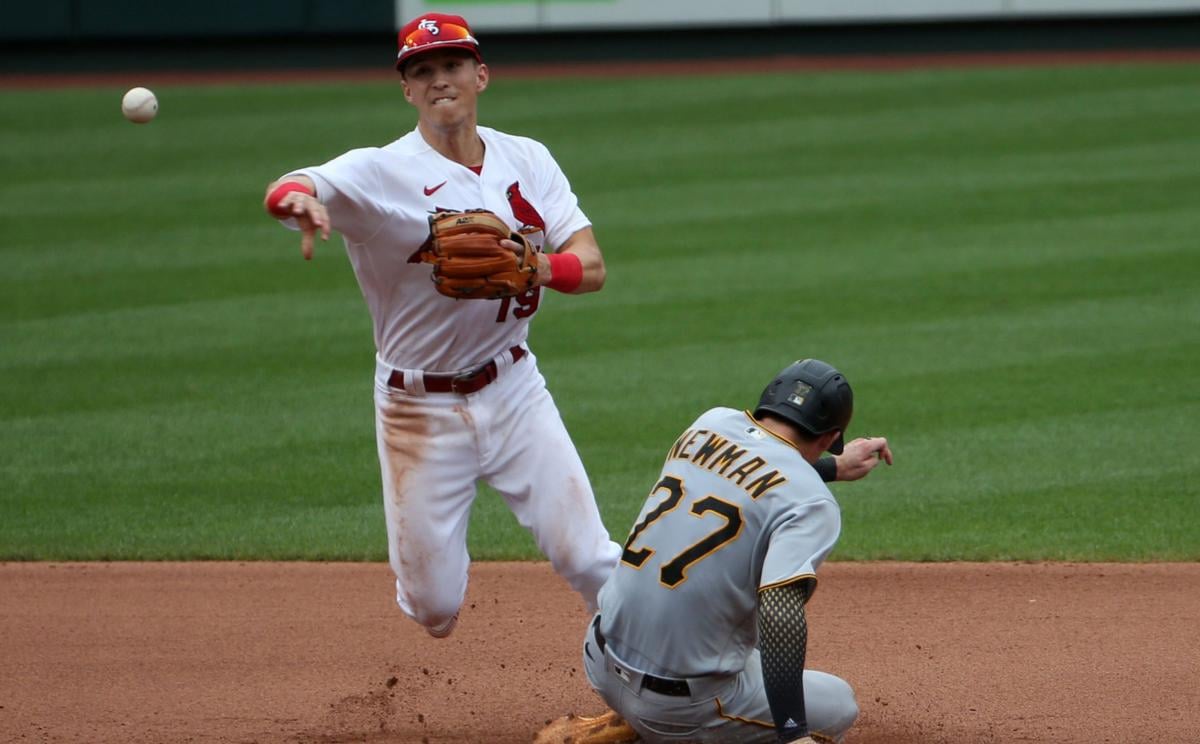 Cardinals fans, many anyway, remain enraged about the club letting Kolten Wong go.
Look. The Cardinals wanted Wong back, and Wong wanted to come back to the Cardinals. And in any other year, Wong would've been back. But the Cardinals had to make a financial decision, based on a lack of revenue, to shed payroll. In a way, COVID made the decision for them. And even the most-passionate "should've-kept-Kolten" fan can't answer the question of how much 2021 revenue the team will make. And so, a line you've read in this column space before: concessions due to lack of concessions.
Wong (for all intents and purposes, unless they work out a creative deal in which the infielder makes less than his value to sign a new contract with St. Louis) is gone. It happened. So, let's spin it forward. The Cardinals still have to field a second baseman. Who will he be? And what production can he provide?
The internal option right now is Tommy Edman. But the best option might be Tommy Two Times, as we'll discuss shortly.
Entering 2020, Edman was given the "Ben Zobrist" label, which was baseball code for — you don't have a position, but you could end up playing every position. And indeed, Edman played five of them in 2020, though his OPS of .685 was more like Jose Oquendo than Ben Zobrist. And of course, Oquendo's versatility was beloved (is beloved!) in this baseball town of ours, but in the modern game, OPS just matters more, especially the "S." We saw slugging in 2019 from Edman (.500 exactly), so he's got it in him, or at least had it in him that stunning first season.
"I think one of the reasons you value Tommy so much is his flexibility," John Mozeliak, the Cardinals' president of baseball operations, said by phone Saturday. "He can play second, he can play short. He can play third. He's played the outfield. I think giving him consistent at-bats is going to be something where you envision him being a productive offensive player. … He is a switch-hitter — that's part of his value package. He is an elite runner. So yeah, he brings a lot to the table."
And Edman is the Cardinals' primary internal option to start at second base. In the ol' if-the-season-started-today scenario, John Ulett is announcing Edman over the Busch Stadium PA system. Wong would've made $12.5 million if the Cards kept him; Edman will make around $12 million fewer dollars.
We're still learning who Edman is as a hitter, because one can argue that he exceeded expectations in his first season and underachieved in his second. Quickly, the slash lines: .304/.350/.500 (.850 OPS) in 349 plate appearances in 2019, followed by .250/.317/.368 (.685 OPS) in 227 plate appearances in 2020.
You have to look at 2020 St. Louis stats, from any guy, through a sympathetic lens. This isn't to say the Cardinals' 2020 offense would've been great (or even good), but the Cardinals players dealt with fatigue (some even exhaustion) during a season altered by COVID and quarantines and doubleheaders. And the playing field wasn't level, because other teams weren't dealing with these issues. So, sure, their numbers probably would've been better.
That said, one Edman offensive stat was consistently potent over both seasons — the guy hits lefties. His stats batting righthanded against southpaws drop jaws. In 2019, his OPS was .964, and in 2020, it was .929. That's not "Ben Zobrist." That's "Kris Bryant."
Of course, in a regular scenario, the 2021 Cardinals would've had Wong and Edman, not Wong or Edman. And then Edman could've filled in for different guys on different days against lefties. But with Wong gone, Edman would take the bulk of the at-bats at second … unless there was a way to platoon accordingly, which in 2021 means affordably. Post-Dispatch baseball writer Derrick Goold threw out an intriguing name earlier this month on stltoday.com. What if the Cardinals could get a value deal on free agent infielder Tommy La Stella?
As a Zobrist teammate on those recent Chicago Cubs clubs, La Stella was a stellar infield fill-in. He became a starter with the Angels in 2019, and also became an All-Star, before fracturing his shinbone. He was traded during 2020 to the A's, and he finished the season with an OPS of .819. As some of the veteran current Cards pitchers can attest to, La Stella is particularly tough to strike out.
And La Stella hits righties as well as Edman hits lefties.
Sounds intriguing. I suppose you know what else sounds intriguing — a homegrown Gold Glove, leadoff-hitting second baseman, which they had. Maybe, though, La Stella could come cheaper than Wong. While it's hard to predict the contract values in this unprecedented offseason, the respected site MLBTradeRumors.com stated La Stella could get a $14-million total contract for two years. La Stella will be 32 on Opening Day, and Edman will be 25. All Tommy, all the time at second base for St. Louis? Worked out in the 1980s.
Of course, as we look at the Cards' second base spot for 2021, the reality is the decline in defense. Wong won the Gold Glove the past two seasons. That's part of the frustration — the Cardinals thrive on preventing runs, especially because they don't produce runs at a high clip. And a guy who gets trophies for preventing runs was told that the team isn't having him back. But numerous advance stats sites cite Edman as a quality defender, especially as he accumulated DRS (defensive runs saved) at different positions. Wong changed games with his defense, whereas Edman will simply keep the Cards in games with his defense.
Overall, losing Kolten hurts the Cardinals. But having Tommy at second shouldn't hurt the Cards too much — especially if there are two of them.
Be the first to know
Get local news delivered to your inbox!