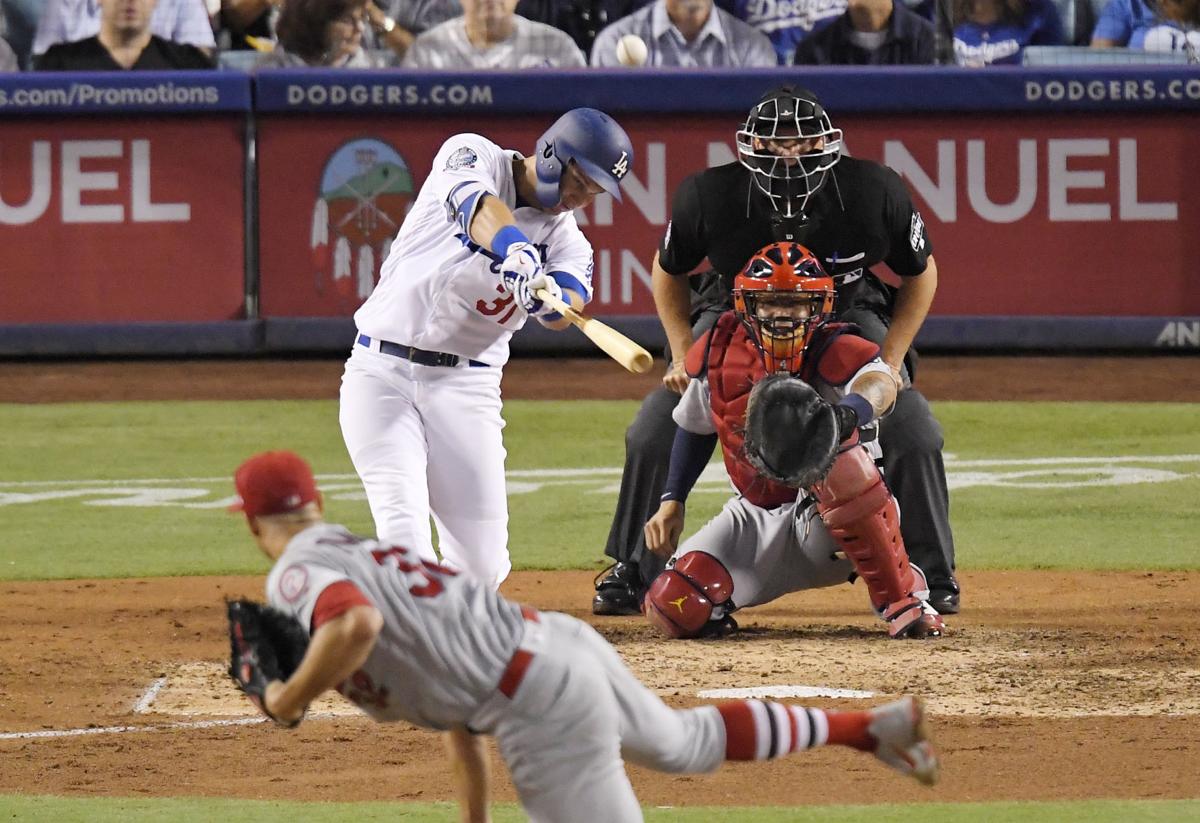 Born in October and born for October, Jack Flaherty is one of the most-promising young starters in baseball. Alas, last October, he was at home watching the World Series, which was tantalizingly and agonizingly being played in his hometown.
Flaherty is a Los Angeles kid – he graduated from Harvard-Westlake High in Studio City – and watched the 2018 fall classic with his mother, Eileen.
"It's been weird to watch (the Dodgers) because my mom likes to watch," Jack Flaherty said with a smile, while sharing the story at Cardinals' Winter Warm-Up. "And she's watching the World Series kind of getting excited. I'm like, 'Mom, what do we got going on here?' I'm not … I'm not going to sit here and root for them. I'll watch the game with you. But I can't (root).
"Watching them – and just watching the World Series in general -- gets you that feeling (of desire). And knowing a guy like Walker, and watching him go out there and absolutely shove? It's just wanting that same feeling and wanting to be in that situation of being on that stage."
Walker is Los Angeles' Walker Buehler, who is linked to Flaherty following two meetings in 2018. They were both rookies, with LA's Buehler finishing third in rookie of the year voting, while Flaherty finished fifth.
In late August, Flaherty returned to Dodger Stadium, where he once pitched during high school, and dueled Buehler, each pitching scoreless innings through five. Jack even had a no-no until the sixth, when Joc Pederson homered. By the seventh, both pitchers had been pulled, the game still in the balance (the Cards ended up winning that Aug. 22 game).
And on Sept. 14, both starters again fared well, this time at Busch, but the Dodgers won this one.
"I have gotten to know Walker a little bit," said Flaherty, who is 23 (Buehler is 24). "We pitched against each other in Class AA in '17, and that was the first time I got to meet him. He's unbelievable, he's got a special arm. The kid is great. He works hard."
Flaherty's dedication to his hometown was obvious this winter. Heartbroken over two tragedies — a shooting at a bar in Thousand Oaks, and then the wildfires that burned parts of LA and Ventura County — Flaherty joined forces with fellow big-leaguers from the area.
"So, of course, it happened to be three Brewers," the Cardinal said. "They're all good guys. They're all good guys, I promise. (Christian) Yelich, (Ryan) Braun, and (Mike) Moustakas — they all started this foundation called California Strong. They wanted to do something to try to raise money and to honor all of those people. They wanted to do a softball game. For me, I wanted to be involved and I wanted to go and I wanted to participate, show my support. They reached out. Will you come out? Of course, I'll be there. I work out in the area where those fires occurred."
Flaherty was in Florida when the fires began.
"It's one of those things where those things don't happen to you until they happen. ..." he said.
"I turn the TV on and see everything that is going on, and I was in shock. Because I've got people that I know getting evacuated, friends, like really good family friends that had to be evacuated. For me, it touched close to home and then, when I got back, from making those drives and just seeing the sides of the freeway all burned. And you can smell it too. When that went on it really hits. Thankfully my own family was not affected. Nobody I know had their houses burned down."
So, Flaherty played in the California Strong Celebrity Softball Game at Pepperdine University to raise funds. It was quite the LA event. Jared Goff was there, as was Pederson. Baker Mayfield played. And actors Jamie Foxx and Adam Sandler were on the diamond.
This offseason, Flaherty has also started showing his personality more via a podcast. He's been on with minor league pitcher Robby Rowland.
"I am a pretty opinionated person when it comes to certain things. I like to share it," Flaherty said. "And I like to talk to certain people about it. Whenever anybody wants to have a conversation, I'm always open for it. That sort of thing Rob had asked me to come on a few times and that led to us creating our own little piece to it. All of those things are fun, but again baseball is the main thing. It starts with baseball. And it ends with baseball."
Kris Bryant, during a panel at the Cubs Convention, said while discussing another player's meeting with rapper Nelly: 
Cardinals chairman Bill DeWitt Jr. at the 2019 Winter Warm-Up
Cardinals' Matt Carpenter at the 2019 Winter Warm-Up
Pitcher Jack Flaherty on pitchers vs. position players pickup basketball
Tyler O'Neill talks at the 2019 Winter Warm-Up
Cardinals RHP Jordan Hicks, Winter Warm-Up 2019
Cardinals' John Mozeliak at the 2019 Winter Warm-Up
Cardinals manager Mike Shildt on encouraging players
Cardinals General Manager Michael Girsch at the 2019 Winter Warm-Up
Cardinals second baseman Kolten Wong at the Winter Warm-Up 2019
Cardinals shortstop Paul DeJong discusses his performance
Andrew Miller's press conference at Winter Warm-Up 2019
Alex Reyes at the 2019 Winter Warm-Up
Paul Goldschmidt at the Winter Warm-Up 2019
Dexter Fowler at the Winter Warm-Up 2019
Jose Martinez answers questions at the 2019 Winter Warm-Up
Cardinals' Miles Mikolas at the 2019 Winter Warm-Up
Cardinals pitcher Adam Wainwright talks at the 2019 Winter Warm-Up
Cardinals pitcher Jack Flaherty at the 2019 Winter Warm-Up
See more: Photos from Sunday at the Winter Warm-Up
See more: Photos from Saturday at the Winter Warm-Up
See more: Fans get up close with Cardinals players at Winter Warm-Up
Cardinals catcher Yadier Molina speaks at the 2019 Winter Warm-Up
Be the first to know
Get local news delivered to your inbox!